If you are looking for some seafood recipes for lent or just to get more seafood in your diet, here are 9 low carb seafood recipes you will love!
You might also like this low carb bbq salmon recipe!
Every year during the lenten season, I bring out my favorite seafood recipes to eat on Fridays. Sometimes we just head to the nearest church for their famous fish fry dinners if I'm not in the mood to cook. But today I've collected 9 of my favorite low carb seafood dinners for me to make on Fridays and I thought you might like them too!
If you want to learn why people eat fish for lent, check out this post.
What Is The Best Low Carb Seafood?
Most seafood has zero carbs and is low in calories while high in protein. However some shell fish does have carbs so you have to pay attention. Here are the carbs in popular seafood choices for 3 oz.
blue crab 0g
clams (12) 4g
cod 0g
flounder 0g
haddock 0g
lobster 1g
halibut 0g
oysters (12) 7g
salmon 0g
scallops (6 large) 2g
shrimp 0g
tuna 0g
Now Let's Get To Our 9 Low Carb Seafood Recipes!
This low carb pumpkin risotto with shrimp and cauliflower is a breeze to make in less than 20 minutes! As a low carb dinner or lunch it is rich, creamy and full of flavor. One serving is only 4.8g net carbs!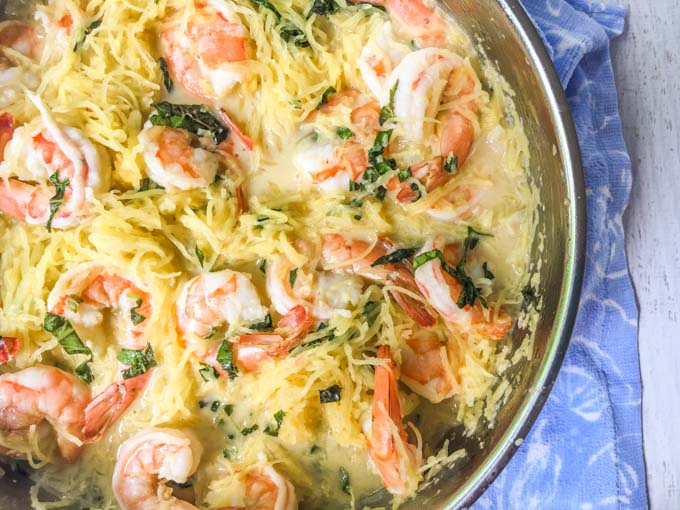 If you are a looking for a wonderful Thai flavored noodle dish, look no further. This coconut basil shrimp spaghetti squash recipe is full of flavor, low carb, gluten free and only takes about 20 minutes to make! Only 4.3g net carbs.
This Paleo coconut shrimp & pineapple mango salsa can be ready in less than 30 minutes. The bright, light fruit salsa, tastes delicious with the crunchy coconut shrimp! Only 3.7g net carbs for 10 shrimp!
This pepper tuna steak recipe is simple but elegant. Meaty and tender these tuna steaks taste even better with a lemony dijon cream sauce for only 2.9g net carbs.
This easy low carb Mediterranean fish dinner takes less than 20 minutes to make. So if you are looking for easy fish dinner ideas, try this easy, healthy and tasty fish dinner tonight! Only 5.9g net carbs per serving.
For an easy fish dinner, try this low carb, creamy sun dried tomato cod recipe. You can have dinner on the table in less than 30 minutes and it's rich, creamy and delicious! Only 1.6g. net carbs per serving.
This easy low carb asiago tilapia dish is not only delicious but it only takes 25 minutes to make. The perfect weekday dinner and only 1.7g net carbs per serving!
Need a quick and easy dinner? This chili soy salmon is awesome and only takes 4 ingredients and 15 minutes to make. I like it because it's low carb (4.3g net carbs) and my family loves the spicy, sweet flavors.
These lemon jalapeño salmon cakes are a quick and easy, low carb dinner that you can make in 15 minutes. The fresh lemon and jalapeño add bright flavor to canned salmon. Only 1.4g net carbs per cake.
BONUS (NON) Low Carb Seafood Recipe
If you don't carb about being low carb or keto, check out these beer battered fish nuggets. They were great! However not low carb so I didn't include it in the round up.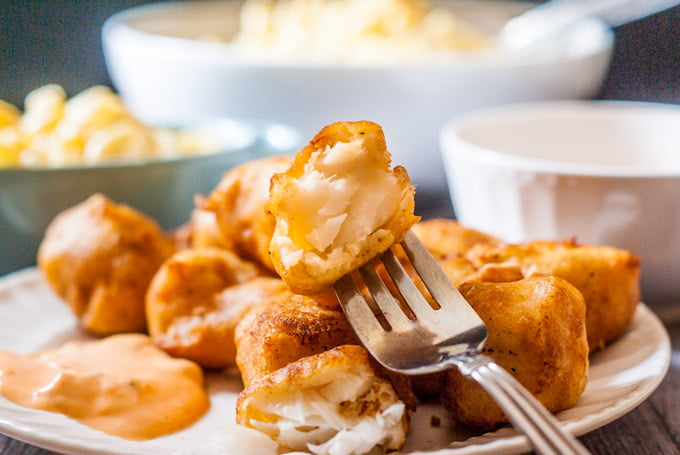 I hope you enjoy these low carb seafood dinners. Most of them are very easy and take few ingredients so they would be good to make day of the week.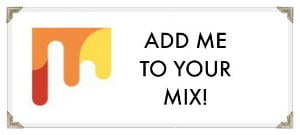 If you like these recipes Please share this post!