This quick & easy kielbasa and potatoes recipe is one of my favorite dinner recipes for my family. Kielbasa and tender potatoes taste wonderful together and the sweet peppers and onions are the perfect compliment to both. This easy skillet dinner is a quick and tasty dish for busy weeknight meals.
You might also like keto kielbasa and cabbage skillet.
With it being so busy this time of year, I like to have some easy dinner recipes for my family such as this kielbasa and potatoes recipe. This kielbasa dinner takes minutes to prepare and then you can just bake it in the oven while you do other things!
I have a few kielbasa recipes on my site because we usually have it on hand and because it's great in skillet dinners like this with your meat-starch-veggie all in one. So if you are looking for a new dinner idea give this simple dish a try.
The difference between kielbasa and smoked sausage.
Kielbasa is usually made from pork while smoked sausage can be made from pork, turkey and or beef. Smoked sausage is fully cooked and then smoked and you can eat it hot or cold.
Kielbasa is usually sold precooked much like a hotdog. And like a hot dog it should be heated and cooked. Kielbasa is seasoned heavily with garlic and has a coarse texture.
Kielbasa and Polish sausage are often referred to as the same thing in the US. Learn more about kielbasa & smoked sausage here.
What to make with kielbasa?
Just like sausages there are many different foods you can serve with kielbasa. Like this recipe it goes well with potatoes or other starches like rice, pasta or beans.
Many people like to grill kielbasa and eat them on a bun with cooked onions and peppers. Lastly kielbasa is a good breakfast food and tastes great with eggs and hash browns.
Simple ingredients I used in this dish.
All I used for this recipe is a package of kielbasa, gold potatoes, sweet bell peppers, olive oil, yellow onion, garlic, basil, oregano, salt and black pepper. Baby potatoes work great with the recipe but you can use regular potatoes and cut them into big chunks.
So you can see with just a handful of ingredients that you probably have on hand you can create a tasty weeknight one pan dinner with amazing flavor.
How to make this easy baked kielbasa recipe.
Preheat oven to 375°F. Then chop the onions, potatoes and peppers into bite sized pieces. Slice kielbasa into ¼ inch slices.
Get out a large mixing bowl and add the chopped veggies and kielbasa. Toss them with olive oil and spices.
Next spread the mixture in a single layer in a large cast iron or oven proof skillet like this. You could also use a baking sheet or large baking dish for this recipe but I like a cast iron skillet best for this recipe.
Then just bake the kielbasa and potatoes in the oven until your potatoes are soft and brown. Mine took an hour. Cooking time may vary.
Doesn't that look like comfort food to you? It does to me. Store leftovers in an airtight container. Please scroll down to see and print the recipe card.
By the way I used pork kielbasa but you can use turkey kielbasa or beef. They all have similar flavors in my opinion.
Ways you can vary this recipe.
First of all I love kielbasa but this recipe would work with any kind of flavored sausage like Italian sausage or one of those fancier types you find in the grocery store.
You can add a little heat by using banana peppers or poblanos. Or you can use hot sauce or hot pepper flakes.
Lastly you can vary the spices and seasonings, such as using cumin and chili powder for a Mexican flavor.
Also if you want to lower the carbs a little, try substituting cauliflower florets for the potatoes.
That's all there is to it. Just add a salad and you have an easy dinner with just a few minutes of prep. The delicious flavors of the sausage, potatoes and peppers are a classic combination.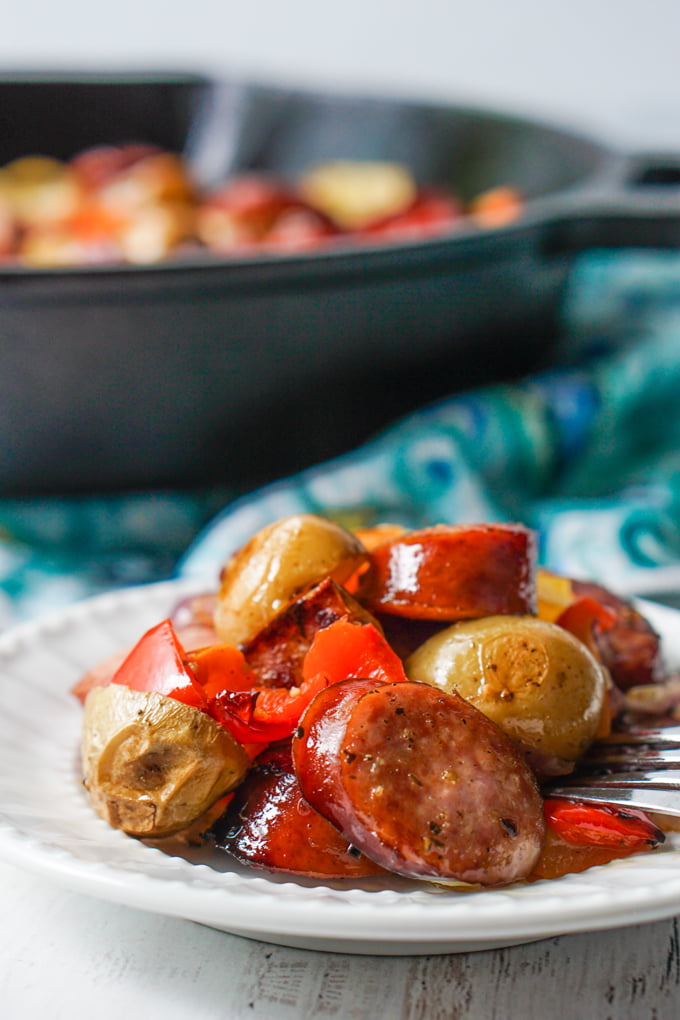 Try some of these other easy kielbasa recipes.
I have a few kielbasa recipes on my site if you too are a kielbasa fan. Try this easy kielbasa & vegetable soup or this air fryer recipe with Brussels and potatoes. One of my most popular recipes pork & sauerkraut with kielbasa.
And this baked kielbasa recipe is very similar to this one but it uses cabbage instead of potatoes and is baked in the oven for a hearty meal.
Well I hope you enjoy this easy kielbasa dinner recipe. This is a nice combination for feeding a crowd. You could serve it as an appetizer for a party too. Enjoy!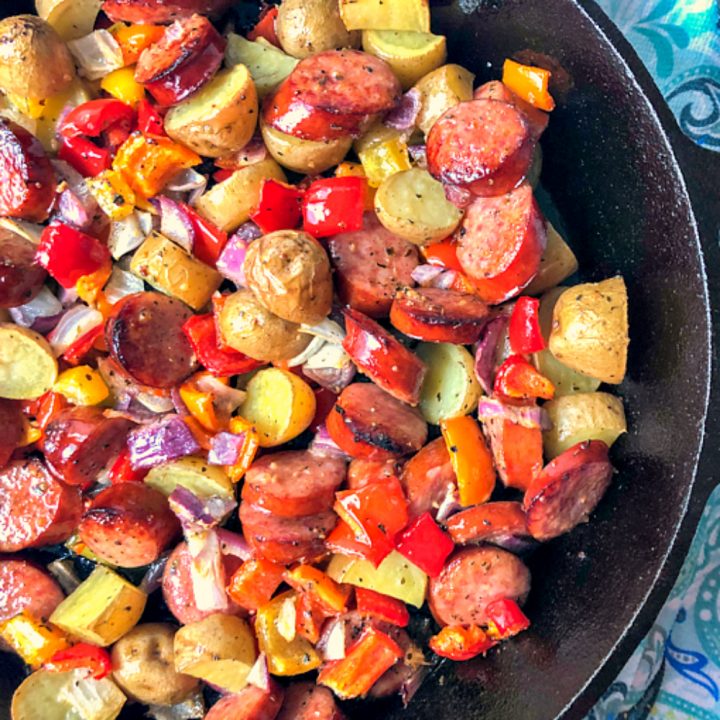 Quick & Easy Kielbasa and Potatoes Skillet Dinner
Total Time:
1 hour
5 minutes
This Kielbasa skillet dinner recipe with potatoes and peppers is an easy and delicious dinner your family will love. Perfect for busy days. Perfect for a busy weeknight dinner.
Ingredients
3 Tablespoons olive oil
3 potatoes, chopped
2 sweet bell peppers, chopped
1 onion, chopped
14 oz kielbasa, sliced
½ teaspoon salt
¼ teaspoon black pepper
¼ teaspoon oregano
¼ basil
1 teaspoon crushed garlic
Instructions
Preheat oven to 375°F.
Using 1 Tablespoon of olive oil, spread all over a cast iron or oven proof skillet.
In a large bowl add your vegetables and kielbasa. Pour the rest of the olive oil over along with the spices and mix well.
Spoon into your skillet and spread evenly. Note you could also use a baking sheet or large baking dish for this recipe but I like a cast iron skillet best for this recipe.
Bake for 1 hour or until potatoes are soft and browned. Cooking time may vary.
Serve immediately.
Notes
Note I used gold baby potatoes but you could russet potatoes or even red. The gold seems to create a softer texture the others in my opinion.

Also I like colored sweet peppers but you could mix in green peppers if you like them better. 

For a little heat try sprinkling some hot pepper flakes with the salt and pepper.


Nutrition Information:
Yield:

4
Serving Size:

1
Amount Per Serving:
Calories:

380
Total Fat:

19g
Carbohydrates:

33.8g
Fiber:

4.9g
Protein:

19.3g