Pork medallions in fig cream sauce is a delicious savory dinner that is easy to make but tastes like you slaved all day.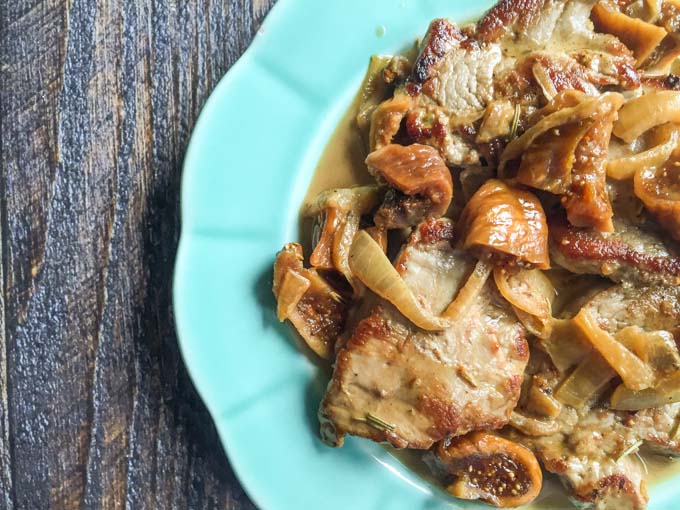 Did you ever make a mistake with a recipe and it ended up tasting really good? Well that happened with me and this original recipe. It called for apple cider and I mistakenly used apple cider vinegar. Big difference, but it came out surprisingly good! So today I made a few changed because I wanted to use some of my dried figs and thought they would go nicely with the pork tenderloin and cream. Oh boy did it ever go well. It was fantastic! Seriously I will make this the next time I have company because it was very delicious and also very easy to make.
The original recipe is from Relish, a magazine that came in the Sunday paper and it called for apples (and apple cider). I made a few substitutions and changes but it too is a very good recipe.
Ok, let's get to the cooking. First I bought a pork tenderloin and cut it into medallions and pounded them into ¼ inch pieces. I just put the pieces of pork in a baggie and used a meat tenderizer. It's very easy. Place them on a plates and sprinkle with salt and pepper. Then brown them in a skillet on both sides and when done, take them out and set aside. In the same skillet add your onions and some butter and brown them for awhile. Next add in your dried figs, vinegar, broth and rosemary. Cook for a few minutes and then add your cream.
Once the cream is has bubbled away for a while, add back your pork medallions and let simmer for a few more minutes. That's all there is to it. Isn't that easy? The white balsamic vinegar is nice because it's a bit sweeter than apple cider vinegar but that would work too. It gives the dish a nice wine-like taste. Actually white wine would probably work well too. Might even be better! I'm not much of a wine drinker so I don't have any around to try that. So what you end up with is the tangy vinegar, sweet onions and figs and the creamy sauce mixed with tender pork medallions. Deliciousness on a plate.
I think rice would go nice with this. We actually had leftover arugula couscous salad I made for another post (coming soon). Pasta would also be a good choice. However, I would make more of the fig cream sauce if you wanted to use it with pasta or rice. As you can see below there is not an abundance of cream sauce.
Pork Medallions In Fig Cream Sauce
So I think I will definitely be making this again. I might even have to have a dinner party just so I can show this one off. 😉 Enjoy!
Pork Medallion in Fig Cream Sauce
Pork medallions in fig cream sauce is a delicious savory dinner that is easy to make but tastes like you slaved all day.
Ingredients
1

Tablespoon

oil

1

lb

pork tenderloin

sliced

salt and pepper

2

Tablespoons

butter

1

onion

thinly sliced

¼

cup

white balsamic vinegar

½

cup

chicken stock

1

teaspoon

dried rosemary

6

dried figs

chopped

½

cup

heavy cream
Instructions
Cut your pork tenderloin into medallions and pound with a meat tenderizer to ¼ inch thickness. I placed them in a baggie and pounded them thinner. Sprinkle with salt and pepper.

Heat pan on high and when hot, add your oil.

When the oil is hot, add your medallions and brown both sides. About 3 minutes on each side.You probably will have to do this in batches.

Take them out of the pan and set aside.

In the same pan add your butter and onions.

Saute for about 5-7 minutes until the onions begin to brown.

In a bowl, add your vinegar, stock and rosemary and mix well.

Pour over the onions and scrap the brown bits in the pan to incorporate.

Add your figs and let cook for 3 minutes.

Next add in your cream and mix well. Cook for 2 minutes.

Lastly add back your pork medallions and cook for another 5 minutes.
This post may contain affiliate links. For more information please visit our policies page.
---