If you are looking for Palmini pasta recipes, try this Palmini linguine with a creamy keto Alfredo sauce and bacon. The low carb sauce is full of amazing flavors of garlic and parmesan cheese and it's topped with crispy bacon. The hearts of palm noodles make a great keto friendly pasta and this dinner is ready in 15 minutes! Each serving has only 6g net carbs!
You might also like these keto zucchini noodles with carbonara sauce.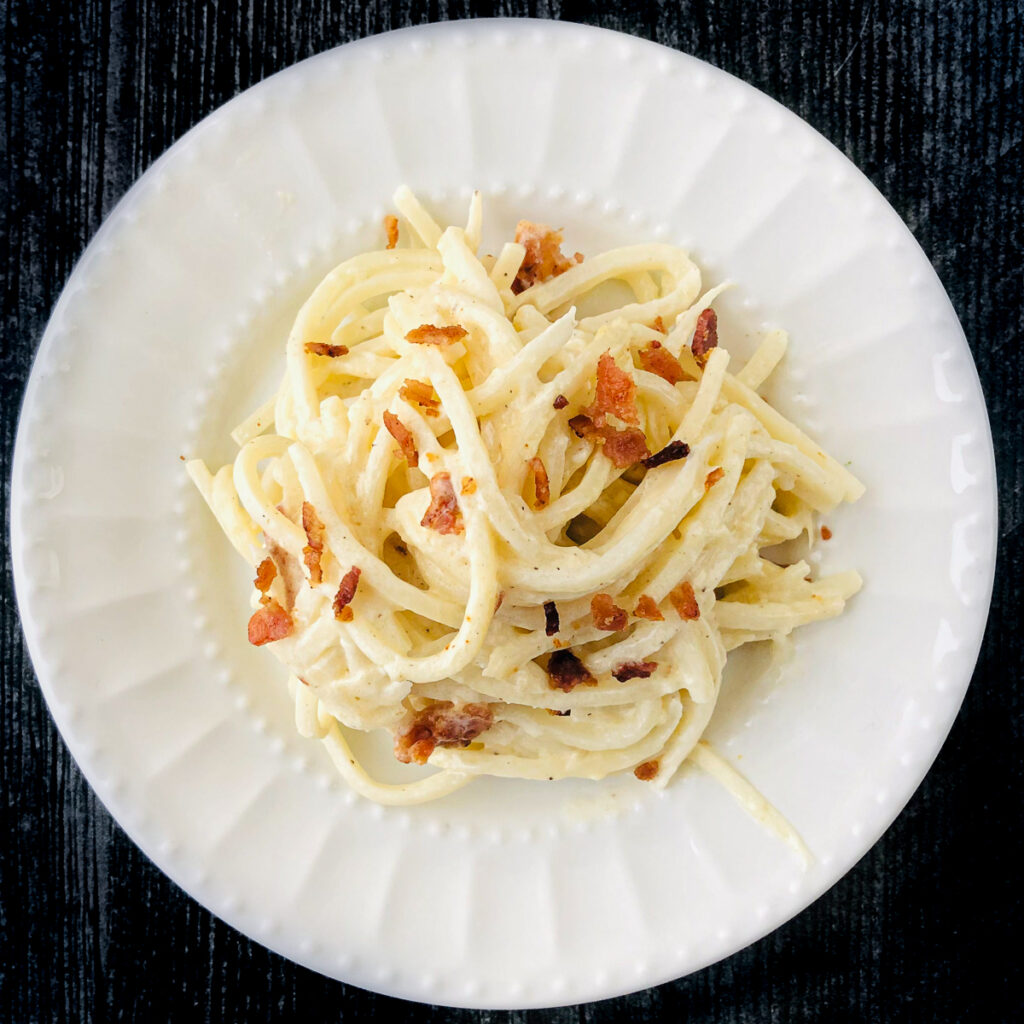 I noticed this week that they had Palmini noodles at Aldi and remembered that I bought a case of Palmini linguine on Amazon a few months ago. So I grabbed a can and made this easy keto Alfredo sauce. Then mixed the hearts of palm noodles in the pan and topped with crispy, crumbled bacon. YUM!
This low carb meal was so rich and tasty as well as quick to make. This keto pasta recipe only took 15 minutes to make and it was all done in one pan. So for a busy weeknight dinner try this keto friendly pasta with the classic flavors of the bacon and cream sauce.
What are Palmini noodles?
If you have never heard of this brand of keto pasta, Palmini linguine noodles are made from heart of palms. It's cooked and cut to resemble pasta but it has 3-4 grams of net carbs, compared to 39.6g net carbs in regular pasta. (source)
Hearts of palm noodles are a good source of dietary fiber, protein, antioxidants and many vitamins and minerals as well as gluten free. (learn more)
It's becoming a very popular product as a keto pasta substitute and as I mentioned earlier you can find it at Aldi right now. It comes in lasagna shape noodles and even rice though I have not tried those yet. All forms are readily available on Amazon (affiliate link).
What do Palmini noodles taste like?
The are already cooked so you can eat them right out of the can but they can have a bit of a briny or acidic flavor so it's best to drain the liquid and rinse them well.
They have a nice firm texture and go well with a good sauce like the creamy garlic sauce I made today. I also made this delicious low carb creamy red pepper sauce with these heart of palm noodles in the past. Check out that post too.
Recipe ingredients I used.
You only need 7 basic ingredients to make this low carb pasta recipe – Palmini noodles, heavy cream, cream cheese, butter, garlic, bacon and fresh parmesan cheese.
I used fresh parmesan cheese for my keto Alfredo sauce but you could also use romano, asiago or other sharp white cheese. And if you don't have fresh parmesan you can use regular grated parmesan.
Note that is like much like a creamy pasta carbonara without the egg so I liken it more as an Alfredo sauce with bacon. Either way the combination of flavors make for a delicious low carb dinner your family will love.
How to make Palmini linguine with keto Alfredo sauce.
Get out a large pan and heat to medium high heat. Add the bacon strips and cook for about 5 minutes until the bacon is crispy. Take out of the pan and when cool, crumble the bacon and set aside.
Using the same pan but over medium heat, add the crushed garlic, stir and then add the cream, cream cheese, butter and parmesan cheese. Mix well until everything is blended into a creamy mixture. This should take just a few minutes.
Drain pasta and then rinse well and make sure to get as much water out the Palmini or other palm noodles as you can. Add to the pan and mix well with the cream sauce.
Cook for about 3-5 minutes to soften the palm noodles a bit. They have a softer texture if you cook them longer but I like them al dente. Take off the heat and add crumbled bacon If you want to you can add some freshly ground black pepper however there is plenty of salt from the cheese and bacon.
Store leftover keto pasta in an airtight container. Please scroll down for the printable recipe card.
I used 1 can of keto noodles that I felt made about 2 good servings. This is a rich keto dinner so I thought 2 servings was plenty.
If you are eating this as a low carb side dish you could definitely get 4 good size servings from this recipe.
Ways to change up this recipe.
While I find this recipe flavorful enough you could also add some fresh vegetables like broccoli, asparagus, spinach, green beans etc. for added nutrition and taste. A nice green vegetable also adds a bit of color.
Also you could skip the bacon and add some sundried tomatoes, fresh basil leaves, fresh grape or cherry tomatoes, sautéed mushrooms, lemon zest etc.
Other easy keto pasta dishes to try.
I have made low carb vegetable noodles from zucchini, cabbage, turnips, spaghetti squash, asparagus, beets, etc. I have also used Shirataki noodles which are made from the konjac plant. And with them I have used a keto pasta sauce.
Here are a few of my favorite low carb noodle dishes to try if you are on a low carb or keto diet.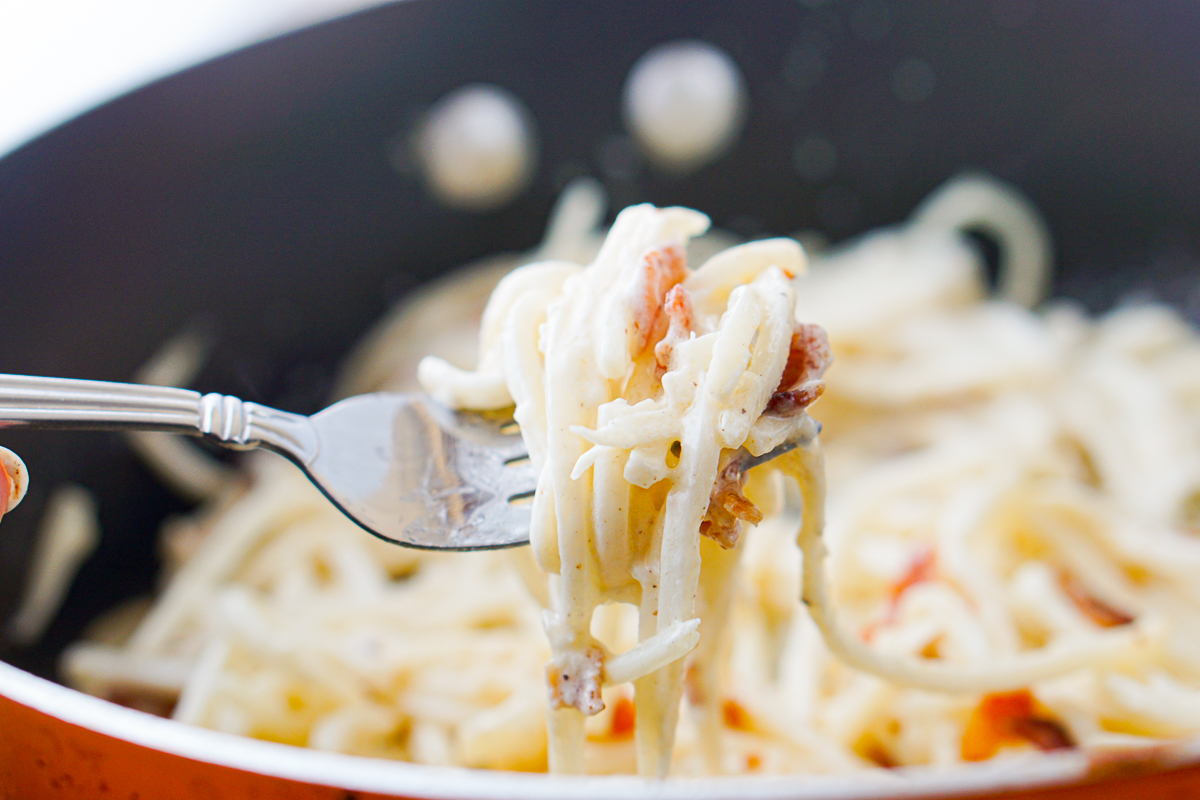 I hope you like this super easy keto pasta recipe. It's rich, decadent and filling. It's the perfect dinner for satisfying your craving for pasta while on a low carb diet.
The nutritional information for 1 serving is 397 calories / 34.8g fat / 9g carbs / 3g fiber / 13.8g protein = 6g net carbs
Palmini Linguine Recipe with Keto Alfredo Sauce Recipe
This Palmini linguine recipe is mixed in a rich and creamy keto alfredo sauce and topped with crispy bacon for decadent low carb pasta alternative with only 6g net carbs! Plus it only takes 15 minutes to make.
Ingredients
8 ounce can Palmini linguine
2 pieces of bacon
1 clove garlic, crushed
1 tablespoon butter
1 ounce cream cheese
⅓ cup heavy whipping cream
⅓ cup fresh grated parmesan cheese
Instructions
Heat up a large pan to medium high heat and add in the 2 bacon strips. Cook the bacon until crispy and then take it out and place on a paper towel.
Using the same skillet and the bacon grease, add in the crushed garlic and stir for a few seconds. Then add in the butter, cream cheese, cream and grated cheese. Whisk until smooth and creamy.
In the meantime, place the hearts of palm pasta into a strainer and rinse the Palmini noodles very well. Shake out as much water as you can and place them into the keto alfredo sauce and mix well.
Cook the pasta for about 3-5 minutes or until it has the texture you prefer. It's already cooked so you are just getting it to be al dente or more tender - whichever texture you prefer.
When done, sprinkle the cooked bacon over top and serve. You can also add some freshly ground black pepper or hot pepper flakes if you want but it doesn't need any additional salt.
Notes
The nutritional information for 1 serving is 397 calories / 34.8g fat / 9g carbs / 3g fiber / 13.8g protein = 6g net carbs
You could change up this recipe by adding some fresh green vegetables like broccoli, asparagus, spinach etc. for added color, nutrition and taste.

Also you could skip the bacon and add some sundried tomatoes, fresh basil leaves, fresh grape or cherry tomatoes, sautéed mushrooms, etc.


Nutrition Information:
Yield:

2
Serving Size:

1
Amount Per Serving:
Calories:

397