This easy Italian green beans and tomatoes side dish goes well with any main dish. It uses simple ingredients to create big flavors and is especially good with fresh green beans and tomatoes from the garden. It only takes about 15-20 minutes and 5 ingredients to make and it's both low carb and low calorie!
You might also like these Asian green beans with almonds.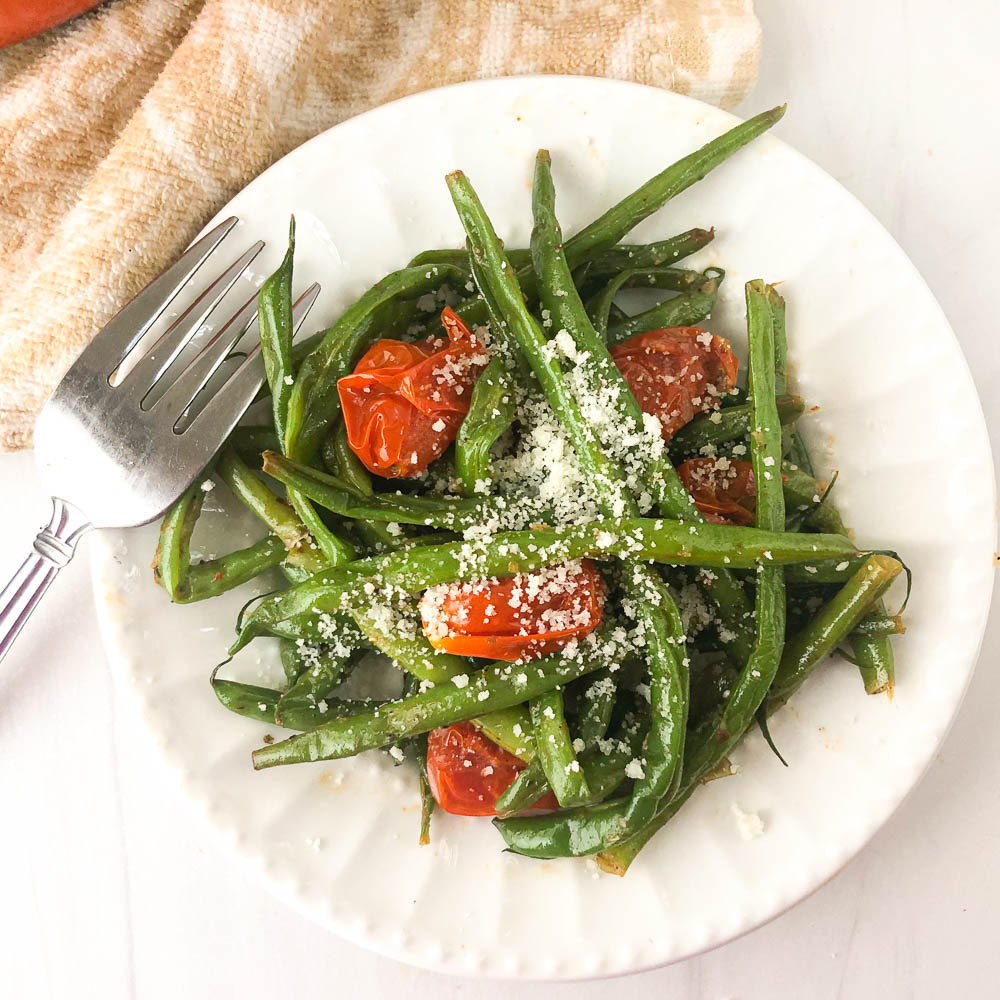 One of the vegetables that shows up frequently on our dinner tables is green beans. My husband grows them in the backyard garden and sometimes he will have them for lunch. Just steamed summer green beans.
So I like to find many ways to prepare them but one of my go to dishes is this easy Italian green beans and tomatoes side dish. It goes with just about everything and it's very simple to make. I like it because it's both a low carb side dish and it's low in calories.
The garlicky roasted tomatoes, Italian spices and tender beans have so much flavor you can eat it on its own as a simple side dish. You could even eat this with rice and it would be a tasty vegetarian meal.
Why I love green beans on a low carb diet.
Even though green beans are a legume, they are low calorie, low carb and high fiber. They are a good source antioxidants, vitamin C, vitamin A and quercetin. (source)
They are also easy to grow so we have a full supply in the summertime which is great as part of healthy diet.
½ cup of raw green beans has only 16 calories, 0.1g fat, 2.1g net carbs and 0.9g protein
I have a lot of green bean dishes on this site. On of my favorites is a low carb green bean casserole that I made for Thanksgiving. If you scroll down to the end of the post you can see pics of the other green bean recipes I've created.
Recipe ingredients I used.
This delicious side dish uses only 5 simple ingredients but creates amazing flavor.  I used fresh green beans, grape tomatoes, fresh garlic cloves, olive oil and Italian seasoning.
You can also add some grated Parmesan cheese at the end but it's optional. My family loves parmesan cheese on green beans. We even put it on my green beans and bacon side dish. And for a little heat add sprinkle some hot pepper flakes.
How to make Italian green beans and tomatoes.
First thing you want to do is get the fresh tomatoes roasting in a large saute pan. Add the oil, turn up the heat to medium heat. Then add in the tomatoes and garlic. Season with salt, pepper and Italian seasonings. Mix well, cover and let them cook until the tomatoes start to wilt. This should take about 10 minutes.
While the tomatoes are cooking, add the green beans to a microwaveable steamer pot and microwave for 4 minutes for tender beans. I like to precook them as it speeds up the cooking process. If they are too long, just cut them into smaller pieces if you want.
Once the green beans are done, drain the excess water and then add them to the wilted, roasted tomatoes. Mix the green beans well and cover and cook for 5 minutes.
That's all there is to it. You can add some grated parmesan cheese on top for extra flavor if you want but that is optional. Store leftovers in an airtight container. Please scroll down to view and print the recipe card.
What to serve this side dish with.
We eat this simple side dish with a everything from steaks to grilled chicken. You can try it with this asiago tilapia recipe or this chicken romano recipe.
You could even eat this over rice for a vegetarian dinner. I've even eaten this vegetable side dish for lunch, especially in the summer when we have a lot of green beans and tomatoes to use up.
One other option if you don't care about carbs is I to add potatoes to the dish. Because potatoes take longer to cook I would cut them into bite sized pieces and precook them in the microwave before sautéing with the rest of the ingredients.
So if your family loves green beans as much as mine does, please give this simple but amazing recipe a try. And for a few more green bean dishes to try, here are a few of my favorite recipes.
The nutritional information for 1 serving is 84 calories
7g fat / 5.5g carbs / 1.9g fiber / 1.4g protein = 3.6g net carbs
Italian Green Beans and Tomatoes Recipe
These easy Italian green beans and tomatoes are great with almost any main dish. Using simple ingredients to create big flavors! It's the perfect side dish.
Ingredients
1 pound green beans, washed and trimmed
2 tablespoons olive oil
1 pint grape tomatoes
2 cloves garlic, crushed
½ teaspoon Italian seasoning
½ teaspoon salt
¼ teaspoon black pepper
Parmesan cheese and hot pepper flakes optional
Instructions
Add oil to a skillet and bring to medium heat.
Add the garlic, fresh tomatoes and spices and mix well. Cover and cook for 10 minutes until the tomatoes wither.
While the tomatoes are cooking add green beans to a microwave bowl and cook for 4 minutes.
Once the green beans are done, drain any excess water and add to the tomato mixture when they have started to wither.
Cover and cook for 5 more minutes. Sprinkle with Parmesan cheese before serving if you want for extra flavor. This is optional. You can also try some hot pepper flakes if you want to add some heat.
Notes
The nutritional information for 1 serving is 84 calories
7g fat / 5.5g carbs / 1.9g fiber / 1.4g protein = 3.6g net carbs
Nutrition Information:
Yield:

4
Serving Size:

1
Amount Per Serving:
Calories:

86
Unsaturated Fat:

0g