If you love salmon and want to add more of it to your low carb diet, I have 7 easy yet delicious low carb salmon recipes for you to try.
Finally my son likes salmon and so I happily make it just about every week. Salmon is a healthy low carb protein and it tastes great simply broiled in the oven. However below I have 7 tasty salmon dinner recipes that really amps up the flavor. I have everything from grilled to brined to baked salmon recipes. All have minimal ingredients, are low carb and very easy to make. Let's check them out.
The healthy benefits of salmon
Seafood in general is a good type of food to incorporate into your diet and salmon is one of the best. Salmon is a fatty fish that is rich in omega-3's so no need to take a supplement, eat salmon! It's also an excellent source of protein, B vitamins, potassium and selenium. I love it because it's so tasty and versatile. Check out this article for more health benefits of salmon.
How to choose salmon in the store
King or chinook salmon has the highest fat content, omega-3s and a buttery texture.
Sockeye is a deep red color and higher in carotenoids. It's an oiler fish.
Coho is milder in taste and lighter in color.
Pink salmon and chum are smaller fish and light in color. They are mostly used in canned salmon.
Wild salmon is better than farmed because they live in open oceans and have lower levels of toxins.
Frozen salmon when properly defrosted overnight is a fine choice as most fresh fish is flash frozen.
Canned wild salmon is a great choice to always have on hand and more economical. Look for brands that have BPA-free cans.
To learn more check out this article by Eating Well.
Now for our 7 tasty low carb salmon recipes!
As I mentioned above all of these recipes are easy and tasty. Salmon cooks so fast, you can make some of these salmon recipes in under 30 minutes! Let's check them out.
Need a quick and easy dinner? This chili soy salmon is awesome and only takes 4 ingredients and 15 minutes to make. I like it because it's low carb (4.3g net carbs) and my family loves the spicy, sweet flavors.
This lime margarita grilled salmon is a delicious and simple low carb dinner. The garlicky avocado mayo goes perfectly with the tangy lime infused salmon and has only 1.5g net carbs per serving.
This low carb bbq salmon is easily made indoors and has a creamy garlic herb sauce to top it off. A low carb bbq rub on the salmon is spicy and sweet and the creamy sauce is a cooling compliment to the dish. For 1 filet the net carbs are 1.7g and 1 tablespoon of sauce is 0.6g.
If you are looking for a healthy, low carb dinner, try this easy baked salmon sheet pan recipe. There is also a delicious creamy lemon Asiago sauce that goes great with both the salmon and asparagus. For 1 serving of salmon and asparagus the net carbs are 0.9g and 1 tablespoon of the sauce is only 0.5g.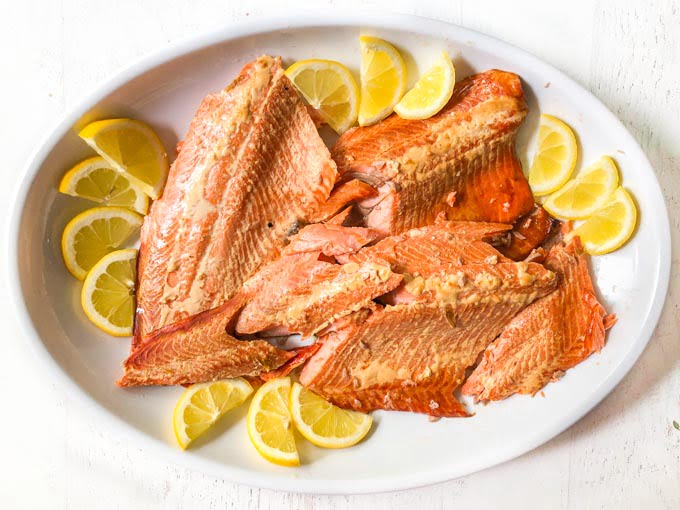 Once you've had this brined smoked salmon, you will make it again and again. We have it for big parties all the time. Eat it hot one night and on bagels the next morning. It melts in your mouth.
These lemon jalapeño salmon cakes are a quick and easy, low carb dinner that you can make in 15 minutes. The fresh lemon and jalapeño add bright flavor to canned salmon. Only 1.4g net carbs per cake.
This salmon with lemon herb butter dish is an easy and a tasty fish dinner. The lemon herb butter is very versatile and can be used on steamed veggies too.
Recipes to make with left over salmon
There are lots of things you can make with left over salmon. Ways my family like to eat it are:
Well I hope these 7 easy low carb salmon recipes will help you out this week. If you like this post, please pin the graphic below!