These homemade frozen microwave meals are great to have on hand for a healthy lunch or dinner. Just make a batch of these healthy paleo meatballs with zucchini noodles and roasted tomatoes and freeze for later. Having healthy pre-made food in your freezer makes eating healthy much easier. And this gluten free meal is fairly low carb and also high protein!
You might also like keto Mexican style rice freezer meal.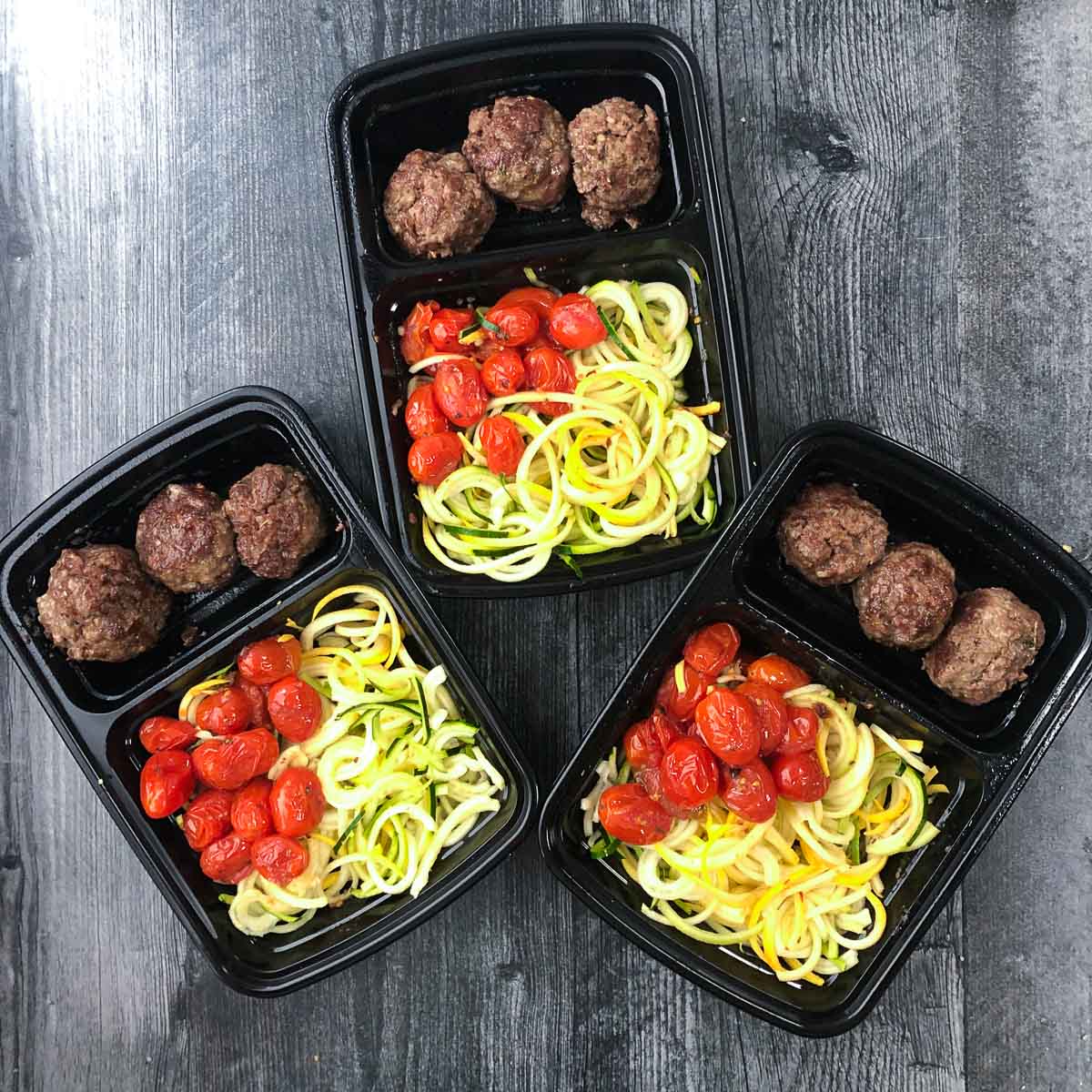 Having healthy lunches and dinners in my freezer is one way make sure I eat healthily during the week. Any kind of meal prep is helpful if you are watching what you eat.
And when you make your own frozen meals you can save a lot of money. Some frozen meals (Lean Cuisine, Healthy Choice, etc.) you buy in the grocery store are at least double what these cost.
This is an old post that I'm redoing and once again I had forgotten how good it is. These homemade frozen microwave meals are super easy to make and taste great.
Each frozen meal has 3 large and tasty paleo meatballs, zucchini noodles and roasted grape tomatoes that are full of garlic and spice. You just make a big batch of meatballs and tomatoes and you can freeze 4 of these lower carb lunches to have on hand whenever you want them.
What's in this homemade frozen microwave meals.
There are only three items in this healthy lunch or dinner. I made gluten free, paleo meatballs, zucchini noodles and roasted grape tomatoes. It's fairly simple but it's full of flavor.
Below I have the recipe for the gluten free meatballs and roasted tomatoes. For the noodles I just spiralized zucchini and yellow squash. I didn't cook them because when you heat them to eat from frozen it will cook the zucchini and you don't want it to be mushy.
Note that each of these components individually would be great as frozen foods to have on hand in your freezer. You can use the noodles in a variety of ways. The meatballs can change flavors based on the type of sauce you serve them with and the roasted tomatoes would go in a variety of recipes.
Recipe ingredients I used.
The simple ingredients in the meatballs are lean ground beef, fresh garlic, dry minced onion, egg, Worcestershire sauce, Italian seasoning, parmesan cheese, salt and black pepper.
If you want you can make these meatballs with ground turkey or even ground chicken. I have a good turkey meatballs recipe that you could also use.
For the tomatoes I only used a couple of ingredients  – olive oil, grape tomatoes, fresh garlic, salt, oregano and basil. And the noodles are just spiralized zucchini and yellow squash.
You could also add any veggies you want. Spinach would work nicely as would roasted bell peppers, sautéed mushrooms, etc. I find most veggies a re good to mix in with pasta and a great way to add extra nutrtition.
How to make these healthy homemade freezer meal.
Step 1: Preheat the oven to 350°F and spray a baking sheet with nonstick cooking spray.
Step 2: Add all the meatball ingredients to a large mixing bowl. Use your hands to mix the meatball mixture and then form into meatballs. This recipe made 12 larger meatballs. I put 3 in a container to make 4 lunches but you can do whatever you want.
Step 3: Get out a large skillet and heat to medium high heat. Add the olive oil and let that heat up. Then place the meatballs in and brown them on all the sides.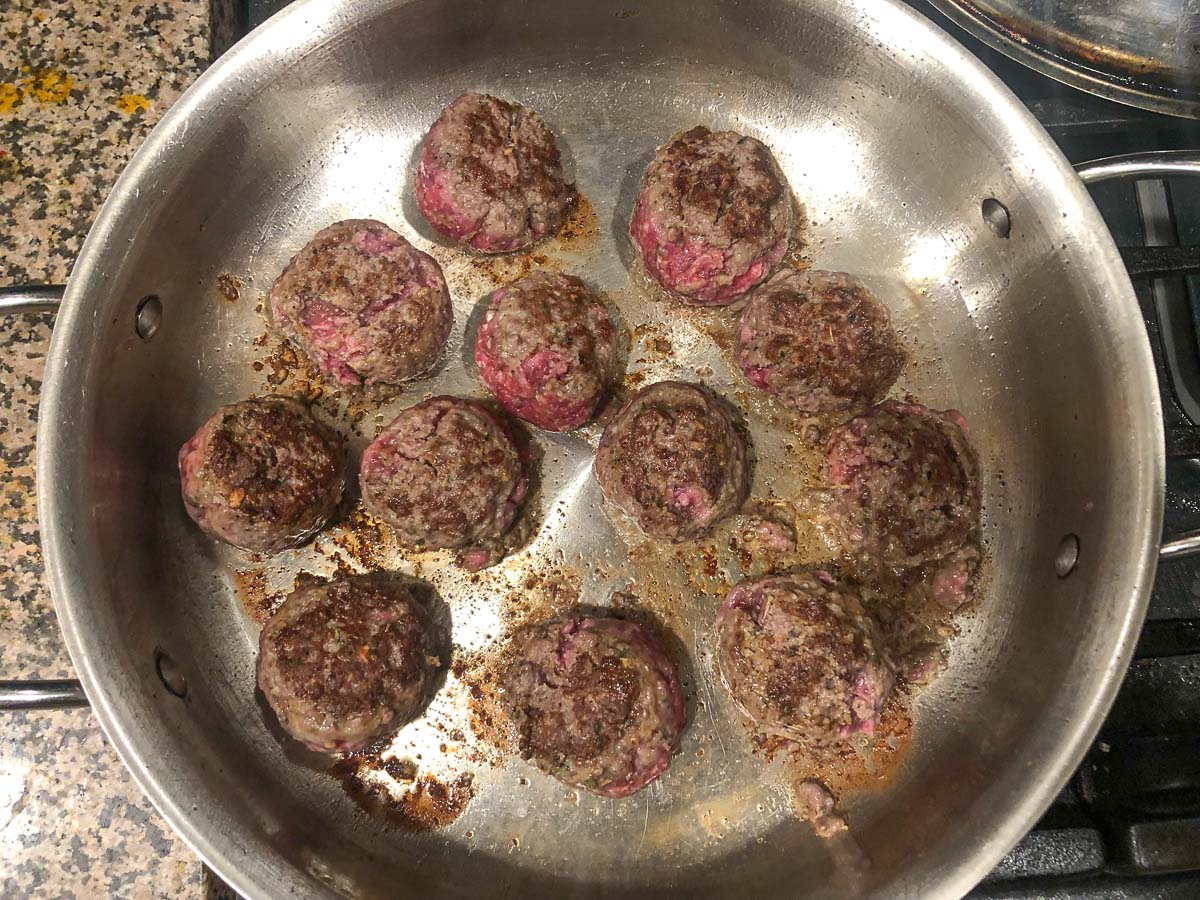 Step 4: Transfer the meatballs to the baking sheet and place in the oven for 10 minutes to cook through. Note baking time may vary depending on the size of you meatballs.
Step 5: Meanwhile make the tomatoes by heating up a large skillet to medium heat and add the olive oil, garlic, tomatoes and spices. Saute them over medium heat until they start to wilt. You don't want them to turn to mush but they should start to shrink a bit. When done take them off the stove and set aside.
Step 6: Use a spiralizer or vegetable peeler to make the zucchini noodles. There is no need to cook these because when you cook them from frozen the zucchini will cook enough to be al dente.
Step 7: Get out your freezer containers and assemble. I had 4 individual containers so I divided the zoodles and tomatoes into 4 individual portions and place them in each container. They I added 3 of the large meatballs.
Let everything cool before putting on the lid and placing in the freezer. You may want to label them with the date, name and calorie or carb count if that is important to you. These homemade freezer meals are good for up to 3 months in the freezer.
Meal prep containers and delicious recipes to try to make freezer meals.
I have a few blog posts that have easy low carb and healthy recipes that would be great for meal prep. This post with 189 keto meal prep recipes and ideas has a variety of information and here are all my keto meal plans if that interests you.
I also have a great recipe for a big batch of black bean chilli, spaghetti meat sauce and homemade salsa that you can make in the slow cooker. These would all be great foods to freeze for more meals.
As for the plastic containers for your freezer meals, you can find them just about anywhere. I found these at Aldi recently but I have even used old takeout containers we had on hand.
I really like these glass containers I bought on Amazon too. They don't get any of that discoloration that plastic containers get and can go from the freezer to microwave or oven and then to the dishwasher.
If you are not a tomato fan you can always use your favorite pasta or tomato sauce. I love the taste of Rao's marinara sauce and it's low carb which works for my diet.
How to reheat these homemade microwave meals.
To reheat from frozen, just place your container in the microwave and reheat for 3-5 minutes until the meatballs are warmed through. Times may vary depending on your microwave.
If you are taking these to lunch they might thaw until lunch time and then you can just reheat in the microwave for 1-2 minutes.
This Pealo meatballs and zoodles meal was pretty filling so I might eat this for dinner some night instead of lunch. Well I hope you like this healthy freezable lunch idea. These pasta dinners come in handy for my family as well. It's nice to have some on hand for them as well.
And if you are looking for a vegetarian meal, try these veggie bean burritos. They are another good idea for healthy frozen dinners. Just pop a frozen burrito in the microwave for lunch or dinner when you have one of those busy weeks.
The nutrition information for each of the individual meals is as follows: calories 430 / fat 26.4g / carbs 10.6g / fiber 1.2g / protein 33.1g   = 9.4g net carbs
Meatballs Homemade Frozen Microwave Meals
These Paleo meatballs go great with roasted grape tomatoes and zucchini noodles to make healthy pasta freezer meals for lunch or dinner. Save time and stay on track with this freezer friendly recipe.
Ingredients
Meatballs
1 pound lean ground beef
2 cloves of garlic, crushed
1 tablespoon dried minced onion
1 egg
1 teaspoon Worcestershire sauce
½ teaspoon salt
½ teaspoon black pepper
2 teaspoons Italian seasonings
2 tablespoon parmesan cheese
2 tablespoons olive oil
Tomatoes
2 tablespoons olive oil
1 pint grape tomatoes
2 cloves of garlic, crushed
½ teaspoon salt
½ teaspoon oregano
½ teaspoon basil
Zucchini Noodles
3 medium zucchinis made into noodles
Instructions
For the meatballs:
Preheat oven to 350°F. Spray a baking sheet with nonstick cooking spray for the meatballs. If you have an ovenproof skillet you can brown the meatballs on the stove and then use the same skillet to bake in the oven. If not use the baking sheet.
In a large bowl add all ingredients except olive oil.
Mix well and form meat mixture into rmeatballs. I made 12 large ones.
Heat olive oil in a skillet or oven proof skillet over medium high heat. Add the meatballs and brown on all sides. You don't want to cook them through, just brown them.
After browning, place skillet (or baking sheet) into oven and cook for 10 minutes. Make sure meatballs are done.
For the tomato dish:
Add olive oil to a skillet and heat to medium.
Add tomatoes, garlic and spices. Mix well and cook until tomatoes start to deflate and brown. Can cook longer if you wish. I like mine a little plump. Take off stove and cool.
Make your zucchini noodles using a spiralizer or vegetable peeler. This recipe makes 4 meals so divide the noodles and tomaotes evenly among the containers. Then add 3 large meatballs to each. Let the meals cool completely before putting in the freezer. You might want to label them with the date, contents and nutrition which you can find in the notes section.
To cook from frozen, microwave for up to 5 minutes until the meatballs are heated through. Cooking times may vary.
Notes
Caories per meal = 430 / fat = 26.4g / carbs = 10.6g / fiber = 1.2g / protein = 33.1g   net carbs = 9.4g
Nutrition Information:
Yield:

4
Serving Size:

1 meal
Amount Per Serving:
Calories:

430
Unsaturated Fat:

0g