If you are looking to make slow cooker chili for a crowd I have the recipe for you. It's a rich, hearty chili that is full of flavor and making it in the crock pot means it's really easy too. Let it cook all day and you can serve it for a party or freeze portions for meal planning.
You might also like this big batch slow cooker spaghetti meat sauce recipe.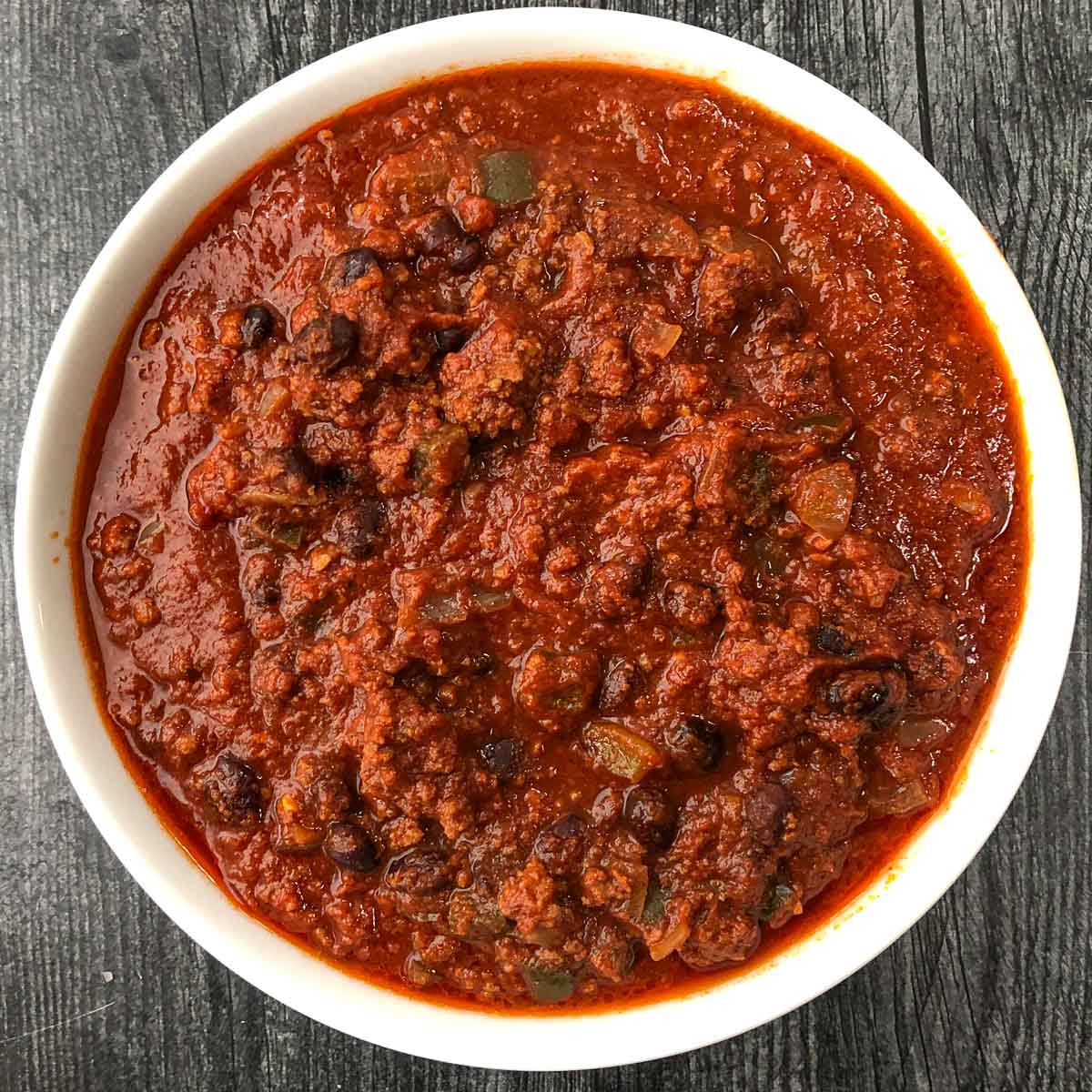 Recently I was trying to make a bunch of freezer dinners for my family and decided to make a big batch of slow cooker chili. I thought it would be a good post to write as this big batch of homemade chili would work great for serving a crowd or for a party too.
It's thick and rich using hearty ground beef, black beans and spices. This is the kind of chili you can eat as is piled with cheese and your favorite toppings. Or you can eat it over rice or with macaroni for a full meal. Now that I've made this chili in a slow cooker I don't think it will make it any other way again.
Recipe ingredients I used.
The simple ingredients I used for this recipe are lean ground beef, black beans, crushed tomatoes, tomato paste, garlic, salt, ground black pepper, ground cumin, chili powder, paprika, onion and green bell pepper.
This is a fairly thick chili. If you are looking for more of a soup type of consistency you could add a cup of broth or water towards the end if you want. My family like's it thick like this.
You want to use lean ground beef so it doesn't get too greasy. You can also use ground turkey or chicken if you want. My family prefers black beans but you could use chili beans, kidney beans, pinto beans or white beans. Use whatever you want.
How to make slow cooker chili for a crowd.
Step 1: Spray the crock of the slow cooker with non stick cooking spray. Then add the raw ground beef, chopped onions and green pepper. Break up the hamburger so it's not in big clumps.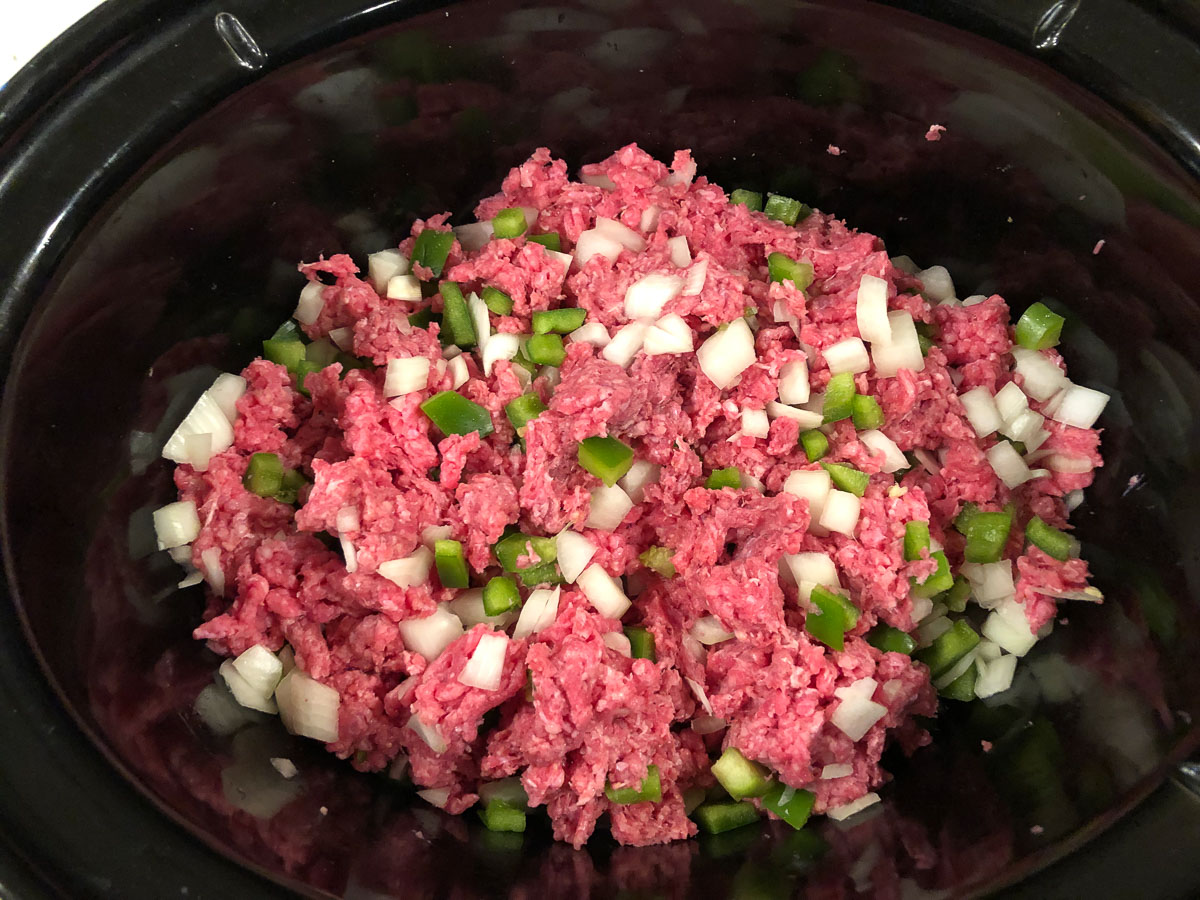 Step 2: Next add mix the spices in with the crush tomatoes and pour over the beef mixture. Then add the tomato paste and beans. Mix as well as you can, place on the lid and cook on slow for 6-8 hours.
You can also cook it on high for 4-6 hours. The key is to mix the chili half way through to make sure everything is well combined and then check that the meat is done and the sauce is rich and thick.
Below you can see what it looks like at the end.
Step 3: Turn off the heat when it's done and let it sit for 15 minutes. It will continue to thicken as it cools.
At this point you can serve it if you are having a party. You could also place it on warm until you are ready to eat.
If you want to freeze it in portions for other meals. Let it cool completely before placing in airtight containers. Then place in the freezer. Some people like to put it in plastic freezer bags. Then you can lay the bags of chili flat in the freezer and stack bags when they are frozen.
The night before you want to eat it, take out of the freezer and thaw in the refrigerator over night. Or you can thaw in the microwave though this seems to be harder for me.
How to serve with this chili for a party.
There are a lot of ways you can serve the big batch of chili. We usually eat it over rice for a hearty meal but here are few more ideas to try.
use chili to top tortilla chips, corn chips, French fries, baked potatoes or hot dogs
serve with rice or macaroni
serve by itself with sour cream, shredded cheddar cheese, chopped yellow onions, green onions, black olives or chives
add a bit of heat with pickled jalapeno slices, hot sauce or hot pepper flakes
crush tortilla strip or chips for on top
serve with cornbread
This is basically a double batch of my mom's turkey chili which is our go to recipe though we don't use ground turkey most of the time.
We eat a single batch of this just about once or twice a month because we all love it and it's our comfort food. I really think it has lots of flavor and this slow cooker method is the easiest! I hope you enjoy it too!
Check out all of my slow cooker recipes here.
Big Batch Slow Cooker Chili Recipe
Total Time:
8 hours
5 minutes
This big batch recipe of crockpot chili is great for a party or if you are into meal planning and want to freeze half for another meal. Super easy to make, this thick and rich chili recipe is sure to be family favorite recipe.
Ingredients
2 pounds lean ground beef
2 cups onion, diced
1 ½ cups green pepper, diced
2 tablespoons ground cumin
1 tablespoon chli powder
t tablespoon paprika
2 teaspoons salt
1 teaspoon black pepper
4 cloves garlic, crushed
2 (28 ounce) can crushed tomatoes
2 (6 ounce) can tomato paste
2 cans black beans (or chili beans or kidney beans)
Instructions
Spray the crock with nonstick cooking spray.
Add the raw ground beef, diced onions and dice green bell peppers. Crumble the ground beef so it doesn't cook in big clumps.
Mix the garlic and spices in with the crushed tomatoes and pour over the meat. Then add the tomato paste and beans. Mix well then put the lid on and cook on low for 6-8 hours or on high for 4-6 hours.
Mix the chili half way through to make sure everything is well combined. When the meat is cooked and the sauce is rich and thick it is done.
Let cool before eating and it will continue to thicken. If you want to freeze this chili, make sure to cool completely and then put in airtight containers and freeze. Thaw overnight in the refrigerator when you want to use it.
Notes
Ways to serve this dish:
use the chili as a topping for tortilla chips, corn chips, French fries, baked potatoes or hot dogs
serve with rice or macaroni
top chili with sour cream, shredded cheese, chopped yellow onions, green onions or chives
Add more heat by topping with pickled jalapeno slices, hot sauce or hot pepper flakes
crush tortilla strip or chips for on top
Nutrition Information:
Yield:

18
Serving Size:

1
Amount Per Serving:
Calories:

222
Total Fat:

7g
Saturated Fat:

3g
Trans Fat:

0g
Unsaturated Fat:

3g
Cholesterol:

45mg
Sodium:

638mg
Carbohydrates:

22g
Fiber:

6g
Sugar:

8g
Protein:

20g