To me this is truly the BEST spaghetti meat sauce recipe. I made this spaghetti sauce in the slow cooker so it was super easy. And you can make a large quantity that you can freeze for all kinds of Italian meals. The flavorful ground meat and Italian sausage combined with a blend of herbs and spices creates a depth of flavor. You could eat it by the spoonful!
You might also like this roasted tomato pasta sauce using fresh tomatoes!
One of my most popular recipes is my mom's lasagna recipe. It is seriously the most delicious lasagna I have ever had. And part of the recipe is this meat sauce.
It's made with ground beef, Italian sausage, tomatoes, spices and it's just super tasty. So I decided to make this slow cooker spaghetti meat sauce because it makes a huge batch that I could freeze and have on hand for a quick pasta dinner for my family. Just thaw, spoon over cooked pasta and add a bit of garlic bread.
Normally you have to make it in a big pot on the stove and it's a bit messy. But making this meat spaghetti sauce in the slow cooker is SOOO much easier. I will be definitely be making this sauce for my mom's lasagna like this in the future.
Recipe ingredients I used.
This sauce requires a few simple ingredients to make it but you should have most of them in your pantry. I used. crushed tomatoes, tomato sauce, tomato paste, yellow onion, lean ground beef, sweet Italian sausage, fresh garlic cloves, granulated sugar, salt, oregano and basil.
I like to use a leaner ground beef because it doesn't produce excess grease in the sauce and I vary the Italian sausage. Sometimes it's hot and sometimes it's sweet Italian sausage. When in doubt use sweet and you can add some heat by adding hot pepper flakes.
How to make spaghetti meat sauce in the slow cooker.
I liked making this in the crockpot because you can place everything in and let it go all day. You don't even have to brown the meat in a skillet ahead of time. You can place in the crock uncooked.
Spray the crock of the slow cooker with nonstick cooking spray.
Dice the onion and add that along with the ground beef and Italian sausage. Make sure to crumble the meats so that they breakdown easier. Mix these together well.
Next add the tomato products, spices and crushed garlic. Mix this all together well and them place the lid on the crockpot.
Cook on high for 5-6 hours or on low for 7-8 hours. Cooking time will vary. You want to make sure the onions are cooked through as well as the meats.
Let cool before storing in airtight containers. This recipe made 14 cups of delicious sauce for me. (Please scroll down to view the printable recipe card.)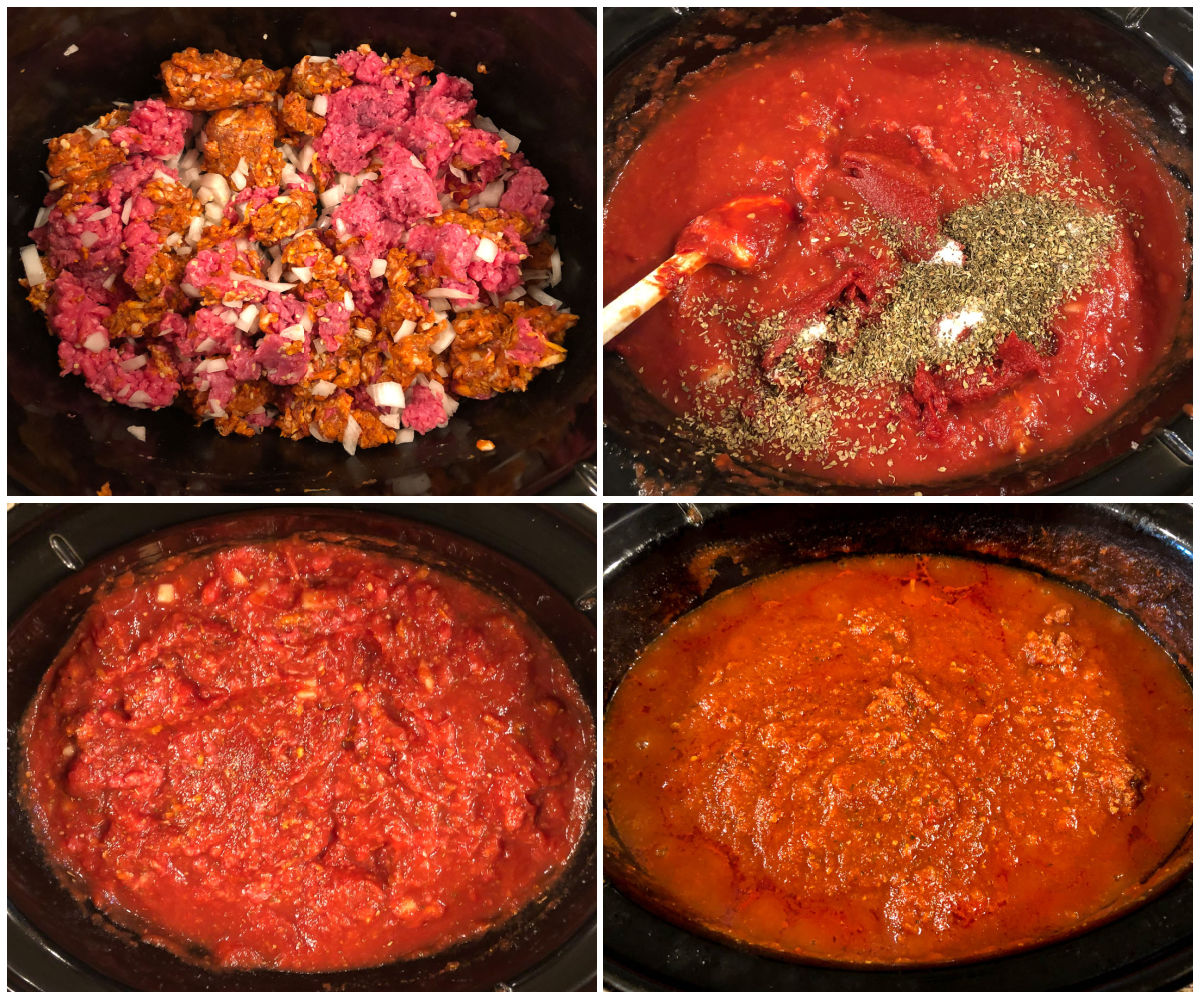 Ways to use this delicious spaghetti sauce with.
I made this meat sauce in the slow cooker because it was easy and so that I could make a large quantity and freeze it for easy pasta meals. Here are a few ways to use it.
over any kind of pasta for a quick dinner
in a traditional lasagna
use with eggplant parmesan
with a veggie lasagna substitute zucchini noodles for regular pasta
in casseroles like this chili mac casserole (substitute for the chili)
if you are gluten free this is a great way to add flavor to veggie noodles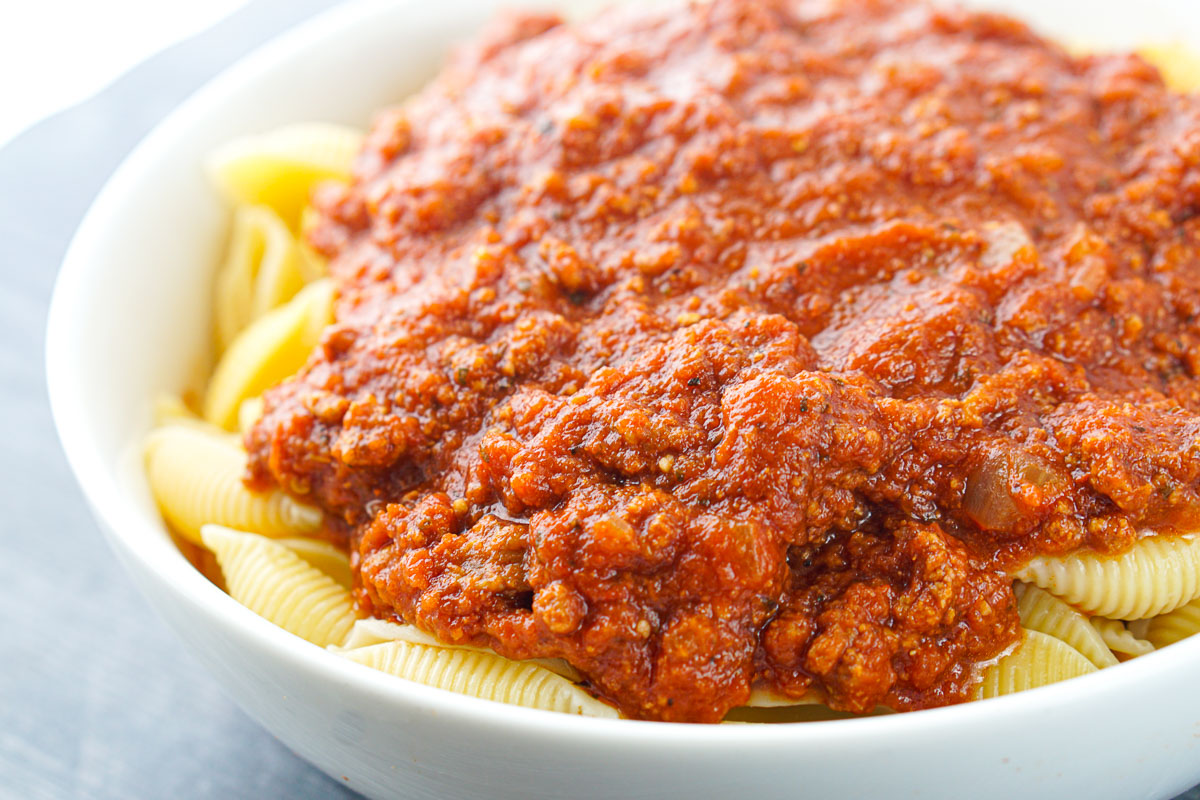 What kind of freezer containers to use.
Quite a few years ago I bought these soup containers on Amazon and have been using them constantly. I like to freeze low carb meals for quick lunches.
And it's also great for storing homemade chicken broth and other soups. They are the perfect size for this type of freezer food.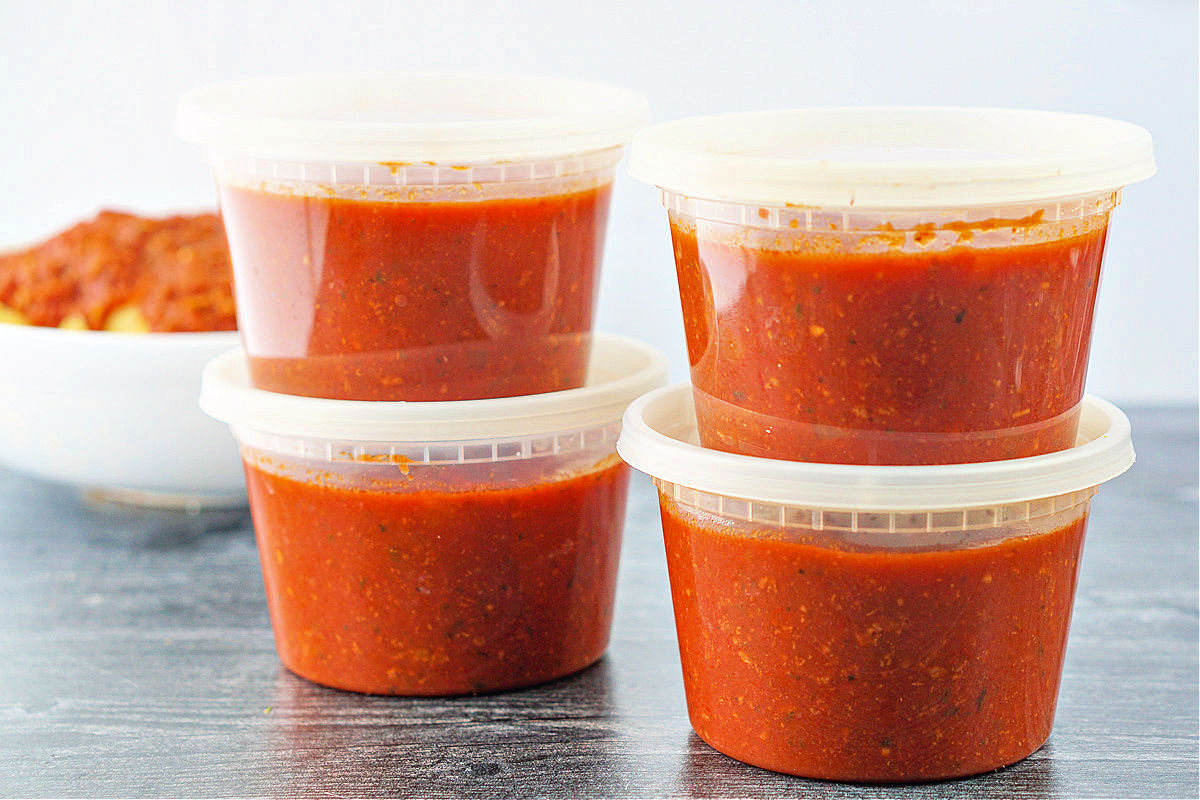 Below you can see how thick and rich the sauce is. If you like it thinner you can add a bit of water towards the end but I like thick.
I'm not kidding when I say it's the best spaghetti meat sauce recipe. And making it in the slow cooker just makes it even better.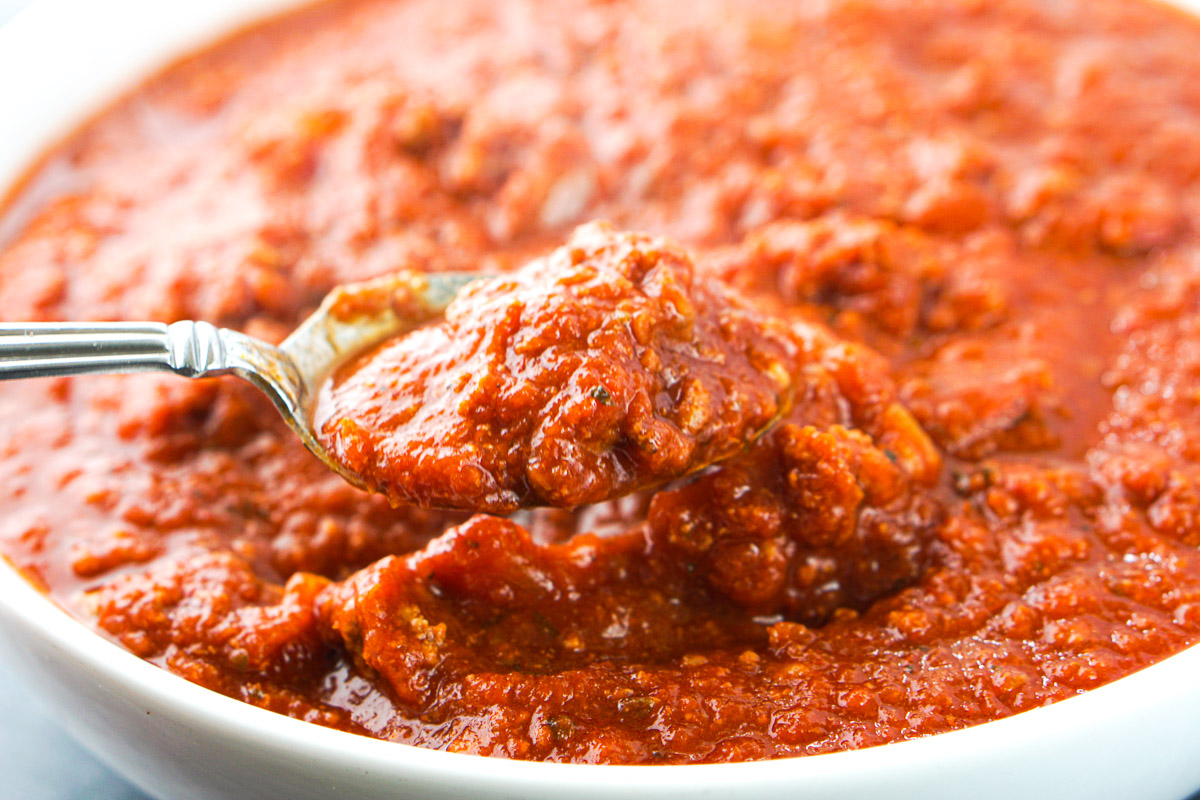 Well I hope you enjoy this this slow cooker spaghetti sauce as much as I do. I truly could eat it with a big spoon. Because I like to eat low carb most of the time, I eat this over zucchini noodles or sometimes I even roast zucchini and spoon this over top with a sprinkle of parmesan cheese for garnish!
It's an easy and tasty homemade spaghetti sauce I'm sure will be a family favorite! You'll be happy you have it in the freezer for quick weeknight dinners.
Slow Cooker Spaghetti Meat Sauce
This is the BEST spaghetti meat sauce and it's so easy in the slow cooker. It cooks down to a rich and delicious spaghetti sauce that you can freeze for a quick Italian dinner any night of the week.
Ingredients
1 pound ground beef, lean
1 pound sweet Italian sausage (no casings)
1 large onion, diced finely
2 cloves garlic, crushed
2 cans tomato paste (6 ounces each)
2 cans tomato sauce (8 ounces each)
2 cans crushed tomato (1 pound each)
1 tablespoon white sugar
1 tablespoon basil
1 tablespoon oregano
2 teaspoons salt
Instructions
Spray crock of slow cooker with nonstick cooking spray.
Add crumbled ground beef and sausage along with the diced onions. Take of the casings of the sausage if you can't buy it loose. Make sure all the meat is broken up and not in clumps. Mix with the oninons.
Add the rest of the ingredients and mix again. Cover and cook for 5-6 hours on high or 7-8 hours on low. It's done when the onions are cooked through as well as the meat.
Let cool before serving or placing into freezer safe storage conatiners. This recipe made 14 cups of finished sauce for me.
Nutrition Information:
Yield:

14
Serving Size:

1 cup
Amount Per Serving:
Calories:

174
Total Fat:

7g
Saturated Fat:

3g
Trans Fat:

0g
Unsaturated Fat:

3g
Cholesterol:

39mg
Sodium:

895mg
Carbohydrates:

12g
Fiber:

3g
Sugar:

8g
Protein:

17g