You have got to try this Ninja Creami chocolate ice cream. This frozen concoction is low carb, sugar free, high protein and low calorie! If you looking for low carb or sugar free Ninja Creami recipes you have come to the right place. Create delicious, creamy chocolate ice cream and feel good about eating it. Each serving has just 97 calories, 4.2 grams net carbs and 7.4 grams protein.
You might also like this keto chocolate peanut butter ice cream recipe.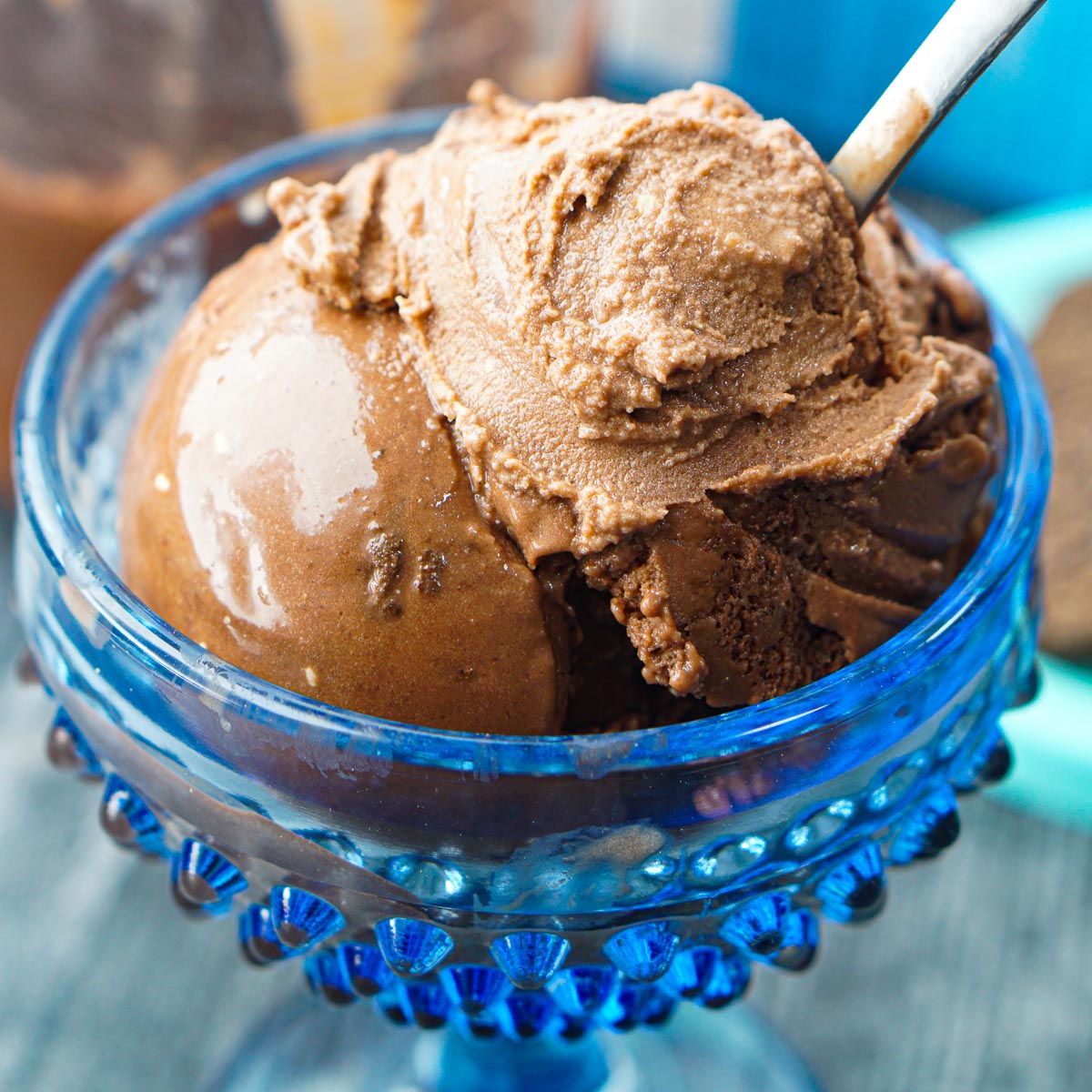 As I've written in another post, I am just LOVING this Ninja Creami ice cream machine because I have such a sweet tooth. I eat a bowl of homemade low carb, low calorie ice cream just about every day. It's a super tasty treat and has the perfect texture.
Today I'm sharing my Ninja Creami chocolate ice cream recipe. I used a cookies and cream protein powder and then added some keto sandwich cookies at the end for a delicious keto dessert.
However this post is just about the keto chocolate ice cream base recipe and I'll give you some ideas of how you add some low carb foods and mix-ins like mini chocolate chips or keto candy. But honestly it's delicious just as it is.
What is a Ninja Creami machine?
The Ninja Creami ice cream machine can make homemade ice cream, sorbets, gelato, smoothies and milkshake. You make the base mixture and have to freeze them overnight but you then use the machine and you have ice cream (or whatever you want) in about 5 minutes.
It sort of works in reverse from regular ice cream makers which starts with frozen bowl that you pour your liquid mixture in and then let churn for 30 minutes. The Ninja Creami starts with a frozen pint of the base mixture and then grinds it into a smooth and creamy ice cream in minutes.
It was a bit expensive but I have been getting so much use out of it so it was worth it to me. Note I don't use any heavy cream which is used in traditional ice cream recipes so this saves on calories and fat, yet the final product is really creamy. That's the magic of this frozen treat maker.
Recipe ingredients I used.
All you need for this simple recipe is unsweetened almond milk, protein powder, unsweetened cocoa powder, a little sugar free chocolate pudding mix and some type of sweetener.
Specifically I used use a quality cocoa powder like Divine over regular cocoa powder because it has no carbs and it's delicious. For the sweetener I used some SweetLeaf chocolate stevia drops. I am loving this flavor and it just a little bit adds lots of sweetness. You can use any keto friendly sweetener you want.
And for the protein powder I used this Designer Lite cookies and cream protein powder. However you can use whatever protein powder you want. I also like Isopure ZeroCarb protein powders because they have no carbs and I like the flavor.
Other ways to flavor this ice cream is using a flavor extract like vanilla extract or even a mint extract in this particular recipe. That will add flavor with out calories or carbs. Since I used the chocolate stevia drops I didn't need to use any.
I've also been playing around with this vanilla bean paste. So if you have something like that it would work in these ice cream recipes.
Let's make some Ninja Creami chocolate ice cream.
Step 1: To make the chocolate base, whisk together all the ingredients or put it in a blender and quickly blend. Pour the chocolate mixture into the plastic pint container that came with the machine.
Place the storage lid on pint and set in the cold freezer for roughly 20-24 hours. Make sure it's on a flat surface when you freeze it because the machine might have problems if it freezes tilted. You want it to be level.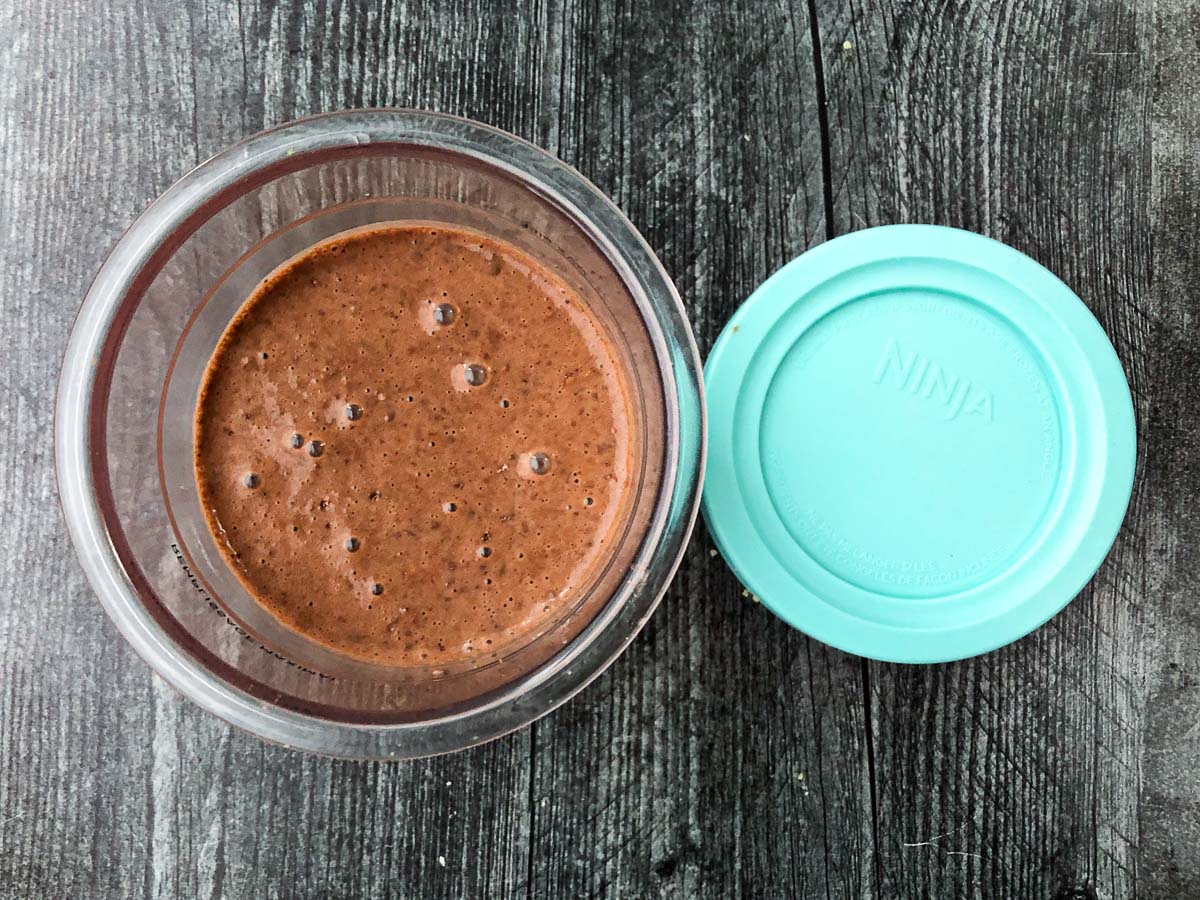 Step 2: Below in the upper left corner you can see what the frozen base looks like. Take off the lid and place the container into the bowl assembly of the Ninja Creami machine. Hit the Lite Ice Cream button and let it run through that cycle.
Step 3: You will probably have to run your ice cream through the Lite cycle 2-3 times until it get's a creamier texture. It will first look powdery as you can see in the below pictures but gets better as you run it through the cycles.
Note they also have a re-spin function but I think the using the Lite cycle works better.
Step 4: If after 3 cycles it's still powdery, add a tablespoon or so of almond or coconut milk and run it through one more time and it should work.
Each cycle is roughly 2 ½ minutes so it's not like you have to wait too long to get your delicious and healthy ice cream. The whole process (minus the freezing) takes less than 8 minutes usually.
Step 5: If you want to add mix-ins crumble up a few keto cookies and place it in the middle of the container. Then hit the Mix-In function. I find that I just like to scoop some of this homemade chocolate ice cream in a bowl and mix it by hand.
Store leftovers in the same pint container the machine came with and place in the freezer. Re-run it through the machine when you want to eat it. It might take a couple cycles to get the creamy texture you want.
You can also place the leftovers in an airtight container and then microwave it when you want to use it. Start with 20 seconds and then just add 5 second intervals until it has softened enough. I personally like running through the machine again.
Please scroll down to view the printable recipe card.
Low carb mix-ins to try with this keto chocolate ice cream recipe.
I bought quite a few different keto cookies and sweets to play around with for additional mix-ins. Here are few of my favorites for you to try.
You can also try some sugar free and low carb candy, cereal, coconut flakes, sugar free chocolate syrups, nuts, sugar free nut butters, etc. Play around and create your own flavors.
More low carb ice cream recipes for Ninja Creami.
I've mentioned above that I have made many keto Ninja Creami recipes but forget to write them down! But so far I have a strawberry and salted caramel protein ice cream recipes on the blog. It's hard to pick a favorite recipe but I do like my chocolate!
Coming soon I will have a coffee latte and coconut flavors for you to check out. I can't wait to try making a low carb gelato recipe.
Well if you love ice cream even half as much as I do and are on a low carb diet, give this chocolate protein ice cream recipe a shot. It's so nice to have a frozen treat and for it to be healthy too!
And if you are interested in the Ninja Creami and have a question, just leave a comment and I'll try to answer if I can. Enjoy!
The nutritional info is 97 calories / 3.1g fat / 9.8g carbs / 5.6g fiber / 7.4g protein = 4.2g net carbs
Ninja Creami Chocolate Ice Cream Recipe
This simple but delicious Ninja Creami chocolate ice cream is great when you are craving a sweet treat on a low carb diet. Not only is it low carb, but it's also high protein, low calorie and low fat!
Ingredients
1 ¼ cups unsweetened almond milk
1 scoop of low carb protein powder (I used Designer Lite cookies and cream)
1 tablespoon cocoa powder (I used Divine cocoa)
1 tablespoon sugar free chocolate pudding mix
1 dropper of chocolate liquid stevia**
Instructions
Whisk together all the ingredients and taste. Add enough sweetener if you are not use the drops to make the base very sweet.
Pour into the plasic pint containers that came with the Ninja Creami machine and place lid on pint. Set in the freezer for 20-24 hours. Make sure you place it on a flat surface in the freeezer.
The next day, place the pint container in the bowl assembly of the machine and run the Lite Ice Cream cycle. When done take a look and if it's powdery run it through the cycle on or two more times until creamy.
If after 3 cycles it's still powdery, add a tablespoon or two of almond milk and run it through again. The whole process (minus the freezing) takes less than 8 minutes usually.
If adding mix-ins you can do that now and run it through using the Mix-in cycle. Or you can just do it by hand.
This should make 2 servings. If you only eat half of it, make sure the smooth the remaining ice cream evenly and place back in the freezer. Run it through the machine when every you want to eat it. Use the Lite cycle probably 2-3 times to mix it up again.
Notes
** You can use any kind of sweetener you want. I really like Sweetleaf's chocolate stevia drops for the flavor and it adds a lot of sweeteness. You want your ice cream base to be very sweet because as it freezes it loses a bit of the sweetness. So just add enough sweetenr of choice to the base to make it very sweet.
The nutritional info is 97 calories / 3.1g fat / 9.8g carbs / 5.6g fiber / 7.4g protein = 4.2g net carbs
Nutrition Information:
Yield:

2
Serving Size:

1
Amount Per Serving:
Calories:

97