These leftover mashed potato waffles are not only quick and easy to make, they are also a delicious snack, appetizer or meal! It's a great way to use leftover mashed potatoes and you can top them with everything you would for a loaded baked potato!
You might also like loaded cauliflower mash!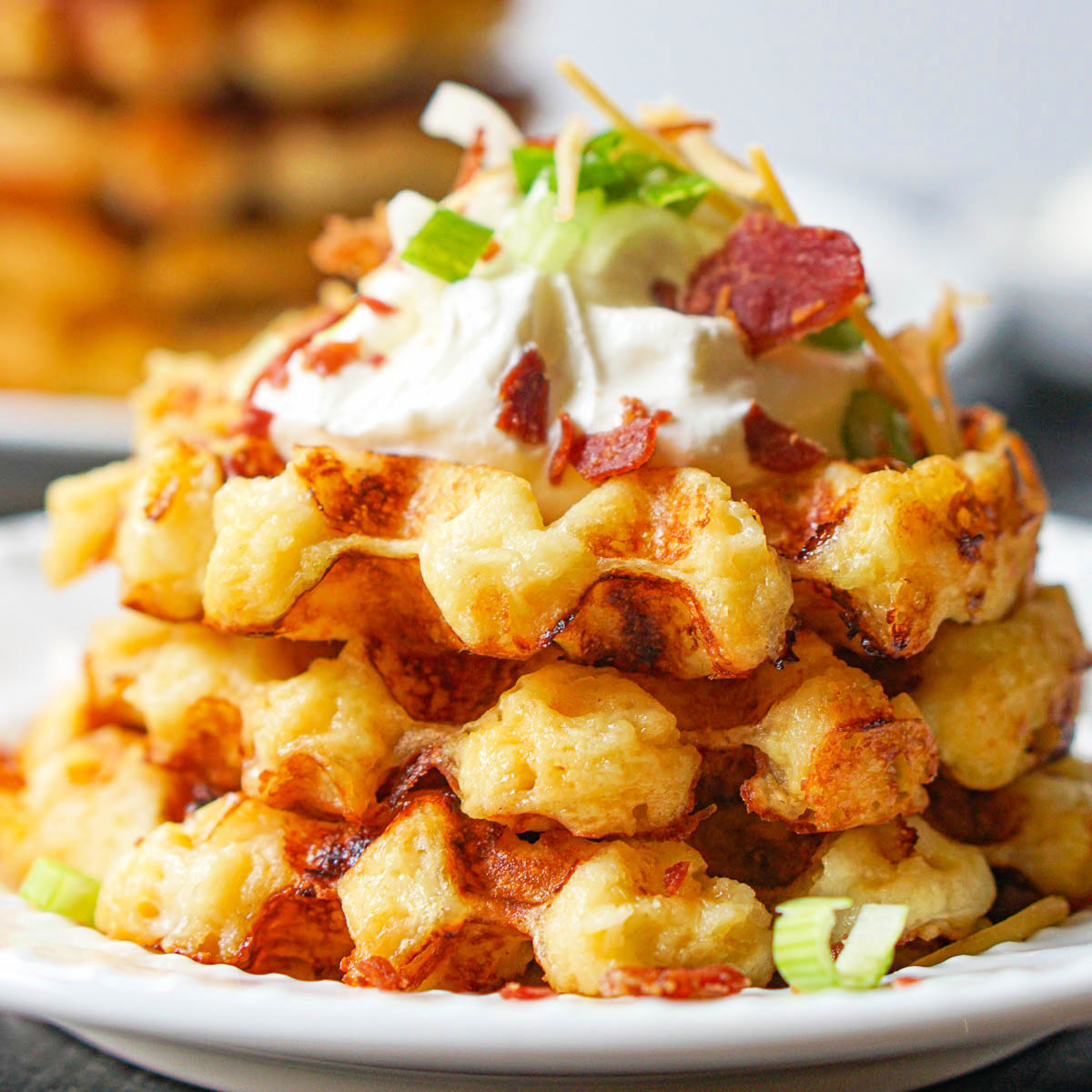 Originally this recipe was part of a blogging challenge for St. Patrick's Day and I immediately thought of a potato recipe. Today I'm updating this older recipe because I had leftover mashed potatoes from Thanksgiving and remembered how good they were.
These loaded leftover mashed potato waffles were delicious! My husband and I had them for lunch using store bought mashed potatoes. I had bought these for my son's Friendsgiving and had an extra package. Well we just loved them.
I topped mine with all the fixings of a loaded baked potato and my husband used his homemade hot sauce with some of those fixings.
So if even if you don't have any leftovers you can buy already made mashed potatoes and make these potato waffles in minutes. And bonus they are gluten free because you aren't using any kind of flour and fairly low carb.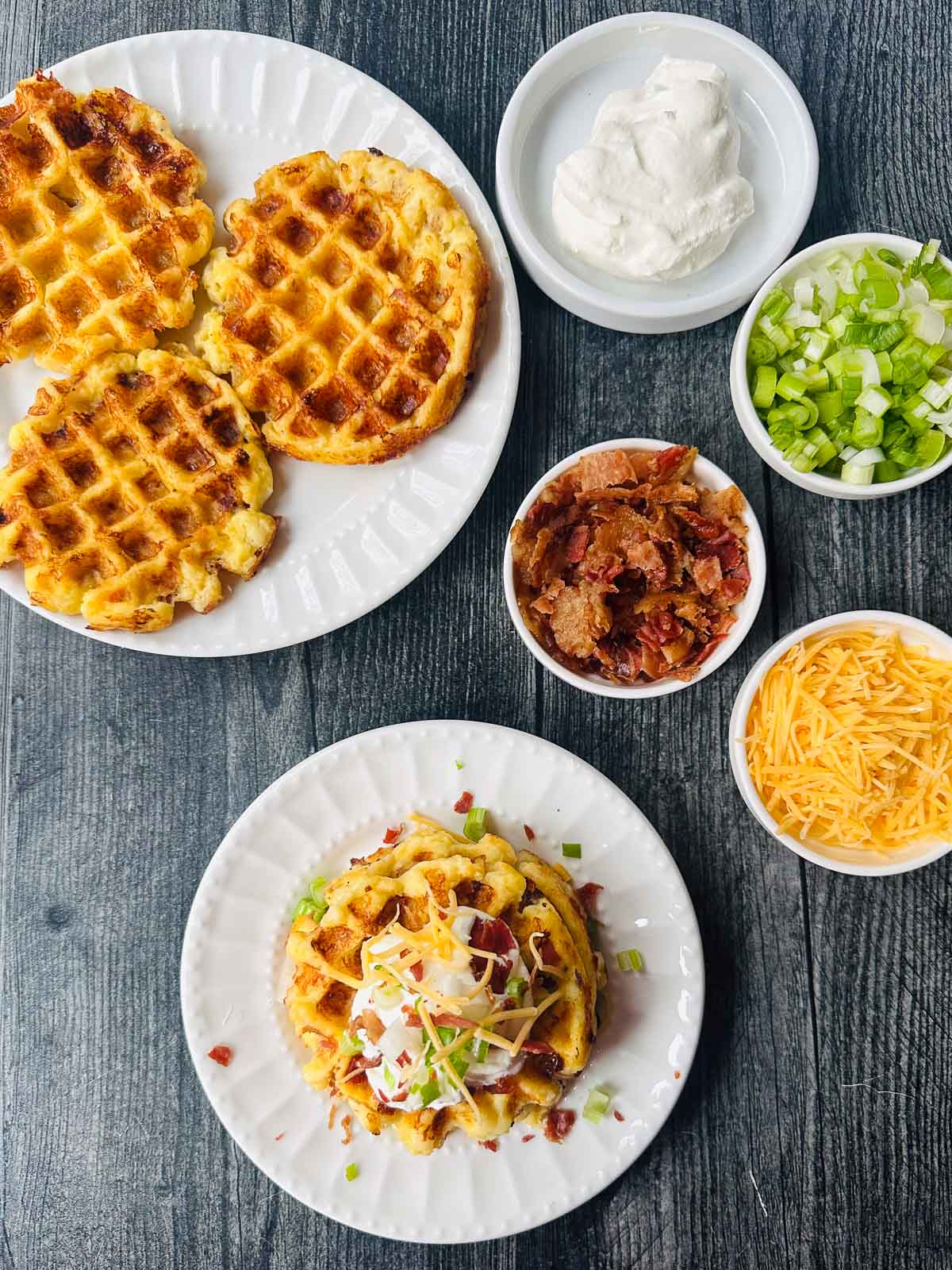 Ingredient I used and recipe notes.
The simple ingredients I used were mashed potatoes, mozzarella cheese, cheddar cheese, parmesan cheese and egg. You can also season with salt and black pepper but sometimes the cheeses are salty. The toppings were sour cream, crumbled bacon bits, green onion and more shredded cheddar cheese.
Mashed Potatoes
You can use leftover homemade mashed potatoes or just buy store bought. Originally I used leftovers but today I wanted to try the Bob Evans brand shown below. Both will work great.
If you have neither leftovers nor store bought mashed potatoes you can make your own by boiling potatoes and adding milk and butter. They don't have to be perfect but they have to be a little bit smooth like regular mashed potatoes.
Cheeses
I used mozzarella to keep them together, cheddar cheese and parmesan cheese for flavor. The cheddar also keeps it together. The fried cheese is also what gives them that crispy texture.
If you want to change the flavor I would only substitute the cheddar. You can try Monterey Jack, pepper jack, Swiss cheese, gouda, gruyere, etc. But keep the mozzarella and parmesan cheeses.
Toppings
I used the typical loaded toppings of bacon bits, sour cream, green onions, and a bit more cheddar cheese. You can use whatever toppings you like.
If you want you can add a few spices like onion powder, garlic powder, paprika or even hot pepper flakes for a little heat.
You could think of these like fries when it comes to toppings and just dip them in ranch, ketchup or some other dipping sauce. Or you can think of them like a baked potato and try things like broccoli and cheese sauce or even chili!
How to make leftover mashed potato waffles.
Step 1: Add an egg to a mixing bowl and beat. Then add in the leftover mashed potatoes and cheeses to make the batter or mixture.
Step 2: Heat up your waffle iron. You might have grease your waffle maker so check your manufacturer's instructions. You can use a little melted butter spray, coconut oil, vegetable oil or cooking oil spray. Use whatever you like.
I used a Dash mini waffle maker and it's great for recipes like this. The small size makes it easy to work with cheese waffles like this.
Step 3: Once the waffle iron is hot and greased (if using) add about ¼ cup of batter or potato mixture in the center of the iron. If you have a regular size iron just make small ones in the middle of it.
Step 4: Cook for a couple of minutes and once your waffle is is golden brown and has crispy edges take it out of the iron and set aside on a plate. Continue with the rest of the batter until you have all of your waffles.
Step 5: To serve, stack one or two waffles together and add your toppings. Store leftovers in an airtight container or you can add them to a ziplock bag and freeze them. Please scroll down for the printable recipe card.
If you are using this as an appetizer they would be best to serve right away though you could heat them up in just less than a minute in the microwave. Serve them singly with a dipping sauce for the appetizer.
Other savory waffles to try.
I have lots of savory and a few sweet waffle recipes for you to try on this blog as they are one of my favorite foods on a low carb diet. Here are few of my favorite recipes many of which are low carb or keto.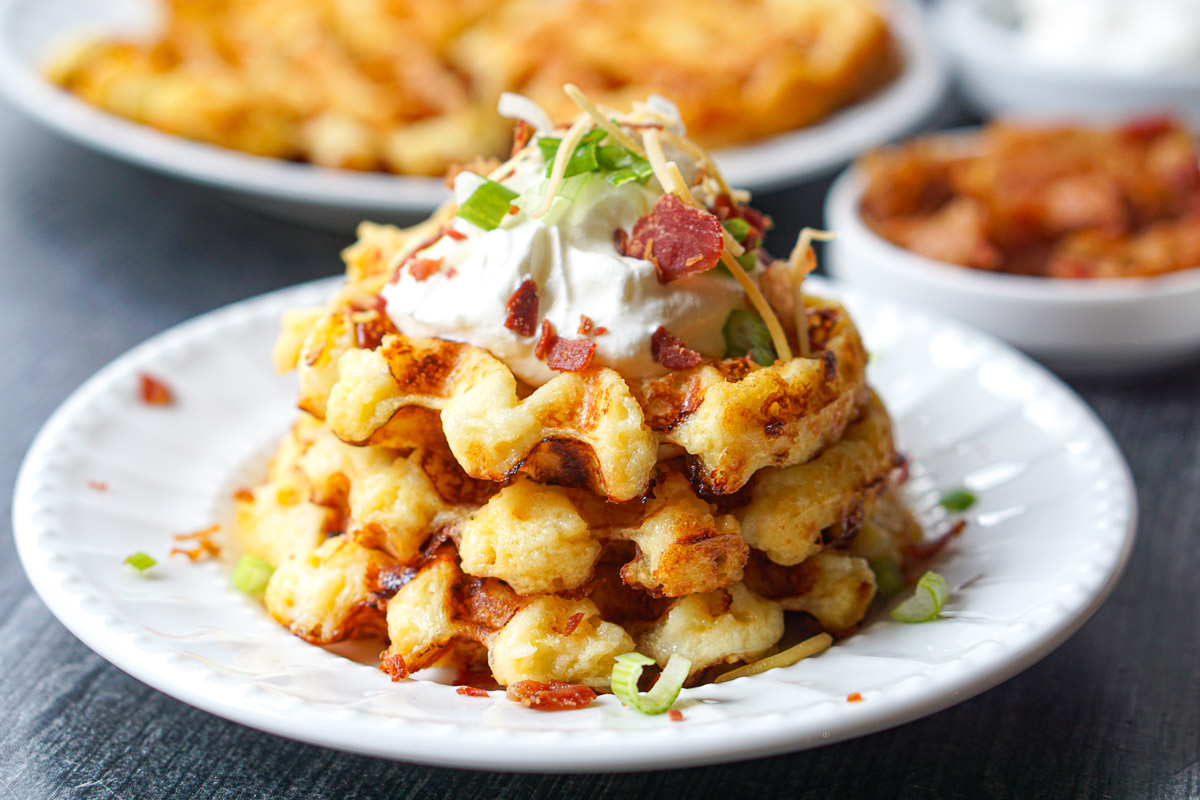 I loved this leftover mashed potato waffles recipe because I haven't made these in years and they were really tasty.
Whether you have leftovers from the holidays or are just using store bought mashed potatoes this recipe is a tasty snack, breakfast or even appetizer. I hope you like them as much as we did. Enjoy!
Loaded Leftover Mashed Potato Waffles
These loaded leftover mashed potato waffles are not only quick and easy to make, they taste delicious. You can eat them for breakfast, lunch or dinner!
Ingredients
2 eggs
1 cup of mashed potatoes
½ cup mozzarella, shredded
½ cup cheddar cheese, shredded
¼ cup Parmesan cheese, grated
4 strips of cooked bacon, optional
4 green onions chopped, (optional for topping)
sour cream, (optional for topping)
cheddar cheese, shredded (optional for topping)
Instructions
Preheat waffle iron and grease it yours calls for it. You can use butter or coconut oil or nonstick cooking spray. Check your manufacturers instructions for guidance. Note I used a Dash mini waffle maker which is the perfect size for this recipe.
In a large bowl beat the eggs and then add the mashed potatoes, cheddar, mozzarella and Parmesan cheese. Mix well to make the batter mixture.
Add about ¼ cup of a batter to the center of preheated waffle iron and cook for a couple of minutes until golden brown and has crispy edges. Take out and set on a plate then continue with the rest of the batch.
When finished, stack 1 or two waffles and top with bacon, green onions, shredded cheddar and sour cream if using. Or you can use these as an appetizer and serve with a dipping sauce like ranch, sour cream, French onion dip, etc.
Nutrition Information:
Yield:

8
Serving Size:

1 grams
Amount Per Serving:
Calories:

152
Total Fat:

10g
Saturated Fat:

5g
Trans Fat:

0g
Unsaturated Fat:

4g
Cholesterol:

70mg
Sodium:

366mg
Carbohydrates:

6g
Fiber:

1g
Sugar:

1g
Protein:

9g