For a fun and easy way to use leftover turkey and stuffing, try this Thanksgiving leftovers waffle recipe! You make crispy stuffing waffles and top it with leftover turkey, mashed potatoes and warm gravy. Eat it for brunch, lunch or dinner the day after Thanksgiving for another way to enjoy your holiday feast.
You might also like these turkey Cristo sandwiches with cranberry sauce.
I don't know about you but we love Thanksgiving leftovers but being a food blogger I like to find fun ways of eat them so this year I decided to make this Thanksgiving leftovers waffle.
I used the stuffing to make a crispy waffle and then topped on some turkey, mashed potatoes and warm gravy. It's like an open faced sandwich with all the flavor of a Thanksgiving feast!
This was my practice batch before the big holiday but I was super happy with the results and my son really liked it too. So I know we will be making them again in a few weeks.
Recipe ingredients I used.
For my Thanksgiving leftovers recipe, I used leftover turkey (white meat), basic stuffing, mashed potatoes and gravy.
To make the waffles all you need is leftover stuffing. After that you can use whatever you want. I would have liked to have a side of leftover cranberry sauce but I couldn't find any at the store but it would have went great with this.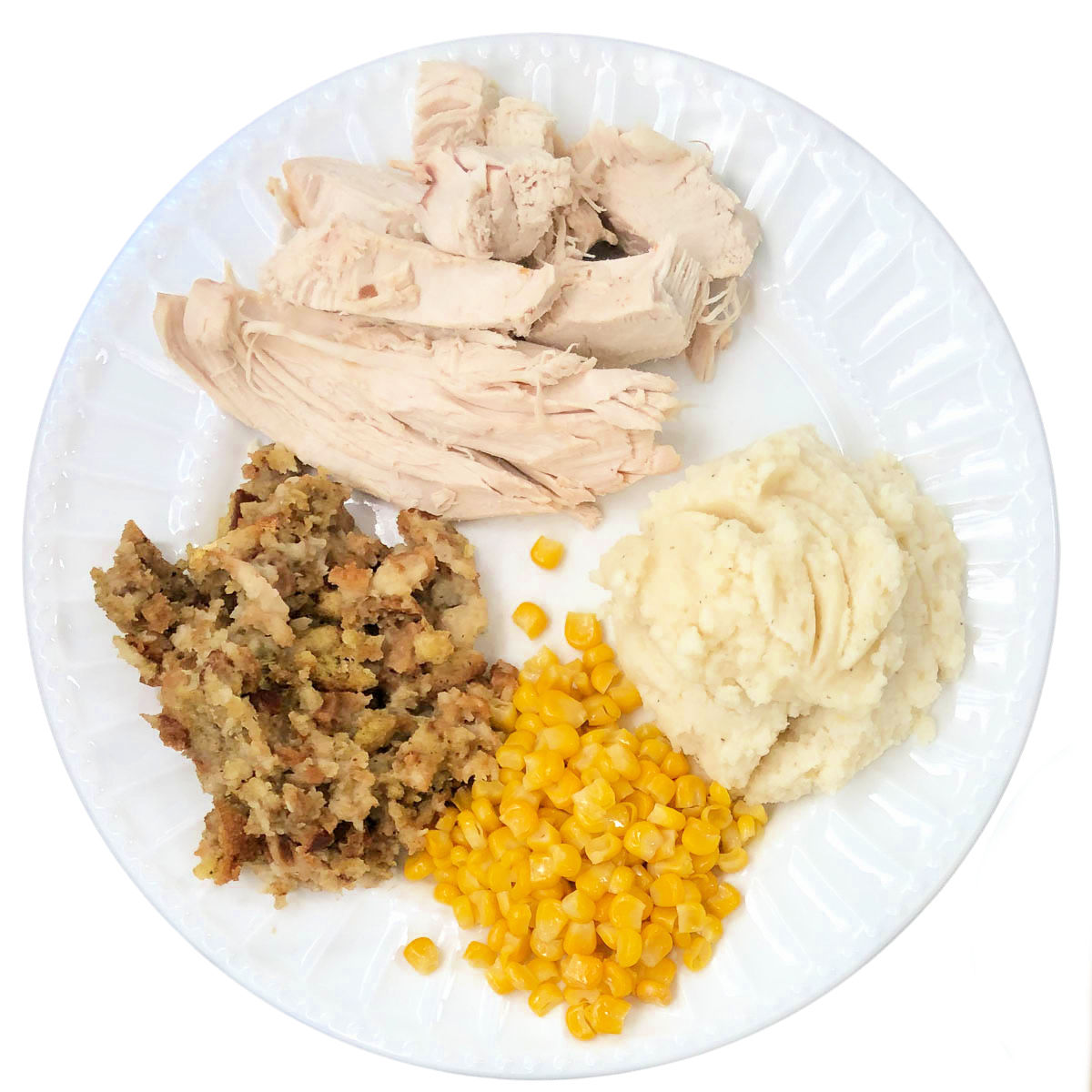 How to make a Thanksgiving leftovers waffle.
These could not be any easier but here is how I made this recipe.
Step 1: To make the leftover stuffing waffles grease waffle maker if necessary and then heat to medium. You can use nonstick cooking spray, oil or butter. I used my Dash mini waffle maker because it works great and makes the perfect size for individual servings.
Step 2: Once the it's hot, add an ice cream scoop full of stuffing mixture in the middle of the preheated waffle iron and close the lid. Cook until it get golden brown and crunchy on the top. Continue on with the next on if you are making a big batch.
Step 3: Place one on a dish. Now it's time to top your stuffing waffle. I start with the leftover turkey then use an ice cream scoop of mashed potatoes and a drizzle of leftover gravy over top.
Below you can see how I made them. A complete meal and it was easy peasy.
If you want you can make a batch of these stuffing waffles and store them in an airtight container or ziplock bag in the refrigerator. Or even freeze them. Heat the up in the microwave.
Please scroll down for the printable recipe card.
Recipe notes and tips.
You need to heat everything up except the stuffing before making this recipe.
I used just regular stuffing in this dish. I did not stuff the turkey with it, it was a side dish. It was on the drier side so it worked well as is.
If you want a more sturdier waffle, you can add 1 egg to 1 cup of stuffing along with ½ of cheddar cheese or mozzarella cheese. This will make it more like chaffle. I just wanted simplicity for this recipe so I did not use any of that.
Check out this recipe for keto stuffing chaffles recipe that is simpler to this but everything is low carb.
As I'm writing this I'm thinking about a variation on this recipe. Maybe I'll try that after Thanksgiving and come back here and update the post. I'm going to try and make this more of a leftover waffle sandwich! Maybe add a layer of cranberry sauce too.
More ideas for Thanksgiving leftover turkey!
For more delicious ideas for leftover turkey try one of these easy recipes.
Well if you are looking for something different to do with your leftovers try this Thanksgiving stuffing waffles recipe. It's really tasty and fun to eat. Enjoy!
Thanksgiving Leftovers Waffles Recipe
If you have leftovers from your turkey dinner, try these delicious and fun Thanksgiving letover waffles recipe. Make stuffing waffles and dressing them up with anything you like.
Ingredients
¼ cup stuffing
½ cup mashed potatoes
¼ cup turkey slices
¼ cup turkey gravy
Instructions
Grease your waffle iron if needed according to manufactures directions then preheat it. You can use non-stick spray or butter.
Get a scoop of stuffing and place it in the middle of the waffle iron. I used a mini Dash waffle maker and it made the perfect sized waffles. If you are using a larger waffle maker just put the stuffing in the middle and make a smaller one. It will be easier to handle and the right amount for this recipe.
Once the stuffing is nice and browned and a bit crispy take it out and place it on a plate.
PLace as much turkey as you want on top. Then using an ice cream scoop, place a scoop of mashed potaotes on top of the turkey and cover with gravy.
If you want to make more and have leftover waffles you can store them in an airtight container or ziplock bag or freeze them for another time.
Nutrition Information:
Yield:

1
Serving Size:

1
Amount Per Serving:
Calories:

310
Total Fat:

13g
Saturated Fat:

2g
Trans Fat:

2g
Unsaturated Fat:

8g
Cholesterol:

33mg
Sodium:

1613mg
Carbohydrates:

35g
Fiber:

2g
Sugar:

5g
Protein:

13g