These lemony greens are mixed with rice and chickpeas for a deconstructed grape leaves kind of dish. It's hearty, healthy and delicious for a vegetarian main dish or tasty side dish. Full of healthy ingredients that go great together.
You might also like these slow cooker power greens Alfredo recipe.
This recipe was born out of my innate laziness. My sister in law used to make stuffed swiss chard leaves which were similar to stuffed grape leaves.
She would stuff them with a mixture of rice and chickpeas (garbanzo beans) and lemon. I just loved them. However I rarely have the patience to make such dishes and one day decided to just make a lazy girl's version – lemony greens with rice and chickpeas.
So last night we smoked a salmon….on a smoker that is…and I needed a side dish to go with it. I had some left over rice from the night before so I knew this rice and chickpea dish would be a quick, easy and delicious side dish to make.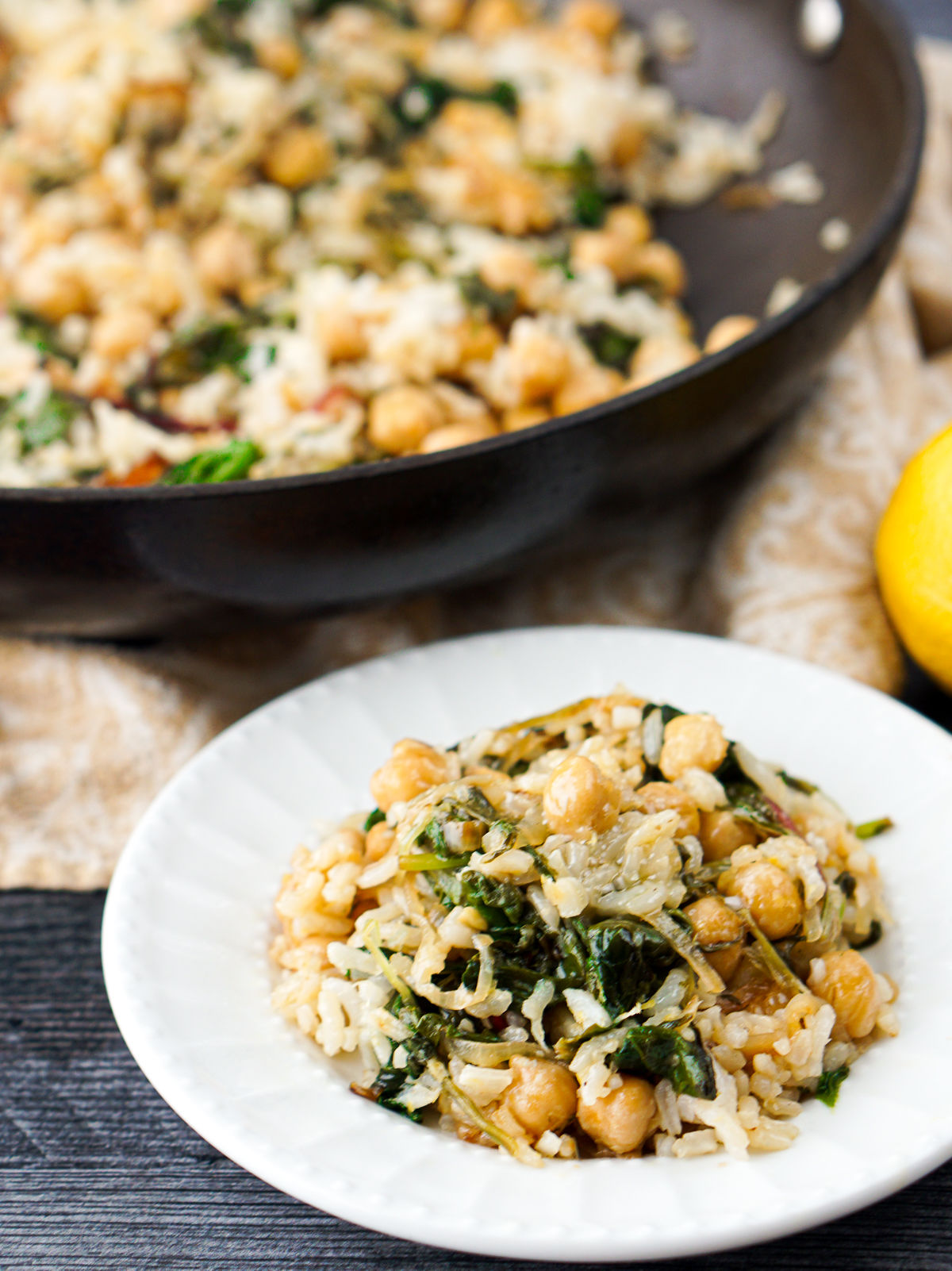 Recipe ingredients I used.
As I mentioned above I used leftover cooked rice, assorted greens, yellow onion, fresh garlic, fresh lemon juice, lemon zest and canned chickpeas. No spices, just a little salt and pepper.
While I used cooked white rice, you could use brown rice, jasmine rice or really any already cooked rice you want. And I used cooked chickpeas from a can. You can dry chickpeas and uncooked rice and make both from scratch. However this dish is all about convenience so if you can, use pantry staples like canned goods and leftovers.
I originally found a huge bag of what was named Power Greens at Costco. It contained baby kale, chard and spinach; all organic and already washed. You can't beat that.
Today I found a similar product at our local grocery story. It's just baby greens and they worked perfectly. If you can't find power greens you can use baby spinach, baby kale or a combination of both.
How to make lemony greens with rice and chickpeas.
Step 1: Get out a large skillet and heat to medium heat. Add some olive oil and sliced onions to the pan and season with salt and ground black pepper. Cook the onions until the are gold brown and caramelized. This might take a good 5 minutes.
Step 2: Next add the baby greens and saute until it wilts which might take a couple of minutes. This recipe calls for 6 cups which sounds like a lot but they cook down to almost nothing so start with about ⅓ of the amount and as it shrinks, start adding the rest.
Step 3: Once you have all your greens in the pan, add your garlic, cooked rice, lemon and chickpeas. Mix and cook for a few minutes to make sure all the flavors are incorporated.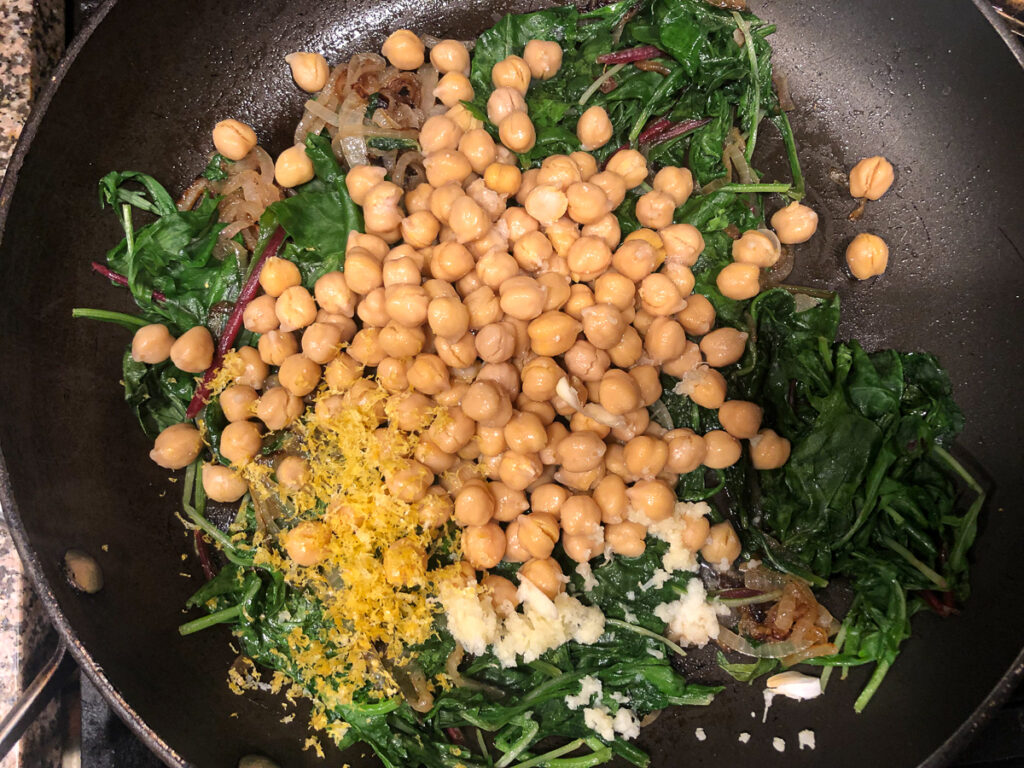 Step 4: Taste and add more salt and pepper or even extra lemon if you like it more lemony. Store leftovers in an airtight container. (Please scroll down for the printable recipe card.)
Below you can see what it looks like. This recipe has a lot of chick peas but you can cut the amount in half if beans give you problems.
You could also add more greens if you want but as you can see this is what 6 cups shrinks down to.
Other things you can add to this dish.
If you want you can add some chicken pieces to this dish to make it more of a one pot meal. Again it would work with leftovers or rotisserie chicken.
And since some stuffed grape leaves use tomatoes, if you sauteed some chopped tomatoes with the greens it would be nice.
Lastly fresh parsley always go well with lemon and garlic flavors. Some toasted pine nuts can top this dish like a rice pilaf.
What to serve with this rice side dish.
As I mentioned above we ate this smoked salmon that night but this rice with chickpeas is also great with any meaty main dish. Try this with one of these healthy meals:
All are easy and tasty main dishes.You could also eat this as is for a vegetarian meal.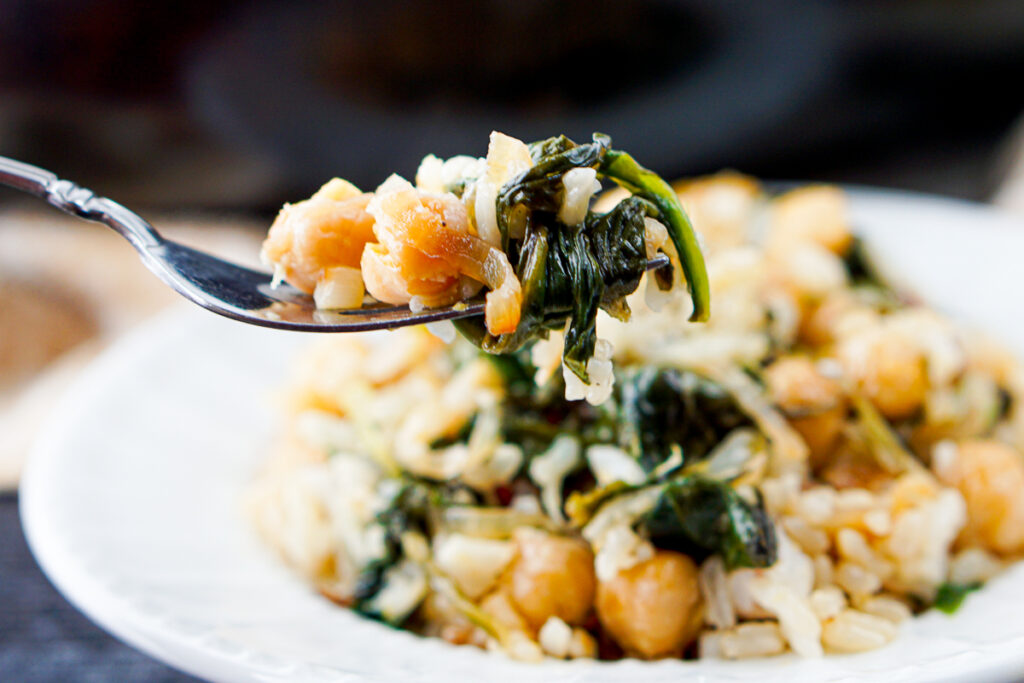 My husband really liked this dish and I liked it so much I ate it for breakfast the next morning. Greens and chickpeas are such healthy foods and when you combine them with the simple flavors of lemon and caramelized onions make this a wonderful vegetarian dinner. Perfect for those trying to have a healthy diet.
Lemony Greens with Rice and Chickpeas
This is a quick and tasty side dish that is also very healthy. Using any kind of baby greens you can find at the grocery store and mix with the delicious flavors of fresh lemon and carmelized onion brings the chickpea rice together.
Ingredients
2 tablespoons olive oil
1 large onion, thinly sliced
6 packed cups of fresh greens
2 cloves garlic, crushed
2 cups cooked rice
1 can chickpeas
1 lemon, juiced and zest from half of the lemon
½ teaspoon salt
¼ teaspoon black pepper
Instructions
In a large saute pan, add olive oil heat to medium high heat. Then add the onions, turn down the heat to medium and cook the onions until they brown and are caramelized a bit.
Season with salt and black pepper and then add about ⅓ of the baby greens and saute until they wilt. This should take 1-2 minutes. Then keep adding the greens until they are all wilted. The 6 cups shrinks down quite a bit. You can add 1-2 tablespoons of water to steam the greens if you need to.
Once all your greens are in the pan, add your garlic and rice.
Cook for a few minutes to incorporate all the rice.
Add the lemon juice and zest along with the chickpeas and continue to cook for 5 minutes.
Taste and add more salt and pepper if desired.
Store leftovers in an airtight storage container.
Nutrition Information:
Yield:

4
Serving Size:

1
Amount Per Serving:
Calories:

286
Total Fat:

9g
Saturated Fat:

1g
Trans Fat:

0g
Unsaturated Fat:

7g
Cholesterol:

0mg
Sodium:

310mg
Carbohydrates:

44g
Fiber:

7g
Sugar:

5g
Protein:

9g