This keto Ninja Creami coffee ice cream recipe is not only low carb but it's also low calorie. The Ninja Creami machine is a great option for making healthy ice cream recipes that you can enjoy everyday. This low carb recipe creates creamy, sweet homemade coffee ice cream that tastes like a fancy drink. Only 100 calories and 1g net carbs per serving and it's the perfect dessert for coffee lovers.
You might also like these keto coffee popsicles!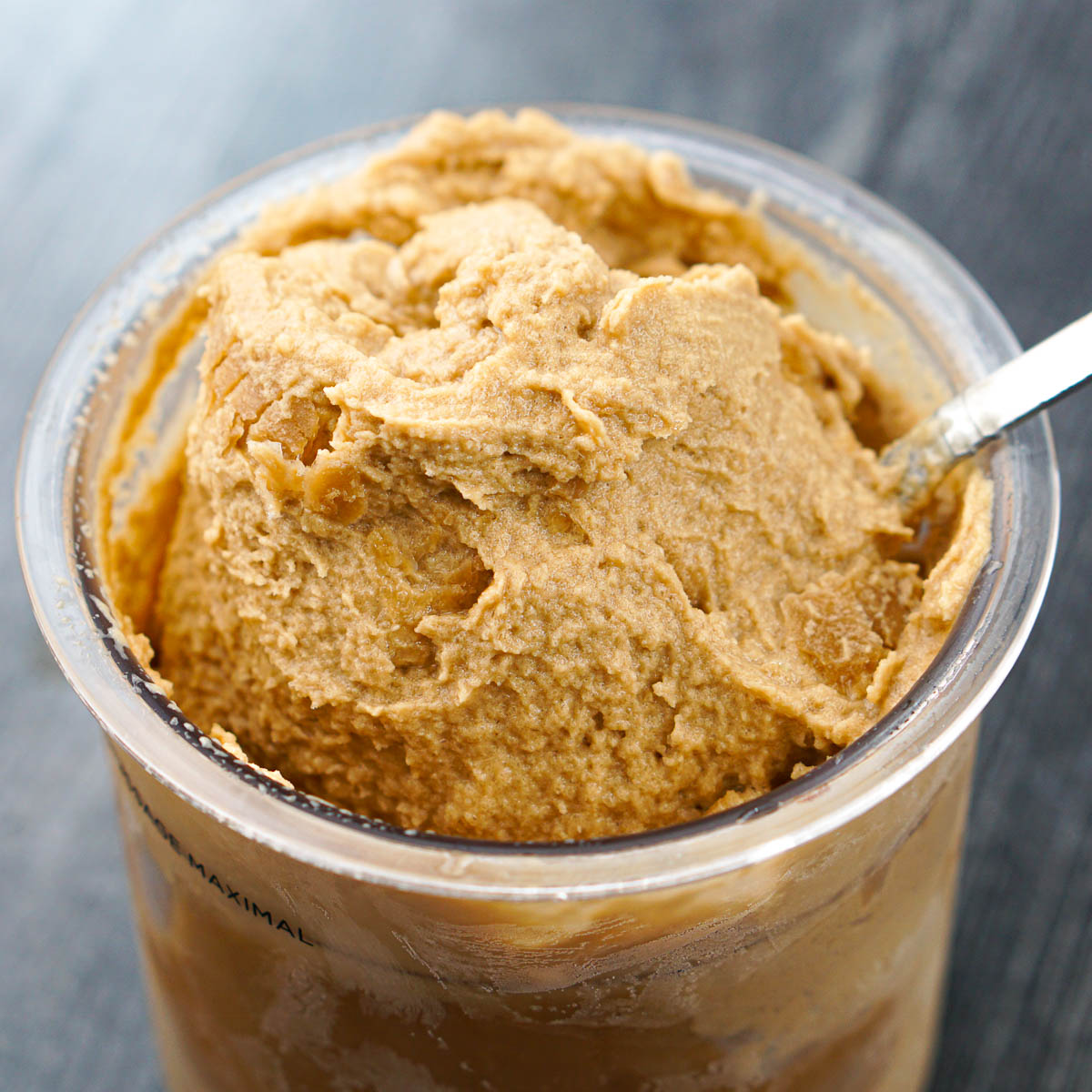 I have been making tons of healthy ice cream recipes in my Ninja Creami machine. Today I came up with a low calorie, low carb coffee ice cream recipe today that I just love!
This flavor tastes like a creamy coffee drink. It is definitely one of my favorite ice cream recipes so far. The fact that it has only 100 calories and 1g net carbs makes it perfect for a keto sweet snack or after dinner treat and best of all it tastes like regular ice cream!
If you are a fan of coffee drinks you will love this keto Ninja Creami coffee ice cream recipe. You only need a few ingredients and you add even extra flavor with chocolate chips, syrups etc. It's the ultimate coffee treat on a hot summer day.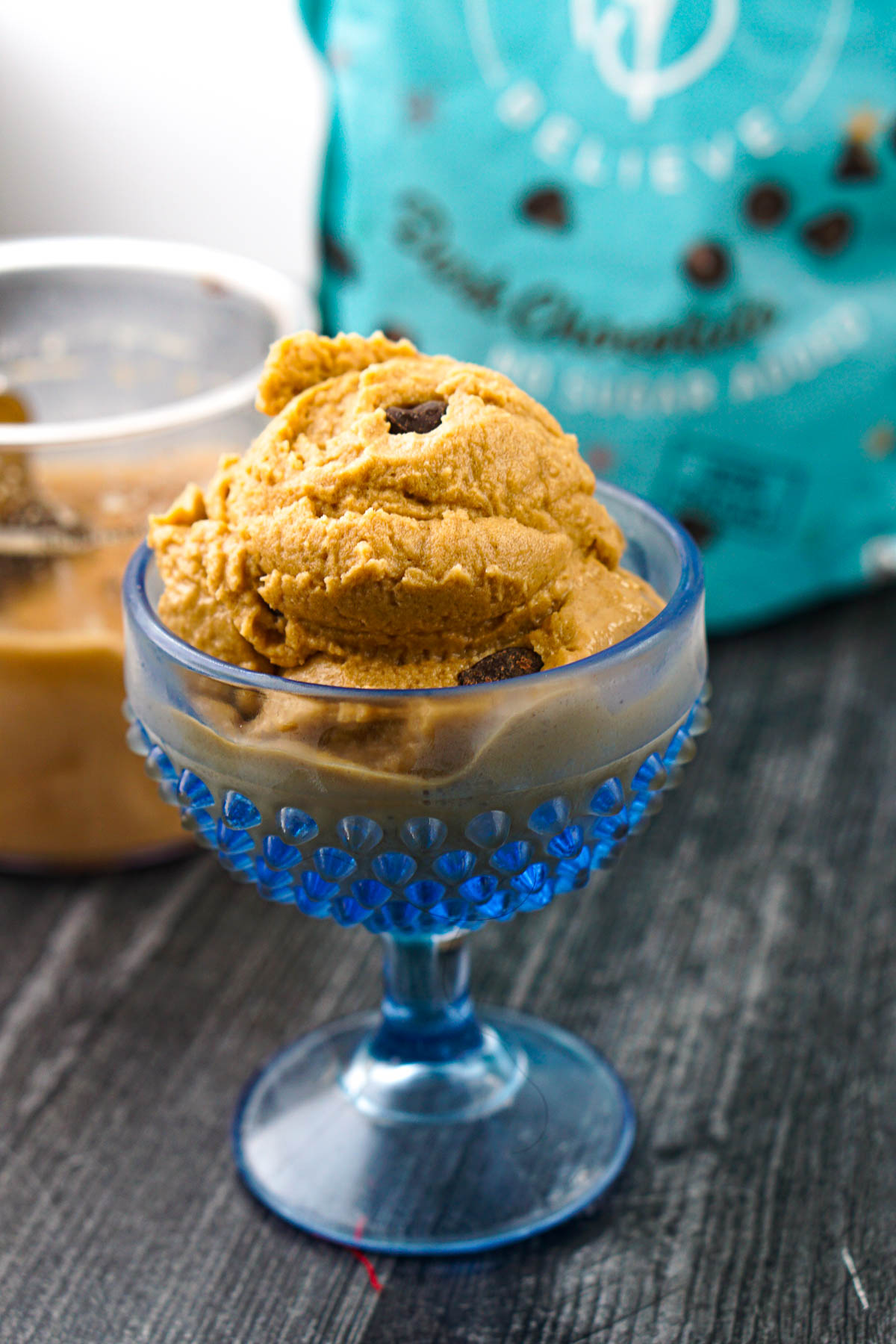 Why the Ninja Creami ice cream machine?
I have made all kinds of healthy and low carb ice cream using a slow churn machine, mini Dash machine, blender and even no churn recipes. This machine is by far the best way to make healthy ice cream.
The Ninja Creami ice cream maker works differently from other machines in that you have to freeze the mixture for 24 hours in a pint container that comes with it. Then you place it in the machine the blades grinds it into a smooth and creamy ice cream in minutes.
In my opinion it works so much better than traditional machines. I LOVE the Ninja Creami for the following reasons.
It makes any base into a smooth and creamy ice cream regardless if you use a protein shake or just milk alternatives.
You can make lower fat recipes because you don't need heavy cream to get that "creamy" texture.
It only takes about 2-5 minutes to make once you have frozen bases in your freezer.
I bought 2 extra containers so I have 4 flavors ready in my freezer to be churned at anytime.
Using ingredients like sugar free syrups, keto chocolate chips, nuts, keto cookies, protein drinks, extract flavors, etc. you can make all kinds of flavor combinations.
It can also make sorbet, smoothie bowls, milk shakes and gelato!
Recipe ingredients I used.
All you need for this easy recipe is 5 simple ingredients – instant coffee powder, unsweetened almond milk, unsweetened coconut milk, keto friendly sweetener and vanilla extract. You can also use vanilla bean paste if you have it for more flavor.
I've been use Bocha Sweet powdered sweetener but you can use whatever brand of sweetener you want. I used Native Forest Light Coconut Milk because it has less carbs than some canned coconut milk. It has less than 1 grams of carbs in ⅓ cup. Note you can also use unsweetened coconut cream if you have it.
As for the coffee you need to use instant granules like those pictured below. I used decaf because I didn't want the caffeine kick if I was eating this at night.
How to make this healthy, keto Ninja Creami Coffee Ice Cream.
Step 1: Make the base of the ice cream by blending all the ingredients in a blender, food processor or just whisk by hand to blend. Taste it and if you want it sweeter add a bit more sweetener.
I found that in healthy ice cream recipes like this it is better to be a bit too sweet then not because freezing seems to cut some of the sweetness.
Step 2: Pour the mixture into the pint containers that come with the machine and put the storage lid on. Place the container in the freezer and make sure it is on a flat surface. Freeze for 20-24 hours.
Step 3: When ready to eat, take the tub from freezer, take off the storage lid and place in the outer bowl assembly that came with the machine. Secure it in the machine and press the Lite Ice Cream button to churn.
I find that sometimes I have to re-spin the ice cream 2-3 times using the Lite button. But sometimes it only takes 2 times. I haven't been able to find why some takes more than others.
Regardless you want your ice cream to have a creamy consistency like that below. If you process it 3 times and it's still powdery add a tablespoon or two of almond milk or coconut milk and process again and it should do the trick.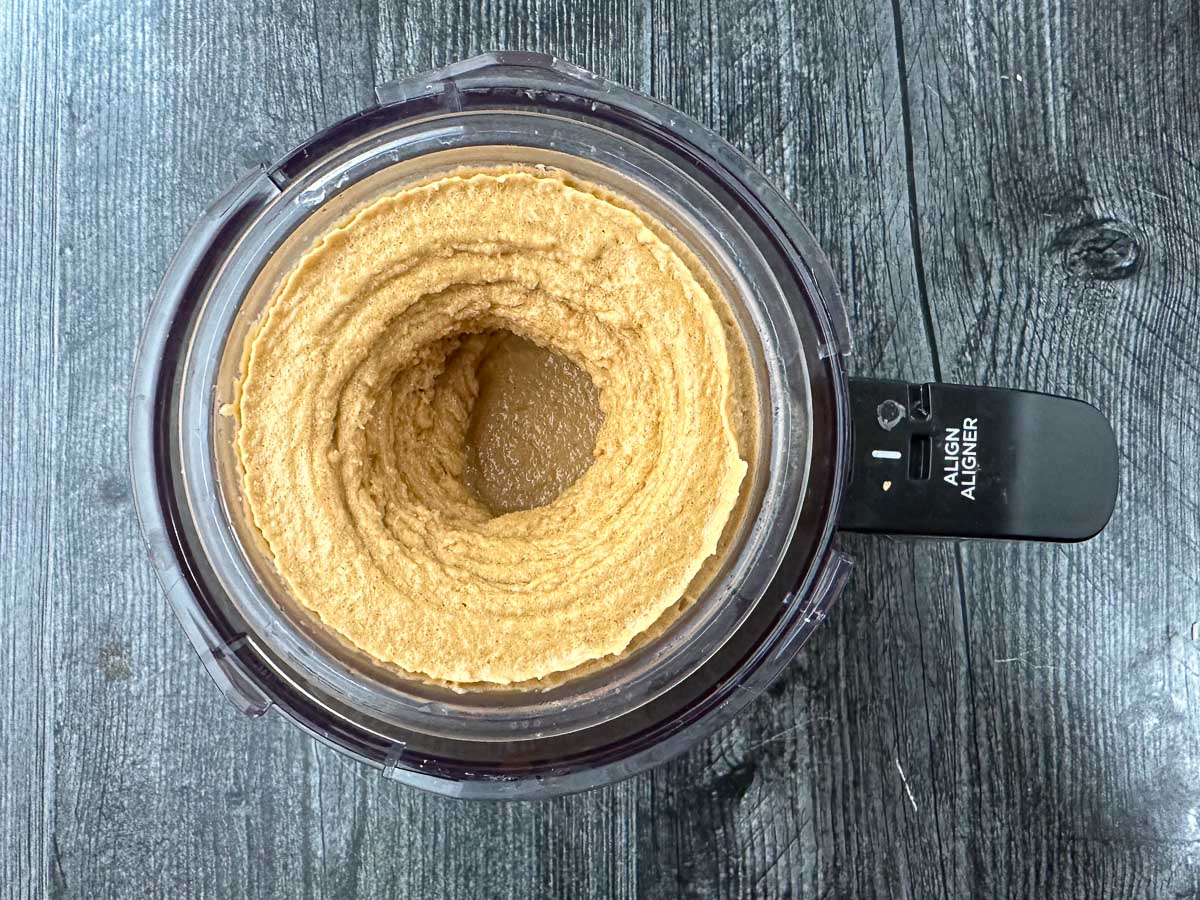 Step 4: When the texture is to your liking you can spoon the mixture into bowls and enjoy. This delicious ice cream recipe will make 2 servings. Please scroll down to view the printable recipe card.
If you don't eat both servings right away.
Place leftovers in the machine container and smooth out the surface and place the storage lid on top. Freeze again and when you want to eat it the next time just place it back in the machine and repeat the churning process.
And that is all there is to it my friends. I have made this flavor quite a few times. I don't drink coffee anymore so that is probably why because this is one of my favorite flavors.
You can also add any kinds of mix ins just like you would a coffee drink. I have many Torani sugar free syrups that would go great in this like hazelnut, chocolate, Irish cream, salted caramel, etc. Below are few more ideas.
Low carb mix ins for coffee ice cream.
Here are a few more ideas to try with this recipe.
unsweetened cocoa powder
dark chocolate chunks or keto chocolate chips
Irish cream or other sugar free coffee syrups
marshmallow, mint, caramel or other flavor extracts
coconut flakes, cocoa nibs, nuts
cinnamon or pumpkin pie spice
flavored protein powders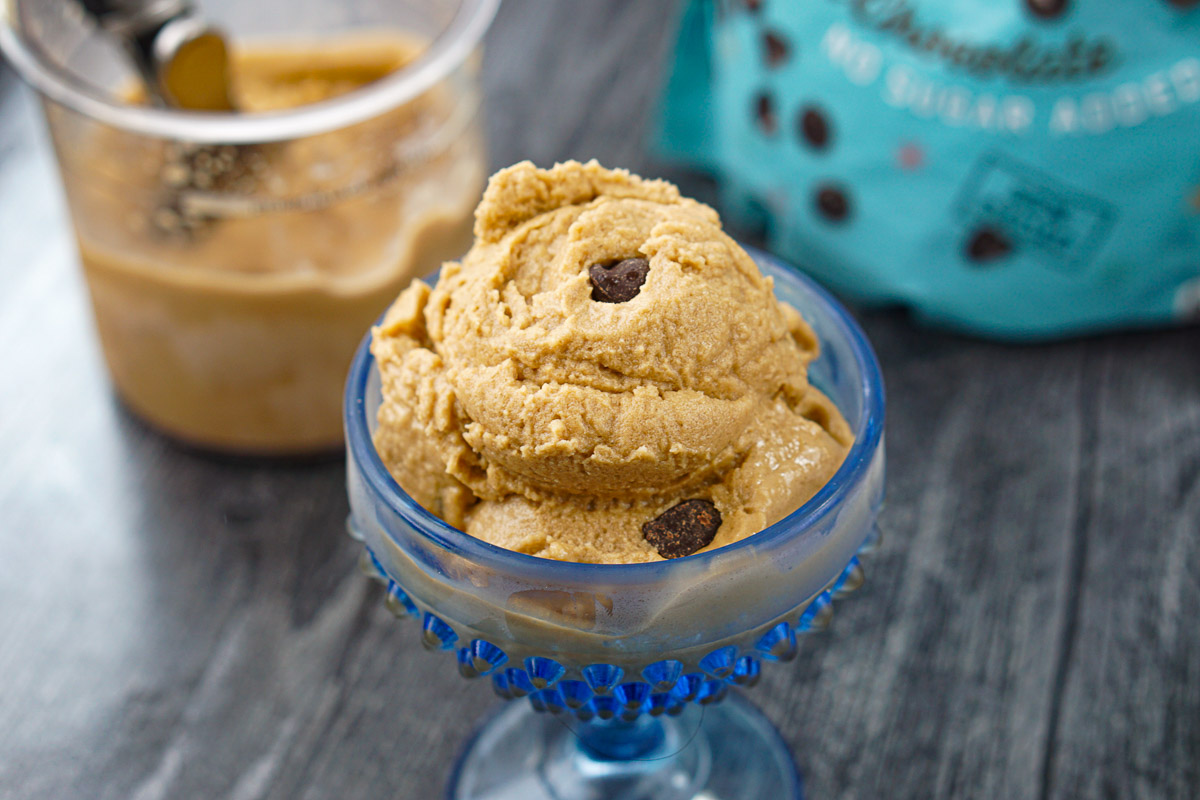 Well I hope you give this keto Ninja Creami coffee ice cream recipe a try. It's so tasty and I love that it's a low calorie, low carb, sugar free, low fat and dairy free coffee ice cream recipe.
Check out that Ninja Creami machine because it is worth every cent in my opinion. It's going to be perfect for healthy cool treats this summer. I can't wait to make a coffee smoothie bowl when it get's really hot this summer!
And if you get a chance, check out my other recipes for it: salted caramel, chocolate, strawberry and maple coming soon. All are low carb and sugar free!
The nutritional information for 1 serving is 100 calories / 8.4g fat / 1.4g carbs / 1g fiber / 0.4g protein = 1g net carbs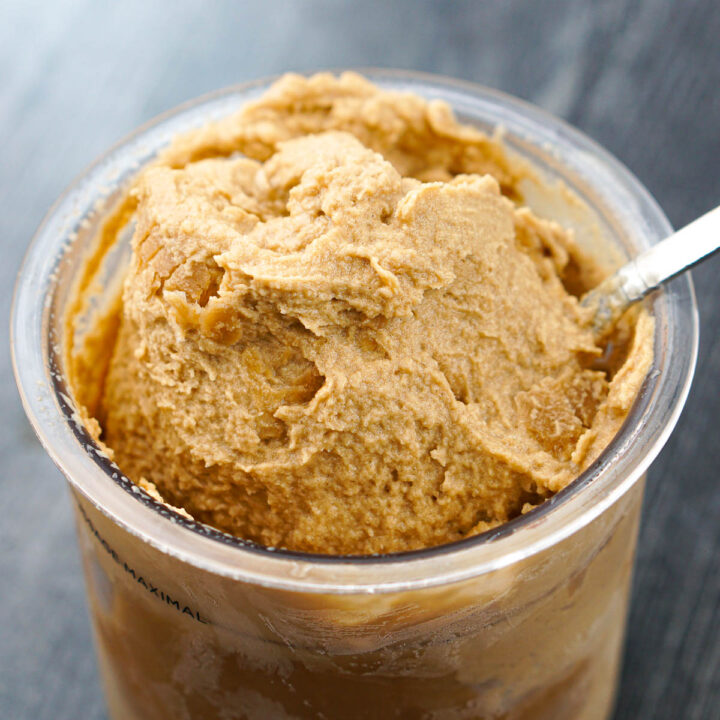 Ninja Creami Coffee Ice Cream
For a keto sweet treat this summer try this Ninja Creami coffee ice cream recipe. It's not only low carb but it's also low calorie and dairy free as well. Taste like a sugar free, creamy frozen coffee drink!
Ingredients
1 cup unsweetened coconut milk
¾ cup unsweetened almond milk
½ cup sweetener
1 tablespoon instant coffee
1 teaspoon vanilla extract
Instructions
Add all the ingredients to a high speed blender or whisk by hand until well combined. Pour into the pint container that came with the Ninja Creami machine. Cover with the storage lid and place in the freezer. Make sure it is on a flat surface and freezes evenly.
After it freezes for 20-24 hours. take the tub from freezer, take off the storage lid and fit into the outer bowl assembly of the machine. Press the 'Lite Ice Cream' button and run through the cyle.
When done take it out and take off the the outer bowl lid. Check the texture. If it is too powdery place it back in the machine and run it through the same cycle again. You may have to do this 2-3 times. If after the 3rd time it is still powdery you can add a tablespoon of almond or coconut milk.
Once it's texture is smooth and creamy you are done. Note that sometimes it takes 1-2 cycles to get creamy and other times 2-4. Don't worry it will work!
This recipe makes 2 servings. Store leftovers in the same pint container. Smooth the ice cream until it's even on top, place the lid on and freeze for later. When ready to eat, place it back in the machine and repeat the cycles until smooth and creamy.
Notes
The nutritional information for 1 serving is 100 calories / 8.4g fat / 1.4g carbs / 1g fiber / 0.4g protein = 1g net carbs
Nutrition Information:
Yield:

2
Serving Size:

1
Amount Per Serving:
Calories:

100