This Italian okra & beans dish makes a hearty and tasty side dish. Serve over rice and it becomes a delicious vegetarian dinner.
I love okra. It's not something I cook much because it's hard to find fresh okra here in Pittsburgh. I love it because I grew up with a Lebanese dish called bemyeh. I just looked up how to spell that because we always pronounced it (incorrectly) bammy. It's a lemony okra and beef stew that you eat over rice. It's delicious and I will probably post it one of these days. Anyway that is the only recipe I have for okra. So today I tried something different. I add some diced tomatoes, cannellini beans, garlic, spices and sliced lemon. It was delicious. So with this Italian okra & bean dish I now know two okra dishes!
In the summer time my mother used to cook lots of dishes with the fresh vegetables from her garden. A popular favorite was zucchini with tomatoes and onions. I make a similar dish of roasted Italian zucchini. This okra dish is pretty much that dish with the addition of beans and lemons. The beans give it more bulk and I love lemon with okra. Actually I use lemons a lot in my cooking.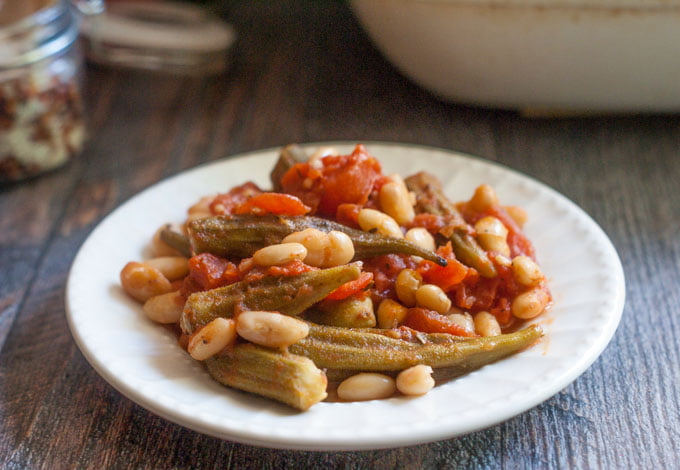 To make this easy dish, combine diced tomatoes, garlic, olive oil, okra and a few spices to a baking dish. Top with a sliced lemon and roast for about 30 minutes. Then add in your beans and roast for another 20 minutes.
I love how roasted lemons leave only the rinds. At first I took them out because I didn't know if it would be harmful (or taste good) to eat them. So then I googled it and surprisingly lemon peels are really good for you! They are filled with vitamins, minerals and fiber! When I tried it, they tasted like a lemony vegetable to me. So take them out or leave them in. It's your choice. (But try one just to see what it tastes like. )

And here you have all that roasted okra & beans goodness. The lemon really gives it that summer taste though you could eat this anytime of the year of course.
Italian Okra & Beans
So there you have another tasty vegetarian side dish or meal. I promise  you I will add the recipe for "bammy" real soon as I want to take advantage of the fresh okra this time of year. If you have any good okra dishes, please share in the comments. I would love to hear about them.
Italian Okra & Beans
This Italian okra & beans dish makes a hearty and tasty side dish. Serve over rice to make a delicious vegetarian dinner.
Ingredients
4

cups

okra

fresh, stems cleaned

1

can diced tomatoes

2

Tablespoons

olive oil

1

teaspoon

Italian seasoning

2

teaspoons

crushed garlic

1

lemon

sliced

salt & pepper to taste

1

can cannellini beans

drained and rinsed
Instructions
Preheat oven to 400 degrees.

Spray a baking dish and add all the ingredients except the lemon and beans.

Mix well to coat the vegetables with oil and spices.

Spread evenly in the dish and then top with lemon slices.

Bake for 30 minutes.

Pull out of the oven and add the beans. Mix well and place back in the oven.

Bake for 20 minutes more.

When finished you can take out the lemons or keep them in. Lemon peels are actually good for you!

Serve as is for a side dish or over rice to make a nice vegetarian meal.