This pumpkin microwave baked oatmeal recipe is the perfect recipe for easy healthy meal planning or a delicious fall breakfast. You can make a batch of 4 pumpkin spice oatmeal servings in about 5 minutes and save to eat throughout the week. With just 2 minutes of cooking you have a healthy, tasty baked oatmeal cup to start your day. Each serving has just 119 calories, 10.6g net carbs and 5.2g protein!
You might also like this post with 189 keto meal prep recipes!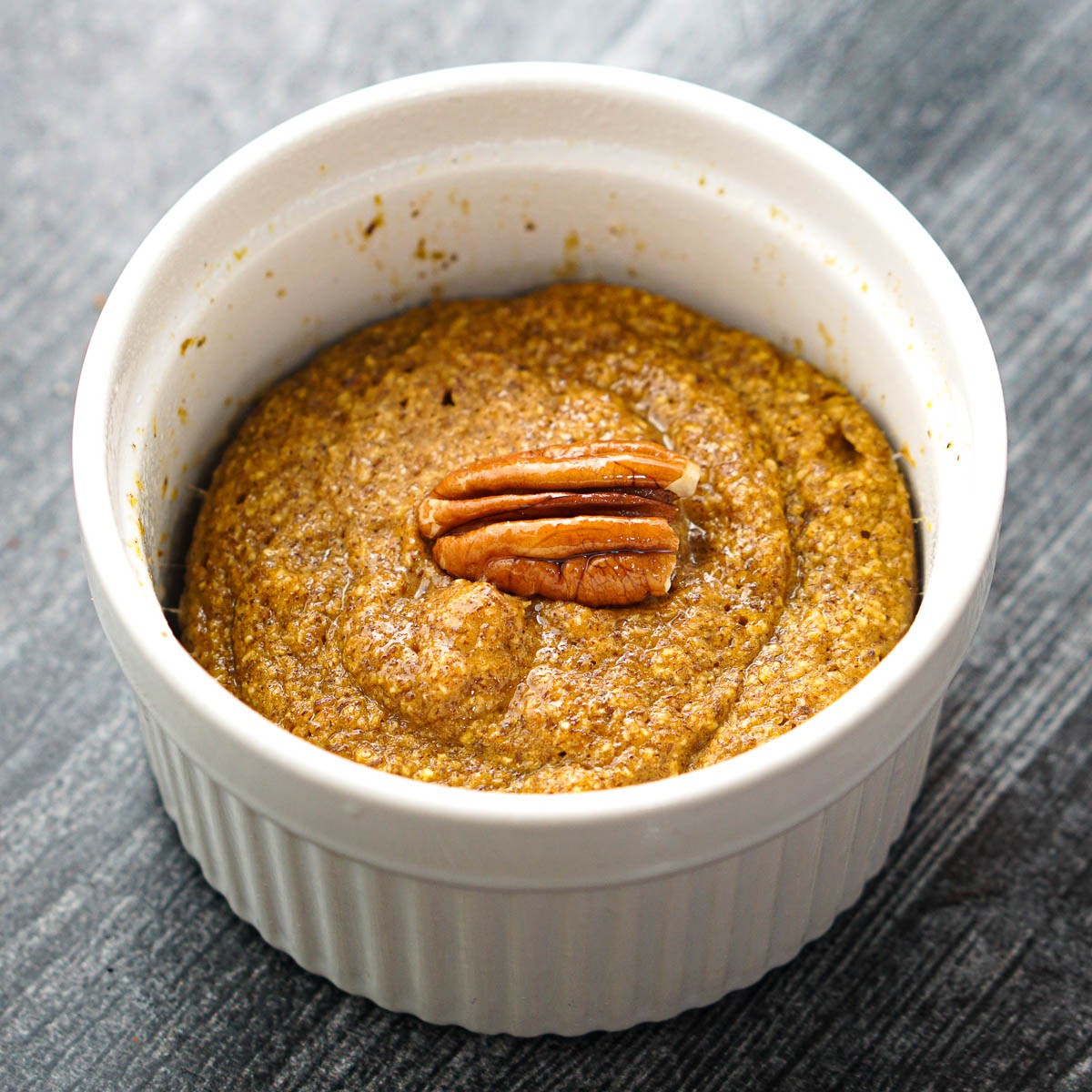 Recently I saw a TikTok video of a popular recipe.on how to make baked oatmeal. It looked simple, delicious and healthy so I thought I'd give this trend a try. It was really, really good. However since I'm on a low carb diet I played around with the recipe to make it lower in carbs and sugar.
So I came up with the healthy pumpkin baked oatmeal recipe that you can make in the microwave. This cut out significant cooking time because it only takes about 2 minutes in the microwave. Also I could make 4 breakfast baked oatmeal in 5 minutes which is perfect for those busy mornings.
This is a great recipe for those that want to have a quick and easy breakfast as part of their meal plan. I've taken out as many carbs as I could (10.6g) and used healthy ingredients but best of all it's tasty. I have plans for all kinds of flavors!
Healthy recipe ingredients I used.
Below you can see the simple ingredients I used for the pumpkin spice oatmeal:
pure pumpkin puree (not pumpkin pie filling) – high in vitamin A, fiber and other nutrients as well as low calorie
ground flax seeds – high in omega-3 healthy fats and good source of fiber
egg – good source of protein that is high in choline, lutein and zeaxanthinn
Swerve brown sugar sweetener – has no carbs or calories but it tastes just like brown sugar
oats – nutritious whole grain, high in fiber and protein
pumpkin pie spice, cinnamon, baking power and unsweetened almond milk for pumpkin spice flavor and texture
How to make healthy pumpkin microwave baked oatmeal.
Step 1: Get out your ramekins or meal prep containers and spray with nonstick cooking spray. I used these 6 ounce ramekins and these 6 ounce glass custard dishes because they have lids so they are great for meal prep.
Step 2: Add all the ingredients to a high speed blender starting with the almond milk and then the rest of the ingredients. Blend on high until smooth.Putting the oats in the blender makes them into an oat flour of sorts. Note you could also use a food processor if you want.
Step 3: Pour equal amounts of the oatmeal mixture into your 4 ramekins or other microwave safe bowls. If not eating today cover or store in an airtight container and refrigerate until ready to eat.
Step 4: To cook, add to a microwave and set the cook time to 2-3 minutes and the power level to 50%. The power level is important because it keeps the baked oatmeal from drying out.
Depending on the size of your dishes you may need more or less time. So I suggest you check it at 1 minute and 30 seconds. If the top is firm take it out and it's done.
If the top is loose or comes off on your finger if you touch it, it's not done. Microwave it for 10 seconds until done. I prefer mine to be more underdone than overdone. It's more like a muffin if it's overcooked.
And that is all that there is to it! Please scroll down for the printable recipe card. Such a simple recipe but full of flavor and healthy ingredients. I can't wait to play around with this recipe and come up with more flavors.
Recipe tips and notes.
This microwave oatmeal recipe made 4 small ramekins for me and it was the perfect size as the combination of the cooked oatmeal and flaxseed is very filling for me. If you want you can make bigger portions but you will have to adjust the cooking time.
You can add low carb or healthy mix ins to this recipe. Try nuts like pecans, walnuts, etc. Other ideas are Lily's white chocolate chips (they are low carb), flavor extracts, toasted coconut, pumpkin seeds, cocoa nibs, banana slices etc.
While I used Swerve brown sugar sweetener to keep down the carbs and grams of sugar, you can use regular brown sugar or your favorite sweetener of choice. If you want to put a drizzle of maple syrup on top try Lakanto makes a sugar free maple syrup. Also a pat of butter on top won't add any carbs.
I used canned pumpkin not pumpkin pie filling. The only ingredient should be pumpkin.
Also I used quick cooking oats because that's what I had on hand. I think gluten free oats or regular whole oats would both work as you are going to blend them anyway. So use those if you prefer.
Note you can also use your favorite milk of choice. I like almond milk because it's low in carbs but you can regular milk, non dairy milk or plant based milks like oat milk, hemp milk, etc.
Making pumpkin oatmeal in the oven instead of the microwave.
If you don't want to cook these in the microwave you can bake them in the oven. Preheat the oven to 350°F. Then just follow the recipe as it is but place the 4 ramekins on a baking sheet and cook in the preheated oven for 15-20 minutes.
Baking time may vary depending on the size of your baking dishes. Check around 15 minutes to see if the middle is set and they are golden brown then it's done.
Other healthy breakfast ideas for meal planning.
Because I'm mostly a low carb blogger I have many keto breakfast recipes that you can freeze for a quick and easy breakfast. Here are some of my most popular meal prep breakfast recipes to make a weekday morning a little easier.
As you may have guessed I'm quite excited about this tasty breakfast recipe. It tastes like a cross between the warm flavors of a bowl of oatmeal and a muffin. So if you eat oats for breakfast or like a sweet breakfast, give this microwave oatmeal a try.
This is definitely one of my favorite recipes. Plus these individual baked oatmeal cups are great for breakfast meal prep and planning. I hope you like them as well and here are some more healthy pumpkin recipes to try.
The nutritional information for 1 serving is 119 calories / 5.7g fat / 14.1g carbs / 3.5g fiber / 5.2g protein = 10.6g net carbs
Healthy Microwave Baked Pumpkin Oatmeal Recipe
These delicious pumpkin microwave baked oatmeal cups make a healthy and quick breakfast. Great for meal prep or healthy meal planning.
Ingredients
½ cup almond milk, unsweetened
1 egg
¾ cup oatmeal
¼ cup flaxseed, ground
1 teaspoon baking powder
¼ cup pumpkin puree (not pie filling)
¼ cup Swerve brown sugar sweetener
½ teaspoon pumpkin pie spice
½ teaspoon cinnamon
pinch of salt
Instructions
Prepare 4 ramekins or microwave safe bowl or dishes by spraying with nonstick spray.
To a blender, add the almond milk, then the rest of the ingredients. Blend on high until nice and smooth.
Pour pumpkin mixture into prepared ramekins. Cover with plastic wrap and refrigerate until ready to eat.
When ready to eat, microwave 1 ramekin for 2 - 3 minutes at 50% power. Check at 1 ½ minutes and if the top is not wet then they are done. If you overcook them they will be dry. It's important to set the power level to 50% power so they don't over cook.
Let cool and eat!
Notes
The nutritional information for 1 serving is 119 calories / 5.7g fat / 14.1g carbs / 3.5g fiber / 5.2g protein = 10.6g net carbs
Note this recipe makes 4 servings using 6 ounce ramekins about half way full.
Nutrition Information:
Yield:

1
Serving Size:

1
Amount Per Serving:
Calories:

119