If you are looking for a delicious summer salad or even something to make with fresh arugula, try this arugula salad with peaches. It has fresh mozzarella, roasted almond slices and a delicious balsamic dressing. This peach arugula salad is perfect summertime salad for lunch. It's also great for as a dinner side salad.
You may also like these arugula omelet or arugula couscous salad recipes.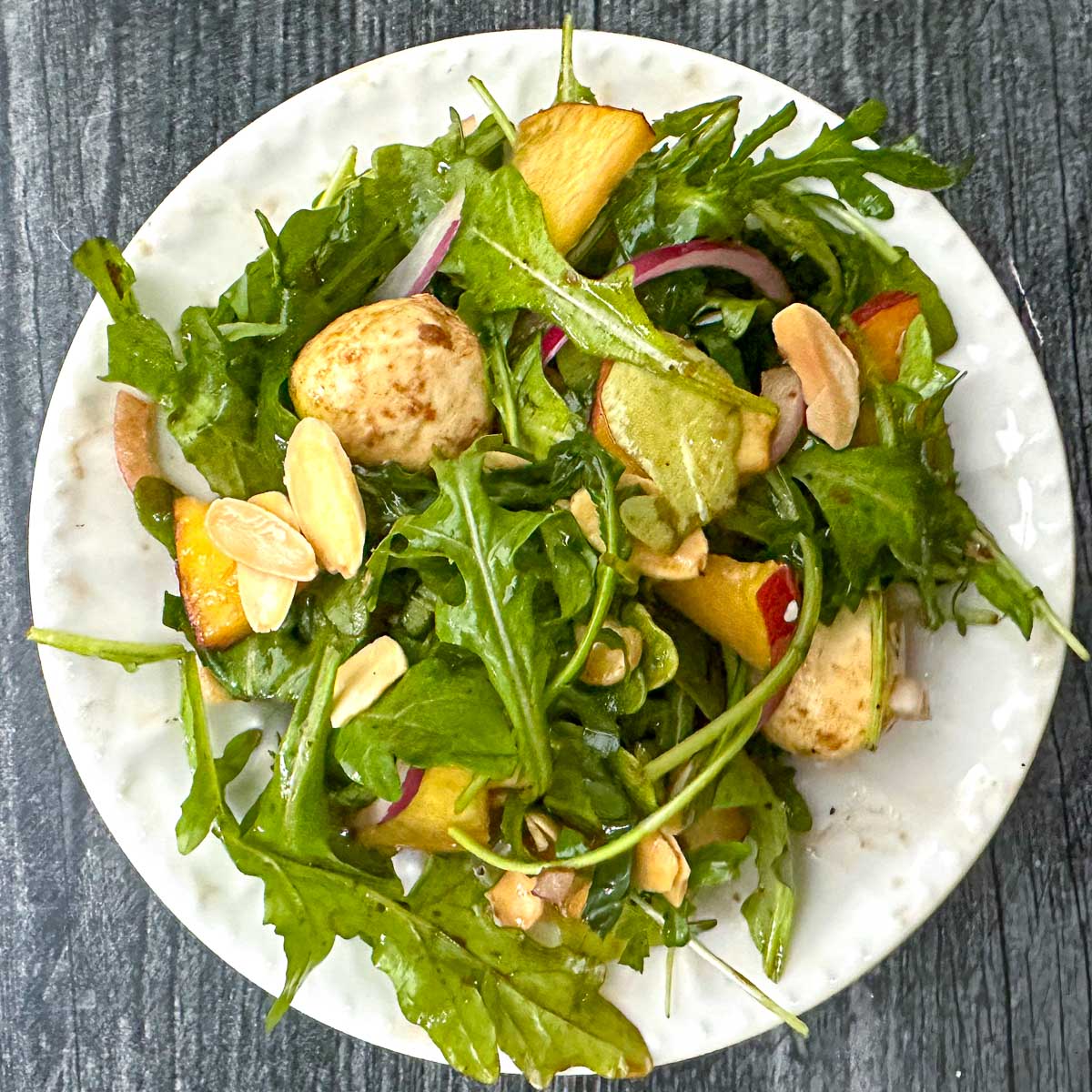 Every time I go to Trader Joe I buy a bag of arugula because I love the flavor of arugula and it's sometimes hard to find in the grocery store. So today I set off to make this easy peach arugula salad because it's the perfect salad for summer and I happen to love salads.
You get the peppery flavor from the arugula leaves, sweetness from the juicy summer peaches, crunch from the almonds, creaminess from the fresh mozzarella balls and it's all wrapped up in a delicious balsamic vinaigrette dressing! You will love the textures and tastes of this simple summer salad.
These are similar flavors to my peach basil flatbread and it also is similar to a caprese salad. The peaches are sweet like tomatoes, and along with the balsamic, basil and mozzarella cheese you get a similar flavor profile.
So if you are the kind of person who likes to make delicious and colorful salads for lunch or even for a lite summer dinner, this is one to try. You can always add some chicken breast or even shrimp if you want to make it more of meal but as is it's plenty filling and flavorful.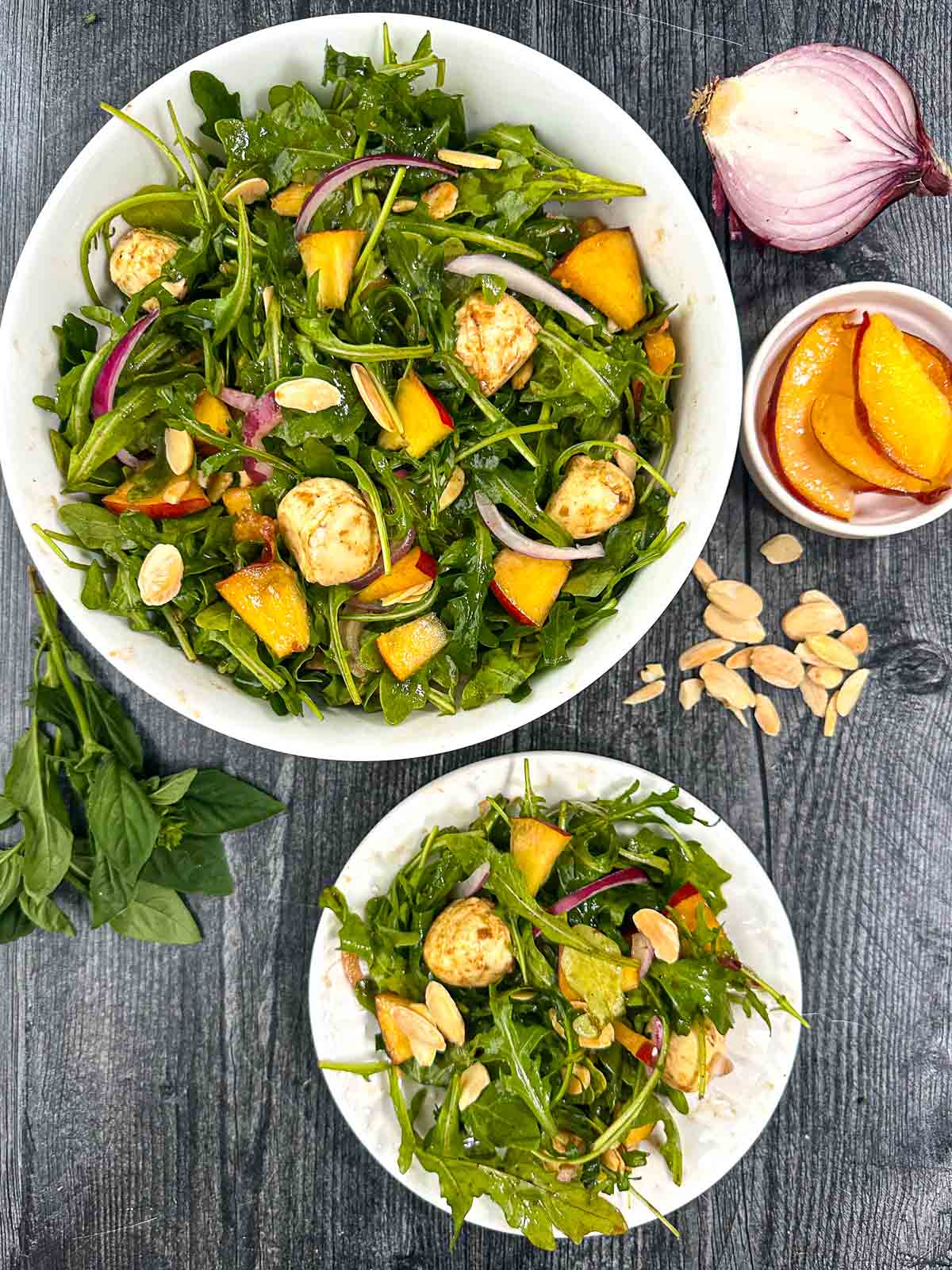 Recipe ingredients I used.
I only used a few simple ingredients for this fresh peach salad – arugula, onion, peaches, mozzarella cheese, almond slices, basil and balsamic vinaigrette.
Fresh Arugula Leaves
As I mentioned above I buy this at Trader Joes but they do sell it at larger grocery stores. It makes the salad in my opinion but if you are not a fan of arugula other substitutes would be water cress, baby spinach or spring mix greens.
Toasted Almond Slices
These I also buy at Trader Joe. It's nice to buy them already toasted and slices like this. However you can use just regular sliced almonds, or other nuts like pecans, walnuts, pine nuts, etc. Raw pecans are my second favorite nut to use because they are so crunchy.
Fresh Peaches
I love fresh peaches in the summer and they go great with the other ingredients. Instead of juicy peaches, you can also use nectarines, tomatoes, or strawberries. You want something that has a bit of sweet and sour to it.
Fresh Mozzarella
You can either use mozzarella slices or the baby mozzarella balls of it you see in many grocery stores. I bought these at Aldi. If you don't have fresh, you can substitute with burrata, goat cheese or feta cheese.
Red Onion
I love the color and flavor of red onions but you can also use yellow onion.
Fresh Basil
The fresh basil leaves give it more of that caprese flavor and goes great with the peaches and cheese. But if you don't have any you can eliminate it.
Homemade Balsamic Dressing
I have the recipe in the recipe card for this dressing but you can also substitute bottle salad dressings if you have a favorite. You can also use a simple oil and vinegar dressing. I would use extra virgin olive oil and balsamic dressing though and salt and black pepper to season.
The homemade balsamic dressing recipe.
The simple ingredients for the dressing are olive oil, balsamic vinegar, dried mustard, salt, black pepper and sugar. I really like balsamic vinegar for this dressing buy can also use white wine vinegar, apple cider vinegar or red wine vinegar.
Sometimes I substitute sweetener for the sugar but since you are only using a teaspoon it's not really necessary.
Just whisk everything together in a small mixing bowl or pulse in a food processor to mix it up well.
You can also make this in a mason jar. Add everything to the mason jar and place the lid on top. Shake will and you are ready to go. Also you will have leftovers so this is a great way to store it.
How to make this easy peach arugula salad.
Step 1: In a medium bowl or mason jar, whisk the balsamic dressing together and set aside.
Step 2: Slice the sweet peaches and red onion. Wash arugula if needed and make sure to dry off excess water. Then place the arugula in a large salad bowl and add the onions, peaches and mini fresh mozzarella balls to the salad. Mix everything together well.
I used mini balls of mozzarella and cut them in half. You can also use sliced mozzarella or chopped – whatever you want.
Step 3: Add 4 tablespoons of the dressing to the salad and mix well. If you want to use more dressing go ahead but I only used 4 tablespoons. Store the extra dressing in an air tight container in the refrigerator. You can use it for up to a week.
You can also season with salt and fresh black pepper if you like that on your salads at this point.
Step 4: Add the chopped basil and mix once more and then sprinkle toasted almond slices on top and serve. Please scroll down to view the printable recipe card for this delicious salad. Note you can make this salad in advance because they arugula won't soften and wilt.
If you want to roast raw almond slices just heat up a nonstick skillet to medium heat. Add the almond slices and toast until they are a golden brown color. Watch them closely so they don't burn. Take them out of the pan onto a piece of paper towel or a clean plate.
How to make this more of a fall arugula salad.
You can easily make this more of a fall salad by changing up the fruit and cheeses used. You can substitute with seasonal fruit such as apples, pears or dried cranberries for the peaches. And try creamy goat cheese, blue cheese, asiago or feta cheese for the mozzarella.
The basil will work fine with these fruits but goes better with caprese flavors of the fresh mozzarella. You can eliminated it altogether or try other fresh herbs like parsley, thyme, oregano, mint, etc.
Also you can use pecans or walnuts for the almonds and baby spinach or mixed greens for the arugula. These few changes will be great for a fall dinner or for the holidays.
More delicious peach flavored recipes to try.
I love peaches and have a few delicious peach recipes to try. Most are low carb but there are few others you might like.
Well if you are looking for a delicious yet simple summer salad try this arugula peach salad recipe. It great for when you have friends over for dinner or to take to a party.
This is one of my favorite salads this summer. I eat it for a quick and delicious lunch as it takes little time to make and is so taste and fresh! Enjoy..
Peach Arugula Salad Recipe
Additional Time:
5 minutes
The is peach arugula salad is perfect for a summer dinner or even as a side dish for a summer party. The combination of salad with peaches, basil, and fresh mozzarella has a caprese flavor with the added flavor of the peppery arugula leaves.
Ingredients
4 cups baby arugula leaves, tightly packed
1 cup fresh ripe peaches, diced or sliced
4 ounces fresh mozzarella balls, sliced
½ cup red onion, thinly sliced
¼ cup toasted almond slices
4 large basil leaves, chopped
Balsamic Dressing
¼ cup balsamic vinegar
½ cup extra virgin olive oil
½ teaspoon salt
¼ teaspoon black pepper
1 teaspoon sugar
½ teaspoon dried mustard
Instructions
In a medium size mixing bowl add the ingredients for the dressing. Whisk together well and set aside.
In a large salad bowl add the arugula leaves, peaches, mozzarella and red onion and mix together.
Toss the salad with 4 tablespoons of the dresssing. If you like more dressing go ahead and add more but you will have leftovers. Store leftover dressing in an airtight container for up to a week in the refrigerator.
Add the chopped basil and mix once more and then top wtih sliced almonds and serve.
Nutrition Information:
Yield:

4
Serving Size:

1
Amount Per Serving:
Calories:

411
Total Fat:

37g
Saturated Fat:

7g
Trans Fat:

0g
Unsaturated Fat:

28g
Cholesterol:

18mg
Sodium:

462mg
Carbohydrates:

13g
Fiber:

2g
Sugar:

9g
Protein:

8g