This easy peach & basil flatbread pizza recipe is perfect for those ripe peaches in season as well as herbs from the garden. A quick and tasty summer meal.
You might also like this low carb peach scone recipe!
I gotta be honest, I don't eat a lot of fruit. If I want something sweet, I'll head for the dark chocolate. But there is something about a plump, ripe peach in the summer time that I enjoy so much. So when this week's Sunday Supper theme was peach recipes, I wasn't sure what to make because to be honest, I usually eat them as is. However today I made a peach & basil flatbread pizza for you all!
A Savory PEACH RECIPE
When peaches are ripe in the summer, there is nothing better. They are juicy, sweet and the color is amazing. Most peach recipes are sweet like jam, pie or ice cream. Why I love this peach recipe is because it uses the sweetness of the peach in a savory way.
It came about because I had a big bunch of basil and some fresh mozzarella from a caprese recipe gone wrong. So instead of tomatoes in the usual Margherita pizza I used peaches!
It was so good that I think it will become a summer staple for me and my hubby. I couldn't sell Max on the idea but who knows maybe next summer he'll appreciate it.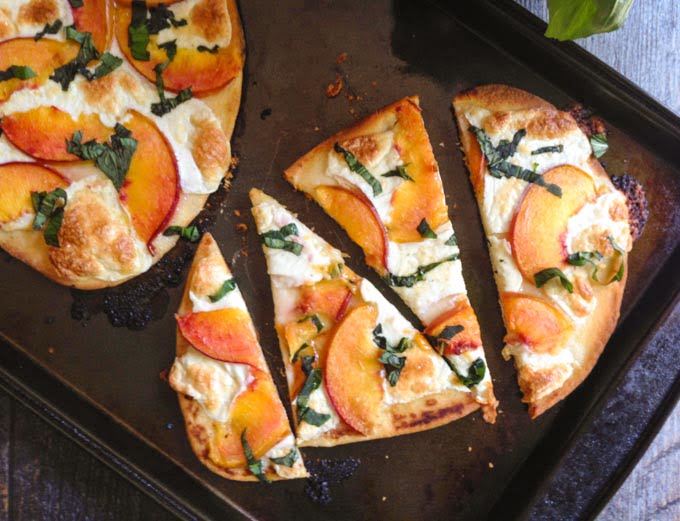 How To Make Naan Flatbread Pizza
I really like making naan flatbread pizza. Naan bread is the perfect chewy base and it's easily available at most grocery stores. Awhile back I made an asiago, sausage and peppers flatbread that was really great.
I almost always have some naan on hand from Aldi or Costco and I keep it in the freezer. All you need to do is brush some olive oil on them, place your toppings and bake for roughly 20 minutes and you have a quick meal for your family.
Easy Flatbread Pizza Recipe
You can use this recipe with any toppings to make a flatbread pizza. Here's how I made this peach & basil flatbread pizza.
Brush olive oil and crushed garlic on top of a piece of naan bread.
Add slices of fresh mozzarella and peaches on top.
Bake for 20- -25 minutes in a 350°F oven until the cheese is brown and bubbly.
Sprinkle fresh chopped basil on top and serve.
Easy Balsamic Reduction Recipe
I also added a balsamic reduction at the end. It's not necessary but it I think it made this dish even better. This is really easy to do.
Add some balsamic vinegar to a pan and bring to a boil. Then turn it down to a simmer until the quantity has reduced about half in size. You'll know it's ready when it becomes thicker.
If you get a chance, add this extra step because the vinegar really complements the rest of the ingredients.
So that's my entry this week. I'm so glad I found a new flatbread recipe to enjoy with those delicious summer peaches. Thank you Sue Lau of A Palatable Pastime for hosting this week and please check out my friends delicious peach recipes by scrolling down. Enjoy!
Easy Peach & Basil Flatbread
This easy peach & basil flatbread pizza recipe is perfect for those ripe peaches in season as well as herbs from the garden. A quick and tasty summer meal.
Ingredients
2

large naan breads

1

tablespoon

olive oil

1/2

teaspoon

crushed garlic

1/2

fresh peach, sliced

thinly sliced

4

oz

fresh mozzarella, sliced

sliced

15

basil leaves, chopped

chopped

1/2

cup

balsamic vinegar

optional
Instructions
Preheat oven to 350 degrees.

Mix oil and garlic in a small bowl.

Brush the oil mixture over the naan bread.

Place the bread on a sprayed cookie sheet.

First add your slices of mozzarella.

Then place your sliced peaches on top.

Sprinkle salt and pepper on both naan breads.

Bake for 25 minutes or until the cheese is brown and bubbly.

Sprinkle basil leaves on top.

While the flat breads are cooking, add the vinegar to a small sauce pan.

Bring to a boil and then lower to simmer. Cook until the vinegar reduces and becomes a bit thicker.

Drizzle the vinegar over the cooked flatbreads, cut and serve.