This arugula couscous salad is made with Israeli or pearl couscous to make a fresh, tasty and hearty side dish. It's mixed with fresh arugula, roasted red peppers and tossed in a flavorful dressing. This dish is perfect for a picnic, summer party or just eat it for lunch or light dinner on a busy weeknight.
You might also like this lemon quinoa and vegetable salad recipe!
I love all kinds of salads and especially enjoy hearty salads that feel like meal. I bought a package of pearl couscous from the grocery store and remembered this delicious arugula couscous salad that I made years ago. So I decided to update this post and eat this yummy dish!
If you have ever ate pearl couscous you know how hearty this grain is. It's a chewy pasta-like grain that is very filling but when you pair it with simple ingredients like spicy arugula, sharp asiago cheese and tender roasted peppers you can make quite a delicious salad!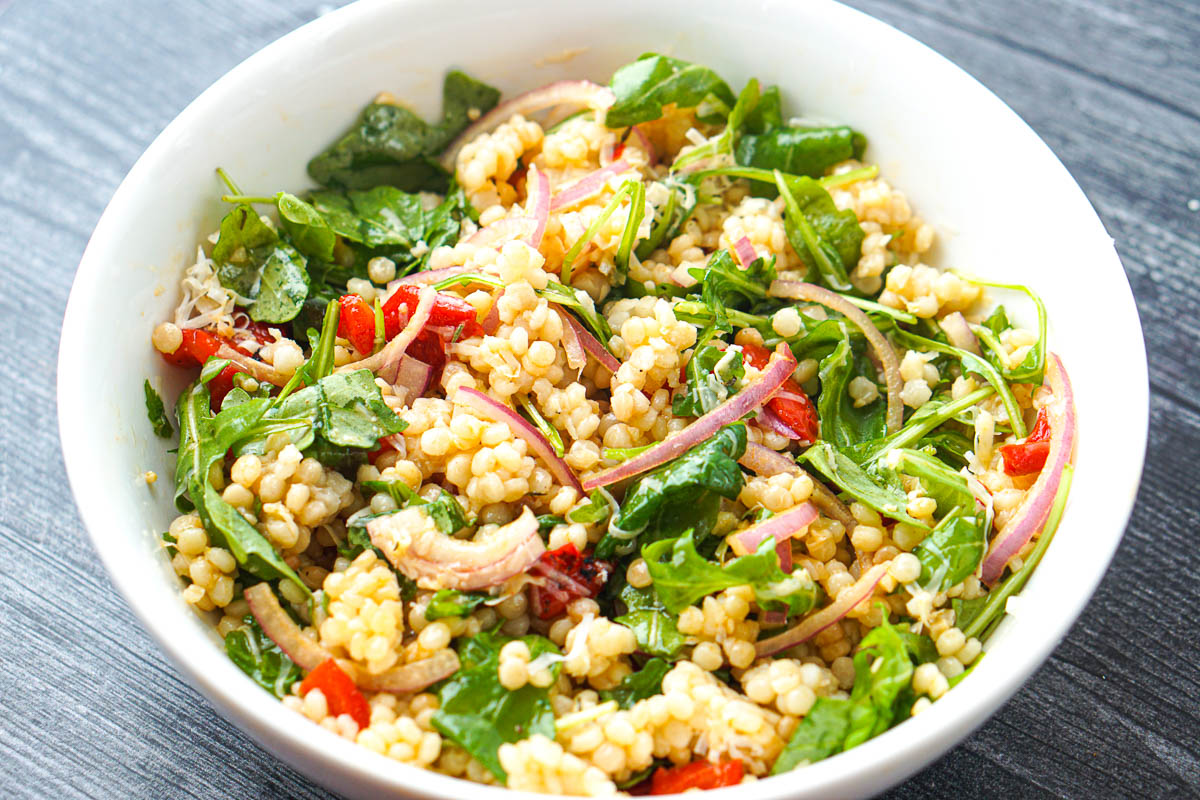 What is Israeli or pearl couscous?
Note that I used Israeli couscous which is also known as pearl couscous in this recipe. It's much larger than regular couscous and has a chewier texture like a pasta ball.
Below you can see that they look different and they are also made a little differently. Learn more about the differences here.
Pearled couscous has a pearl shape hence the name and is toasted after it's shaped. It also has a chewier bite and nutty flavor.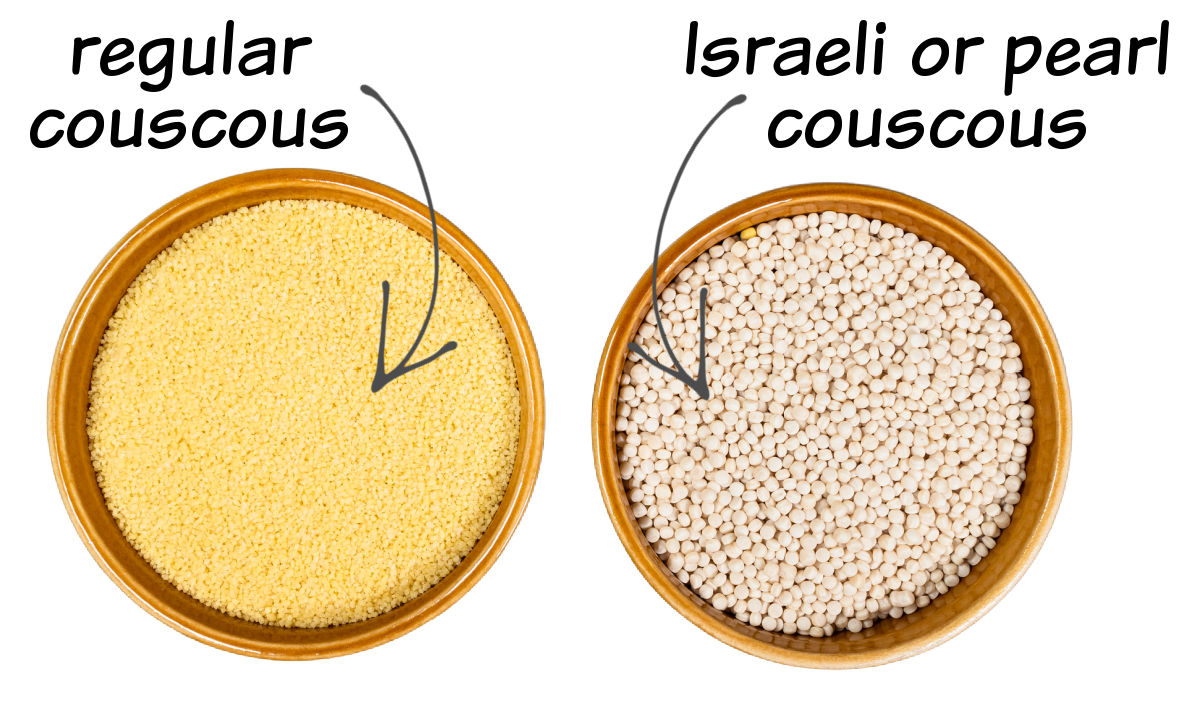 Hearty salad ingredients I used.
The fresh ingredients I used for this delicious salad is pearl couscous, asiago cheese, roasted red peppers (from a jar), red onion and baby arugula.
I love arugula over other salad greens because it has a nice peppery taste. I still remember the first time I had an arugula salad in New York. I was floored at how good it is.
The simple salad dressing is made with extra virgin olive oil, vinegar, fresh garlic, dried mustard, thyme, salt and black pepper. You can use any kind of vinegar you want and even substitute with fresh lemon juice.
Originally I used peppadew peppers in this recipe. They have a slight tang from the marinade but they are cute, round, sweet peppers. Amazon has a variety of peppadews but today I substituted jar roasted red peppers. They are much easier to find but if you have some peppadews try them first.
However, make sure you use pearl couscous or Israeli couscous. It's much bigger than regular couscous and it's what makes this salad in my opinion.
How to make arugula couscous salad.
You need to make the pearl couscous and cool it down before assembling this salad. Just follow the package instructions which is usually boiling water like you would for pasta. When done, set it aside as you get the rest of the ingredients together.
In a small bowl whisk the olive oil, vinegar, crushed garlic, thyme, dried mustard, salt and pepper and set a side.
Slice the red onion very thinly, chop up the red peppers and gather the arugula. Note you can use more of the arugula if you want.
In a large salad bowl add the couscous, the chopped veggies and arugula. Mix well then mix in the dressing to coat everything. Lastly sprinkle the asiago cheese and fold it in a bit. You can always season with salt and pepper but the cheese and dressing seem to have enough salt for my tastes.
Refrigerate until ready to eat. Store leftovers in an airtight container. (Please scroll down to view the printable recipe card.)
And that's about all there is to this fresh spring or summer salad. It's very filling and supper tasty. It keeps well so you can even make it the day before and it would still be fine.
Recipe variations to try.
I think some slender asparagus would be quite good in this salad however you can use other vegetables as well like cucumbers, cherry tomatoes, bell peppers, olives, sun dried tomatoes, artichokes, etc.
You could also use other cheeses however I think they should have some bite to them. Try fresh parmesan cheese, feta cheese, goat cheese or even blue cheese.
Some parma ham or prosciutto would also be a nice addition and add extra flavor. And herbs like fresh basil, parsley or mint are an easy addition. So if you have some in your garden give them a try.
Other pearl couscous recipes to try.
I just have two other recipes that use this yummy grain. This roasted vegetable couscous salad can be eaten hot or cold. So I like to make it warm for side dish for dinner and eat the leftovers cold as a salad.
I also have this yummy Middle Eastern couscous and chicken soup. which is comfort food to me as it reminds me of my childhood. It's full of unique flavors like cinnamon and caraway as well as caramelized onions. It's very hearty and super flavorful.
Well I hope you like the vibrant flavors of this summer arugula salad as much as I do. I just love the peppery arugula leaves with the chewy pasta like grain, and tender roasted peppers. If you invite me to a party this summer, you already know what I'm bringing. Enjoy!
Easy Arugula Couscous Salad Recipe
This arugula couscous salad is fresh, tasty and hearty. Perfect for a picnic, summer party or just eat it for lunch.
Ingredients
¼ cup red onions, thinly sliced
2 cups Israeli couscous, cooked (also called pearl couscous)
1 cup arugula, tightly packed
1 cup roasted red peppers from a jar, chopped
½ cup Asiago cheese, shredded
¼ cup olive oil
¼ teaspoon salt
⅛ teaspoon pepper
1 clove of garlic (small), crushed
¼ teaspoon dried mustard
2 tablespoons white wine vinegar
¼ teaspoon thyme
Instructions
Cook your pearl couscous according to instruction and let cool.
Add your couscous, onions, arugula and peppers to a large bowl and mix.
In a bowl, whisk together the vinegar, olive oil, salt, pepper, garlic, mustard and thyme.
Add the dressing to the bowl and mix to combine.
Sprinkle cheese on top and serve or refrigerate.
Nutrition Information:
Yield:

6
Serving Size:

1
Amount Per Serving:
Calories:

208
Total Fat:

13g
Saturated Fat:

3g
Trans Fat:

0g
Unsaturated Fat:

9g
Cholesterol:

9mg
Sodium:

152mg
Carbohydrates:

17g
Fiber:

1g
Sugar:

2g
Protein:

5g