This fresh fig crostini appetizer is an easy recipe that has a delicious combination of flavors.There's the tasty toasted baguette slices with the creamy blue cheese spread and topped with slices of fresh fig. The textures and flavors of this tasty appetizer go so well together and it just 15 minutes to make! Great for holiday parties.
You might also like these beet and goat cheese stuffed endive appetizers.
Recently I had some friends over for drinks and apps and just put out a large charcuterie board along with pieces of French bread. Of course I bought too much and had all these fresh figs and baguette slices leftover so I made this delicious fresh fig crostini appetizer recipe!
My sister had made something like this years ago and I remember loving them so I decided to make them for the blog. They are so easy to make! You can toast the bread and make the blue cheese spread ahead of time then just assemble and broil for a few minutes. Easy peasy.
My husband and I actually ate these for dinner because the party was over but I can't wait to make them again for our next party or even for the holidays. The texture of sweet fresh figs goes so well with the crunchy toasted French bread and creamy blue cheese spread. We both love them!
About fresh figs.
Fresh figs have to growing seasons starting in June and then again in August so it's a great fruit to try in the summer or this fall. They have a tender and sweet fleshy middle which is nothing like the super sweet yet chewy texture of dried figs.
Fresh figs are a good source of potassium and fiber (learn more here). They are great to eat as is but also to use them in appetizers (like this one) or in desserts.
Recipe ingredients I used.
You only need 5 simple ingredients for this recipe – figs, olive oil, blue cheese, cream cheese and French bread. Note this recipe would work good with a slice of pear as well if you don't care for figs.
Fresh Figs
You have to use fresh figs for this recipe. They are slightly sweet and the texture is soft and sort of melt in your mouth. They are usually picked when they are rip so you should use them right away once you buy them.
Olive Oil
You can use any kind of oil but a really like the flavor of a good extra virgin olive oil with the bread. It adds another layer of flavor for this appetizer.
Blue Cheese and Cream Cheese
It doesn't matter whether you use blue cheese crumbles or buy a good piece of blue cheese. Either will work in this recipe. You could substitute with soft goat cheese or even feta cheese if you don't like the taste of blue cheese. Also gorgonzola cheese is sometimes a bit milder in taste and that would work too.
French Baguette Slices
This is a good recipe for stale bread. You want small pieces of bread so buy a baguette that's not too big in width. Below you can see the size of the bread I used (which was leftover from my party).
Other ingredients you can try to is add a sweet balsamic glaze or even a drizzle of honey over top. I like the level of sweetness from just the plain figs but you can try these if you want.
How to make this fresh fig crostini appetizer recipe.
Step 1: Spray a baking sheet with nonstick cooking spray. Mix together softened cream cheese and blue cheese in a small bowl. Set aside for later. Slice baguette into thin slices.
Step 2: To toast the bread, get out a large skillet and heat to medium high heat. Brush the olive oil over both sides of the sliced bread and place in the hot skillet. Toast for about 2-3 minutes until the bread slices are a nice golden brown and toasted. Flip and do the other side.
You can make these in advance. Just let them site out on the counter until ready to use. You can also make the cheese spread days in advance. Just cover with plastic wrap and refrigerate.
Step 3: Get out the prepared baking sheet and place the toasted bread on it. Spread a bit of the creamy cheese topping on each baguette slice and then add the slices of figs. You can use 1-2 slices per each crostini. Place back on the tray.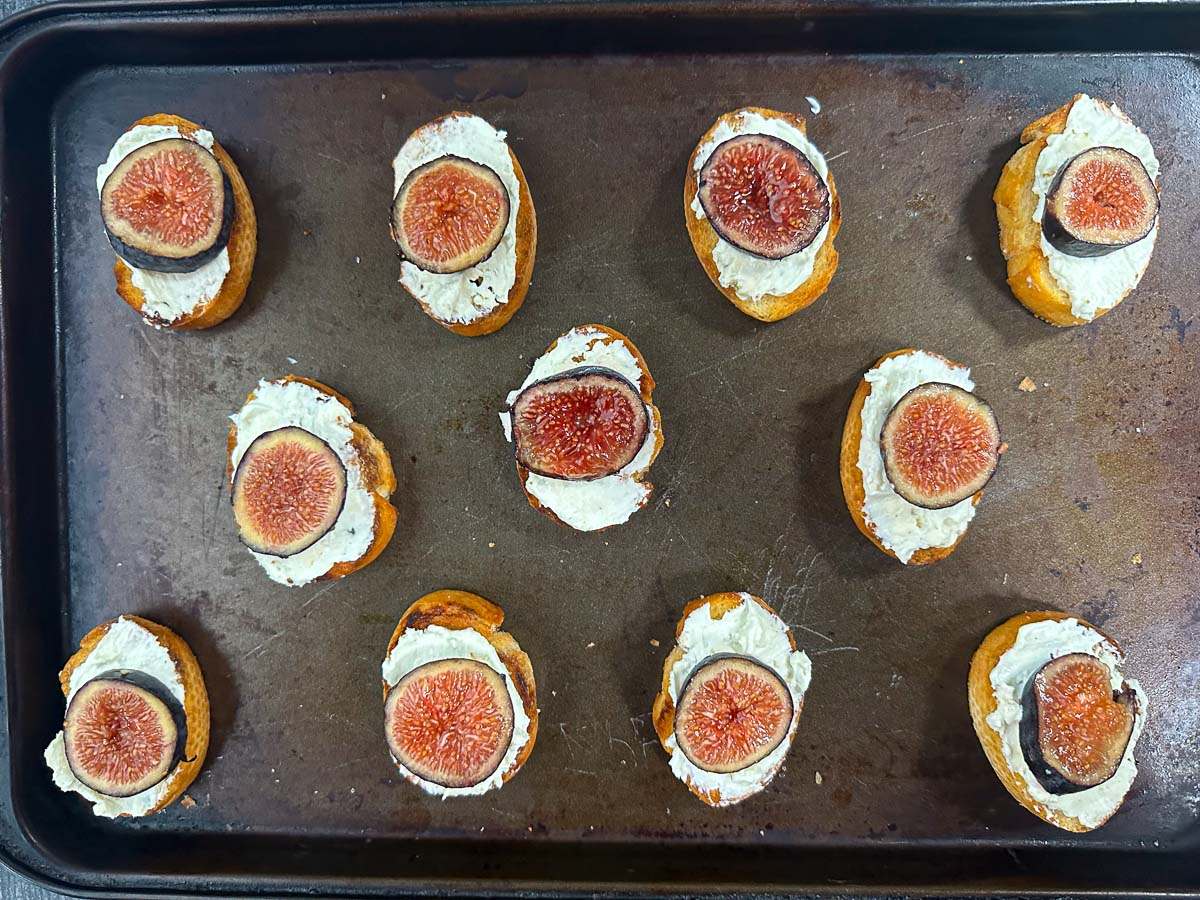 Step 4: Place the baking tray in the oven and broil for 5 minutes. Make sure to keep an eye on them so they don't burn.
Step 5: When the creamy cheese starts to bubble and brown you can take them out. Below is what they look like when they are done.
Store leftovers in an airtight container or cover with plastic wrap and place in the refrigerator. They will taste ok cold but they are much better hot and they would be difficult to reheat so it's best to eat them all!
More easy appetizer recipes.
I have quite a few appetizer recipes and while most are low carb and I have a few that are not and these are my favorites.
I really enjoyed these fresh fig crostini appetizers. I can't wait for our next party as they would be the perfect appetizer since they take little time to make and just a few ingredients.
Unfortunately they are not in season very long in Pittsburgh so I will have to have a party soon! Enjoy.
Fresh Fig Crostini Appetizer Recipe
If you find some fresh figs you have try these fig crostini appetizers. The soft, fleshy figs are topped on a blue cheese spread atop a crunchy French bread toast to make a delicious finger food. Great for holiday parties.
Ingredients
12 slices of French bread baguette
4 tablespoons blue cheese crumbles
2 ounces cream cheese, softened
3-4 fresh figs, sliced
2 tablespoons extra virgin olive oil
Instructions
Spray a baking sheet with nonstick spray and set aside. Slice the figs and set aside as well. They are delicate when they are very ripe so do this carefully.
Get out a large skillet and heat to medium high heat. Brush olive oil on both sides of the sliced bread. Place evenly in the skillet and turn the heat down to medium heat. Toast for about 2-3 minutes on each side untl they are golden brown. Place on prepared baking sheet.
In a small bowl, mix together the softened cream cheese and blue cheese. Add a small amount and on each crostine and spread all over.
Top each one with 1-2 slices of fresh fig and then place the baking sheet into the oven. Broil for about 5 minutes until the cheese starts to bubble and brown. Make sure to watch that they don't burn.
Let cool before serving. Store leftovers in an airtight container though they are best eaten when warm as they are hard to reheat.
Nutrition Information:
Yield:

12
Serving Size:

1
Amount Per Serving:
Calories:

306
Total Fat:

7g
Saturated Fat:

2g
Trans Fat:

0g
Unsaturated Fat:

4g
Cholesterol:

7mg
Sodium:

594mg
Carbohydrates:

51g
Fiber:

2g
Sugar:

7g
Protein:

11g