You are going to love this wonton cups with a crab appetizer recipe. It's fresh and flavorful with lump crab, avocado, fresh jalapeno and a lite lime dressing. Using crispy wonton cups to hold the crab salad makes for great finger food for holiday parties. And they take little time to make and each one has only 50 calories and 5g net carbs.
Also try these keto buffalo chicken stuffed mushrooms appetizer.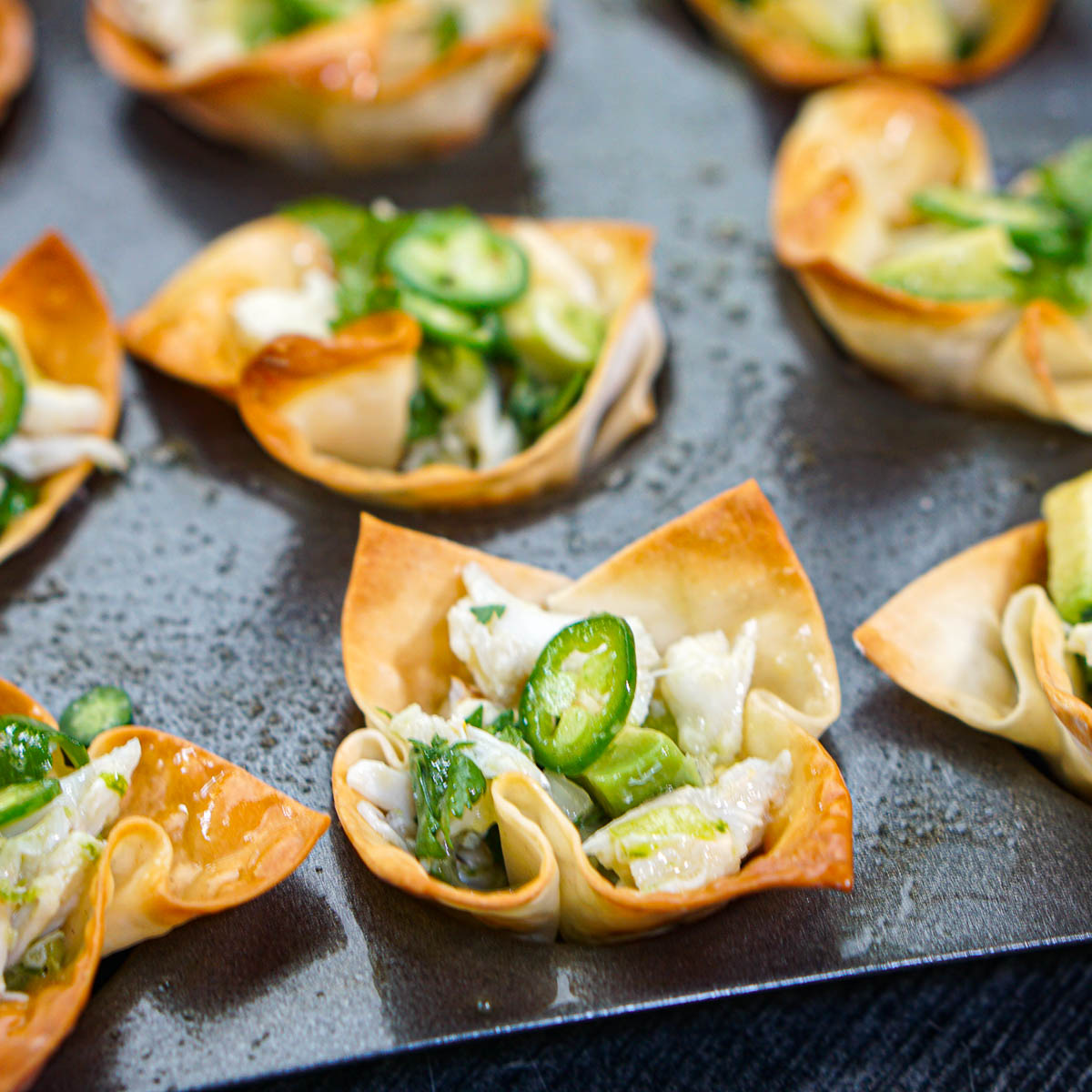 Recently I needed a party appetizer to take to my sister's. Then I remembered making a similar recipe to this wonton cups with crab appetizer many, many years ago. They are basically little appetizer cups made with wonton wrappers and it holds a fresh and tasty crab salad.
The result is a really tasty bite with crunchy wontons and southwest flavors of lumps of crab mixed with avocado and jalapeno. Best of all this finger food is really easy to make and takes little time. You can also make the cups ahead of time as well as the crab mixture then just assemble before serving.
Everyone loved this cold crab appetizer and I hope you do too. They make the perfect bite sized appetizer for parties and they would be great for a football party as well as a more elegant cocktail party. And for those on a low carb diet they have just 5g net carbs and 50 calories each.
Recipe ingredients I used.
The simple ingredients I used in this appetizer – wonton wraps, green onion, limes, cilantro, lump crabmeat, jalapenos, olive oil and avocados.
Crab meat
I bought this canned lump crab meat from Costco. It can be expensive but you can make quite a few appetizers from this can. You can use less expensive cans of crab but it will taste much better with the lump crab as it's the star of the dish. And of course you can use fresh crab meat if you have that available to you.
Wonton Wraps
When you go to the grocery store these are usually found in a refrigerator section near the fresh vegetables. You want the wonton size not the egg roll size which is much bigger. You can also find them in Asian markets.
Limes
You need both the juice and zest from fresh limes. So even if you use bottled lime juice you want the zest from a fresh lime so you might as well just use fresh.
Avocado
It's best to use a just ripe avocado for this dish. You don't want it too ripe so that it's mushy and hard to chop but you also don't want it too hard so it doesn't have much flavor. If you can push the skin in and it just barely pushing in it should be the right ripeness.
Cilantro
If you are one of those people who hate cilantro, you can substitute with fresh parsley or leave it out. However I really like the cilantro lime flavor combination.
Green Onions
Again green onions go great with the lime and cilantro but if you don't have any you can use white onion or even red onion. Just make sure you chop them finely because you don't want them to overpower the other ingredients. You can also try minced chives.
Jalapeno Pepper
You only need one pepper to use as a garnish for this crab appetizer. You just have to make sure to very slice it very thinly. These very thin slices don't have much heat but the fresh green pepper flavor really works well with the dish.
Plus since you place them on top if someone does like them they can easily pick them off. But they shouldn't because it really good!
How to make wonton cups with crab appetizer.
Step 1: Preheat oven 350°F. Spray a mini muffin tin with cooking spray then set aside.
Step 2: Get out a wonton wrapper and place it in the wells of the muffin pan. Gently press the wrapper down into the muffin cup and form a cup or little package to hold the crab. Be careful that you don't cause a tear in them.
If you want you can cut off the corners of the squares so they don't have any points but I found they were without doing this.
Step 3: Spray the wonton wrappers with cooking spray in the muffin pan. You can also brush them with olive oil before placing them in the tin but I found the cooking spray easier. Sprinkle salt over the cups to season.
Step 4: Place the muffin pan in the oven and bake for 8-10 minutes until golden brown. Check them around 7-8 minutes to make sure they aren't brown. Take them out and let them cool completely before filling. You can also make these hours in advance.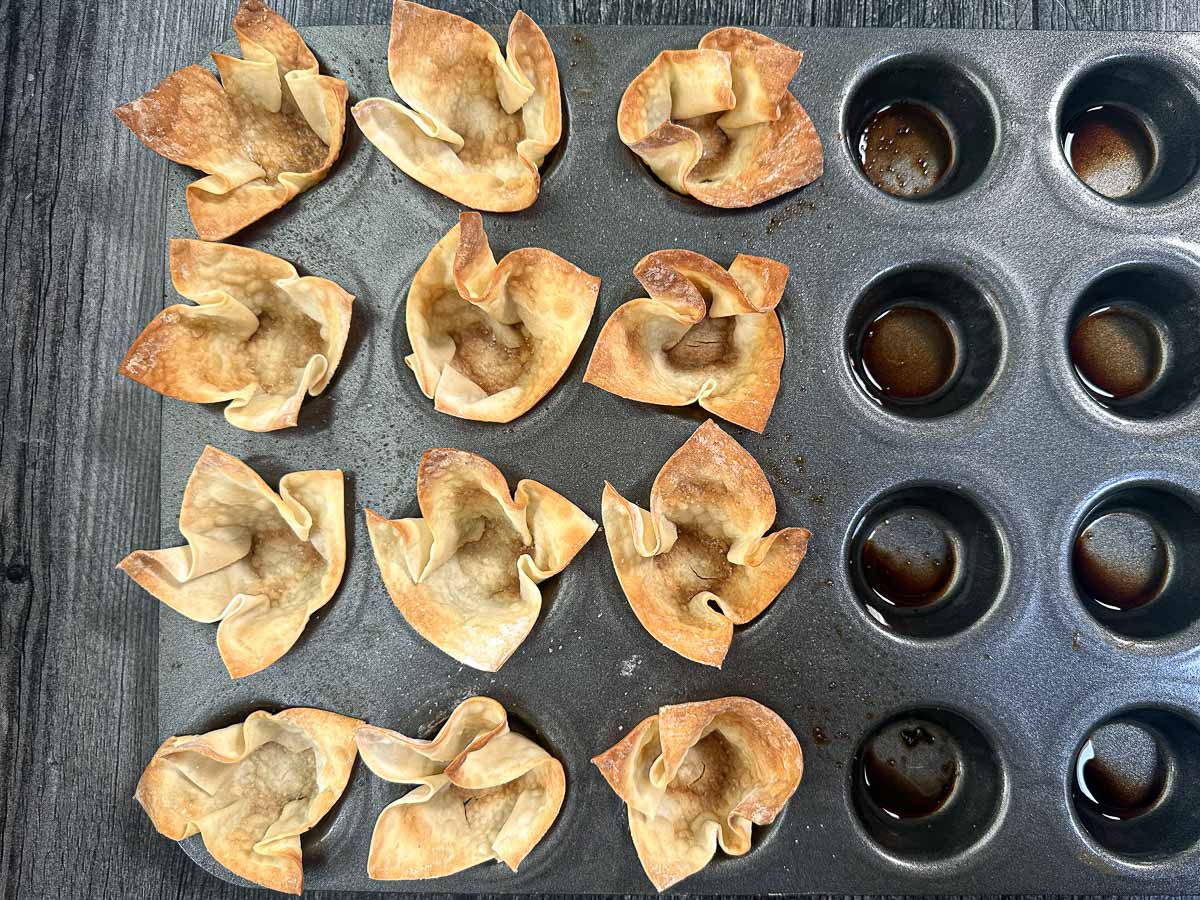 Step 5: Get out a medium sized bowl and add the chopped cilantro leaves, avocado, green onion and crabmeat. In a smaller bowl whisk together the olive oil, lime juice and zest, salt and black pepper. Pour over the crab mixture and gently mix together.
Step 6: Take a scoop of crab salad filling and spoon into the wonton cups. Then place 1 or 2 thin slices of jalapeno peppers on top. Refrigerate until ready to serve. Please scroll down to view the printable recipe card and instructions.
Place leftovers on a plate covered with plastic wrap or in an airtight container and refrigerate.
NOTE: You can make the cups ahead of time as well as the crab salad. Then you can just assemble this crab appetizer before serving.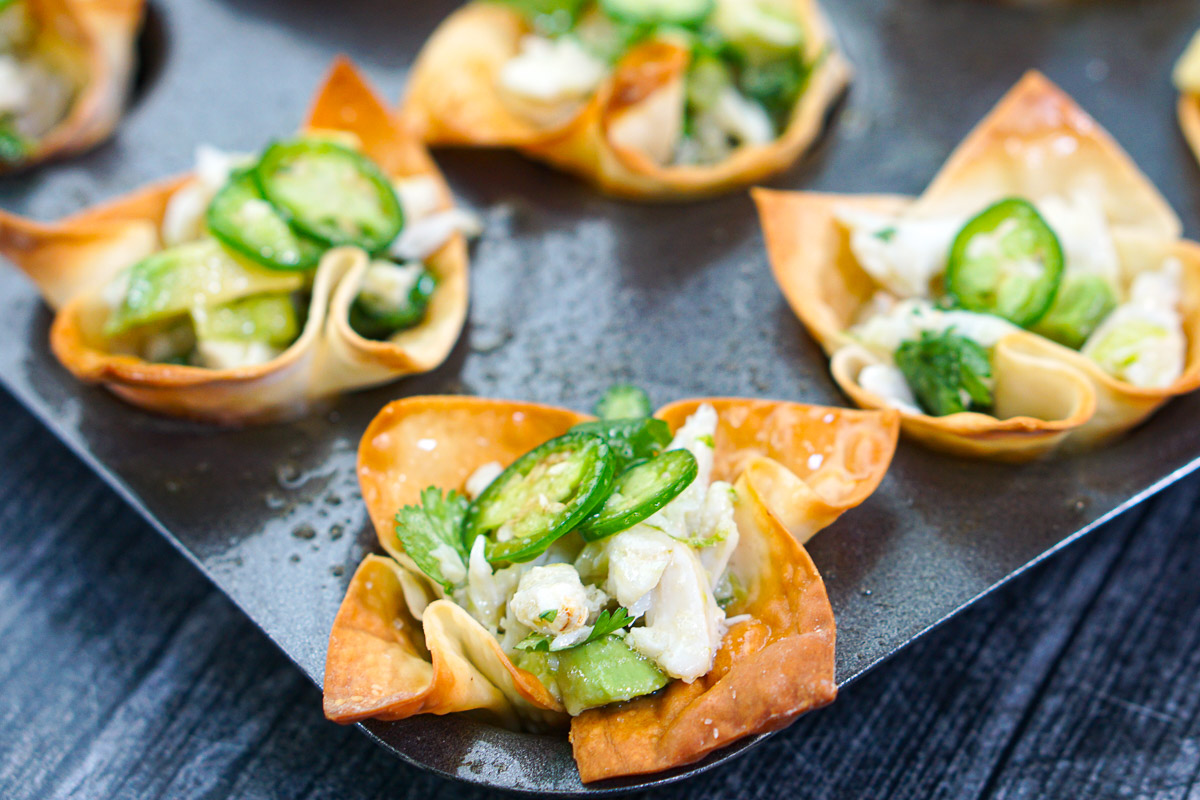 More delicious finger food appetizers.
I also have a delicious recipe for mini crab cakes as an appetizer as well as a larger crab cake recipe for a main dish. But here are few of my favorite recipes for party food. Most are easy and quick appetizers.
Well I hope you try these easy crab salad wonton cups the next time you need an appetizer recipe. It really was quite delicious and if you like it, check out my sisters version using Meyer lemon juice and mango.
They both make the perfect appetizer for the holiday season. And even though I didn't instead for these to be low carb or keto because of the wonton wrappers, they have just 50 calories and 5g net carbs for 1 cup. Enjoy!!
Wonton Cups with Crab Appetizer Recipe
These baked wonton cups filled with crab salad is a fresh and delicious appetizer. With southwest flavors of lime, cilantro and avocado you get the perfect combination of flavors in every bite.
Ingredients
½ cup lump crab meat
2 tablespoons olive oil
2 tablespoons fresh lime juice
zest of 1 small lime
⅓ cup avocado, diced
1 green onion, finely diced
3 tablespoons cilantro, chopped
salt and black pepper to season
1 jalapeno pepper, very thinly sliced
16 wonton wraps (small size not egg roll wraps)
Instructions
Preheat oven to 350°F. Spray the wells of a mini muffin tin with nonstick cooking spray.
Take a wonton wrap and gently form a cup in each well of the tin. Becarely not to tear or rip the wontons. If you want you can cut the corners of the squares to make it a bit easier but you just want to form it enough to make a cup. Do this with all of the wrappers. Spray all of the time with cooking spray. You can also brush them with olive oil before pressing them but that can get messy.
Place into the preheat oven and bake for 8-10 minutesl. Check around the 7 minute mark to make sure they don't burn. You want to make sure they are golden brown. Take them out and let them cool before filling.
While those are baking make the crab salad. Get out a medium sized mixing bowl and add the lump crab meat, cilantro, avocado, green onion, lime juice, olive oil, lime zest and sprinkle salt and pepper. Gently mix together and refrigerate until the cups cool.
Once the cups are cool, take a scoop of crab salad mixture and spoon into the wonton cups. Then top with a few very thin slices of jalapeno. Place finished wonton cups on a plate and cover with plastic wrap. Store in the refrigerator until ready to serve.
Note: You can also make the cups and salad separately ahead of time and then just fill them when ready to serve.
Nutrition Information:
Yield:

16
Serving Size:

1
Amount Per Serving:
Calories:

50
Total Fat:

2g
Saturated Fat:

0g
Trans Fat:

0g
Unsaturated Fat:

2g
Cholesterol:

5mg
Sodium:

98mg
Carbohydrates:

6g
Fiber:

1g
Sugar:

0g
Protein:

2g