These air fryer baked apples makes an easy fall dessert that only takes 15 minutes. Baked in a buttery brown sugar sauce these tender apples are delicious on their own but even better topped with vanilla ice cream. Your family will love them. Great for busy weeknights or a weekend dessert.
You might also like this keto maple bacon cheesecake recipe.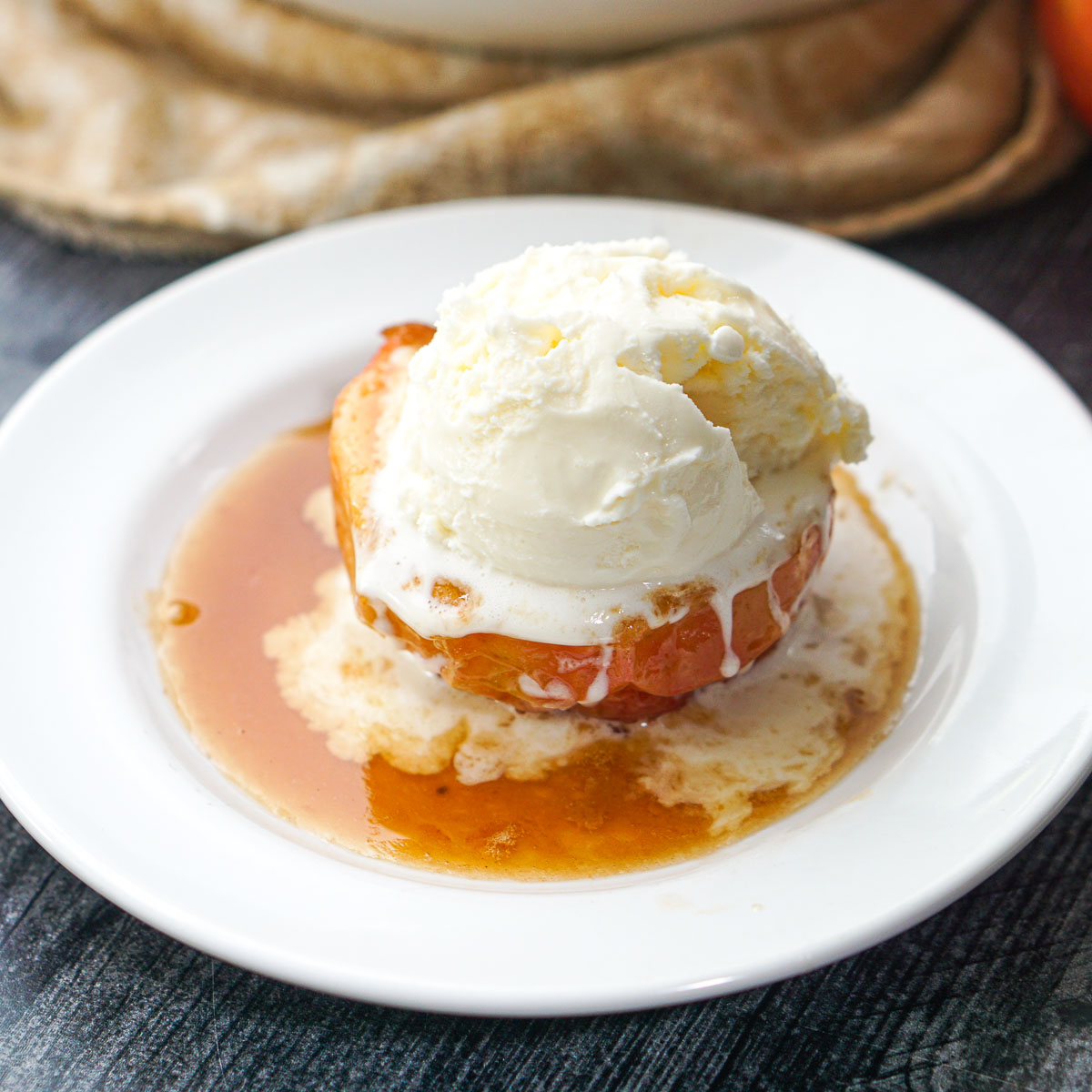 My family loves fried apples. I usually make them in the microwave but even then they take quite a lot of time. So I thought I'd test them in the air fryer and boy I'm glad I did!
These air fryer baked apples are the easiest dessert to make. The air fryer bakes this fruit perfectly and in less time than using the oven. With a little added butter and brown sugar it tastes like a simple caramel sauce. It's an easy alternative to apple pie without the crust.
So next time you want to make a dessert for dinner but don't have the time, try these baked apples in the air fryer. It makes me excited to try other fruit as well!
Recipe ingredient I used.
Below you can see the simple ingredients I used. I only used 3 ingredients – fresh apples, butter and Swerve brown sugar sweetener. I used the sweetener because I wanted a bit more sweetness but not the carbs from regular sugar.
You can use regular brown sugar or nothing at all if you want an even more healthy dessert. I would add a bit of melted butter though if you go that route and maybe a teaspoon of ground cinnamon over all of them.
If you don't like to use butter you can substitute coconut oil.
Different kinds of apples you can use.
This really is the kind of recipe that you can use your favorite type of apple. I used a Honeycrisp because that is what I had on hand. If you want to eat less carbs try a Granny Smith.
If you want to learn more about different kinds of apples this site describes 20 different varieties. The fall is a great time to test taste different kinds. My favorite apples are snapdragons but I'm having trouble finding them lately.
How to bake apples in the air fryer.
Step 1: Cut your apples across the middle so that they will sit nicely in the air fryer basket. Take a melon baller and scoop out the sides in the middle on both halves.
Note I made 8 halves. If you want to use less you could keep it whole and just scoop out the apple core from the top. It's a little more difficult but will work.
Step 2: Place the halves into the air fryer basket. I have this wonderful silicon liner for my air fryer which makes clean up a breeze. If you don't have one, just spray the basket with nonstick cooking spray.
Melt the butter and brown sugar sweetener in a small microwave safe mixing bowl bowl for about 30 second until the butter is melted. Mix it well to incorporate the brown sugar. Brush the mixture over the apple halves.
Some people add a bit of water to create steam and prevent drying out. However I find that the butter mixture works just fine.
Step 3: Bake for 12-15 minutes at 350°F. Cooking time may vary so check them toward the end to make see if they are done. Use a fork to see if they are tender enough then take them out. The skins will pull away from the apple when they are done.
I like to serve them with a scoop of ice cream to make them a more indulgent dessert. It melts over top and is delicious! You could also add some chopped nuts like walnuts or pecans.
Store leftover baked apples in an air tight container in the refrigerator. Note that you don't have to add the ice cream as they will be be plenty sweet with the brown sugar mixture.
I used 4 medium apples for this recipe to make 8 servings. You might have to make these in batches if you have a smaller air fryer.
Please scroll down to view the printable recipe card.
More easy fruit desserts and recipes to try.
Sometimes plain fruit is the perfect dessert or delicious treat to have but in the fall and colder weather I like baked fruit more. Here are a few simple fruit desserts to try.
Well I hope you give these air fryer baked apples a try. It's such a simple sweet dessert and the air fryer makes it extremely easy to do. It's great for when you sweet tooth comes calling. I think I will try pears next time!
Easy Air Fryer Baked Apple Recipe
These easy air fryer baked apples are the perfect for a busy weeknight dinner or when you want a wholesome sweet treat.
Ingredients
4 apples
2 tablespoons brown sugar (I used Swerve brown sugar sweetener)
2 tablespoons butter
vanilla ice cream (optional)
Instructions
Take each apple and cup in half around the middle. This will make them stand up better in the air fryer basket. Using a melon ball scoop, take out the seeds in the middle to make a little well. Set the halves in the basket but spray with nonstick cooking spray first.
Place the butter and brown sugar sweetener in a small bowl and microwave for 30 secons until the butter is melted. Mix well then brush evenly over the apples. If you use less apples you can use less of the butter mixture.
Bake at 350°F for 15 minutes until you can easily pierce them with a fork. The skins will pull away and you'll know they are done.
Take them out and top with a scoop of vanilla ice cream while they are hot.
Note I made 8 halves. You might have to make these in batches if they don't all fit. Store leftovers in an airtight container in the refrigerator.
Nutrition Information:
Yield:

8
Serving Size:

1
Amount Per Serving:
Calories:

83
Total Fat:

3g
Saturated Fat:

2g
Trans Fat:

0g
Unsaturated Fat:

1g
Cholesterol:

8mg
Sodium:

25mg
Carbohydrates:

15g
Fiber:

2g
Sugar:

12g
Protein:

0g