This coconut yogurt with blueberry sauce is easy to make & a great dairy free alternative to yogurt. The blueberry topping is a quick and tasty addition.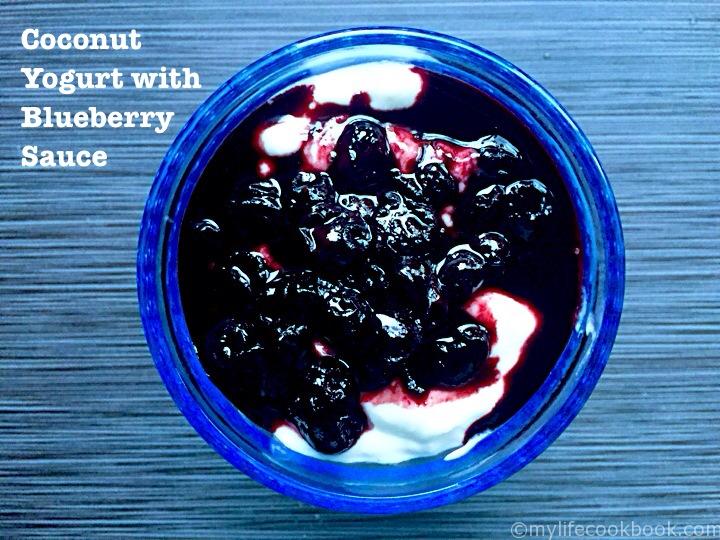 This is just a quick post to go with my Coconut Yogurt recipe you can find here. I'm experimenting with different toppings and this is one that I thought Max would really like. It's just frozen blueberries and coconut sugar. So simple but so tasty!
All that's in this topping is blueberries and coconut sugar. If you've never tried coconut sugar, you should. It has a lower glycemic value than regular sugar. And while table sugar is basically empty calories, coconut sugar is a source of iron, zinc, calcium and potassium. It also contains a fiber called inulin which may slow glucose absorption…thus the lower glycemic index. There is a debate as to whether this is a truly "healthy" sugar because in a sense it is still sugar. But it tastes delicious…a bit like brown sugar...and is a bit healthier than white sugar so for now I'm all for it.
Blueberry Topping Recipe
So back to my recipe. You just put 1 cup of blueberries either fresh or frozen and 1/4 cup of coconut sugar in a sauce pan. Also add a tablespoon of water or two to get it to mix well. Cook this down over medium heat until it makes a nice sauce. I smash the berries halfway through to get more juice from the berries but you could leave them as is or even puree the whole thing. However you like it. And that is all there is too it. Please note that this is sweet. You might want to start with 1/2 of the coconut sugar (2T) and add more after it cooks down a bit.
Coconut Yogurt with Blueberry Sauce
Max really liked it and so did I. The next topping might be a banana/almond butter combo. Or maybe a vanilla carmel sauce. Either way, I'll keep you posted! Let me know if you have any go to toppings for your homemade yogurt.
Recipe: Coconut Yogurt with Blueberry Sauce
Quick, easy and delicious with just 2 healthy ingredients. Perfect for my homemade coconut yogurt, ice cream or even french toast.
Ingredients
1

cup

blueberries

frozen or fresh

1/4

cup

coconut sugar

use less at first to get to your desired level of sweetness

1-2

Tablespoons

of water
Instructions
In a saucepan, heat blueberries, sugar and water. The water is just to get the mixture going and will cook down.

Start with less sugar as this was pretty sweet. Taste after a bit of cooking and if you want it more sweet, add the rest of the sugar.

Halfway through smash the berries to release more juice. Or if you like them whole leave them be.

When you get a nice sauce going (10 minutes or so) take off the stove and cool a bit.

Use as a topping on whatever you like.