These Paleo blueberry bagels are both low carb and gluten free. A healthy alternative to bread. Very filling with only 3.5g carbs & 7.3g protein.
You might also like these low carb breakfast cookies!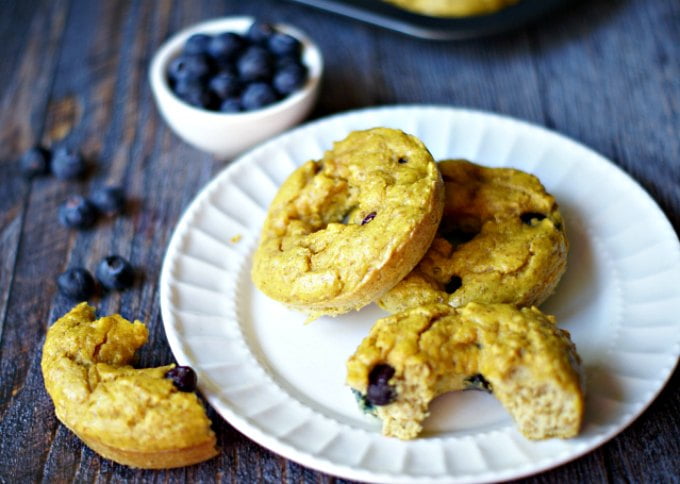 If you've ever been on a low carb or Paleo diet or even tried to clear gluten from your diet, one of the things you really miss is bread. I can live without bread most of the time but my family loves it and sometimes when I'm smearing cream cheese on my son's bagel, I want to take a big bite. But I don't. I make these Paleo blueberry bagels instead. They are very tasty and have only 3.5g net carbs!
I'm not going to lie to you and tell you these taste just like regular bagels. They don't. They don't have that chewy pull when you take a bite into them nor that yeasty doughy flavor. But these are good, low carb and they can satisfy you when you are really trying to eliminate carbs, grains and gluten from your life. And while they are not huge in size, they are very filling. One for breakfast would be a very filling breakfast for me.

This is really easy to make if you have a donut pan like this. If you don't have one, I would suggest you get one because there are a lot of things you can make with them and they are not that expensive. They have them on Amazon
but I bet Bed, Bath & Beyond or maybe even Walmart sells them.
I don't know how you would make these otherwise. Perhaps you could bake them in ramekins and eat them as an English muffin. They are not sweet like blueberry muffin, just slightly sweet like a blueberry bagel so a muffin pan would not be suitable unless you added some sweetener.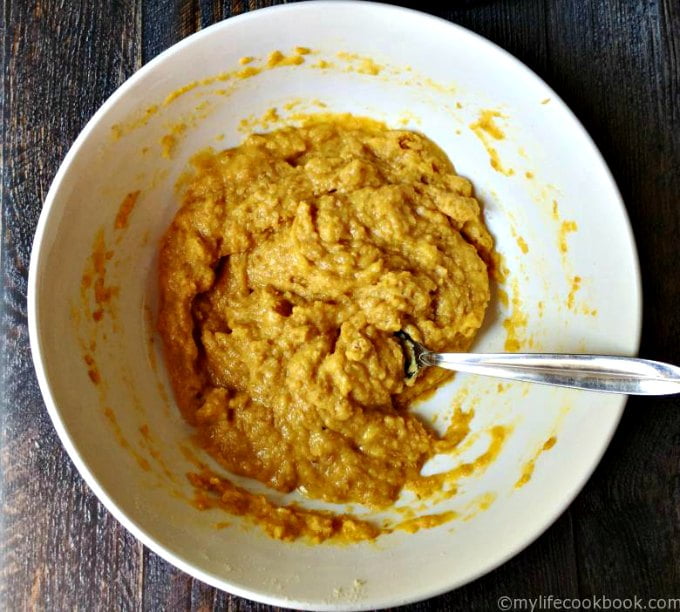 So to make this recipe you just mix the wet ingredients in a big bowl and the dry ingredients in a separate bowl and save the blueberries for last. Let the mixture sit for 5 minutes so the coconut flour can hydrate. Divide the mixture into the 6 sections of the pan and plop in your blueberries. I put 4 in each and just sunk them with my finger. Then smooth the rest of the top a little bit with your finger.
Bake in a 350 degree oven for 12-14 minutes. You don't want to over cook them or they will be really dry. Let them sit for 10 minutes and they are ready to eat.
If you like this recipe, why don't you share it with your friends! Just click the share buttons at the top or on the left. Thanks!
Paleo Blueberry Bagels
As I mentioned these are not like muffins as they are not very sweet. They have just a hint of sweetness like a bagel. I think next time I might make them sweeter to be more like a donut to see if my son will eat them.
But add a shmear of cream cheese and they are a wonderful replacement for bagels. They also freeze well so you can have one when ever you feel like it. Enjoy! Each bagel has approximately:
110 calories / 6.4g fat / 3.5g net carbs / 7.3g of protein.
Blueberry Bagels (Paleo, Low Carb, GF)
These Paleo blueberry bagels are both low carb and gluten free. A healthy alternative to bread. Very filling with only 3.5g carbs & 7.3g protein.
Ingredients
⅓

cup

coconut flour

⅓

cup

golden flaxseed meal

½

teaspoon

baking soda

½

teaspoon

salt

¼

teaspoon

cinnamon

6

eggs

½

teaspoon

vanilla

½

teaspoon

stevia

liquid

¼-1/2

cup

blueberries
Instructions
Preheat oven 350F.

Mix dry ingredients in one bowl.

Mix wet ingredients in another (but not the blueberries).

Combine ingredients, mix well and let sit for 5 minutes.

Spoon into a well greased donut pan.

Add blueberries to individual bagels and smooth the tops.

Bake for 12-14 minutes.

Let cool for 10 minutes.

These freeze well.
---
More low carb breakfast to try!