This baked pears and apples dessert recipe is super easy to make. You just need 4 ingredients and you have a delicious dessert for fall. The coconut sugar adds a caramelized taste to the natural flavors of the pears and apples. Eat as is or with ice cream.
You might also like these apple and pear chips in the air fryer.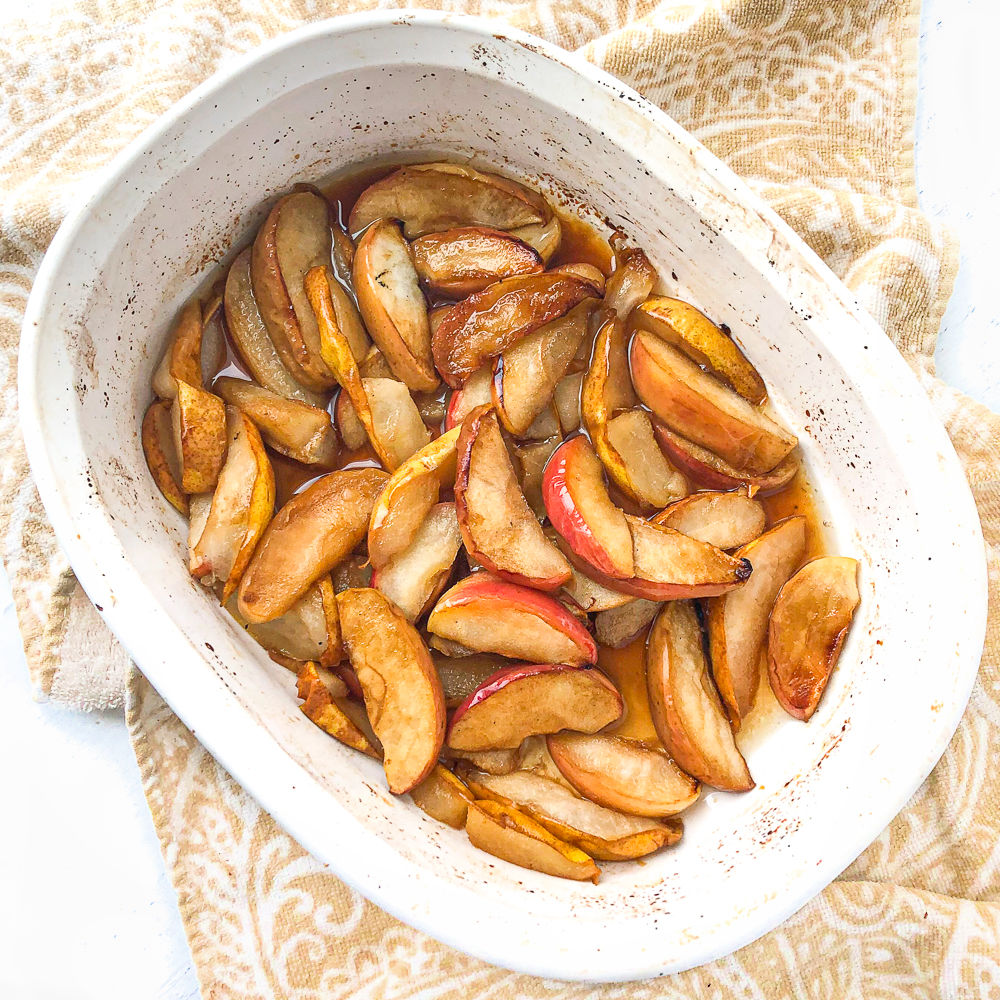 When fall finally arrives I am always excited to try new apple and pear varieties. There are so many to choose from! So today I took a few from my fruit bowl and made this baked pears and apples dessert.
It's such an easy dessert to make and I found that my whole family loved it. I just sliced the fresh fruit and mixed it with coconut oil and coconut sugar and set them in the oven to bake.
Roasting the fruit brought out even more of their natural sweetness and the coconut sugar helped make a bit of a sweet syrup at the end of the baking. It's just a simple, family friendly fall dessert to try.
Recipe ingredients I used.
The 4 simple ingredients I used for this fruit dessert were ripe pears and apples, coconut oil and coconut sugar.
I used ended up using 2 Fuji apples and 2 Barlett pears because that is what I had on hand. You can use any variety of apples and pears that you want.
As for the coconut oil you can also use unsalted butter or ghee. And for the coconut sugar you can substitute Lakanto Golden or Swerve brown sugar sweetener to lessen the sugar if you want. Or you could try regular brown sugar if you don't have any coconut sugar or even honey.
I used coconut sugar because I love the taste of it. And it does have small amounts of minerals, antioxidants and fiber as well as a lower glycemic index than regular sugar. (source)
How to make this baked pears and apples dessert.
Step 1: Preheat the oven to 400°F and slice the apples and pears.
Step 2: Melt the coconut oil in a large baking dish and toss the pear and apple slices to coat them with the oil.
Step 3: Spread the pieces evenly in the baking dish and sprinkle the coconut sugar over top.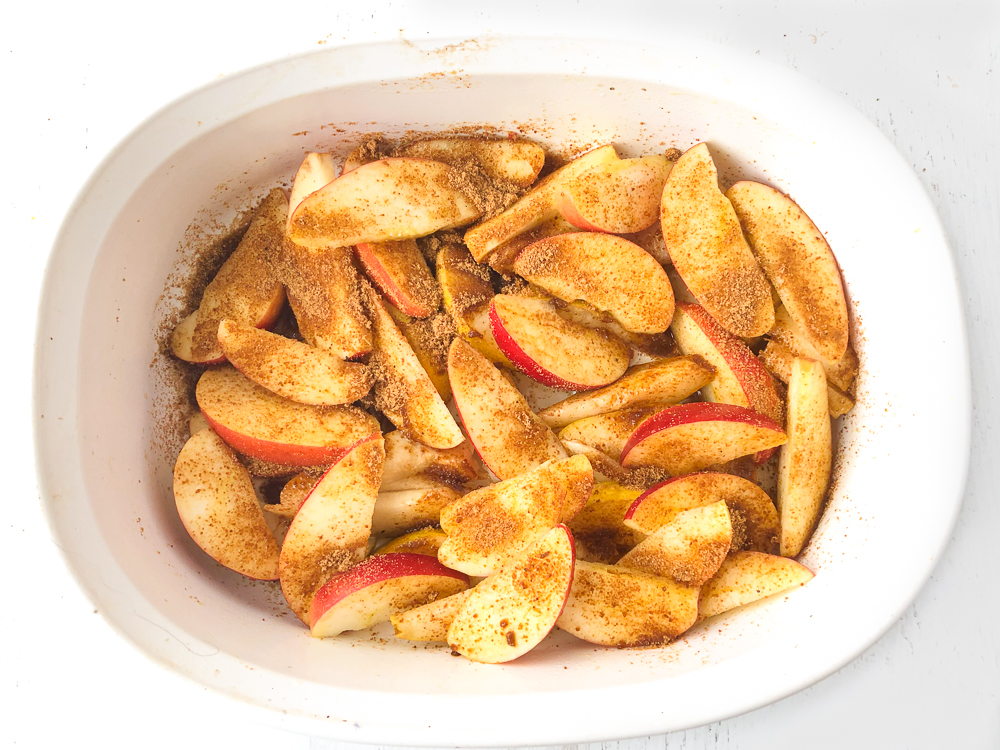 Step 4: Place in the oven and bake for 30-40 minutes or until they are soft and golden brown. Cooking time may vary to check them at 30 minutes and cook longer if they are not fork tender. (Please scroll down to view and print the recipe card.)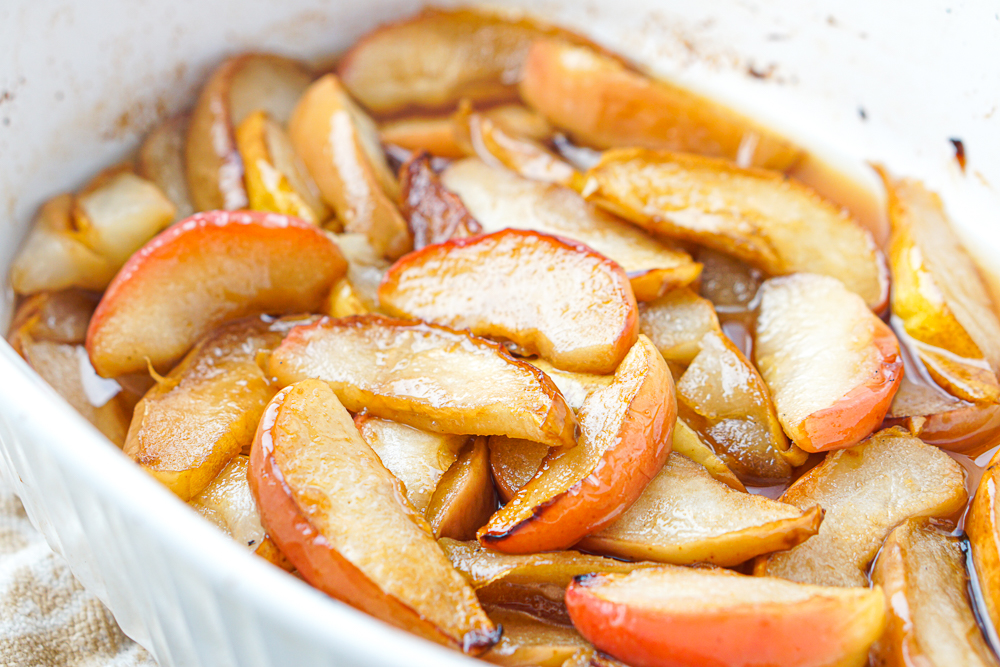 Note: I kept this recipe as simple as possible you could easily add a few warming spices to this dish. Try spices like ground cinnamon, nutmeg or ginger.
What to serve with this dessert.
You can easily eat this baked pears and apples dish as is but if you want to go the next step, add a scoop of vanilla ice cream topping or homemade whipped cream.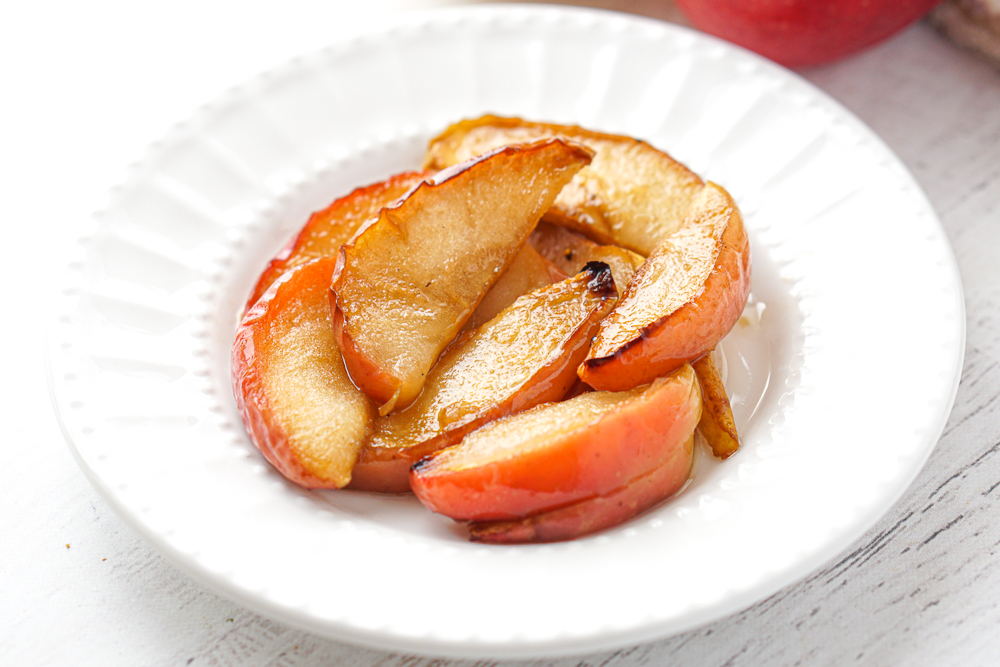 I hope you enjoy this simple but tasty dessert as much as my family does. It's especially good during the fall and winter when the apples and pears are in season and there is such a vast selection to pick from. Enjoy!
Baked Pears and Apples with Coconut Sugar
These roasted apples and pears make for an easy and delicious dessert that you can bake in the time it takes to eat dinner. Eat as is or top with ice cream.
Ingredients
2 apples any variety, sliced
2 pears any variety, sliced
2 tablespoons of coconut oil or butter, melted
¼ cup coconut palm sugar or Swerve brown sugar sweetener
Instructions
Preheat oven to 400°F.
Add coconut oil or butter to a baking dish and put in the oven while it preheats so the oil will melt.
Slice apples and pears.
Take out the baking dish and toss fruit in the melted oil.
Sprinkle the coconut sugar evenly overe the fruit slices.
Bake for 30 -40 minutes or until the fruit is soft and your desired consistency.
Eat as is or as a topping for frozen yogurt, vanilla ice cream or coconut whipped cream.
Notes
You can use any variety of apples and pears that you want.
You can substitute butter or ghee for the coconut oil and regular brown sugar or Swerve brown sugar sweetener for coconut sugar.
Nutrition Information:
Yield:

4
Serving Size:

1
Amount Per Serving:
Calories:

234
Total Fat:

10g
Saturated Fat:

7g
Trans Fat:

0g
Unsaturated Fat:

2g
Cholesterol:

8mg
Sodium:

25mg
Carbohydrates:

39g
Fiber:

5g
Sugar:

31g
Protein:

1g