For an quick one pan dinner, try this easy tortellini with vodka sauce and sausage recipe. You only need 5 ingredients to make this rich and delicious dish and best of all it takes little time so it's great for a busy weeknight dinner.
You might also like this homemade Italian sausage without casings recipe.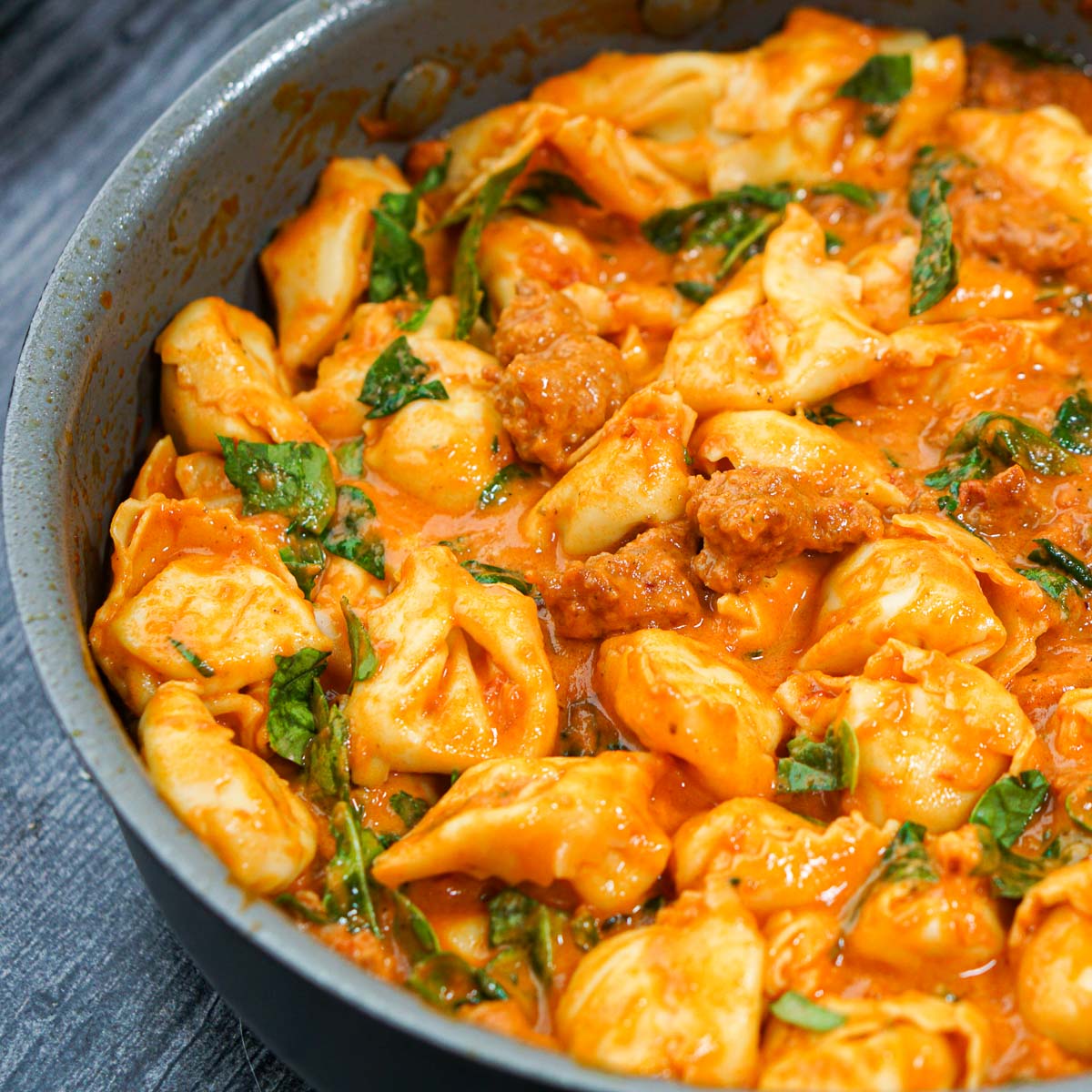 When I had a graduation party for my son I made this tortellini with brown butter sauce because it was easy and I was feeding a crowd. However I prepared way too much of the pasta and had leftovers. So I had to find another way to prepare it.
Today I made this easy tortellini with vodka sauce and sausage recipe for my family and it was a big hit! I add some spinach for color but the whole recipe only used 5 ingredients.
The result was a creamy red sauce with all that flavor from the Italian sausage and then I used the already cooked tortellini from the party. It's a very hearty but easy dinner for busy weeknights.
Recipe ingredients I used.
You only need 5 simple ingredients to make this pasta dish – tortellini, jarred marinara sauce, heavy cream, spinach and Italian sausage. Because sometimes store bought products have added salt, I did not use additional salt and black pepper but you can if you wish.
Fresh Cheese Tortellini Pasta
I used leftovers from my party in which I already had the pasta cooked and refrigerated. I originally bought a fresh package of cheese tortellini from the grocery store but you can use dried if you want too. I prefer the simple cheese filled too with this dish.
Marinara Sauce
I have been using Rao's Marinara sauce for awhile now because I love the savory garlic flavor as opposed to sweeter ones. Also it's low carb which is great for my low carb recipes. You can use whatever your favorite pasta sauce is but I suggest using a marinara sauce with this recipe. You can use any brand though.
Heavy Whipping Cream
The heavy whipping cream is what makes this into a vodka sauce. You can use a half and half but the heavy cream is better. You don't have to use too much and if you don't care about the vodka sauce you can eliminate it and just make the sausage sauce.
Spinach
Fresh baby spinach gives color and nutrition to this recipe but again it's not necessary to the dish. I had leftovers from my previous post and wanted to use it.
Italian Sausage
You can use any brand you want. I take it out of the casings so if you want to use loose Italian sausage that would work great. However you want to use sweet or hot Italian flavored sausage because of the added seasonings which got great in this recipe.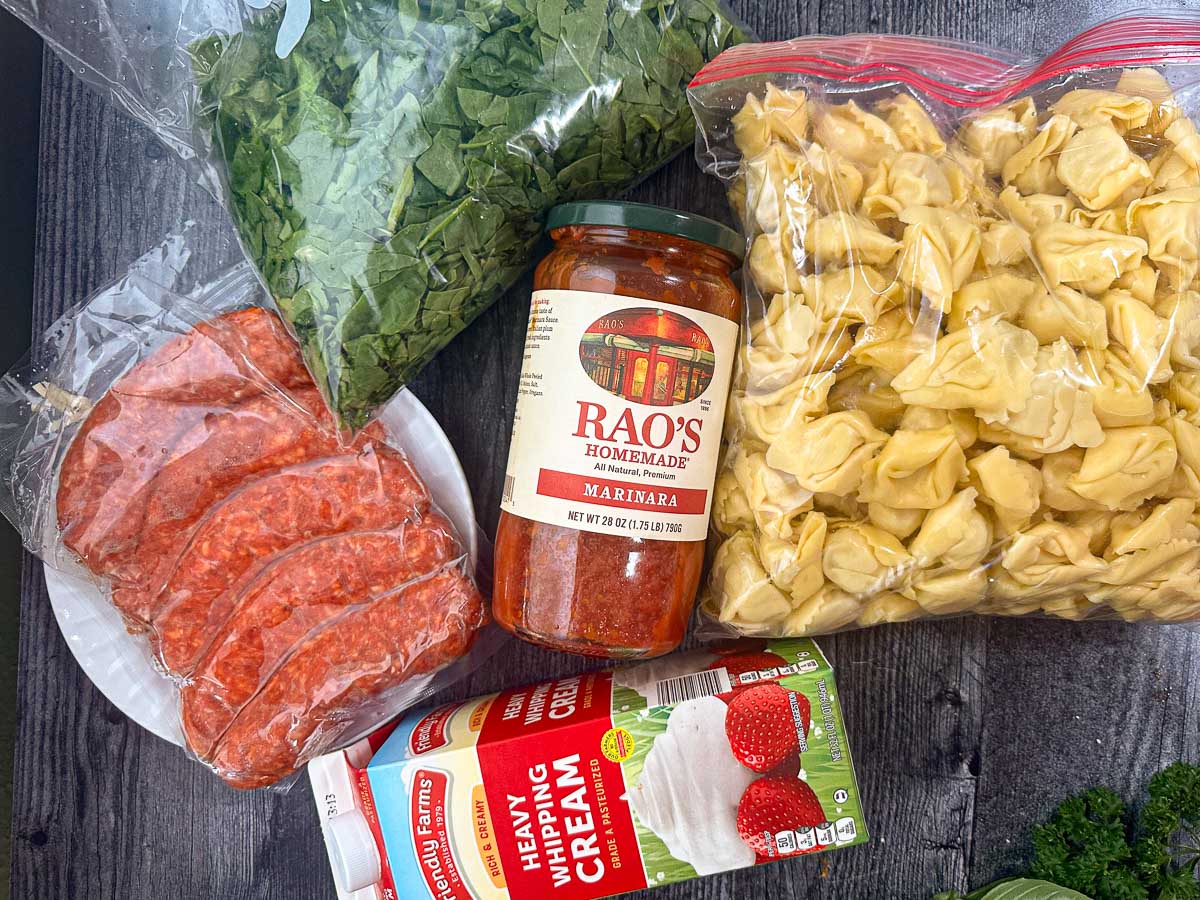 How to make tortellini with vodka sauce and sausage.
Step 1: Get a large pan of water boiling and cook the pasta according to package instructions.
Step 2: While the pasta is cooking get out a large pan and heat to medium high heat. Take the casings off the sausage links and break them into bite size pieces and add to the hot pan. Turn the heat down to medium heat and brown the meat.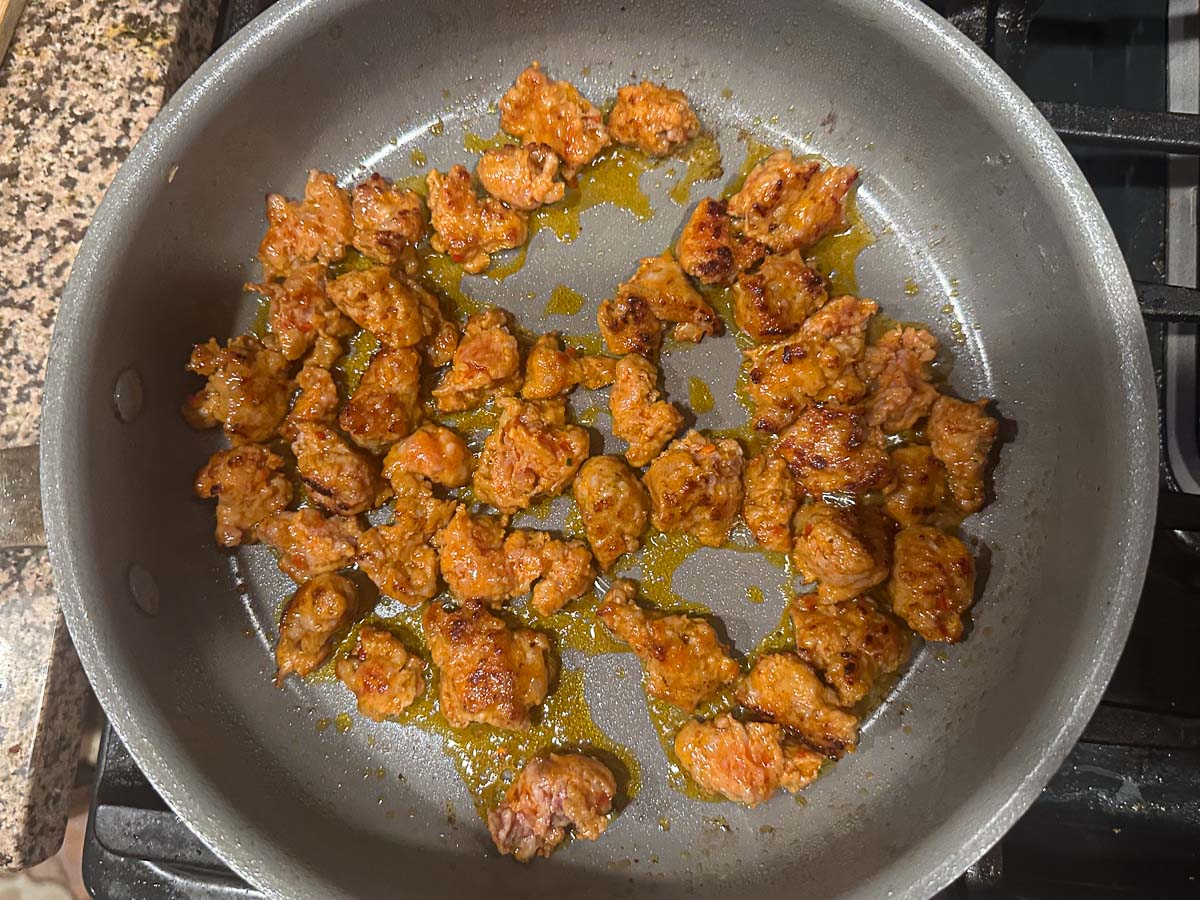 Step 3: When all the sausage has browned, add the pasta sauce and mix well. Then add the heavy cream and mix once more. Let all the ingredients cook for a 1-2 minutes so everything is heated through and well incorporated.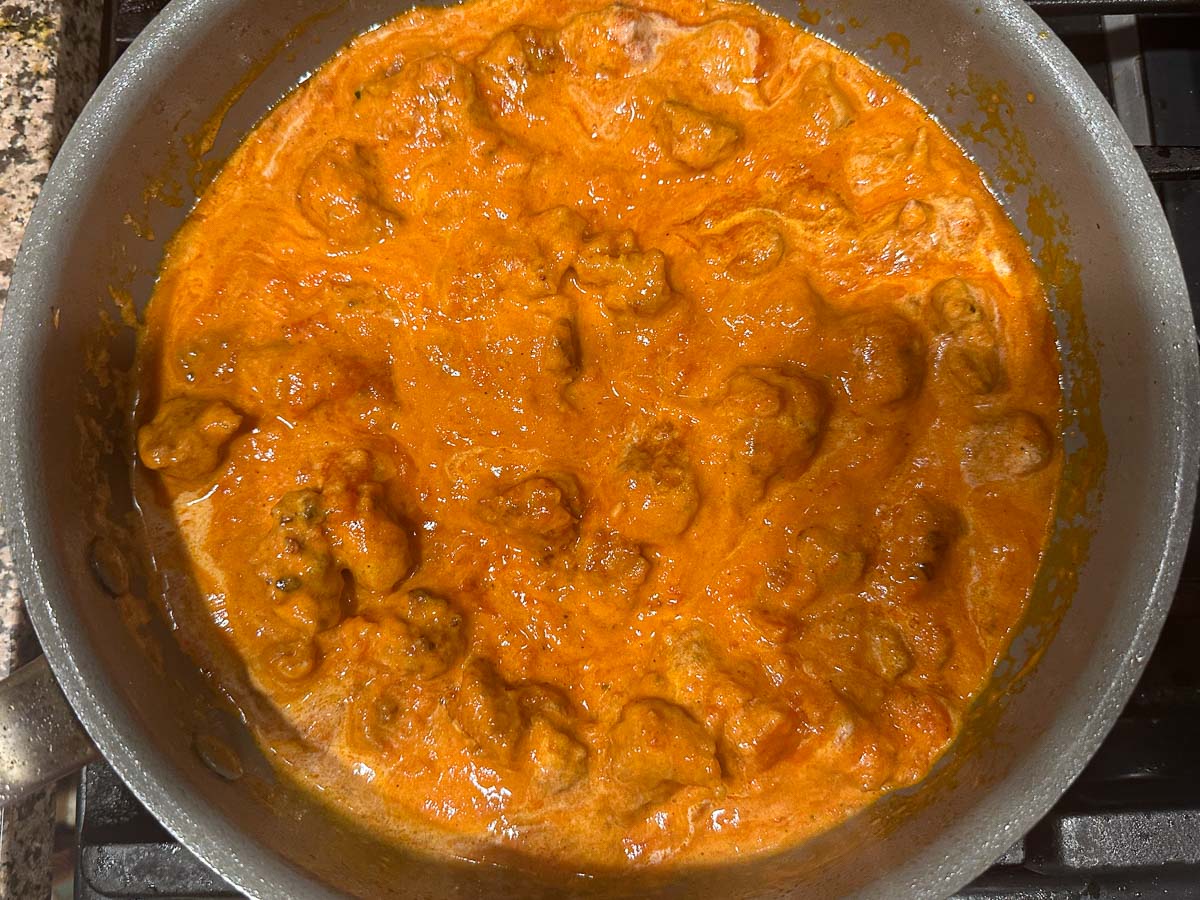 Step 4: Turn off the heat and add in the chopped spinach. Mix around until the spinach starts to wilt.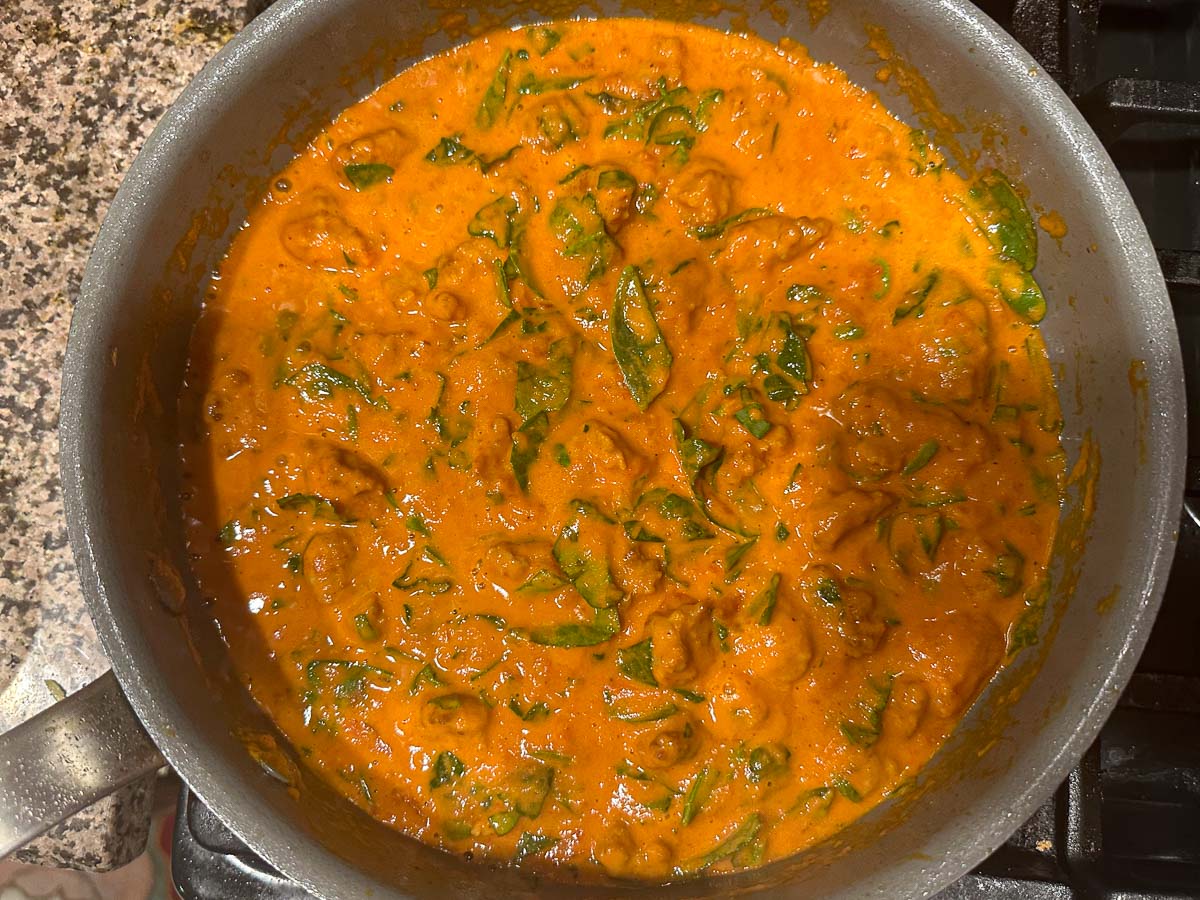 Step 5: Once the pasta is done, drain the water and place the tortellini in a big pasta bowl. Pour the vodka sauce over top and gently mix through.
You can also just add the tortellini into the pan with the finished sausage sauce and mix well and serve straight from the pan.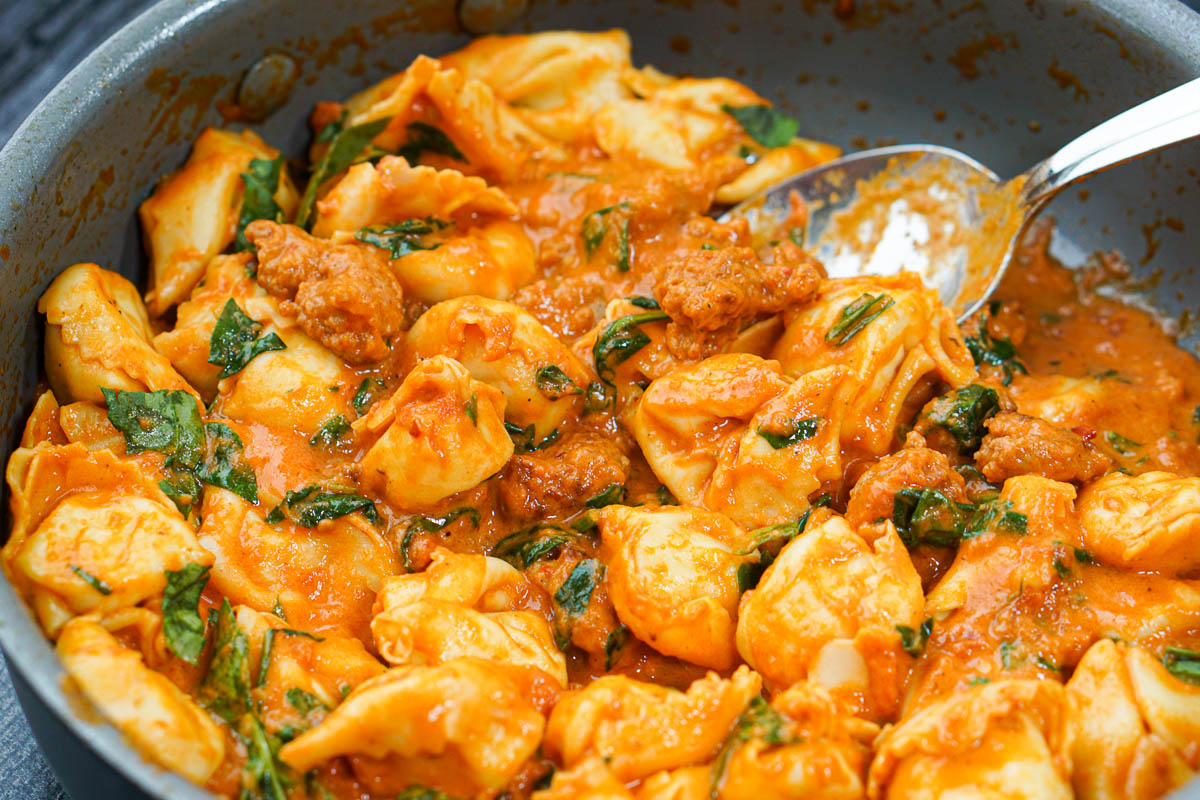 Serve with extra parmesan cheese if you want. You can also add chopped fresh herbs like fresh parsley or fresh basil for garnish. And lastly we like hot pepper chili flakes with our pasta for added flavor.
To make this a complete meal you can add a green salad and some garlic bread. We just ate it as is as it was very filling. Store leftovers in an airtight container. Please scroll down to view the printable recipe card.
More easy pasta recipes to try.
Pasta is my go to dish if want something simple to make and it's also one thing I know most people enjoy eating. Here a few of my go to pasta recipes that you might also enjoy. I love these air fried tortellini recipe as an appetizer or snack.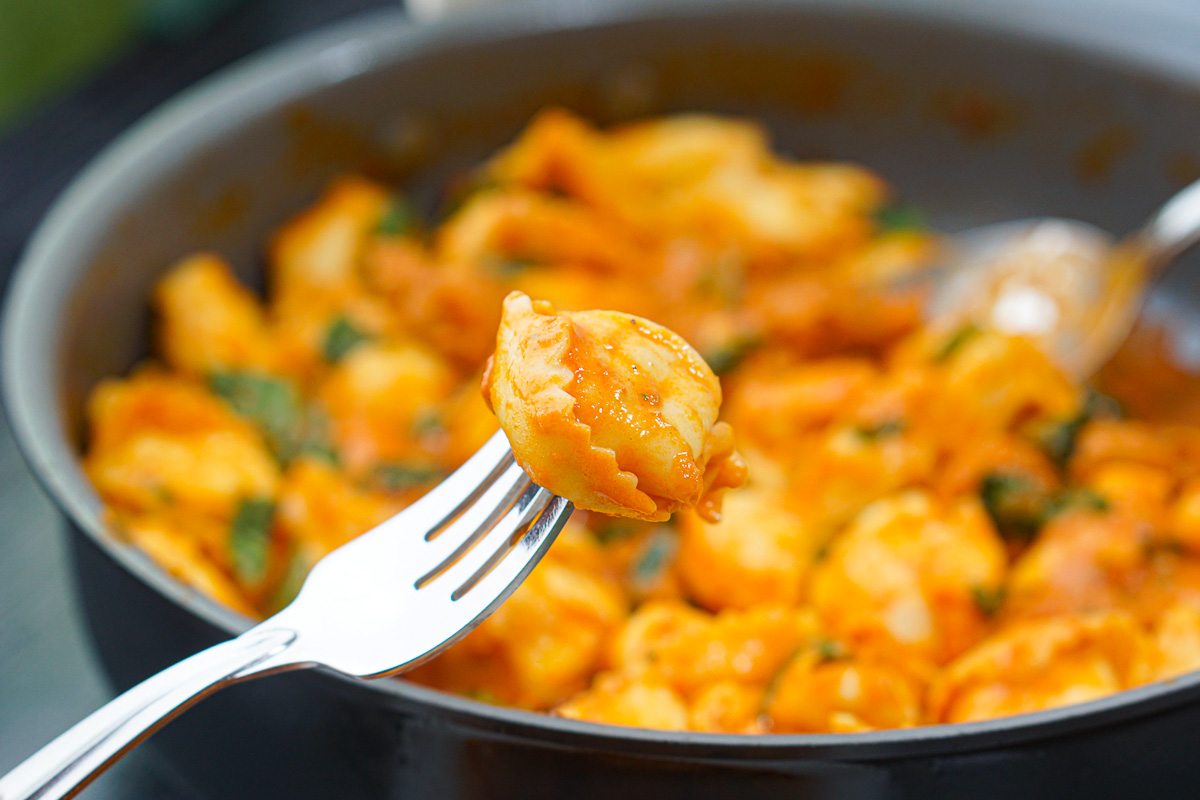 Well next time you are looking for a really easy dinner recipe try these tortellini with vodka sauce and sausage. The creamy vodka sauce coupled with the spicy sausage and cheese filled pasta makes the perfect combination of flavors with minimal ingredients. Enjoy!
Tortellini with Vodka Sauce with Sausage
This easy tortellini with vodka sauce recipe uses sausage and fresh spinach for a hearty one pan meal. It's the perfect busy weeknight dinner recipe that everyone will love.
Ingredients
1 pound tortellini, cheese filled
2 links Italian sausage
1 ½ cups Rao's marinara sauce
¼ cup heavy whipping cream
1 cup fresh spinach, chopped
Instructions
Get a large pot of water boiling and make the tortellini according to package instructions.
Meanwhile get out a large skillet or pan and heat to medium high heat. Take the casings off the sausgae and chop into bite sized pieces. Add to the hot pan and turn the heat down to medium heat.
Once the sausage has browned, add the pasta sauce and mix well. Then add in the heavy cream and mix once more. Let the mixture cook for 1-2 minutes to heat the sauce through.
Lastly add the chopped spinach, stir until it starts to wilt then take the pan off the stove.
Once the tortellini is done, drain well and then add to the pan and mix well. You can serve from the pan, or pour everything into a big pasta bowl and serve.
If you want you can garnish with grated parmesan cheese, fresh basil leaves or fresh parsley or sprinkle some hot pepper flakes for added heat. Store leftovers in an airtight container.
Nutrition Information:
Yield:

4
Serving Size:

1
Amount Per Serving:
Calories:

579
Total Fat:

25g
Saturated Fat:

12g
Trans Fat:

0g
Unsaturated Fat:

13g
Cholesterol:

88mg
Sodium:

1182mg
Carbohydrates:

63g
Fiber:

4g
Sugar:

7g
Protein:

24g