Next time you eat winter squash try this toasted microwave squash seeds recipe. I used butternut squash seeds and toasted them in the microwave in just a minute or two. Squash and pumpkin seeds make for a deliciously healthy, low carb snack so give it a try!
You might also like these keto summer squash microwave chips.
Recently I was make a delicious creamy butternut squash soup and saw all those lovely seeds when I cleaned it out. I love pumpkin seeds so I thought I would try roasting the butternut squash seeds to see what they were like.
So this time I made toasted microwave squash seeds. That's right. I toasted them in the in microwave in must minutes. This may be my go to way to roast pumpkin seeds this year. I'll let you know how it goes when we carve our pumpkins.
But for this small batch of butternut seeds it was perfect!
Why eat butternut squash and the seeds?
Butternut squash is much like pumpkin and they are both winter squashes. When you eat 1 ½ cups of the flesh it has just 123 calories, 10g of fiber and 12g of net carbs which is pretty low carb for starchy vegetable. (source)
It also is high in vitamin C, carotenoids, magnesium, manganese and potassium.
The seeds are high protein, low carb and are rich in fiber. One ounce of squash seeds has 158 calories, 1.3g net carbs and 8.5g protein. (source)
How to roast squash seeds in the microwave.
Step 1: Scrap the seeds out of the butternut squash and try to get as much of stringy flesh off as you can. Rinse them well and dry them as much as you can with paper towels.
Step 2: Spray a microwaveable plate with cooking spray and add the seeds. Spread them out evenly over the plate and spray some more cooking spray. Season them with salt and pepper or any spice blend you want. I used everything bagel spice on mine.
Step 3: Place a paper towel over the plate and microwave for 30 seconds increments until they are golden brown. Mine took about 2 minutes total. You can mix them around at least once in the cooking process. Also cooking time may vary depending on your microwave.
The paper towel keeps them from popping and flying around in the microwave. And by doing it in 30 second intervals you has less chance of burning them.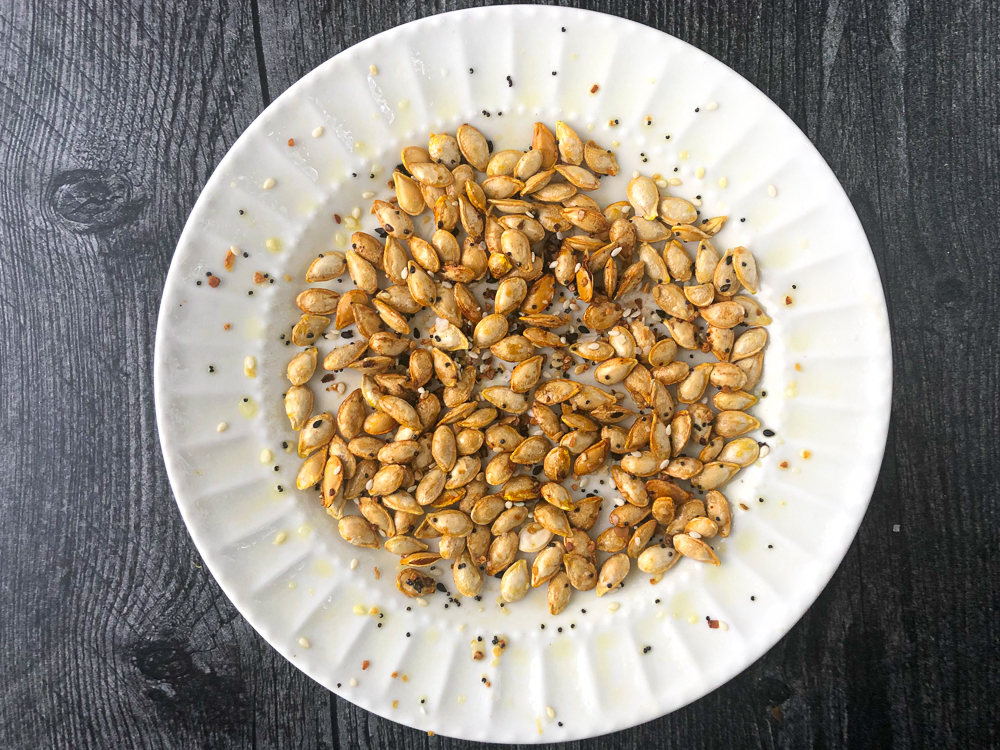 Step 4: Store in an airtight container. Please scroll down to view and print the recipe card.
And that is all there is to it! I need to try this pumpkin seeds. The only difference I can see is that pumpkin seeds are generally larger and may take a minute or two longer. But I will post back here when I do and update you all. (source)
Tasty recipes with butternut squash.
I have quite a few healthy and delicious butternut squash recipes and they are: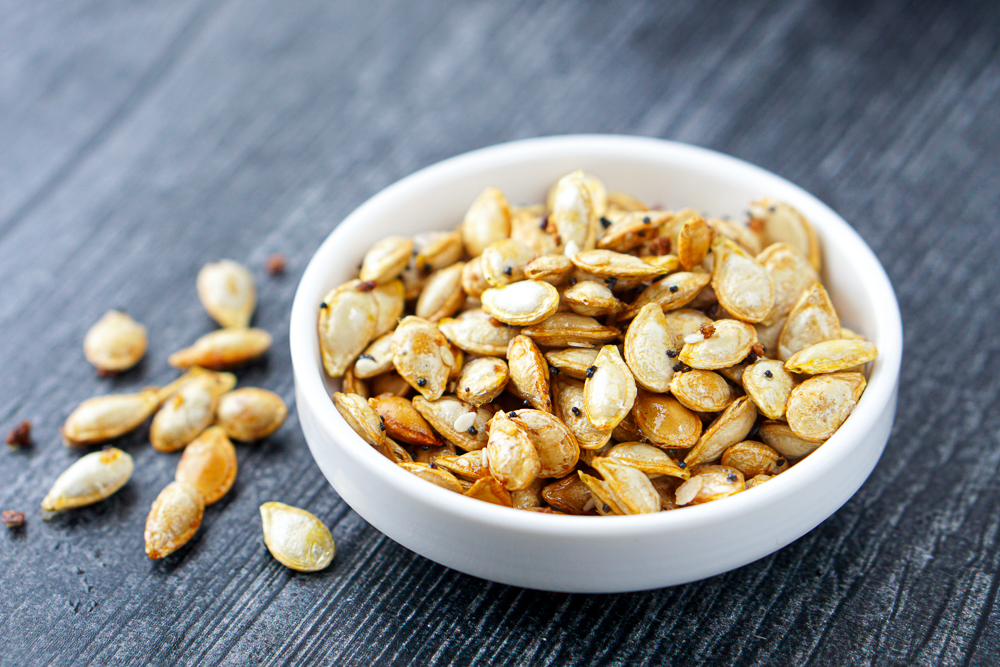 I hope you like these tasty toasted seeds I made in the microwave. It's such an easy and quick way to eat them.
I thought it was perfect for the butternut squash because you really only get a handful out of one squash so it makes for a quick and healthy snack.
Toasted Microwave Squash Seeds Recipe
Next time you cut up a butternut squash clean out the seeds and roast them in the microwave oven. In just a few minutes you will have a healthy and delicious cruncy snack!
Ingredients
1 oz raw butternut squash seeds, cleaned and dried
cooking spray
salt and pepper or seasoning of choice
Instructions
Clean out the seeds from your squash and rinse them well to get all of the orange bits off.
Using paper towels, dry the seeds wel.
Get out a microwaveable plate and spray with cooking spray.
Scatter the seeds on top of the plates and spray again with the cooking spray.
Sprinkle salt and pepper over top or your seasoning of choice. I used everything bagel spice. Gently plate a paper towel over top to keep them from popping and scattering when they are cooking.
Cook for 30 second intervals until they are toasty brown. You can mix them at least once while cooking. Mine only took 2 minutes to brown. Let cool before eating and store in an airtight container.
Notes
One ounce of squash seeds has 158 calories, 1.3g net carbs and 8.5g protein. (source)
Nutrition Information:
Yield:

1
Serving Size:

1 oz
Amount Per Serving:
Calories:

158