If you like a good cosmopolitan cocktail you will love this simple watermelon cosmo recipe. This is a refreshing drink for a hot summer day and also a good way to use up extra watermelon. You only need 4 ingredients for this simple drink and about 5 minutes to make it. It's sweet and tart as well as refreshing.
You might also like this raspberry lime shrub drink.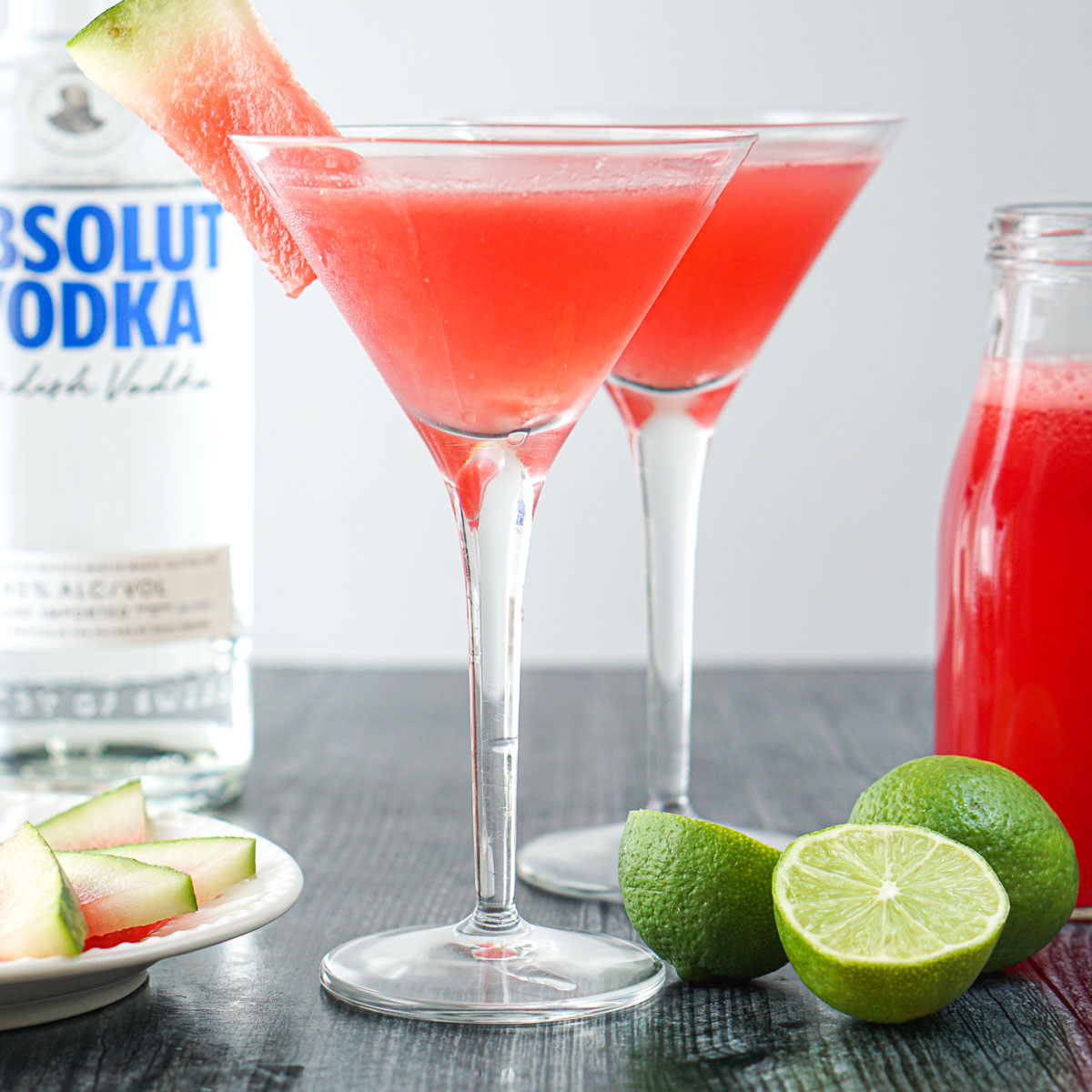 I don't know about you but watermelon is a staple in our house during the summer. However we rarely eat the whole thing so I decided to think of a good summer drink recipe and came up with this most delicious and simple watermelon cosmo recipe.
If you like cosmopolitans you will love this cocktail. It only uses 4 ingredients and takes about 5 minutes to make. It has the same flavors of a classic cosmo but it uses fresh watermelon juice instead of cranberry flavor. And it's simply delicious!
What is in a classic cosmopolitan cocktail.
I learned all about cosmopolitans when I made a keto version a while back. A classic cosmo has vodka, triple sec, cranberry juice and lime juice. Some people use Cointreau which is a brand of orange-flavored triple sec liqueur.
The cosmopolitan originated from the Vodka Gimlet (vodka + lime juice + simple syrup) which morphed into a Kamikaze (which added triple sec) and became the cosmopolitan in the 1980's with the addition of the signature cranberry juice. Now it's better known as Carrie Bradshaw's signature cocktail.(learn more)
Recipe ingredients I used.
All you need to make this summer cocktail is vodka, triple sec, fresh watermelon (seedless) and fresh lime juice.
Some people like to make a simple syrup also but I felt the juice was sweet enough. A simple syrup is just a mixture of water and white sugar heated until the sugar disolves.
You make homemade watermelon juice by blending and straining out the pulp. It in itself is delicious! I once had a wonderful fruit juice (no alcohol) in the Dominican Republic while on vacation as a child and I want to recreate it with this juice.
How to make a simple watermelon cosmo cocktail.
Step 1: Chop the watermelon into chunks but keep a few watermelon slices to use as garnishes. Add the cubed watermelon chunks to a blender or food processor and puree. Strain into a measuring cup or bottle using a mesh strainer.
I juiced about 4 cups of cubes and end up with 2 ⅓ cups of juice as you can see below. However I only used 3 ounce of juice per drink. I save the leftovers for a delicious nonalcoholic drink.
Step 2: Fill a martini shaker with ice and then the vodka, triple sec, lime juice and watermelon juice. Shake well and taste. If it's too tart add a bit more watermelon juice.
Step 3: Strain cocktail mixture into a chilled glass and add a lime wedge or piece of watermelon for garnish. (Please scroll down to view the printable recipe card.)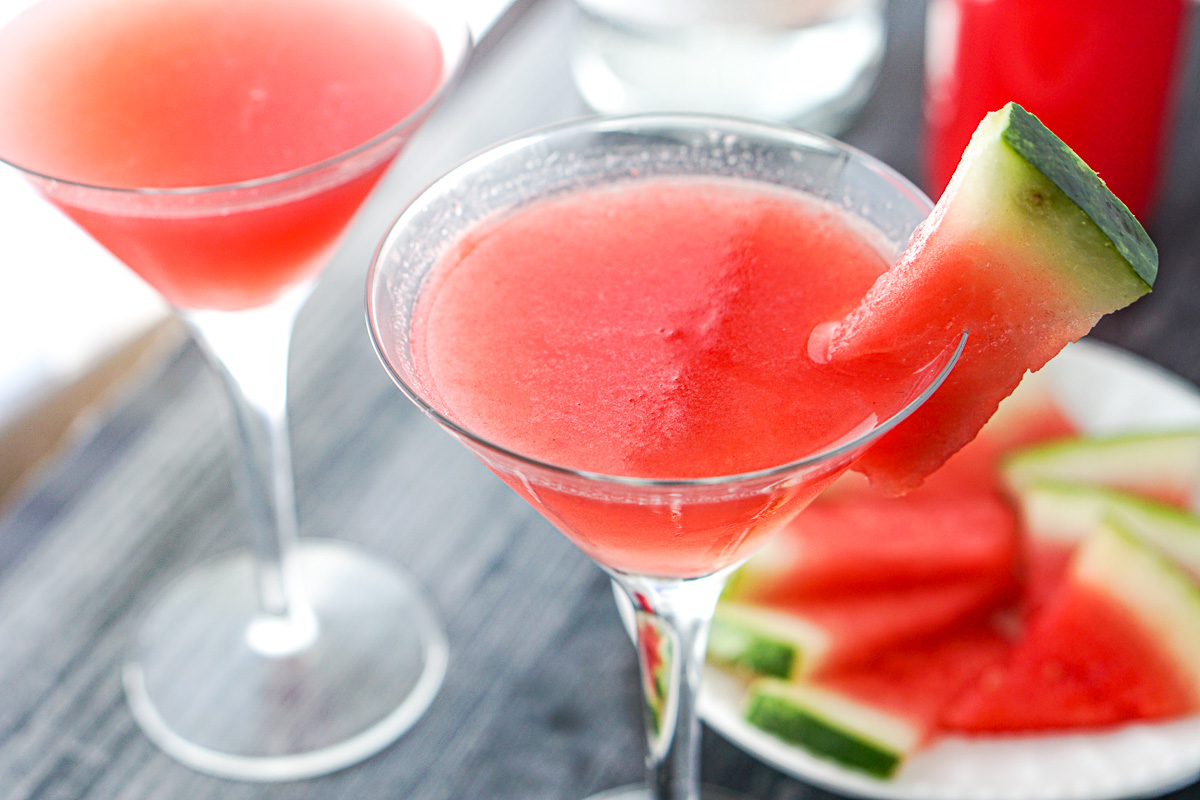 Drink tips and notes.
TIP: 1 fluid ounce equal 2 tablespoons and 2 fluid ounces equals 4 tablespoons which equals ¼ cup
As I mentioned above I got 2 ⅓ cup of pulp free watermelon juice from 4 cups of pieces. I only used 3 oz in my drink. So you will have leftover juice to drink as is or make a few more of these martinis!
To make this into watermelon margaritas – The only real difference between a cosmo and a margarita is that a margarita uses tequila instead of vodka. So you could also make a margarita but using tequila, triple sec, lime juice and a little extra watermelon juice.
Freeze a few chunks and use them as ice cubes!
Other summer cocktails to try.
Since I primarily make keto cocktails, most of my drink recipes are low carb but you can usually just substitute regular sugar where I use sweetener. Here are few of my favorite delicious cocktails.
Nothing says summer like a simple watermelon cosmopolitan drink! It's a great way to use up leftovers and for those hot summer days. I hope you like this refreshing cocktail as much as I did. Enjoy!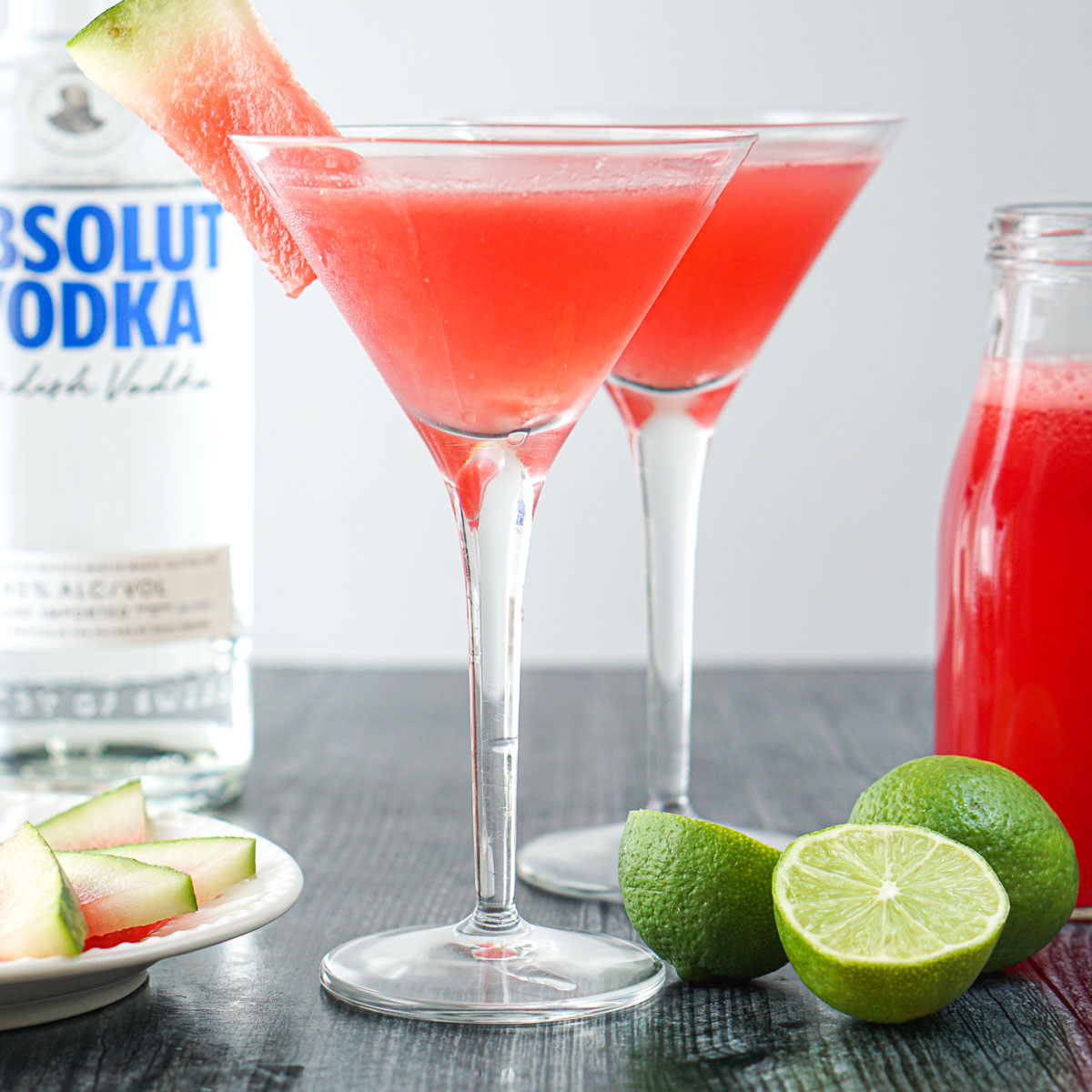 Watermelon Cosmo Cocktail Recipe
Nothing says summer like a delicious watermelon cosmo cocktail. This summer drink is sweet and tart and only takes 5 minutes to make. It's sure to be your favorite refreshing summer cocktail.
Ingredients
2 ounces vodka
1 ounce triple sec
3 ounces watermelon juice (about 1 cup fresh watermelon cubes)
1 ounce lime juice
Instructions
Chop the seedless watermelon into pieces and add to a blender or food processor. Blend until it is pureed.
Strain into a pyrex measuring cup to get the pulp out and any little seeds. You want 3 oz which is roughly ⅓ cup of juice. I used 4 cups of watermelon to end up with 2 ⅓ cup of strained juice. The leftovers are delicious so it's not bad to have too much.
Add ice cubes to a cocktail shaker and a few ice cubes to chill the drink. Then pour in all the ingredients, shake and taste test. If it's too tart, add a bit more watermelon juice.
Strain into a martini glass and garnish with watermelon wedges or lime slice. This recipe makes 1 fairly large drink.
Nutrition Information:
Yield:

1
Serving Size:

1
Amount Per Serving:
Calories:

235
Total Fat:

0g
Saturated Fat:

0g
Trans Fat:

0g
Unsaturated Fat:

0g
Cholesterol:

0mg
Sodium:

8mg
Carbohydrates:

18g
Fiber:

0g
Sugar:

15g
Protein:

0g
sadf