This raspberry lime shrub drink is a great gift for Mother's day. Easy to make and can be used to make a refreshing drink, cocktail, salad dressing and even as a glaze for chicken or fish!
I tasted a shrub a few years ago at a food expo here in Pittsburgh. I thought it was absolutely delicious and was very excited because it was something new to me. Shrubs in case you have never heard of them are also called drinking vinegars from Colonial times. They are a combination of fruit, sugar and vinegar and you can use them to make drinks, salad dressings and more. I really like them because they have that tart and sweet taste and they are super easy to make. You can use your creativity to come up with lots of tasty combinations like I did with this raspberry lime shrub drink.
Last year my whole family went to Sonoma California for a big vacation and we had a tasty shrub on a food tour. When we came home my oldest sister made a strawberry rhubarb shrub, my blogging sister made a raspberry shrub (on her blog here) and I made a jalapeño pineapple shrub for the blog. So it's not just me, my whole family was enamored with them. I even bought my brother a few on Amazon for a birthday present!
You can use different fruit combinations, herbs and spices, various vinegars and sugars like coconut sugar or honey or agave. Today I used lime zest, raspberries, white wine vinegar and sugar. (Actually I used Truvia baking blend because I like to limit my sugar intake but the recipe uses white sugar because this is intended as a gift.)
To make the shrub you add the fruit, zest, vinegar and sugar to a pan and cook for about 20 minutes. Then you strain it into a bottle. That's it. There are other more complicated ways to make it but if this is your first time, try this easy method first. Ways you can use this shrub:
Refreshing drink: add 2 tablespoons of shrub to a glass of seltzer water.

Cocktail: this shrub would taste great as a margarita by adding tequila and lime juice or as a cocktail with vodka and soda water.

Salad dressing: Mix with oil and lime juice for a tasty raspberry lime dressing.

Glaze: Use to baste chicken, fish or shrimp while barbecuing or pan frying.
Raspberry Lime Shrub Drink
I suggested that this would be a nice present for your mother that you can make. You could use her favorite fruit or flavor combination to make her own personal shrub. Alas my mother is no longer with us so I got to enjoy this shrub for myself. Yesterday for dinner, I glazed a nice piece of salmon that I placed over a bed of lettuce dressed in the shrub dressing. I also had a refreshing seltzer and shrub drink in the afternoon. I hope you like this fun drink, especially in the up coming summer!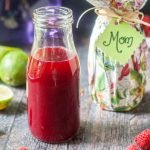 Mother's Day Raspberry Lime Shrub Drink
This raspberry lime shrub drink is a great gift for Mother's day. Easy to make and can be used to make a refreshing drink, cocktail, salad dressing and even as a glaze for chicken or fish!
Ingredients
1

cup

white wine vinegar

or apple cider vinegar

zest of 1 lime

just the zest

1 ½

cup

raspberries

1

cup

sugar

I used ½ cup of Truvia*
Instructions
Add all of the ingredients to a pot and heat to medium high.

Once the mixture is boiling and sugar is melted, mix well and simmer for 20 minutes and it starts to thicken.

Strain into a bottle and refrigerate until ready to use.

Will last for a week in the refrigerator.

Notes:

If you want to make this sugar free you can use a sugar substitute to equal 1 cup of white sugar. I used Truvia which required only ½ cup.

You can substitute different fruits, vinegars and sugars for those here if you have a favorite combination.

For dressing try 1 tablespoon of shrub + 1 tablespoon of oil + juice of 1 lime. Taste and adjust accordingly.

For a refreshing drink: 2 tablespoons of shrub to 1 glass of seltzer or soda water.

For a cocktail: 1-2 tablespoons of shrub + vodka or gin + soda water (this would also make a great margarita with tequila and lime juice).
THIS POST MAY CONTAIN AFFILIATE LINKS. FOR MORE INFO PLEASE VISIT OUR POLICIES PAGE.
---
More great mother's day presents to make: