I really enjoy vegetable puree soups but sometimes I get sick of my same old recipes. I got the idea for this Spicy Carrot Soup from two of my favorite blogs Balanced Bites and Nom Nom Paleo.
I started a 21 Sugar Detox from Balanced Bites with a friend of mine and have been pleasantly surprised with the results (more about that in a future post). I bought The 21-Day Sugar Detox Cookbook
and have been busy making some delicious Paleo dishes such as her Carrot Ginger Soup. Then yesterday I saw Nom Nom Paleo's recipe for a carrot cardamon soup that looked very interesting and so today decided to combine them and make my own Spicy Carrot Soup.
I threw this together quickly and it still came out delicious. I started with a little coconut oil, diced onion, carrots and sweet potato. Sauteed that for a few minutes and added the rest of the ingredients: bone broth, garlic, ginger, cardamon, salt, pepper, and turmeric. I added coconut cream at the end but if I had coconut milk on hand I would have used that instead and I think it would have been even better. I also used a teaspoon of chicken base as I feel that gives it extra flavor but I can't vouch for what all is in it so don't use it if you don't want to. I covered the pot and cooked for 15 minutes. After it cooled a bit I pureed it in my Vitamix. It was fabulous.
Below are a few books that have been instrumental in my Paleo journey. These recipes are healthy and tasty and the books are just beautiful additions to my cookbook collection.
I've bought all of Diane Sanfilippo's books for my "library" because they are so well designed and they are packed with great information on healthy eating and lifestyles. One day I was reading Practical Paleo at my son's karate practice and one of the other moms remarked at what a beautiful book it was. It truly is a work of art. And Nom Nom Paleo's cookbook doesn't disappoint either. She has a flare for cooking healthy food for her family that is unique and delicious. I even have her App!
So if you like this recipe (and I can't see why you wouldn't) you might want to check out the websites and books above. They really are great resources. Enjoy!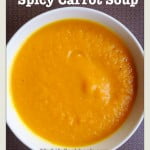 Spicy Carrot Soup
A spicy vegetable soup that is healthy, hearty and delicious.
Ingredients
1

Tablespoon

coconut oil

1

onion

chopped

2

carrots

chopped

1

sweet potato

chopped

¼

teaspoon

cardamon

1

teaspoon

crushed garlic

1

teaspoon

grated ginger

2

cups

bone broth

salt and pepper to taste

1

teaspoon

chicken base or bouillon

optional

2

Tablespoons

cream coconut

½ cup coconut milk would be good too.
Instructions
Add coconut oil, onions, carrots and sweet potato to a pot and sauté for about 5 minutes.

Add remaining ingredients bring to a boil, then lower to a simmer and cover for 10 - 15 minutes. When the carrots and sweet potato are soft it is done.

Blend in a high speed blender then put back in the pot. Add coconut milk or cream coconut to pan and mix well and serve.

As mentioned above I made this with the cream coconut because I did not have the coconut milk on hand but I think it would be better than the cream coconut. I also used a teaspoon of chicken base such as Better than Bouillon because I like the added flavor but it is not necessary.