This low calorie red pepper and sweet potato soup only needs 3 ingredients! It's a super easy and healthy soup you can make in just 20 minutes. And while it's delicious as is, you can add different herbs and spices to give it even more flavor. Each nourishing bowl of soup has just 56 calories so it's great if you are on a low calorie diet too!
You might also like this healthy low calorie vegetable soup!
Before we moved to England for a year, my husband and I went twice to visit. He has a few friends there that he met through work and they were kind enough to let us stay with them when we there.
One trip we stayed with MABS and she made us this simple red pepper and sweet potato soup. I don't have her exact recipe but she said she just used 3 ingredients in her soup – a sweet potato, red pepper and onion! This has become one of our favorite recipes over the years.
It's really easy to make this low calorie soup because you don't need to use the oven or even chop your vegetables too precisely. It's really a throw together kind of soup that magically always tasty delicious!It's a creamy soup with dairy products.
The 3 ingredients in this low calorie soup.
All you need to make this healthy soup is 1 medium onion, 1 sweet potato and 1 large red pepper or roughly 1 cup of each. Of course you need to use water too but really it's just 3 main ingredients.
Now that being said there are lots of other ingredients you can add and I've added some suggestions below. But usually I just use salt and pepper and call it a day.
Health benefits of these 3 ingredients.
red bell peppers – They are an excellent source of vitamins A and C. They are also high in beta carotene which is good for vision health and a good source of vitamin E, folate and potassium. (source)
sweet potatoes – They are a good source of fiber, vitamins and minerals. They are good source of antioxidants and promote good gut health. (source)
onions – They are very nutrient dense and high in vitamin C. They are also rich in B vitamins as well as potassium. (source)
How to make red pepper and sweet potato soup.
Step 1: Start by roughly chopping the vegetables. You should peel the sweet potato first but whether you chop into big pieces or small pieces it doesn't matter.
Step 2: Place the veggies in a soup pan or pot and cover with water.
NOTE: You can adjust the thickness of this soup by the amount of liquid compared to vegetables that you use.
Below you can see how much liquid I used and what the resulting texture of the soup is further down the post. If you want it thicker, add more veggies or less liquid. Easy peasy.
You can also use chicken or vegetable broth if you want.
Step 3: Heat up the pot to medium high heat and bring the mixture to a boil then turn down the heat to medium and simmer.
Step 4: Continue cooking until all the vegetables are soft. Find the biggest piece of sweet potato and if it's fork tender you are good. Turn off the heat and let sit for a few minute to cool down a bit.
This should take about 10-15 minutes. Note cooking time may vary.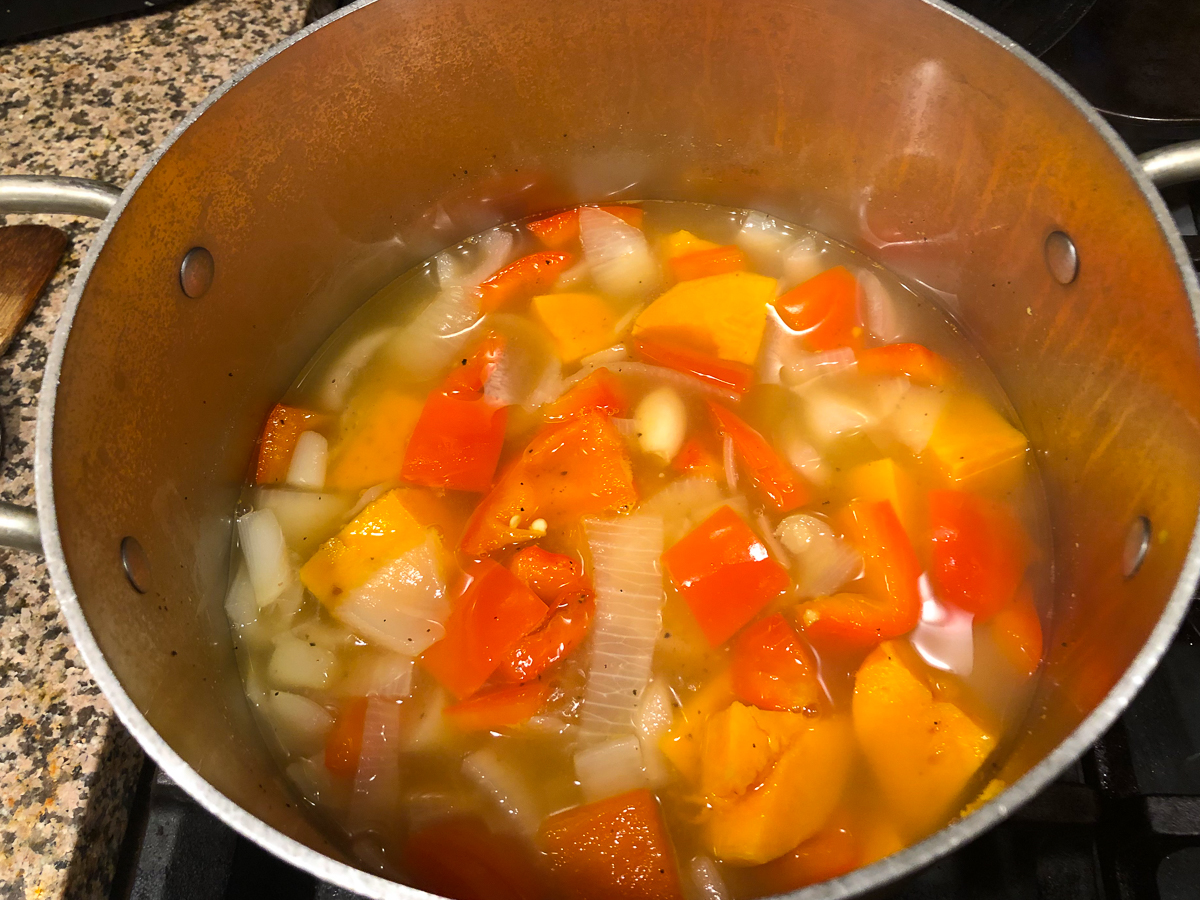 Step 5: Slowly ladle the soup into a high speed blender and blend until nice and smooth and has that creamy texture. You many have to blend in batches.
You can also use a food processor or immersion blender but a high speed blender works best.
From there all you do is ladle soup into bowls and serve. If you want you can season with a little salt and black pepper before serving if you want.
Store leftover soup in an airtight container. You can even freeze this soup as well. (Please scroll down to view printable recipe card.)
Ways to change up the flavor.
One of the great things about this low calorie soup is that while it tastes great on it's own, you can doctor it up anyway you like. Here are a few ideas for you.
roasted red pepper & sweet potato soup – Roasting the veggies is an easy way to add a different flavor. Toss the vegetables in olive oil and place on a baking sheet. Set in a 400°F oven and roast until cooked through and golden brown. Then add the roasted vegetables to a blender with water or vegetable broth and you are done!
Thai or Indian flavors – Try some hot curry spices, garlic and ginger for either a Thai soup or Indian flavored soup. For the Thai you can even add a bit of coconut milk. When we make Indian hot curry version, I like to top it with some greek plain yogurt or sour cream to balance the heat.
savory fall flavor – Just add some thyme, garlic and/or sage spices to your soup.
southwestern flavor -Try adding some Mexican spices such as cumin, chili powder and garlic powder to the dish.
make it a bisque – Cooking sherry and heavy cream will give it that creamy bisque taste.
For a richer broth try some Better that Bouillon vegetable base. I use these products in all my soup recipes because it adds so much flavor.
Fresh herbs are always nice to try. Such as cilantro, basil, parsley, dill, basil or thyme.
Truly you could do almost anything with it. For a complete but light meal just add a nice green salad and some crusty bread and you are set.
So today my little boy is home sick with a belly ache and it's pouring down rain so I'm going to make him some of this healthy sweet potato and red pepper soup with homemade bone broth and hope he feels better.
Nothing is more comforting the a bowl of homemade soup. And by the way I have over 40 healthy and delicious soup recipes on the blog. Enjoy!
The nutritional information for 1 serving is: 56 calories / 0.2g fat / 12.7g carbs / 2.5g fiber / 1.3g protein
Red Pepper and Sweet Potato Soup Recipe
This red pepper and sweet potato soup recipe is low in calories but full of healthy nutrients. It's also very easy to make and there are many ways to change up the flavor. Plus you only need 3 ingredients to make it.
Ingredients
1  cup yellow onion, chopped (roughly 1 onion)
1 cup red bell pepper, chopped (roughly 1 pepper)
1 cup sweet potato peeled and chopped (roughly 1 sweet potato)
water or chicken broth to cover
salt and pepper to taste
Instructions
Roughly chop the vegetables and add to a soup pot.
Add water, chicken broth or vegetable stock to cover all the vegetables. The amount of liquid you use will determine how thick the soup becomes. If you want it thicker then use less water.
Cover and turn up the heat to medium heat and simmer for about 15 minutes until all the vegetables are soft.
Take off the heat and let a cool a few minutes.
Add to a high speed blender or food processor and puree until nice and smooth. You may have to work in batches so you don't get burned.
Return to the pan and reheat of necessary.
NOTE: You can add so many different seasoning to change this soup's flavor. On it's own it is very delicious. See the notes below for some suggestions.
Notes
Thai: Add 1 tablespoon of curry paste and ½ cup coconut milk or coconut cream. Garnish with cilantro.
Indian: Add 1 tablespoon of curry powder and some grated ginger. Top with greek yogurt.
Italian: Add 1 teaspoon of oregano,1 teaspoon of basil, 2 cloves of garlic.
Mexican: Add 1 teaspoon of cumin, 1 teaspoon chili powder, ½ teaspoon paprika, ½ teaspoon garlic salt & ¼ teaspoon of cinnamon.
Savory: Add 2 cloves of garlic and ½ teaspoon of thyme and ¼ teaspoon of sage.

The nutritional information for 1 serving is: 56 calories / 0.2g fat / 12.7g carbs / 2.5g fiber / 1.3g protein
Nutrition Information:
Yield:

4
Serving Size:

1
Amount Per Serving:
Calories:

56
Unsaturated Fat:

0g