These spicy roasted potatoes are the perfect side dish to go with any kind of meat, chicken or fish. Just season the potatoes and roast them in the oven. The result is crispy, spicy potato wedges with bold flavors that melt in your mouth.
You might also like these crispy steak fries recipe.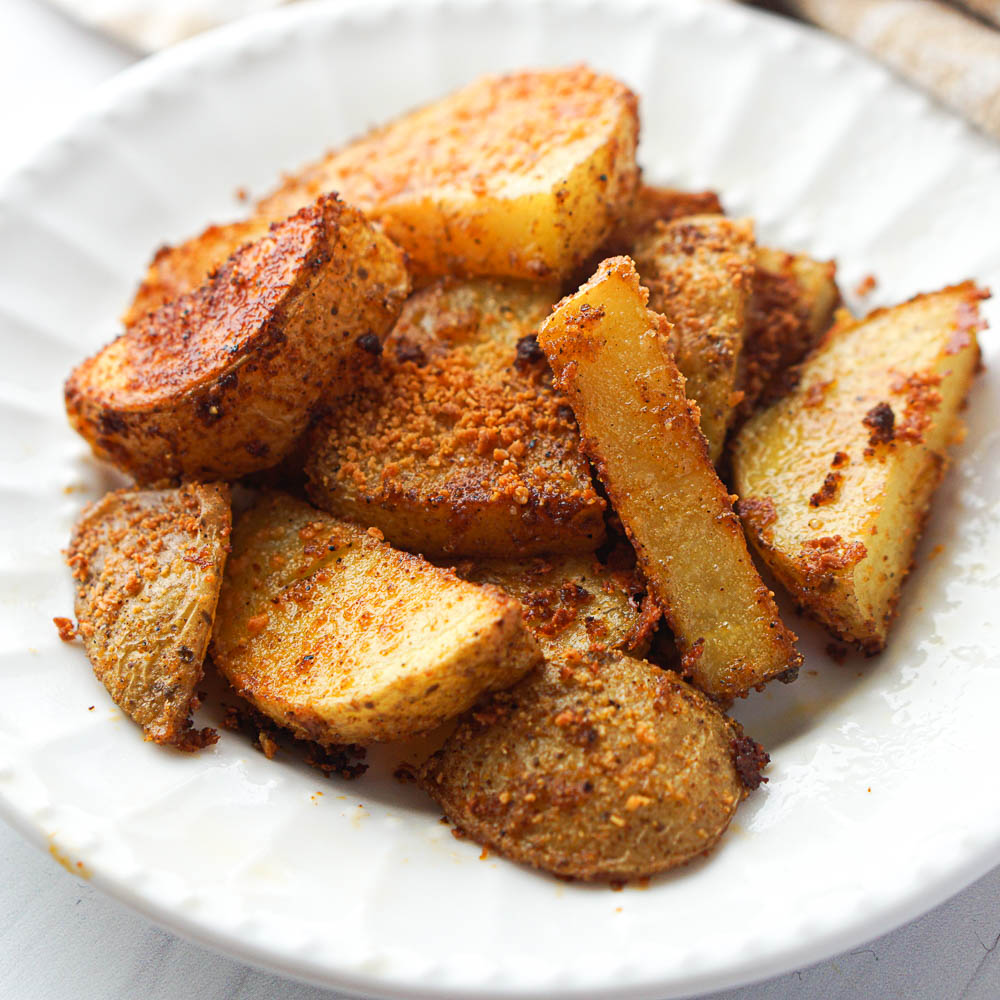 This spicy roasted potatoes dish was a staple in our house growning up. We'd fight over who got seconds as potatoes were one of our favorite foods. It's an easy, quick and delicious potato side dish.
One day my sister found some of my mother's notes in an old cookbook. My mom was an excellent cook and that day I was thinking about all the dishes she used to make for dinner every night, like these simple seasoned potatoes.
She made them often and we always loved it so I thought I'd try them out on my family and they were a hit! Now it's one of my favorite recipes for a delicious side dish as it goes with beef, chicken and even fish.
What seasoning to use on potatoes.
The spice mix I used to season potatoes is made with garlic powder, onion powder, paprika and salt and pepper. This is my go to spice mix for boosting the flavor of most vegetables. Sometimes I add a little red pepper flakes for heat too.
However for this recipe I also used parmesan cheese too to give them an extra boost of flavor. I sprinkle it over them right before they go in the oven.
How to make spicy roasted potatoes.
Step 1: Cut the potatoes into the same size pieces so they cook evenly. Then place them in a bowl of cold water for at least an hour. This keeps them from turning brown and removes some of the excess starch so your potatoes will get nice and crispy.
Step 2: After they have soaked, drain and dry them off with a towel. You can use a tea towel or paper towels but try to get as much of the water off as possible.
Step 3: Mix the garlic powder, onion powder, paprika, salt and pepper in a little bowl. Then place the potato pieces into a large mixing bowl and add the olive oil and spice mix. Use your hands and mix well.
Step 4: Spray a rimmed baking sheet with cooking spray or a little more olive oil and then spread your potato pieces evenly in a single layer. You don't want to crowd the pan. Give them space so they can cook evenly. Note you could cover your baking sheet with parchment paper if you prefer.
Step 5: Sprinkle the grated parmesan cheese and bake in a preheated oven at 400°F for 30-40 or until crisp and nicely browned. Baking time may vary depending on the size of your pieces. (Please scroll down to view and print the recipe card.)
What to eat with these with.
I make these often with my marinated grilled flank steak, or meatloaf but I also like it with this lemony pork tenderloin or bacon wrapped chicken thighs.
Basically any meat-centric main course would be a good fit with this potato side dish. Or anything you make on the grill like burgers, steaks or chicken.
Try this for a low carb substitute.
Potatoes have a lot of carbs and since I eat mostly low carb these day I still make recipes like this but I substitute either turnips or radishes. You would not need to soak them, just cut them into uniform pieces and mix with the oil and spices and follow the rest of the recipe.
If you too are watching your carbs try one of these vegetables. You'll be surprised how tasty they are.
Above is the end result of crispy, tasty spicy potatoes with creamy centers. Note you could also use this spice mix on a sweet potato too.
I hope you enjoy this simple recipe because it packs a lot of flavor and is a great side dish for just about any kind of meat. For me it's family friendly comfort food and I hope it is for your family as well. Enjoy!
Spicy Roasted Potatoes Recipe
Total Time:
1 hour
30 minutes
These spicy roasted potatoes are the perfect side dish for meatloaf, burgers or grilled chicken. Full of spice and topped with parmesan cheese these crispy potatoes will be your go to recipe for an easy weeknight dinner. For a low carb option use this spice mix on turnips or radishes.
Ingredients
6-8 gold potatoes*
2 tablespoons olive oil
½ teaspoon salt
½ teaspoon black pepper
1 teaspoon garlic powder
1 teaspoon onion powder
1 teaspoon paprika
2-3 tablespoons grated parmesan cheese
Instructions
Cut potatoes in even slices and soak in a bowl of cold water for at 1 hour.
Preheat oven to 400°F.
In a small bowl mix the spices but not the cheese.
Drain potatoes and dry well with a kitchen towel then place in a bowl and mix with olive oil and spices.
Spray a baking sheet with nonstick cooking spray or use additional olive oil. Spread the coated potato chunks evenly on the prepared baking sheet. Don't crowd the pan. Note you could cover your baking sheet with parchment paper if you prefer.
Sprinkle the parmesan cheese over top.
Bake for 30-40 minutes or until they are browned and tender. Cooking time will depend on the size of your slices.
Nutrition Information:
Yield:

6
Serving Size:

1
Amount Per Serving:
Calories:

227
Total Fat:

6g
Saturated Fat:

1g
Trans Fat:

0g
Unsaturated Fat:

4g
Cholesterol:

2mg
Sodium:

246mg
Carbohydrates:

40g
Fiber:

4g
Sugar:

2g
Protein:

6g