If you are looking for a healthy fall snack or even a keto friendly appetizer, try this maple keto fruit dip. It takes just minutes to make this sweet, cream cheese dip and it's full of maple and brown sugar flavors but it's sugar free! Pair it with low carb fresh fruit if you are on a low carb diet. Only 1.4g net carbs in ¼ cup of dip!
You might also like this low carb cinnamon toast cashew cream cheese.
I have a big family party in the fall every year for my son and I try to make at least 1 low carb appetizer if I can. I remembered my keto pumpkin cheesecake dip that was such a hit and thought this year I'd make a maple keto fruit dip.
It has the combination of maple and brown sugar with a cheesecake flavor dip. I used low carb fruits like Granny Smith green apples, strawberries and blackberries for dipping and my son loved it too which was a bonus.I've already made a second batch this week for me!
This creamy fruit dip is a really easy keto dessert for fall football parties.You can also serve this as a healthy sugar free snack for the kids. I like to cut the apple into fries to make the dipping more fun for kids.
This recipe makes 3 cups so you will have plenty for a keto sweet treat and it only needs 5 ingredients!
Recipe ingredients I used
You only need 5 simple ingredients for this delicious but simple fruit dip – Swerve brown sugar sweetener, cream cheese, heavy whipping cream, vanilla extract and Lakanto sugar free maple syrup. I've been using this Lakanto maple syrup lately because it's really tasty and a great way to add sweetness to fall keto recipes.
I also love Swerve brown sugar sweetener but if you have different brands of sugar free maple syrup and brown sugar sweetener feel free to use those. Lakanto golden monk fruit sweetener is another good choice.
Another option is to add maple extract. It doesn't have any sweetness it just adds the flavor so you will have to add more sweetener. This would work well with a powdered sweetener.
And of course if you don't care about carbs you can use regular brown sugar or coconut sugar which has a similar tasty and real maple syrup.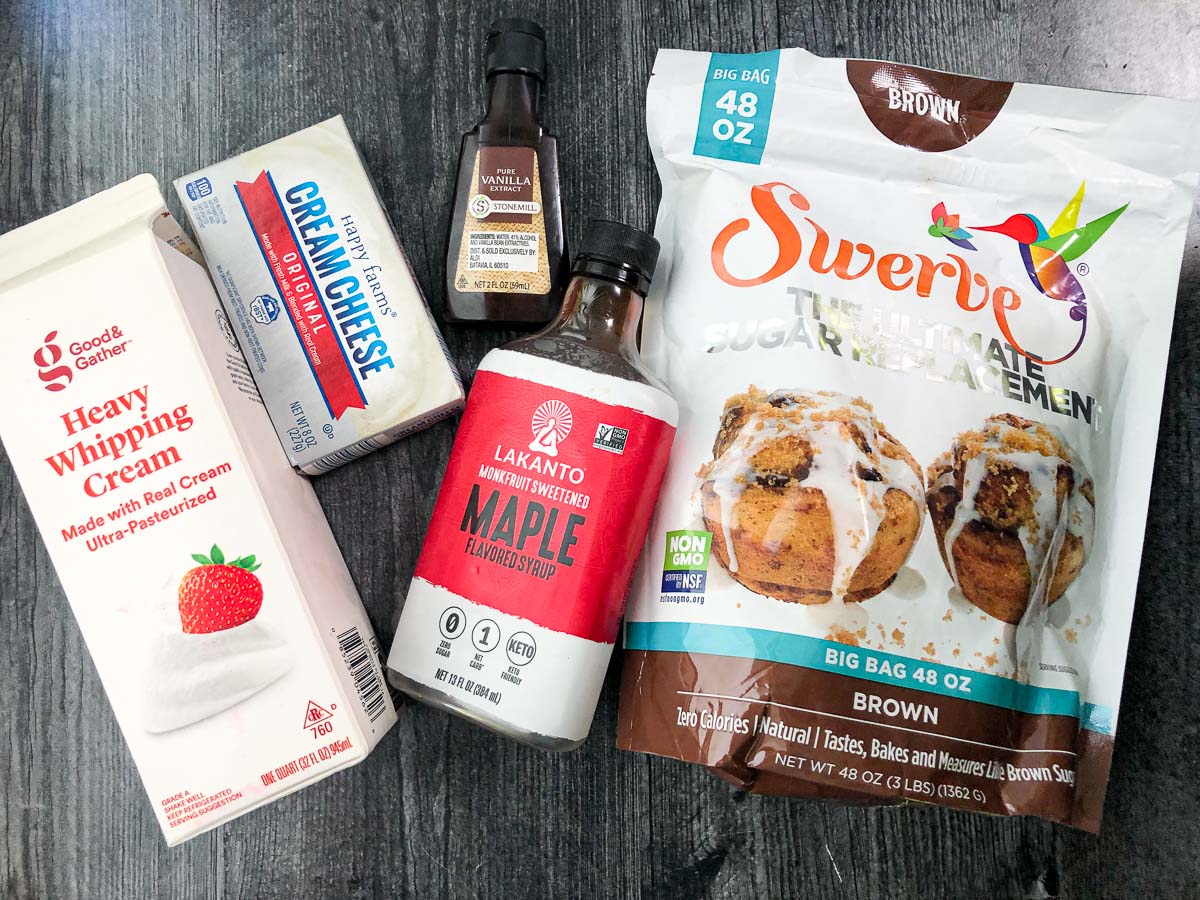 How to make this maple keto fruit dip.
Step 1: Get out a large sized mixing bowl and blend cream cheese (softened) and brown sugar sweetener together until well combined using an electric hand mixer or standing mixer.
Step 2: Then add the vanilla extract, maple syrup and heavy cream. Whip for about 3-5 minutes until it's nice and smooth and creamy.
The second time I made this I just put everything together in the bowl and started to beat it because I wasn't thinking and it was very lumpy. It's hard beat the cream cheese in a lot of liquid. So I put it in the blender and it whipped it really well. A food processor might work too but I have not tried it.
When you whip it well it adds even more volume because of the heavy cream. I ended up with 3 cups of dip.
Step 3: Pour some of this keto cream cheese fruit dip into a separate bowl and arrange your favorite keto fruits around it to make a fruit platter.
Store extra dip in an airtight container in the refrigerator. It should keep for a few days. (Please scroll down to view the printable recipe card.)
NOTE I also have a peanut cracker recipe that is easy to make that you can use in this recipe and it's low carb too.
Are apples low carb? What low carb fruits go with this?
Apples are perfect for dipping in this maple fruit dip but they are generally higher in carbs and not usually eaten on a keto diet. Also different varieties have different carb counts.
However today I used Granny Smith apples which have the lowest sugar content and left the skin on for more fiber. Lastly I cut them into fries which means I got 30 fries from a small green apple.
The nutrition data for a 1 small Granny Smith apple is 83.5 calories / 0.3g fat / 19.6g carbs / 4g fiber / 0.6g protein = 15.6g net carbs per small apple (source-USDA).
Because I got 30 fries from this small apple then 1 fry has 0.52g net carbs. So if you love apples this is the way to go.
I also used low carb berries like strawberries and black berries because they were easy to hold and dip. But you can use your favorite berries. One half cup of sliced strawberries has 4.7g net carbs(source) and blackberries 3.1g net carbs.(source)
How to keep apples slices from browning.
I learned this from Serious Eats to soak apple slices in a mixture of ½ teaspoon of salt to 1 cup of water for 10 minutes. Then you drain off the water and store them in the refrigerator until you are ready to use them.
I did this the night before and it worked great. Read about other options to keep apples from browning here.
Other options if you don't carb about carbs.
Now I geared this recipe to keep the carbs down because that is what I do. However if you don't care about carbs then you can use pretzels, crackers, graham cookies, vanilla wafers or try some bacon chips if you want to be decadent. Of course you can also use your favorite fruit to keep it healthy.
I used bacon chips in my pumpkin cheesecake recipe and you can read about how to do it in that post. It's super easy.
Well that is my super easy and delicious maple keto fruit dip for you. I hope you like delicious recipe as much as we did. I have to say even my husband liked it and he's not much of a sweet tooth kind of guy. Enjoy!
The nutrition info for ¼ cup (4 tablespoons) is 106 calories / 9.7g fat / 2.7g carbs / 1.3g fiber / 1.5g protein = 1.4g net carbs
Maple Keto Fruit Dip Recipe
Additional Time:
5 minutes
This easy but delicious maple low carb fruit dip is perfect for fall parties or as a healthy snack. It's a mixture of maple and brown sugar flavors into a smooth and creamy dip. Use low carb berries or Granny Apple slices to dip into it.
Ingredients
8 ounces cream cheese, softened
½ cup heavy whipping cream
½ cup Swerve brown sugar sweetener
½ cup Lakanto Sugar Free Maple Syrup
1 teaspoon vanilla extract
Instructions
Get out a large mixing bowl and blend the softened cream cheese and brown sugar sweetener together. Cream together until nice and smooth with an electric mixer.
Add in the rest of the ingredients and blend on high until light, smoth and creamy. If you have lumps you can't get out, try putting it all into a blender and it will smooth them out. If you do step 1 correctly you wont't have lumps. You could also try this in a food processor but I have not tried that.
Pour into a small serving bowl and surround with low carb fruit. Store leftover dip into an airtight container. It should keep in the refrigerator for a few days.
Notes
The nutritional information for ¼ cup is 106 calories / 9.7g fat / 2.7g carbs / 1.3g fiber / 1.5g protein = 1.4g net carbs
Nutrition Information:
Yield:

12
Serving Size:

¼ cup (4 tablespoons)
Amount Per Serving:
Calories:

106