If you need a sweet hot drink on a keto diet, try this keto peppermint hot chocolate recipe. It's a rich, chocolatey sugar free drink with a peppermint twist. Easy to make and great for snack or dessert, this hot cocoa is sure to keep you warm on a cold day. One serving has just 1.4g net carbs!
You might also like this keto pumpkin spice hot chocolate recipe!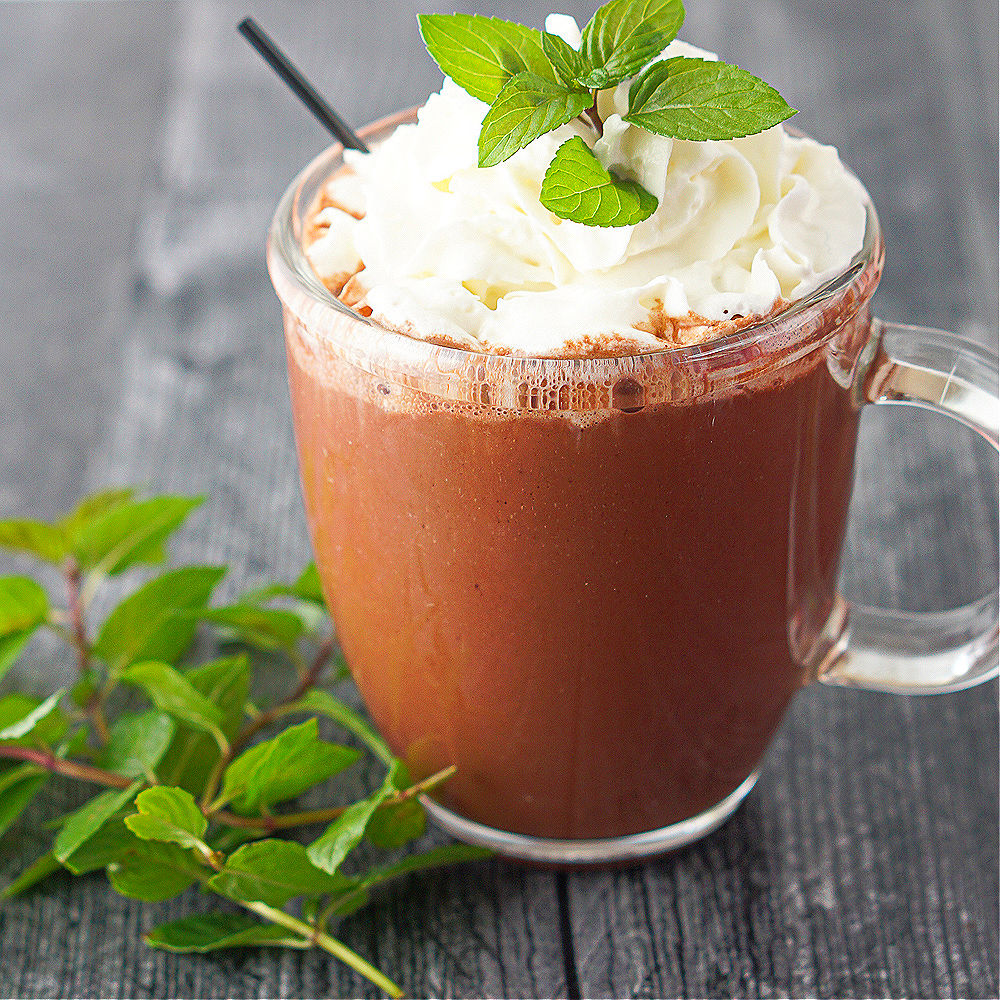 Once the weather starts cooling I'm pulling out my sugar free hot cocoa mix. Today however, I wanted a little more of a dessert so I made this keto peppermint hot chocolate recipe.
I used good cocoa powder and almond milk as the base and then a bit of heavy cream. It was rich, smooth and chocolatey with a cooling peppermint taste. It was so good that I wanted to share it with you today.
Best of all it only has 1.4g net carbs! It's really good for an after dinner low carb sweet treat or afternoon pick me up.
Recipe ingredients I used.
Below you can see the ingredients I used to make this peppermint hot chocolate which was Guittard cocoa powder, Lakanto monk fruit sweetener, heavy whipping cream, peppermint extract, a pinch of salt and unsweetened almond milk (which is not in the picture below).
The great thing about this recipe is that you can easily change the flavor and I'll show you how later on in this post.
Is cocoa powder keto?
Yes cocoa powder is keto. It's made from cocoa beans and is full of fiber. The nutritional information for 1 tablespoon of unsweetened cocoa powder is roughly 12 calories, 0.7g fat, 3g carbs, 2g fiber and 1g protein. (source)
What I have found over the years is that the kind of cocoa powder you use can make a big difference in the taste and little difference in the carbs. And for my hot chocolate I love the richer color and flavor of Guittards and Divine compared to Aldi's Bakers Corner.
While these other brands are a bit more expensive it's usually due to the quality of the beans where a higher quality of beans has a higher percentage of fat which gives your drinks a richer flavor. I find it's worth it for my hot chocolate.
For instance looking at the 4 types below you can immediately see a difference in the color. Here are is the difference in ingredients for the 4 different brands for 1 tablespoon serving.
Valrhona – 30 calories / 1.5g fat / 3g carbs / 2g fiber / 1g protein
Bakers Corner – 15 calories / 0.5g fat / 3g carbs / 2g fiber / <1g protein
Guittard – 20 calories / 1g fat / 2g carbs / 1g fiber / 1g protein.
Divine – 19 calories / 1g fat / 0.6g total carbs / 2g fiber / 1.1g protein.
Also remember that cocoa powder has many healthy benefits and considered a super food. It's rich in polyphenols which has been linked to reduced inflammation and improving cholesterol and blood sugar levels and more (source).
Is milk keto? What should I mix with this drink mix?
Milk from cows is not considered keto. It is actually high in sugars and 1 cup of 2% milk has 12g net carbs.
However there are many substitutes to use in it's place such as nut milk. My favorite is almond milk and that is what I used for this drink. However you could also just use water because we add a tablespoon of heavy cream (which is very low in carbs) to give it that creamy milk taste.
How to make a keto peppermint hot chocolate drink.
Heat up the almond milk and cream in a pan on the stove or in the microwave.
While that's heating up, add the cocoa powder, sweetener and salt to your mug and mix well.
Pour the almond milk mixture into your mug and stir well to dissolve the sweetener and cocoa powder. Then add the peppermint extract and mix one more time.
If you want to make this more of a dessert, topping with whipped cream and garnish with a sprig of mint. (Please scroll down to view and print the recipe card.)
Other variations and additions to try.
You can easily vary the flavor of this drink by using different flavor extracts. You can usually find a good selection in your local grocery store. Walmart usually has a big selection and online there are TONS of extracts. All of which have no net carbs.
You can also use sugar free coffee syrups like Torani to add both flavor and sweetness. Again you can find these at the grocery store or coffee shops. Just make sure to not use any added sweetener as the syrups are quite sweet.
I hope you enjoy this decadent cup of sugar free hot chocolate. It's perfect for satisfying a chocolate craving in a guilt free way. The peppermint flavor reminds me of Christmas and the holidays. Enjoy!
The nutritional information for 1 serving using Guittard cocoa powder is 102 calories / 9.1g fat / 3.4g carbs / 2g fiber / 2.3g protein = 1.4g net carbs
Keto Peppermint Hot Chocolate Recipe
This delicious and decant keto peppermint hot chocolate is super easy to make and great for guiltfree dessert or snack. It's sugar free and satisfies your craving your chocolate.
Ingredients
8 oz unsweetened almond milk
1 tablespoon heavy whipping cream
1 tablespoon cocoa powder (I used Guittards)
4 teaspoons sweetener (I used Lakanto Monkfruit Baking Sweetener)
pinch of salt
¼ teaspoon peppermint extract
Instructions
Heat up the almond milk and cream in a pan on the stove or in the microwave.
Meanwhile add the cocoa powder, sweetener, salt to a mug and mix well.
Pour in the hot almond milk mixture and whisk to combine so thte sweetener and cocoa powder dissolve.
Add the extract and mix again.
Top with whipped cream if you want to make this more of a dessert but that is optional.
Nutrition Information:
Yield:

1
Serving Size:

1
Amount Per Serving:
Calories:

102