If you have an abundance of eggplant in your garden or just love the taste, you have to try this easy grilled marinated eggplant recipe. The eggplant marinade uses only 5 ingredients and adds a sweet and spicy flavor to creamy texture of the grilled eggplant. Makes for a healthy vegetarian meal or tasty side dish.
You might also like this easy Thai eggplant curry recipe!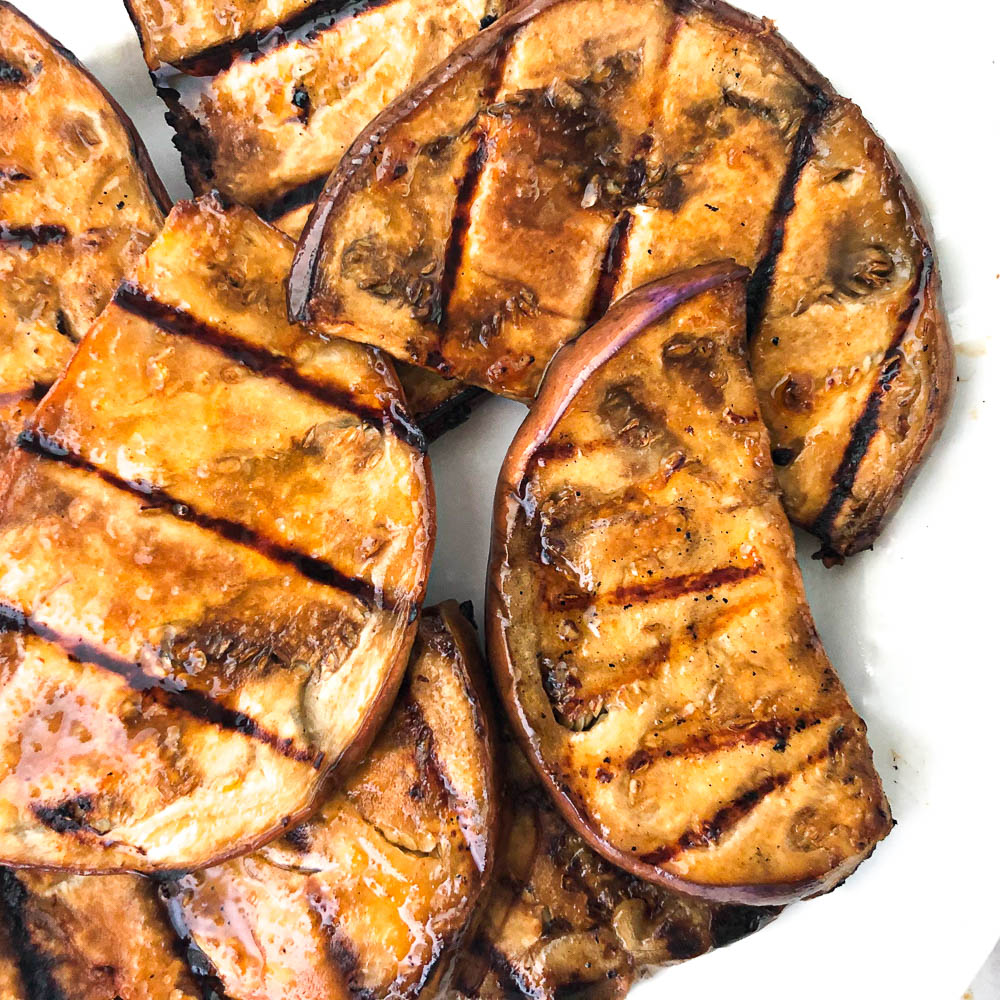 My husband is having great luck with growing eggplant this summer so I've been busy finding new ways to eat it! And today I have a very easy but tasty grilled marinated eggplant recipe for you.
If you are an eggplant fan then you know how when it's cooked it has a velvety or creamy texture and goes will with spicy Asian flavors. And that is what the eggplant marinade has – a sweet and spicy Asian flavor.
By the way I used an Italian globe eggplant and Asian eggplant for this recipe. You can really use whatever variety you want. (see 4 picture collage below)
Also you might want to know if you should peel the eggplant before grilling. You should not. The skin or peel will keep it altogether so it doesn't fall apart as it cooks on the grill.
Making the spicy & sweet marinade.
The 5 marinade ingredients I used are soy sauce, honey, olive oil, fresh garlic cloves and sriracha sauce. All you do is whisk the ingredients together and set aside until the eggplant is ready.
If you want to make this low carb all you need to do is substitute Swerve brown sugar for the honey. I would use 2 times as much sweetener in place of the honey.
How to make grilled marinated eggplant.
Grab your fresh eggplant and slice it into about ¼ inch slices. I like to keep the skin so that it stays together.
Place the slices into a colander and liberally salt the slices. Let it stay there for about ½ to 1 hour long. Then rinse it well to get the salt out and pat dry with a tea towel or some paper towels.
While the slices of eggplant is sitting with the salt, you cam make the marinade by whisking together the ingredients. If you want some for a dipping sauce, double the amounts and save half of it for that.
Place the eggplant in a baggie along with the marinade and let it sit in the refrigerator for at least 4 hours.
When you are ready to grill them, spray the grill with cooking spray before you light it. Then place the eggplant slices directly on the grill. Let the marinade drip off before placing though.
Cook for a few minutes on each side until golden brown and you get those nice grill marks. By the way I used gas grill and a medium or moderate heat.
Take off the grill and serve on a platter. You can sprinkle some fresh herbs like parsley or cilantro on top as a garnish for color.
You can also use the saved half of the marinade for a dipping sauce. (Please scroll down to view and save the recipe card.)
This marinade is very simple but full of flavor. They eggplant absorbs it well and the texture is meaty but tender.
What to eat with this grilled eggplant.
This dish would go great with any grilled main dish like marinated flank steak or chicken. I ate it with some pork kebabs I made last week with the same marinade!
You can also just eat it as is with some rice or another grain for a healthy meatless dinner. Or use along with other grilled veggies and meat on top of salads.
Lastly this would be great as a sandwich with good fresh bread.
Other ways to use this marinade recipe.
As I mentioned above I used this marinade for pork kebabs, however it would work for beef, chicken or shrimp too.
You could also use it with other vegetables like zucchini, mushrooms, peppers or onions. As a matter of fact it would be great to make a vegetable kebab with the eggplant and your other favorite vegetables!
I hope you enjoy this simple but tasty marinated grilled eggplant recipe. It's a great way to use fresh veggies from the garden on the outdoor grill in summer time. You can also use the marinade on other vegetables or beef, chicken, pork or shrimp!
I can't wait to try it with tofu next. Enjoy!
The nutritional information for 1 serving using honey is 192 calories
13.7g fat / 17g carbs / 1.6g fiber / 2.4g protein
The nutritional information for 1 low carb serving with (¼ cup of Swerve Brown sweetener) in stead of honey is 160 calories / 13.7g fat / 8.4g carbs / 1.6g fiber / 2.4g protein
Grilled Marinated Eggplant
Total Time:
4 hours
15 minutes
This easy grilled marinated eggplant recipe is great for a light summer side dish or even a vegetarian meal. A simple recipe to make spicy and sweet marinade for the eggplant that you can use with other vegetables or even meats.
Ingredients
2 cups eggplant, sliced
2 tablespoons honey
2 cloves garlic, crushed
½ cup soy sauce
2 tablespoons sriracha sauce
¼ cup olive oil
salt for eggplant
Instructions
Add eggplant slices to a colander and liberally sprinkle salt all over the eggplant. Let sit for ½ to 1 hour. Then rinse the salt off the slices and pat dry with a tea towel or paper towels.
While waiting for the eggplant, whisk together the ingredients for the marinade in a medium mixing bowl. Note you might want to double the amound of marinade and set aside half of it for a dipping sauce.
When the slices have been dryed add them to a large baggie and pour the marinade in. Mix it around to cover all the slices and then refrigerate for about 4 hours.
When it's time to eat, prepare the grill by spraying the grate with nonstick cooking spray (before lighting it). Take out the slices of eggplant and let the excess marinade to drip off before laying on the hot grill. You want the grill to be a medium heat.
Cook for a few minutes on each side until they are done. It might take from 3-5 minutes per side. Cooking times may vary depending on the thickness of the slices and the temperature of the grill. You want them to be soft but not too mushy nor burnt.
Serve as a side dish or eat with rice for a meatless dinner.
Notes
The nutritional information for 1 serving using honey is 192 calories
13.7g fat / 17g carbs / 1.6g fiber / 2.4g protein

The nutritional information for 1 low carb serving with (¼ cup of Swerve Brown sweetener) in stead of honey is 160 calories / 13.7g fat / 8.4g carbs / 1.6g fiber / 2.4g protein


Nutrition Information:
Yield:

4
Serving Size:

1
Amount Per Serving:
Calories:

192
Trans Fat:

0g
Unsaturated Fat:

0g
Cholesterol:

0mg
Sodium:

0mg
Carbohydrates:

0g
Fiber:

0g
Sugar:

0g
Protein:

0g