This is the best peanut butter chocolate chip cookies recipe. The texture of the cookies are crispy on the outside with a gooey soft center loaded with chocolate chips. It's one of those recipes that will be your go to homemade cookie recipe you'll make whenever you make cookies.
You might also like these bacon pretzel chocolate chip cookies recipe.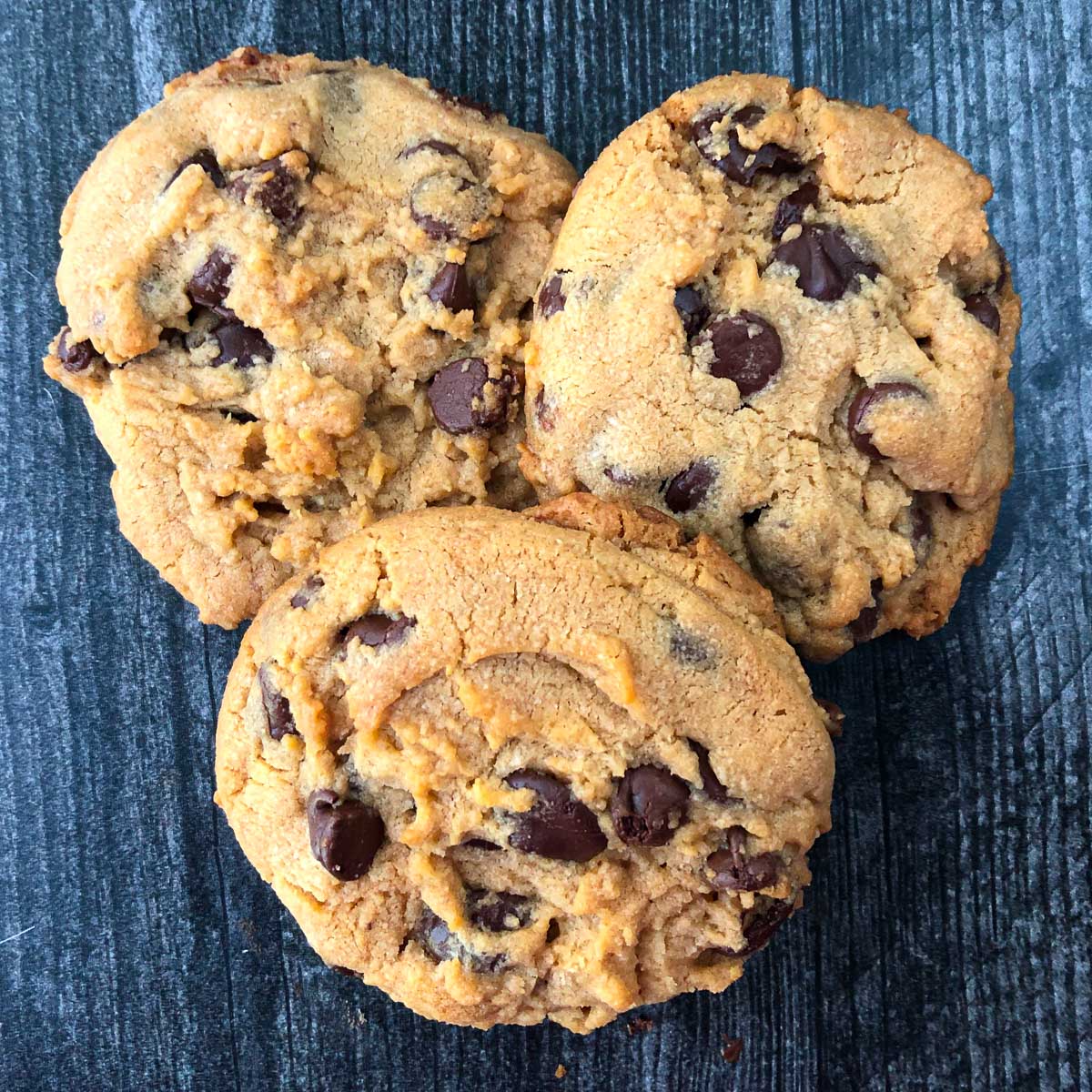 The last couple years my brother in law has been making these cookies. When he brings some for us when he visits I can't help myself. I try not to eat them but I end up have 1, then half of another, then the other half. And so it goes.
So recently I wanted to make these peanut butter chocolate chip cookies for a 4th of July party. I adapted the recipe a bit because I wanted to make it easier but it has the same taste and oh my those cookies went fast.
This is definitely the best peanut butter chocolate chip cookie recipe I've ever had and I wanted to do this post so I always have a copy for myself. And I think you all will enjoy it. So thank you Uncle Dan! (He makes great bread,pierogies and much more!)
Recipe ingredient I used.
So most of these ingredients are basic chocolate chip cookie ingredients with the added peanut butter but they are a few different ones.
I used bread flour and all purpose flour, baking soda and baking powder, salt, unsalted room temperature butter, creamy regular peanut butter, eggs, brown sugar, white granulated sugar, vanilla extract and semi sweet chocolate chips.
I have yet to make these with all purpose flour only but when I do I will let you know how that goes.
How to make the best peanut butter chocolate chip cookies.
Step 1: Preheat the oven to 350°F and prepare 1 or 2 cookie sheets with parchment paper or a silicone baking mat.
Step 2: In a medium bowl whisk the flours, baking soda, salt and baking powder.
Step 3: In a large mixing bowl cream butter, peanut butter, white sugar and brown sugar. Then add in the vanilla extract and eggs. Mix well to combine. Mix well to combine. You can use a standing mixer or hand mixer.
Step 4: Slowly add the dry ingredients to the wet ingredients but don't over mix. Once combined, fold in the chocolate chips and set aside.
Step 5: Using large cookie scoop or ice cream scooper, scoop up the cookie dough and make balls of dough on a prepared baking tray. The cookies will spread a bit but not a lot. If you have a problem with them spreading too much chill dough. Below you can see how many I got on my cookie sheet.
Step 6: Bake in the preheated oven for about 15-18 minute. I used two trays and switched up the trays after 8 minutes. Once they are golden brown around with crispy edges, take the out of the oven and let cool for about 15 minutes then transfer to a wire rack to cool complete.
Note baking time may vary depending on the size of your cookies. Above you can how much they spread and what they look like when they are done. (Please scroll down to view the printable recipe card.)
Store in an air tight container. I like to place a few baked cookies in a ziplock bag and keep in the freezer for put to 3 months. The thought is that I'd grab when when I have a cookie craving. However they don't last long though LOL!
Other delicious dessert recipes to try.
I mostly like to cook low carb and gluten free food so my baking is very limited. However like this family cookie recipe I have few other desserts that I have tried and usually take to parties and get togethers.
Well these peanut butter chocolate chips cookies are definitely going to be my go to cookie recipe to make for others. They are too dangerous for me to make for just my family because I would eat the me. LOL!
They really are no different to make then regular chocolate chip cookies and they are hit no matter where you take them. I'm thinking they would be great Christmas presents for my grown nephews. Grab a glass of milk and enjoy. (Thank you Danny!)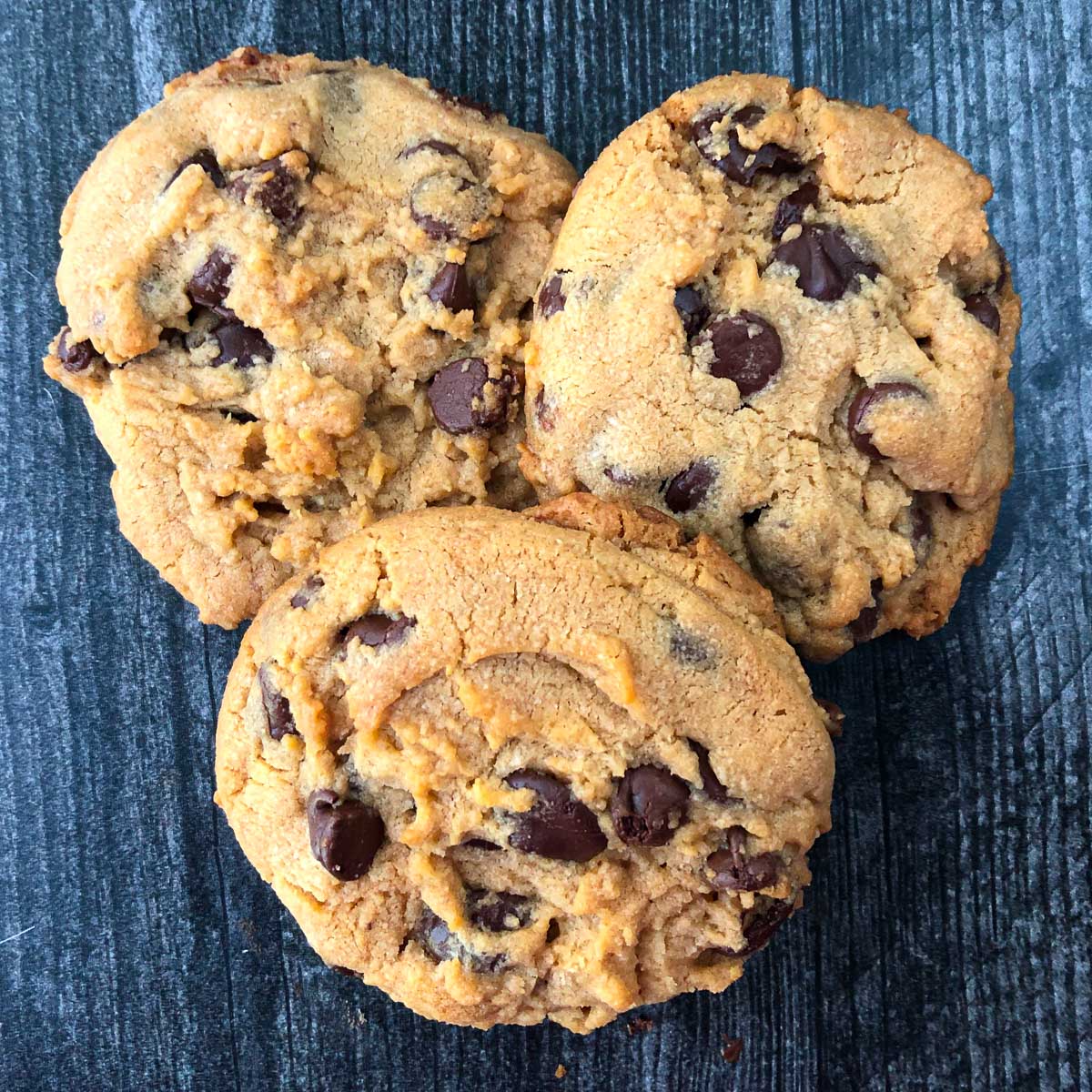 The Best Peanut Butter Chocolate Chip Cookie Recipe
This recipe makes the best homemade peanut butter chocolate chip cookies. They have crispy chewy edges and the center is gooey and full of chocolate chips.
Ingredients
2 cups bread flour
2 cups all purpose flour
1 ¼ teaspoon baking soda
1 ¼ teaspoon baking powder
1 ½ teaspoon salt
1 ¼ cups unsalted butter room temperature (2 ½ sticks)
1 cup creamy peanut butter
1 cup brown sugar
1 cup white granulated sugar
2 large eggs
2 teaspoons vanilla extract
4 cups semisweet chocolate chips
Instructions
Preheat oven to 350°F and cover your baking sheets with parchment paper or silcone mats
In a medium mixing bowl, combine the two flours, baking powder, baking soda and salt.
In large mixing bowl, beat the softened butter, peanut butter, white sugar and brown sugar using an electric mixer or hand mixer. Then add the egg and vanilla extract. Mix well.
Next slowly add in the dry mixture and mix until it's all combined but don't over mix. Lastly fold in the chcoolate chips. (Note this was a lot of chips. You can use less if you want and they will still be delicious.)
Using an ice cream scoop place mounds of the cookie dough on the prepared cookie sheets and leave some room between them because they will spread a little but not overly so.
I used 2 cookie sheets at a time and switched positions after 8 minutes and baked for another 8 minutes until the edges were lightly brown.
Let cook for 15 minutes to set then transfer to a wire cooling rack to completely cool.
Store in an airtight container. This batch made 36 large cookies. Bake time will vary depending on how big you make your cookies. Just watch them and when they are lightly browned, take them out.
Nutrition Information:
Yield:

36
Serving Size:

1
Amount Per Serving:
Calories:

290
Total Fat:

16g
Saturated Fat:

8g
Trans Fat:

0g
Unsaturated Fat:

7g
Cholesterol:

27mg
Sodium:

192mg
Carbohydrates:

36g
Fiber:

2g
Sugar:

22g
Protein:

4g