If you are a fan of beets you have to try these beet noodles with basil recipe. It's a simple gluten free pasta dish using spiralized beets, garlic and fresh basil. It's a simple veggie pasta dish that is full of flavor and very good for you as well. It only has 178 calories and 6.3g net carbs.
You might also like this easy roasted veggie noodles recipe!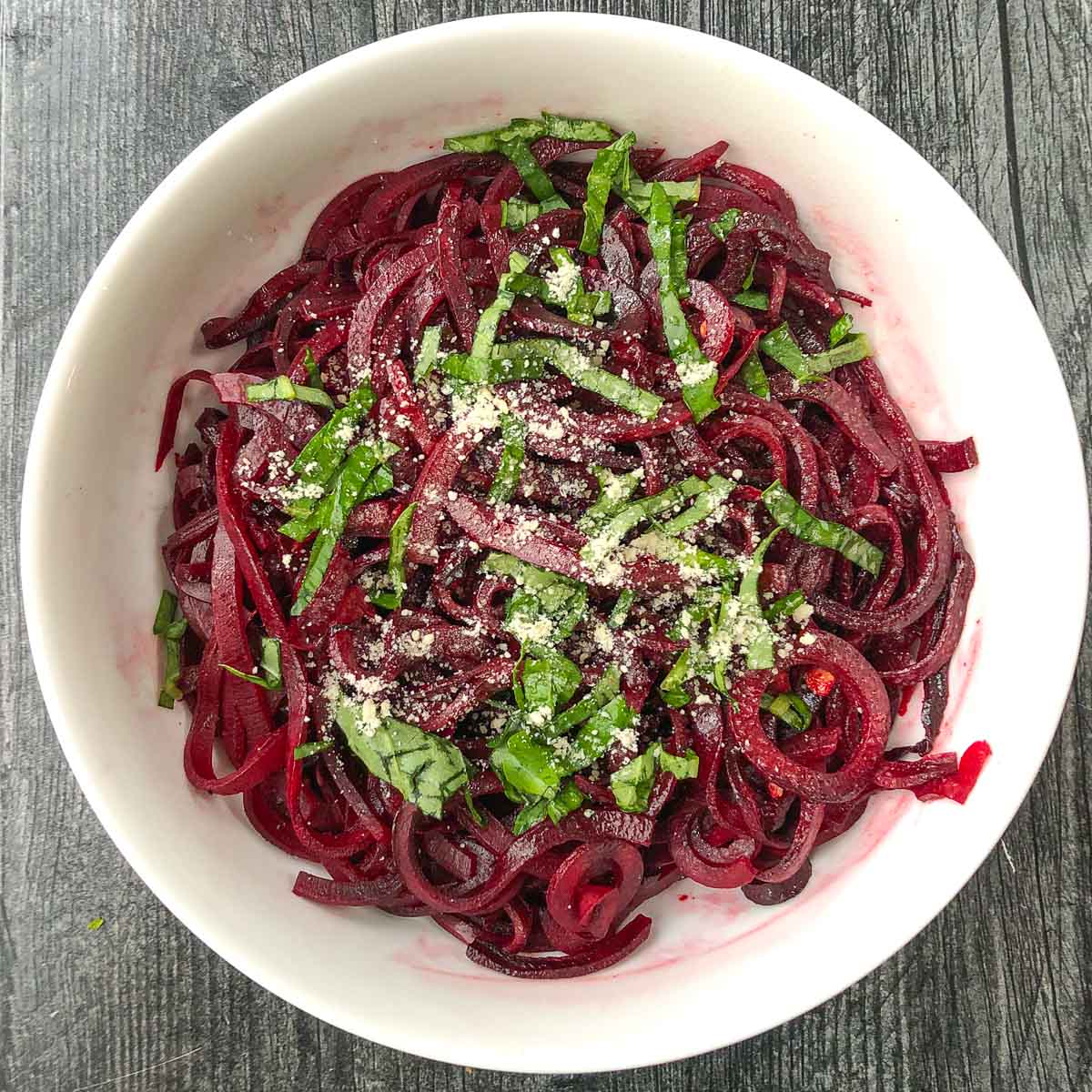 I bought a few fresh beets the other day and set off to redo this very old post. I get so excited when I make an old recipe again and remember how good it is. That was the case of these beet noodles with basil.
It's not only a fun way to eat this vegetable but it really does have that chew and texture of regular pasta. The sweet and earthy flavor of the beets go great with the fresh basil and garlic. And don't you just love that color!
Type of spiralizer I use to make the noodles.
I have quite a few spiralizers but the one I used the most is the Paderno Vegetable Slicer. I also have a handheld julienne vegetable peeler that works great too but for beet noodles the Paderno is the way to go.
I had a bunch of different blades to make a variety of noodles. I like the thicker noodles for root vegetables like this one. You can see what they look like above.
Recipe ingredients I used.
All you need to make this recipe is a few fresh beets, garlic, olive oil, salt, black pepper, fresh garlic and fresh basil leaves. I also added some grated parmesan at the end.
Note you have to use fresh beets and not canned beets. You want the noodles to be sturdy which comes from lightly roasting the fresh ones.
How to this make beet noodles with basil pasta dish.
Note that the beetroot may stain your hands so you might want to use gloves when handling them.
Step 1: Preheat the oven by setting it at 450°F. Take out a baking tray and spray with nonstick cooking spray and set aside.
Step 2: Make your beet noodles any way you want. Next either add them to a large mixing bowl along with the olive oil, crushed garlic, salt and black pepper and mix well.
Or just spread them out in a single layer on the baking sheet. Pour the oil and spices over top and mix well.
Step 3: Place baking tray into the preheated oven and cook for 10 minutes. You don't want them to be too soft but are looking for the texture of a thick pasta.
Take a bite and if it's to your liking take them out. If not cook a few more minutes.
Step 4: Once the beet noodles are done, take them out and place in a serving bowl. Mix the fresh basil with the noodles and then sprinkle Parmesan Cheese on top and serve. You can add a shake of hot pepper flakes if you want a little heat.
Store leftovers in an airtight container. Please scroll down to view the printable recipe card.
Ways you can change up this recipe.
This is a simple dish but ways to change it are:
Add different cheeses and herbs to change the flavor. Think feta and fresh oregano and lemon for a Greek flavor. Or goat cheese and fresh thyme for more a French flavor.
Add nuts such as walnuts, pecans or pine nuts for a layer of extra flavor.
You can add a protein such as cooked pieces of chicken or shrimp to make it more of a meal.
Eat this cold as a salad. Try any of the above and just eat it cold.
More healthy beet recipes to try.
It seems like every spring I get a craving for beets so here are few more healthy and delicious beet recipe for you to try.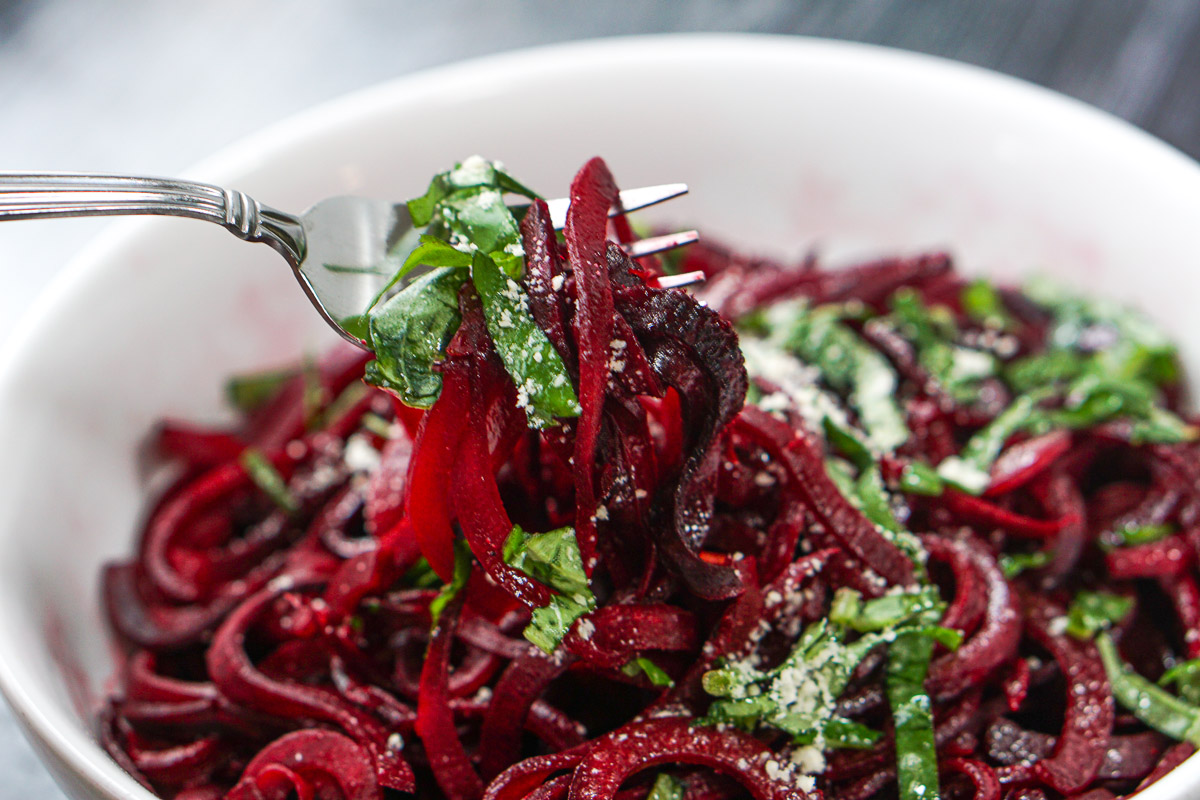 Well I hope you give these beet noodles with basil a try. You might just be surprised at how good these veggie noodles are! Enjoy.
The nutritional information for 1 serving (based on 2) is 178 calories / 15.1g fat / 8.6g carbs / 2.3g fiber / 3.4g protein = 6.3g net carbs
Beet Noodles with Basil Recipe
These beet noodles with basil are both low calorie and low carb. They make a delcious and healthy dinner or lunch and only needs a few simple ingredients!
Ingredients
3 beets, washed and peeled
2 tablespoons olive oil
1 clove garlic crushed
salt & black pepper to taste
5 fresh basil leaves, chopped
grated cheese for garnish
Instructions
Preheat the oven to 450°F. Prepare a baking sheet by spraying nonstick cooking spray and setting aside.
Spiralize your beets into noodles. Place in a large bowl and toss with olive oil, garlic and salt and pepper.
Place the baking sheet in the preheated oven for 10 minutes. Give them a taste and if they are cooked enough for you they are done. If you like them softer just cook for a few more minutes.
Take out of oven, place in a pasta bowl and add chopped basi. MIx well and sprinkle grated cheese on top of you wish.
Store leftovers in an airtight container.
Notes
The nutritional information for 1 serving (based on 2) is 178 calories / 15.1g fat / 8.6g carbs / 2.3g fiber / 3.4g protein = 6.3g net carbs
Nutrition Information:
Yield:

2
Serving Size:

1
Amount Per Serving:
Calories:

178
Unsaturated Fat:

0g