This beetroot and goat cheese salad is full of tasty ingredients from the beet noodles to the goat cheese and pine nuts, all tossed in a light vinaigrette dressing. This is the perfect combination of flavors for a healthy salad you can eat for lunch or as a side dish. Each serving has just 5.7g net carbs so it's low carb too!
You might also like these low carb turnip pesto noodles!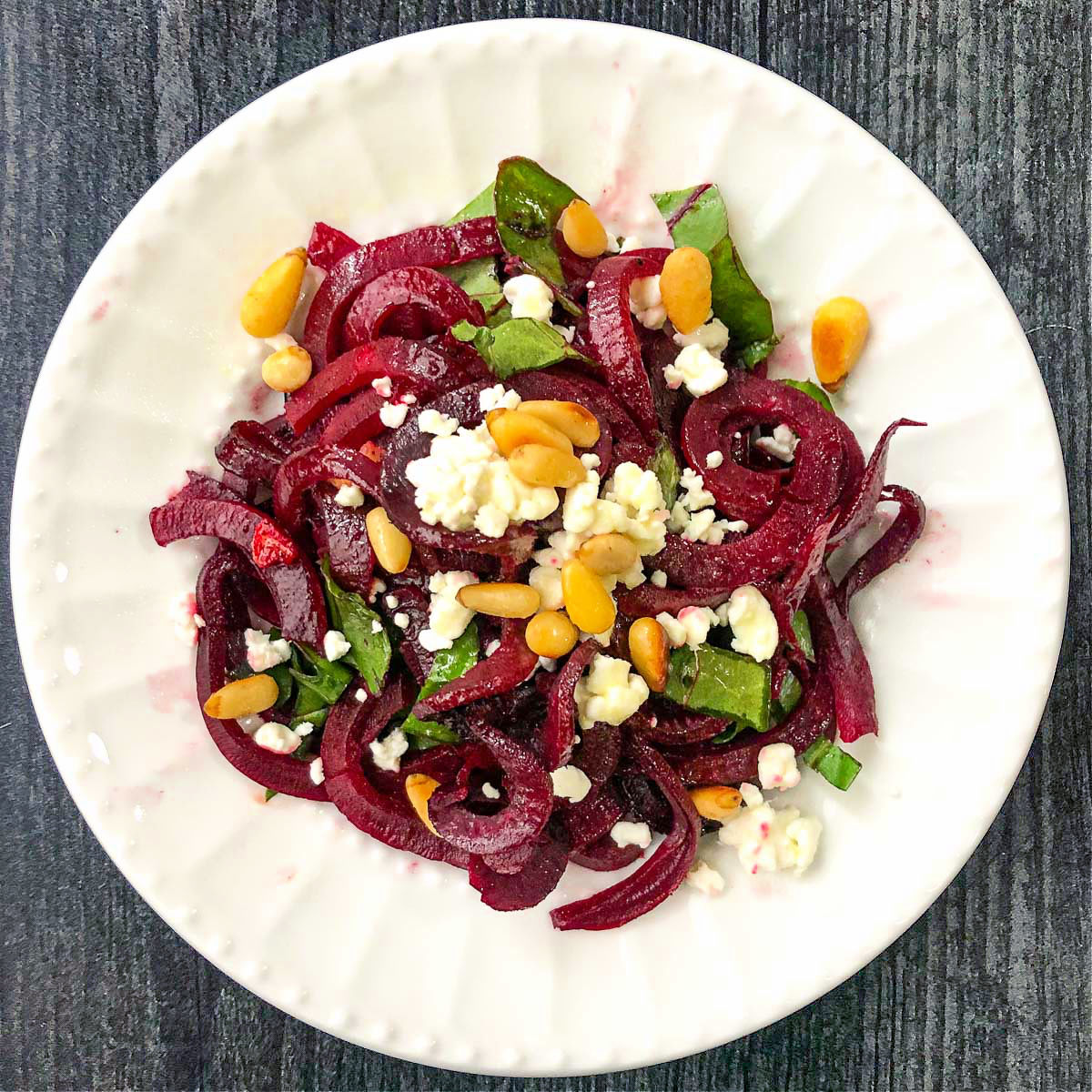 Beets are not something that I grew up with but having tried them as a grown up I find I really like them. With the new year upon us I'm breaking out all my old healthy recipes and redoing them and this beetroot and goat cheese salad is one of them.
I love salads like this. The beetroot noodles have an sweet and earthy flavor and as well as a similar texture to regular pasta noodles. That combined with the tangy and creamy goat cheese, greens and crunchy pine nuts makes this salad a winner in my book.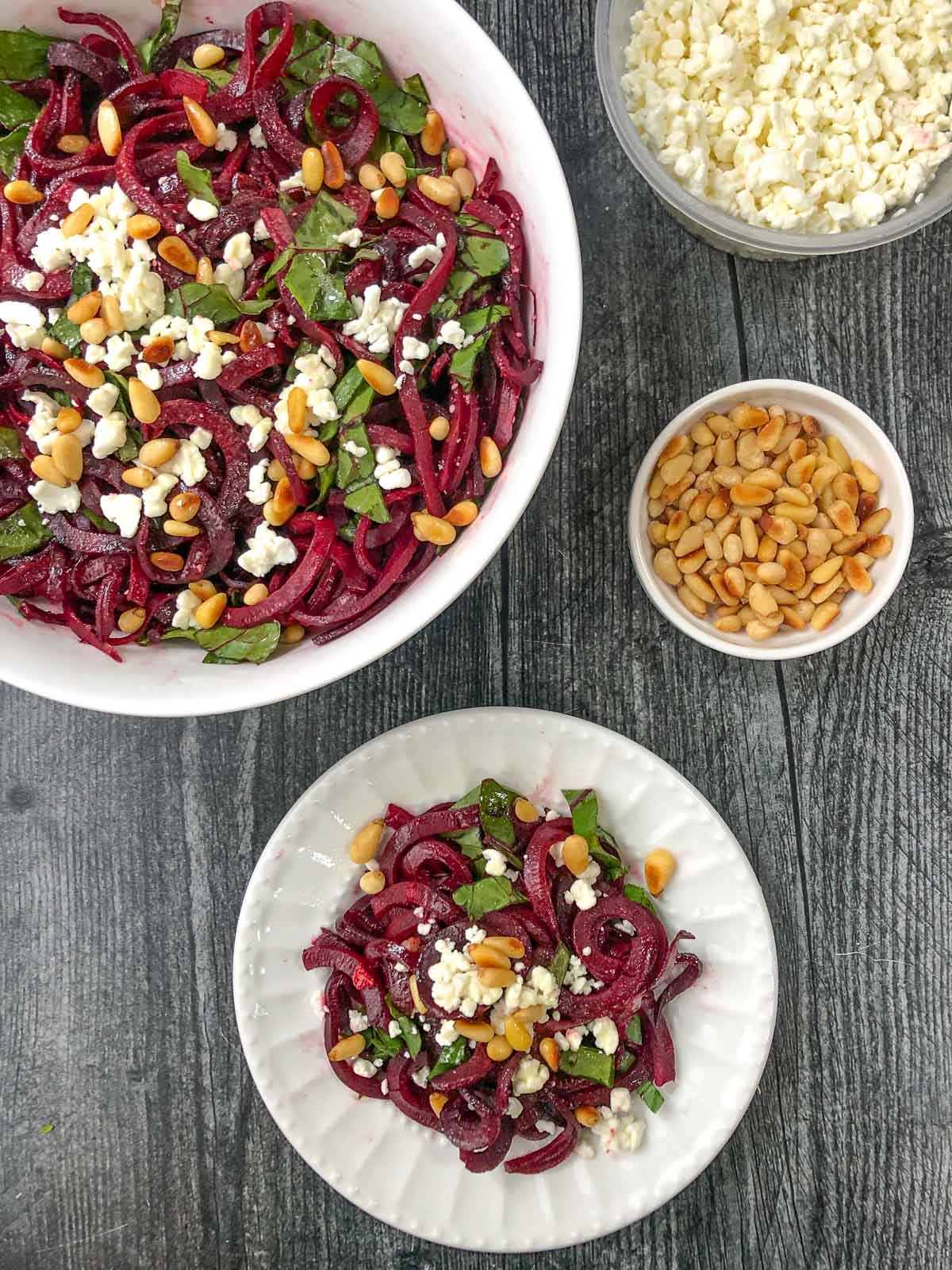 Recipe ingredients I used.
You only need a few simple salad ingredients to make this healthy vegetable salad – fresh beets, goats cheese, olive oil, salt, black pepper, Italian seasoning, garlic and either beetroot leaves or baby spinach leaves.
Originally I used spinach but I know the beetroot leaves are full of healthy vitamins and minerals so I just used them. Overall they just add a bit of color and texture to the salad so use whichever you want.
Note I used fresh beets, not canned beets. Also I made spiralized noodles with mine. If you don't have a spiralizer, no worries. Here is how I made mine.
You can use other nuts like pecans or walnuts instead of the pine nuts if you don't have any but if you do they are my favorite for this salad. And you can substitute feta cheese for goats cheese.
Lastly I used apple cider vinegar. You can use any type of vinegar you want like balsamic vinegar, red wine vinegar or even fresh lemon juice. You are using just a bit so it doesn't really matter. I was trying to keep it to a light tasting vinaigrette dressing.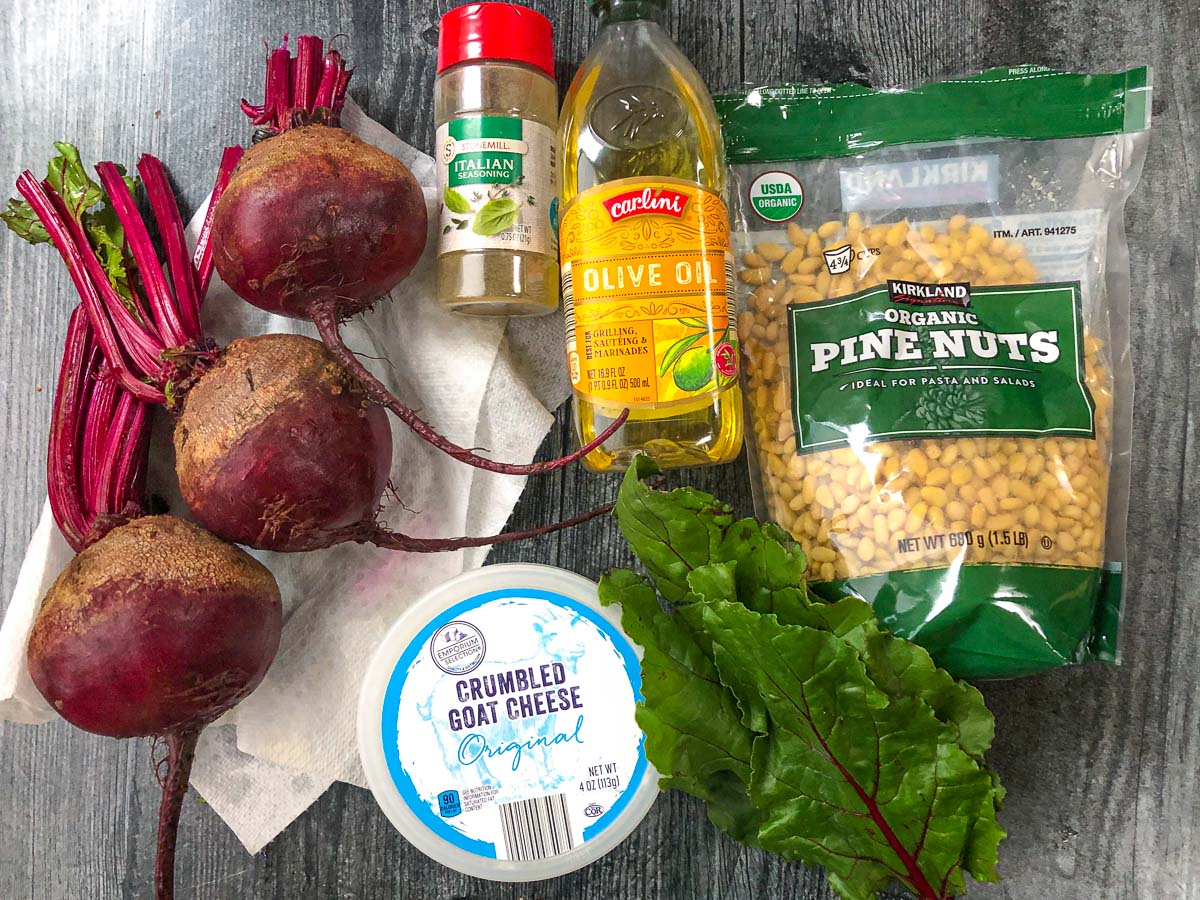 How to make beet noodles.
I used my spiralizer for to make beet noodles. Everything tastes better when they are noodles don't you think? I like a thicker noodle so they have a chewy texture like regular pasta. However if you do not have a spiralizer, you can use a peeler or just chop your beets into little cubes.
Using a sharp knife cut off the stems and the root tip then clean and peel the skins. Then I like to roast the beets for 10 minutes to soften them. They will not be mushy after only 10 minutes so taste them and if you think would like them softer cook for another 5 minutes.
Note: Beets will stain your hands and other things. You might want to use gloves when handling them.
How to make beetroot salad with goat cheese.
Step 1: Preheat the oven to 450°F and spray a rimmed baking tray with nonstick cooking spray and set aside.
Step 2: Make your beet noodles as mentioned above. Place the noodles into a large bowl and mix with olive oil, crushed garlic and Italian seasoning. Then place them on the prepared baking sheet and season with salt and pepper. Then place them in the preheated oven.
Step 3: Roast beets for 10 minutes to let them cook a bit but still be chewy. Taste them and if you don't like the texture you can cook them for 5 minutes more. I like them al dente so 10 minutes was good for me.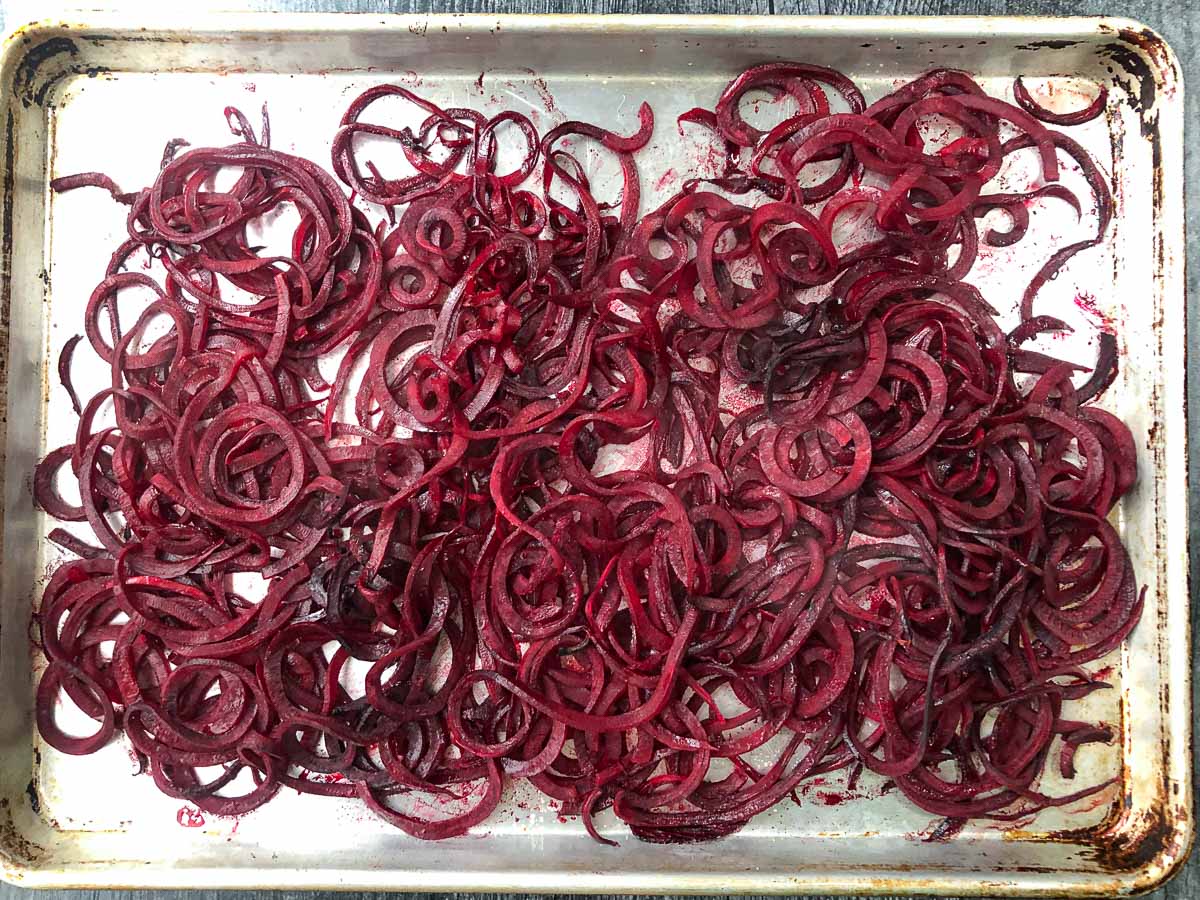 Step 4: Let the cooked beetroot noodles cool then place them in a salad bowl and toss with the remaining olive oil and vinegar as well as the spinach or beet leaves. Sprinkle goat cheese and toasted pine nuts on top and refrigerate until ready to eat.
Store leftovers in an air tight container. Please scroll down to view the printable recipe card.
This recipe made 4 servings for me but I used fairly large beets. So adjust accordingly if you use smaller ones.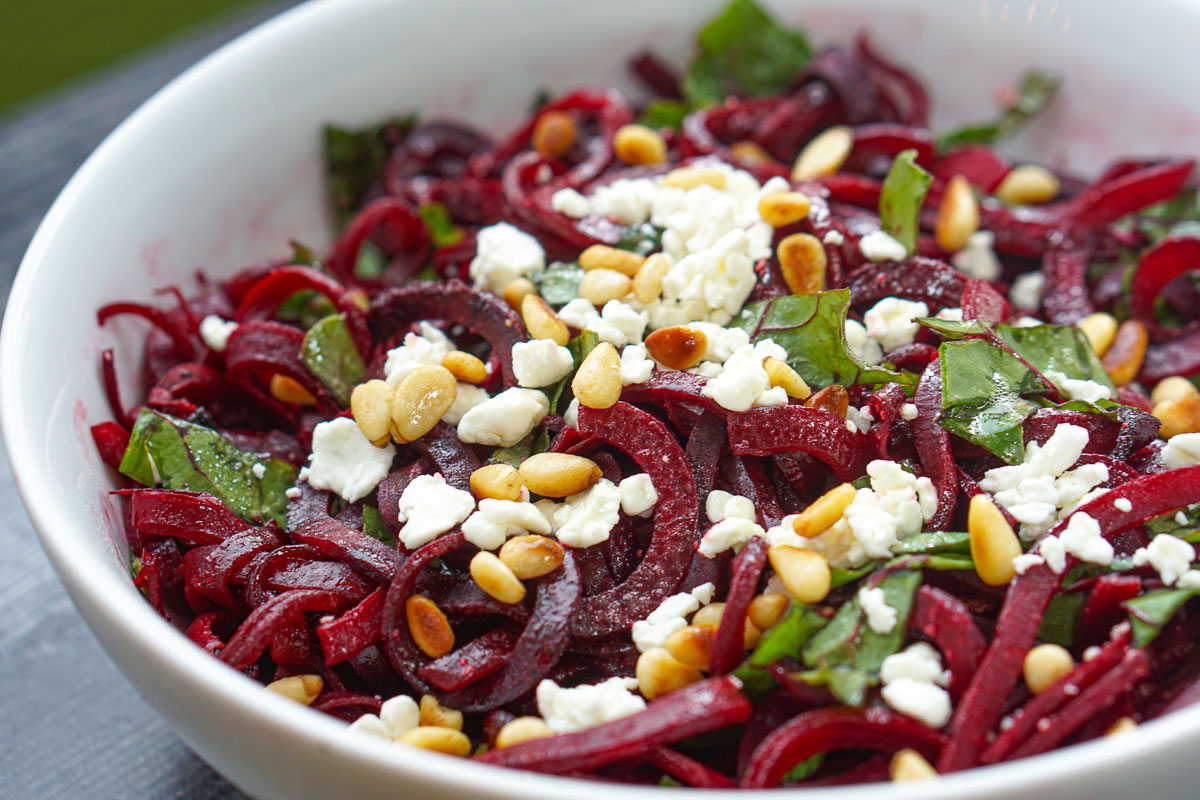 More delicious beet recipes to try.
I have quite a few beet recipes on this site and here are a few of my favorites.
Beets are so lovely aren't they? I just love all that color!
So if you like beets, I think you will love the amazing flavor of this beetroot and goat cheese salad. It's the perfect side dish in the spring. Enjoy!
The nutrition info for 1 serving is 230 calories / 21.4g fat / 7.9g carbs / 2.2g fiber / 3.8g protein = 5.7g net carbs
You may also like my sister's picked beets & eggs recipe!
Beetroot and Goat Cheese Salad
This beet and goat cheese salad is a tasty change and perfect for spring. Using beet noodles, soft goat cheese and toasted pine nuts tossed in a vinaigrette dressing you get the perfect combination of tastes.
Ingredients
3 raw beets, made into noodles
2 tablespoons olive oil
1 clove garlic, crushed
1 teaspoon Italian seasoning
salt and black pepper to taste
¼ cup pine nuts, toasted
2 ounces goat cheese (¼ cup), crumbled
½ cup beet leaves or baby spinach, minced
1 tablespoon vinegar
2 tablespoons olive oil
Instructions
Preheat oven to 450°F. Prepare a rimmed baking tray by spraying with nonstick cooking spray.
Wash and peel the raw beetroot then make them into noodles using a spiralizer. If you don't have one, you can chop your beets into a fine dice.
Toss your beet noodles with 2 tablespoons of olive oil, Italian seasoning, crushed garlic and season with salt and black pepper.
Place on the prepared cookie sheet and spread them out so they all cook evenly.
Set tray in preheated oven and bake for 10 minutes. Taste and see if they are to your liking as far as texture goes. If you want them to be softer, cook a few minutes more. Take them out of the oven and let cool.
Once cooled, toss the cooked beetroot noodles with beet greens or spinach, 2 tablespoons of olive oil and 1 tablespoon of vinegar.
Add your goat cheese and lightly toss. Top with your toasted pine nuts and refrigerate until ready to eat. Store leftovers into an airtight container.
Note: To toast your pine nuts, add them to a dry skillet over medium low heat. Stir frequently until golden brown. Watch as they can burn easily. Should only take about 5 minutes.
Notes
The nutrition info for 1 serving is 230 calories / 21.4g fat / 7.9g carbs / 2.2g fiber / 3.8g protein = 5.7g net carbs
Nutrition Information:
Yield:

4
Serving Size:

1
Amount Per Serving:
Calories:

230
Unsaturated Fat:

0g