If you like Italian sausage you will love this air fryer sausage recipe. These homemade Italian sausages are made without casings but use a blend of seasonings that give them a ton of flavor. And you can perfectly cook them in the air fryer in just 12 minutes. They make an easy and tasty low carb main dish with just 0.3g net carb per link.
You might also like this air fryer chicken legs recipe!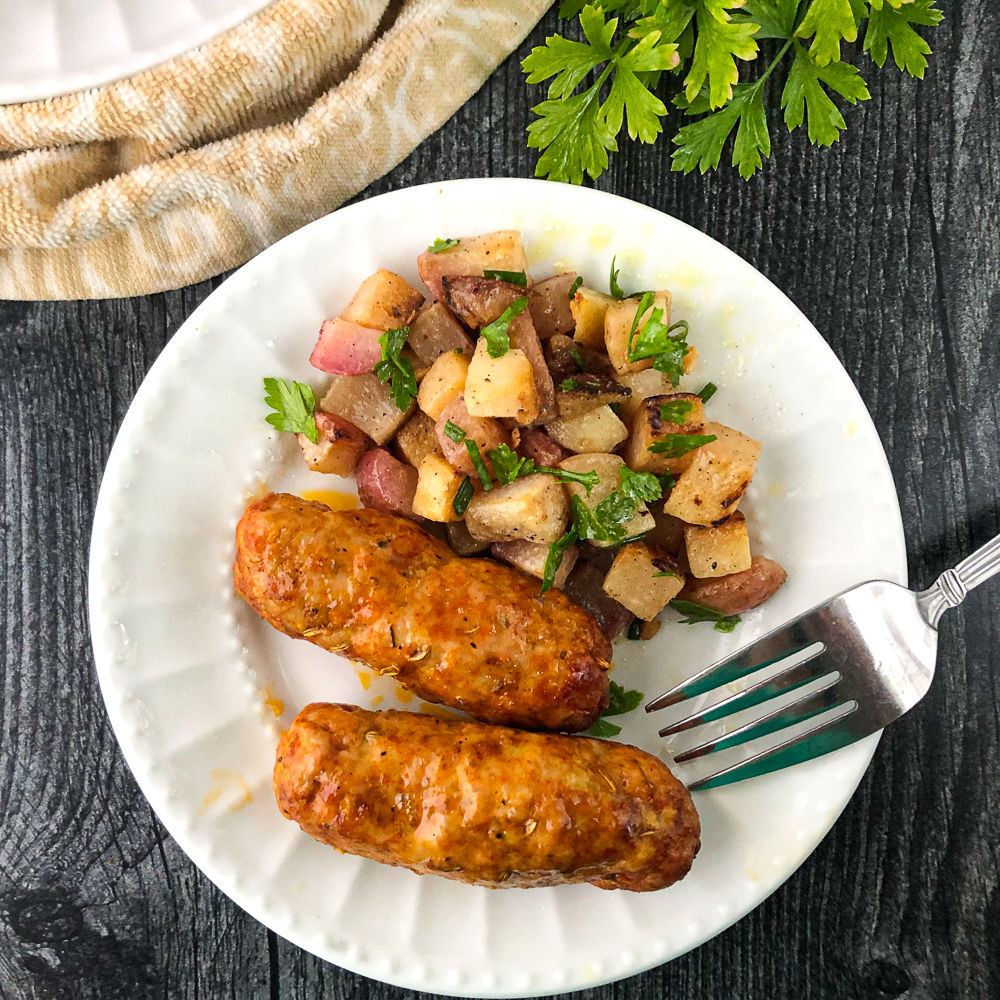 Quite a few years ago I bought a meat grinder attachment for my mixer and I made homemade Italian pork sausage without casings by grinding chunks of pork shoulder. It was pretty tasty and cool but today I wasn't in the mood to go to all that trouble.
And I wanted to use my air fryer because it's one of my favorite kitchen appliances. So I mixed up ground pork with lots of spices and formed sausage links. It was so much easier and quicker and so today I'm sharing this easy air fryer sausage recipe.
It makes 10 good sized Italian sausages that are flavorful and low carb with only 0.3g net carbs per pieces! And this is just the beginning because I have lots of ideas of how to make different flavored sausages that I'll share with you.
Recipe ingredients I used.
Below you can see the ingredients I used – ground pork, salt, pepper, crushed fresh garlic, fennel seed, paprika, Italian seasoning, cayenne pepper and hot chili pepper flakes.
The only ground pork I could find was pretty lean so there wasn't much fat in them like many sausages and therefor a little drier. The combination of the many spices really gave them flavor though.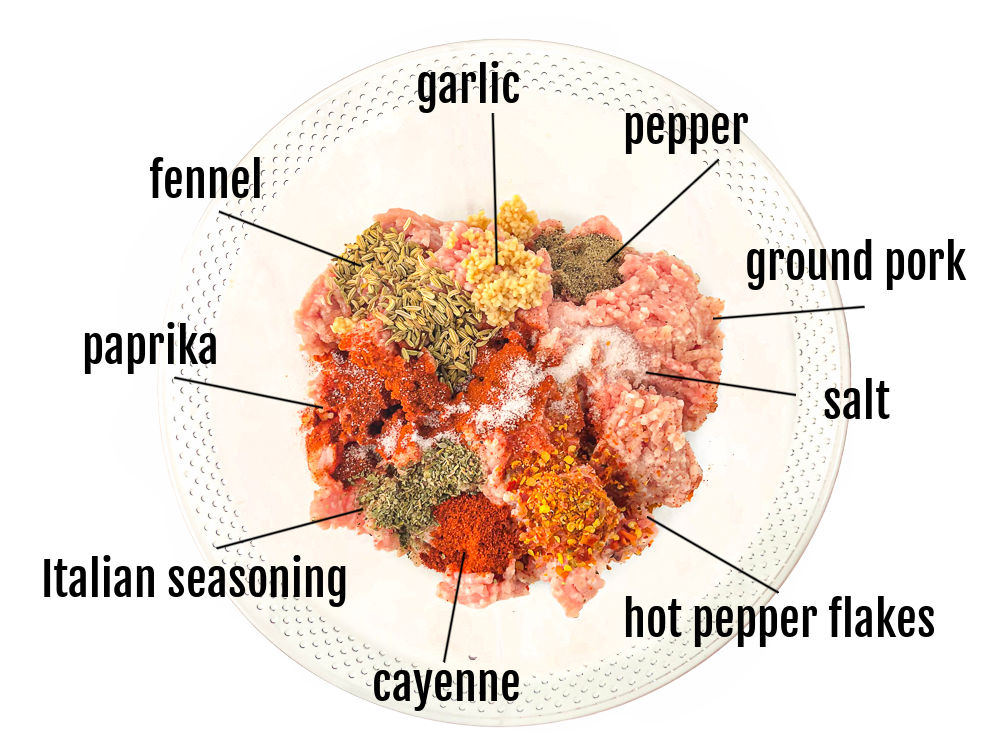 How to make air fryer sausage links.
Step 1: First thing you want to do is add the ground pork in a large bowl. In a small bowl, add all spices including the crushed garlic. Mix well and then sprinkle over the ground meat.
Step 2: Using a fork mix the spices into the meat trying to mix it well without over working the meat which can make it tough.
Step 3: Spray the air fryer basket with cooking spray. Divide the meat in half and them make 5 sausages from that. I like to lightly roll into a ball and with my hands roll it into a longer link shape.
You can see what mine looked like below. Continue with the other half of the meat. I was able to get 10 medium size sausage links from this recipe.
Step 4: Place the uncooked sausage in the air fryer and cook at 360°F for 5-6 minutes. Then flip them and cook for another 6-7 minutes until they are golden brown. Note if you have a smaller air fryer model you may have to cook these in batches.
When you go to flip the sausages check to see if you have too much grease in the air fryer which might make it smoke. Just use a paper towel to soak up some of the excess grease to keep your air fryer from smoking.
Since I used a leaner pork, mine did not produces much grease.
Step 5: You know they are done when the internal temperature is 160°F using a meat thermometer. Cooking time may vary depending on the size of your links. (Please scroll down to see and print the recipe card.)
What keto side dishes to eat with this.
When I made this, I ate with a turnip bacon hash (coming soon) that was very good. Other easy keto recipes for side dishes to try would be these loaded cauliflower mash, roasted zucchini and tomatoes, cheesy broccoli rice or zucchini noodles carbonara.
I have almond 100 low carb side dish recipes to choose from so check them out!
If you are not on a keto diet and don't care about carbs, this would be great with fried potatoes. You could probably cook the potatoes in with the sausage if you have room.
Other sausage flavors to make and try.
I think you could play around with this recipe to make any kind of flavored sausage you want. Here are a few combinations for you try.
basil and sun dried tomato
spinach and feta cheese
apple and cheddar cheese
bacon and cheddar cheese
cheddar cheese and jalapeno
add cumin, chili pepper, paprika and cayenne for a Mexican flavor
cilantro, lime and ginger for an Asian flavor combination
Well I hope you give these air fryer sausages a try. I can't wait to play around with different flavors. They make a delicious meal and air frying is so quick and easy.
Flavored sausage can make an easy keto main dish and is one my family's favorite meals. Enjoy!
The nutrition information for 1 link is 139 calories
9.6g fat / 0.7g carbs / 0.4g fiber / 11.8g protein = 0.3g net carbs
You might also like my friend Taryn's keto green bean casserole.
Air Fryer Sausage Recipe
This air fryer Italian sausage recipe is super easy to make and is a delicious low carb dinner. Full of spices and flavor, these links have no casing so you just mix, roll and air fry!
Ingredients
1 pound ground pork
2 teaspoons paprika
1 teaspoon salt
½ teaspoon black pepper
½ teaspoon Italian seasoning
½ teaspoon cayenne pepper
½ teaspoon crushed hot pepper flakes
2 cloves garlic, crushed
2 teaspoon fennel seed
Instructions
In a large bowl add the ground pork.
In a smaller bowl add all the spices and garlic and mix well.
Sprinkle over the pork and using a fork try to gently mix them in well.
Spray the basket of your air fryer with nonstick cooking spray and set aside.
Divide the pork mixture in half. Take the first half and roll about ¼ cup full of meat and use your hands to shape into a sausage link. Continue with all the meat mixture. I was able to get 10 links out of this recipe.
Place the raw sausage links in the air fryer and cook for 5-6 minutes at 360°F. Then flip them over and cook for another 6-7 minutes until they are nice and browned. The internal temperature should abe 160°F.
Notes
The nutritional information for 1 link is 139 calories
9.6g fat / 0.7g carbs / 0.4g fiber / 11.8g protein = 0.3g net carbs
Nutrition Information:
Yield:

10
Serving Size:

1
Amount Per Serving:
Calories:

139