Low carb bacon blue cheese burger salad for when you're craving a burger but not the carbs. Even if you aren't counting carbs, this burger salad is yum!
I love salads. I eat them almost everyday and I never tire of them. Of course I am loading them with beef, bacon and blue cheese so it's not like I'm watching my calories or anything. But I'm using good ingredients when I can, like grassfed beef, uncured bacon and good quality blue cheese and trying to keep it low carb and Paleo. Regardless of diet considerations, this salad was so good that my husband and I both ate this for dinner on Sunday and loved it!
Bacon Blue Cheese Burger Salad Recipe
I like to put lots of veggies in my salads. I scour my refrigerator and counter top and put whatever I have on hand, into my salads. Today it was romaine, cucumbers, radishes, orange and yellow mini peppers and red onions. You can put all of these and more in your salad or nothing at all. It's up to you. However I would suggest a crunchier lettuce like Romaine or Iceberg to hold up the to heavier toppings.
Next I whipped up a simple lemon vinaigrette. It was just lemon juice, olive oil and salt and pepper. I used a 2-1 ratio of lemon juice to olive oil but taste it first to see if that's to your liking and adjust if necessary.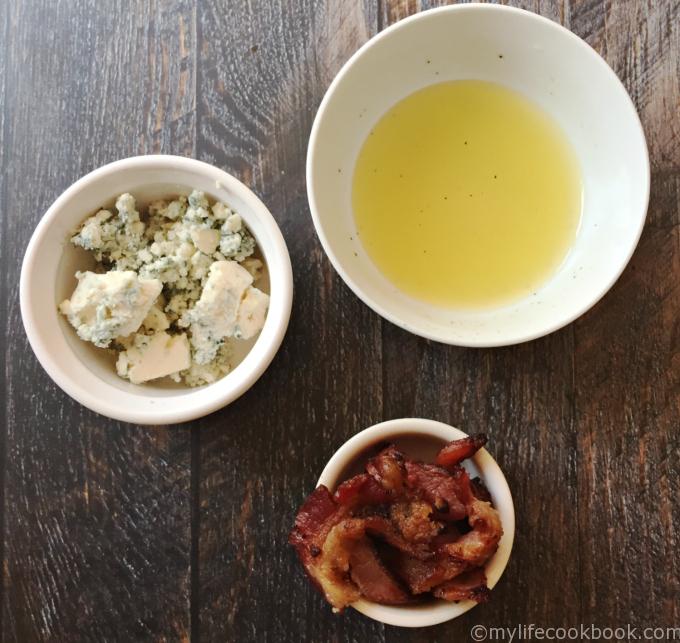 At the same time start to brown your meat and get your bacon going. I pick up a couple packages of this grass fed ground beef at Trader Joe's every time I go. You can find it in the freezer section. I also buy this uncured bacon every time I go to Aldi. It's really, really good.
As the meat is browning, sprinkle on some Montreal steak seasoning. I think this gives it more of a burger taste, however you can use whatever seasoning you like or just salt and pepper.  After both the bacon and meat are done all you have to do is assemble.
I liked to toss the salad with the dressing first and then top with the meat, bacon and cheese. We used about 1/4 lb of meat per salad and they were huge salads. You can use as much or as little as you like. We saved the rest of the meat for the next day. And I ate it again. 😉

Bacon Blue Cheese Burger Salad
Author:
Denise Wright (MyLifeCookbook.com)
Ingredients
2 Tablespoons lemon juice
4 Tablespoons olive oil
salt & pepper to taste
1 lb grass fed ground beef
Montreal steak seasoning
4 pieces of uncured bacon
¼ cup crumbled blue cheese
1 head of Romaine lettuce, chopped
assorted veggies for your salad such as: red onions, peppers, radishes, cucumbers, tomatoes, olives, whatever you like best.
Instructions
Brown your ground beef in a skillet.
Sprinkle with Montreal steak season and continue to cook until done.
In a separate skillet, brown your bacon.
While the bacon and meat are cooking, prepare your dressing by whisking the lemon juice, olive oil and salt and pepper.
Taste and add more lemon or oil if needed.
Prepare your salad base by chopping the lettuce and vegetables to your liking.
Toss your salad with the dressing and then fill two plates with the salad.
Top with as much ground beef mixture as you like. We used about ¼ lb of meat per salad and kept the rest for the next day.
Next crumble your bacon and top with blue cheese.
Enjoy!