If you are looking for something to make with garden fresh tomatoes, try this quick and easy tomato tart recipe. Using crescent roll dough and few other ingredients you can make these savory tarts that are full of flavor. Perfect for an impromptu summer dinner party or lite dinner.
You might also like this roasted tomato pasta sauce recipe!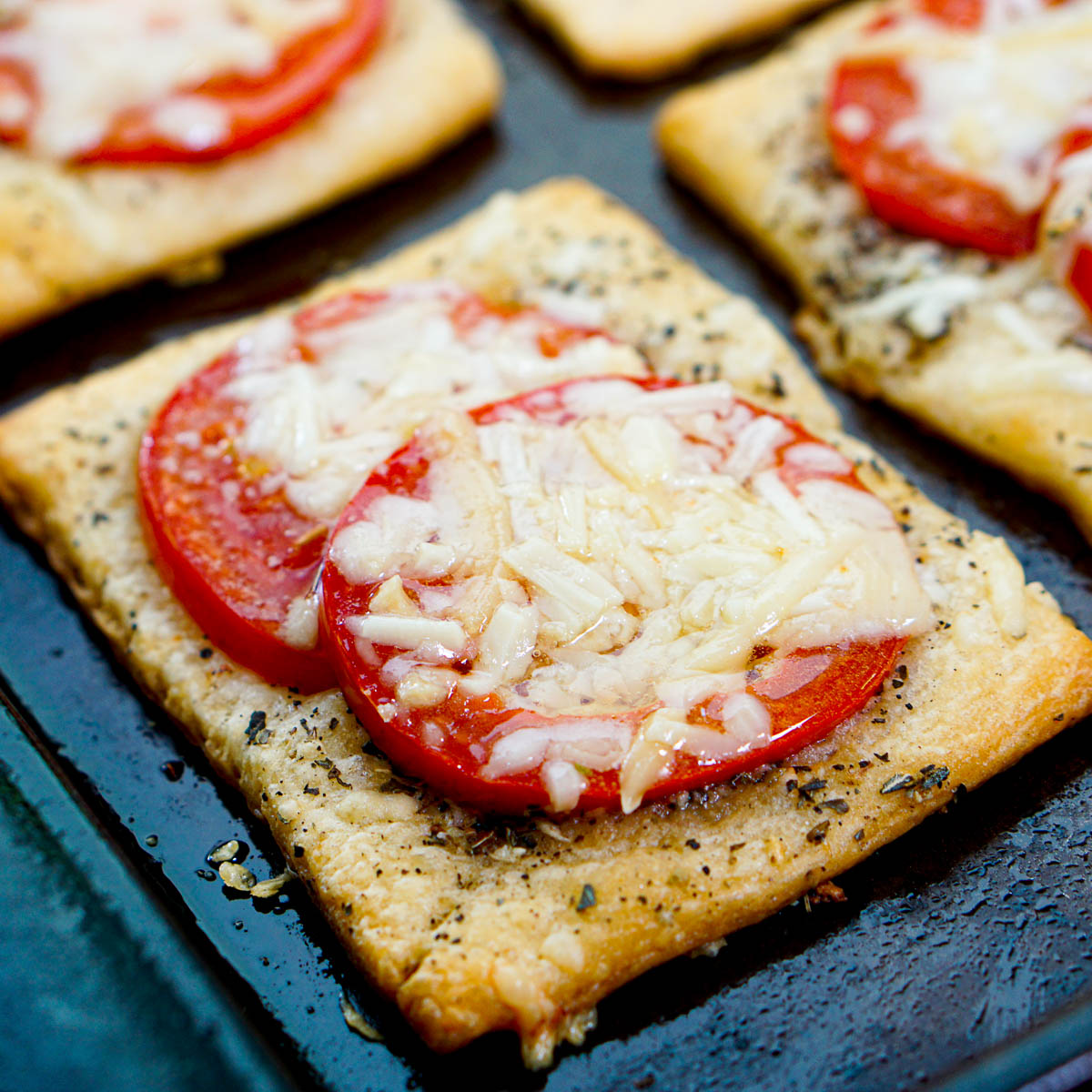 Are you over run with ripe tomatoes? We are. And while I love, love, love fresh juicy tomatoes, I'm getting a little tired of tomato sandwiches, pasta with fresh tomato sauce and caprese anything.
So the other day I had some crescent roll dough in the refrigerator and thought I'd whip up a quick little tomato tart for lunch and it was tasty! I used some olive oil, spices and fresh parmesan cheese and it all work together to make a quick and delicious lunch!
You could also eat these as a snack or even as an appetizer for a casual dinner party. This recipe makes 8 tarts but you can play around with the size and make them smaller if you want them for an app.
Recipe ingredients I used.
All you need to make these tarts are a package of crescent rolls, olive oil, fresh garlic, oregano, basil, salt, black ground pepper, fresh tomatoes and parmesan cheese.
Crescent Roll Dough
used this because it was easy thank making dough with flour and water and because I just happened to have it on hand. However you can also Pillsbury pizza dough. It would be similar in taste and texture.
Roma Tomatoes
I like roma or plum tomatoes because they don't have as many seeds nor liquid. However you can use any type of tomato to you want. Just be aware that juicy tomatoes may have too much liquid and will make the dough soggy.
If you want to use grape or cherry tomatoes you might want chop or slice them so they cook down a bit.
Olive oil
I used regular olive oil but if you have an extra virgin olive oil it would taste better. It's not a big deal if you don't I just love the flavor of good olive oil but I didn't have any on hand.
Spices
I used dried basil and oregano as well as salt and pepper. If you want to use fresh herbs you can. You can mince them add them on top if you want instead of mixing with the olive oil.
Fresh Garlic
I love fresh garlic with fresh tomatoes and olive oil. If you don't have any you can substitute a little garlic powder but try to use fresh garlic if you have it.
Fresh Parmesan Cheese
I had a bag of fresh grated parmesan, asiago and Romano cheese that I got from Costo. You can use all of these cheeses or just one of them. You can even use mozzarella but these sharp cheeses add a ton of flavor so use them if you can. If you are using mozzarella try to add some parmesan cheese too.
How to make the quick and easy tomato tarts using crescent rolls.
Preheat oven according to the package directions for the crescent rolls. Mine was 375°F.
Step 1: First separated the crescent rolls into 4 sheets and pinched the middles together to form a smooth surface for the rectangle. Then I cut the rectangles in half to make 8 tarts.
Step 2: Place the 8 pieces of dough on an ungreased baking tray. No need for a sheet of parchment paper on the baking tray but you can use that if you want.
Step 3: Mix the crushed garlic, olive oil and spices in a small bowl. Brush the oil mixture over the raw dough.
Step 4: Slice the tomatoes as thin as you can. If there is any liquid coming out of them, dab them with a paper towel and then place on the dough. Then sprinkle the cheese evenly over the tarts.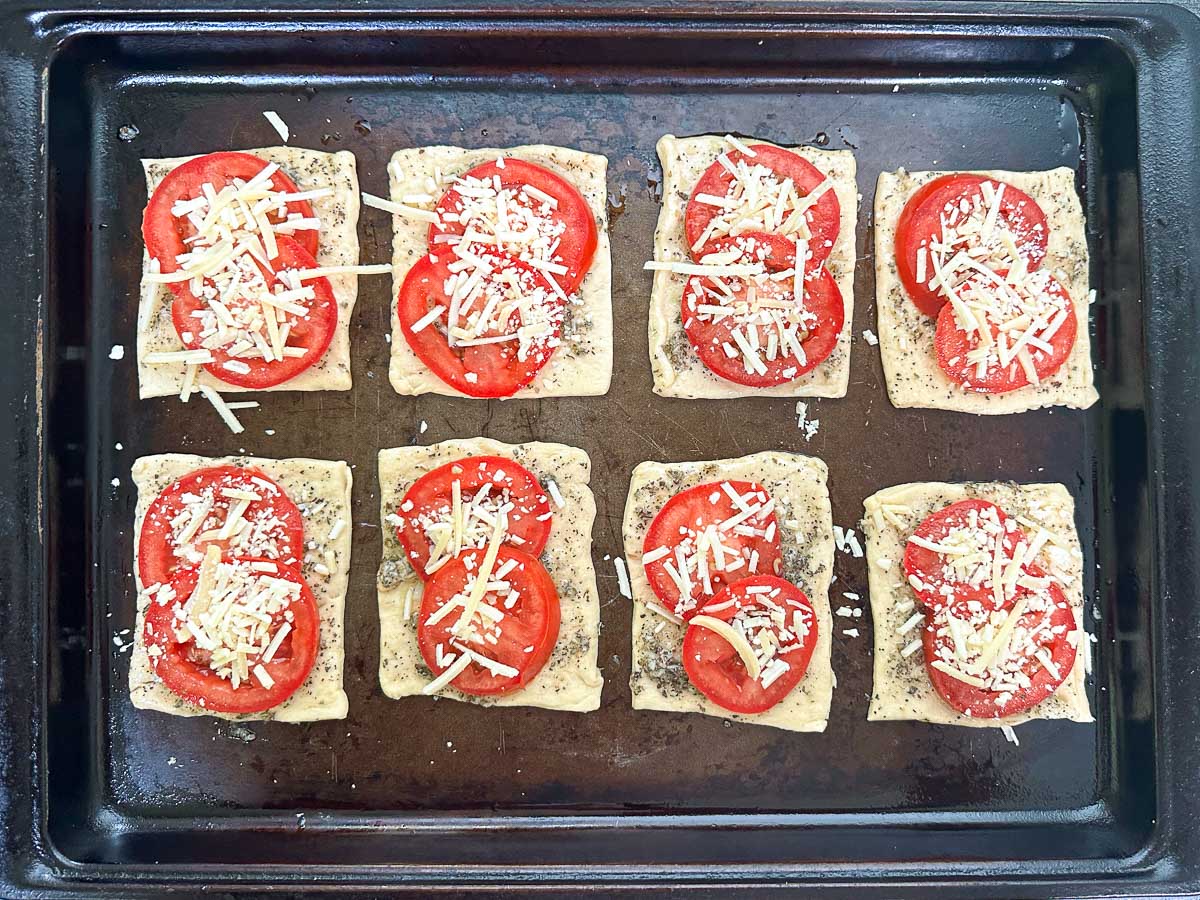 Step 5: Place the baking sheet in the preheated oven. Then cook for about 12-13 minutes. Use the baking time on the crescent roll packaging as a guideline. Bake until golden brown and the cheese has melted. Cooking time may vary.
Serve immediately for best results. To make this more of a meal for a light dinner you can serve a couple tarts with a nice green salad.
Store leftovers in an airtight container or cover with plastic wrap and refrigerate. To reheat place them in the oven for a few minutes to get them to be crisp again. Please scroll down to view the printable recipe card.
Ways to change up this recipe.
If you want you can add some other spices like hot pepper flakes, or just use an Italian seasoning instead of the oregano and basil. If you use herbs like fresh thyme, basil, oregano or parsley, finely chop them and add them at the end before baking.
You can also change up the cheeses. Fresh mozzarella would be nice with for a more caprese flavor. You can add some fresh basil leaves and a drizzle of balsamic glaze after it bakes.
Lastly you can play around with the shape. You can try circles and make them smaller if you wanted to make them as a finger food for a party.
Other easy recipe using fresh garden tomatoes.
If you want a few more ideas of what to make with fresh tomatoes from the garden, here are few other deliciously easy yet amazing recipes to try.
So the next time you are trying to find something to do with all those beautiful tomatoes from your garden, give this a try. I think you'll like it.
And I have a similar recipe like this which uses a frozen puff pastry sheet so keep an eye out for that. But in the meantime this is a really easy recipe for a quick summer lunch. Enjoy!
Quick & Easy Tomato Tart
Using crescent rolls you can make these easy tomato tarts in just minutes. Tastes great when you use fresh garden tomatoes.
Ingredients
1 can of crescent rolls
2 tablespoons olive oil
3 garlic cloves, crushed
½ teaspoon dried oregano
½ teaspoon dried basil
½ teaspoon salt
2 fresh tomatoes, sliced ( I used plum or roma tomatoes)
¼ cup grated sharp cheese (asiago, parmesan and/or romano)
¼ teaspoon black pepper
Instructions
Preheat oven according to the crescent roll instructions. For me it 375°F.
Separate your crescent rolls to make 4 rectangles. Pinch together the seams to make smooth rectangles. Then cut each in half to make 8 tarts.
Place the tarts on an ungreased baking sheet. No need to cover the baking sheet with parchment paper but you can if you want. Just don't grease it
Mix together olive oil, garlic and spices in a small bowl. Brush the oil mixture on each tart.
Place tomato slices on tarts and sprinkle with grated cheese. You can use more cheese if you wish.
Place the baking sheet in the preheated oven. Cook according to crescent roll directions or until the cheese melts and dough is golden brown. For me it was 12-13 minutes.
Let cool and serve right away for best results.

Nutrition Information:
Yield:

8
Serving Size:

1 grams
Amount Per Serving:
Calories:

154
Total Fat:

10g
Saturated Fat:

4g
Trans Fat:

0g
Unsaturated Fat:

5g
Cholesterol:

20mg
Sodium:

180mg
Carbohydrates:

13g
Fiber:

1g
Sugar:

4g
Protein:

3g