If you are experiencing a weight loss plateau or need to get back into ketosis on your low carb or keto diet, I'm sharing with you my egg fast results after a 3 day egg fast. Read more and find out if it might be a tool for you on your weight loss journey.
You might also like this 21 keto egg recipes post.
I don't know about you but I am having a hard time getting back to eating consistently on my low carb diet. So today I'm sharing with you my egg fast results that I used to help me get back into ketosis.
I love eggs and they are one of my favorite food options. And while I think I was pretty creative with my recipes, I can honestly say it was a struggle. It will be a while before I have another hard boiled egg let me tell you.
However I did feel like this short term diet was a success and will be helpful on my diet journey. I will be using this as a fasting tool for whenever I need to get through a weight loss plateau or to get into ketosis again.
Frequently asked questions.
What is an egg fast?
It is a short term way to break through a weight loss plateau or to help you get back into ketosis quickly if you are on a ketogenic diet. It's usually just a short period of time like 3-5 days. It is not recommended to do longer than that as you are at risk of nutritional deficiency. 

Essentially you only eating eggs, healthy fats and cheese so it's a temporary restrictive diet but again you are only following this for a few days. 
Why are eggs the main food?
It was developed using eggs because they are high in fat, moderate in protein and low in carbs. These macros make them perfect for the basis of the diet. However if you have egg allergies this egg diet is not recommended. Or if you have any medical conditions.
What are the health benefits of eggs?
Whole eggs are very nutritious and contain a bit of almost every nutrient you need. They are the best source of choline which is an essential nutrient  that builds cell membranes. Many people are not getting enough choline. Eggs are also high in antioxidants lutein and zeaxanthin which are important for eye health. (Learn more about this healthy food.)
How long should I do the fast?
It is recommended that you only stay on this for 3-5 days and to be honest I don't think you would want to do it for more. Three days was a struggle for me.
How much weight can I lose?
Many people claim they lose 5-10 pounds while on the egg fast. I personally lost 5 pounds in 3 days. It will vary from person to person and I'm guessing it's mostly water weight. However it will help to get you into ketosis and be helpful for getting past a weight loss plateau.
What are the keto egg fast rules?
You want to only eat whole eggs, butter or other healthy fats and cheese. No vegetables, fruit or other protein.
You are to eat at least 6 whole eggs per day.
You must eat 1 tablespoon of butter or healthy fat per egg and you can also eat 1 ounce of full fat cheese per egg per day. I would keep it to 6 ounces of cheese per day if you can.
Eat an egg within 30 minutes of waking up for breakfast and then eat an egg based meal every 3-5 hours.
You should eat even if you are not hungry.
Stop eating 3 hours before bedtime.
You can drink zero carb drinks like tea, black coffee and diet drinks but you should avoid sweeteners. It's best to drink plenty of water. If you drink diet sodas keep them limited to 1 a day. Again it's better if you can shoot for at least 8-10 glasses of water.
If you can, try to eat good quality of eggs, full fat cheeses and healthy fats (such as olive oil, coconut oil, butter, avocado, etc.)
My tips to help you on your egg fast.
Try to vary what you eat instead of eating the same things for each day of your fast.
Make sure to drink more water than you think you should.
If you like bullet proof coffee you can still have that in the morning. I like to drink butter coffee or butter tea. Just put some butter into a blender along with coffee or tea and blend on high for a few seconds. It's delicious! Heavy cream is a bit iffy so I would keep it out of your coffee if you can.
Keep busy and find distractions. I found that not eating all the time I had to keep busy to keep from thinking of all the things I wanted to eat.
Being prepared will help you be more successful. Make sure you have the recipes you want, the groceries you need and a plan of how you are going follow through on your fast.
I set up a huge water bottle and left it in the middle of the counter to remind myself to drink my water. I got all of my groceries and planned everything out over the weekend.
When in doubt, keep it simple. If you are not sure what to eat or how to do it. Just keep it simple. Use the same schedule of when to eat. Have some hard boiled eggs, avocados, butter and string cheese handy. Try flavored herbal tea at night.
Track your progress and how you are feeling. This is good data. Weigh yourself before hand and after.
Buy keto sticks to monitor your levels of ketones. This will motivate you to keep going.
My egg fast results after 3 days.
The first day I found it hard not to snack and wanted to eat more. By the end of day two I was fine with that but the thought of eating another egg made me sick to think of. Day three I was ready to get through the day and be done.
I lost 2.2 pounds the first day, 1.2 on day 2 and 1.6 pounds on day 3 for a total of 5 pounds. My appetite had lessened and my stomach shrunk. It took me two days to get into ketosis using test strips.
All in all I think this was a success. This egg fast will be another diet tool for me when I have a weight loss stall. However I don't see me doing it more than once or twice a year.
What I ate and egg fast recipes to try.
I tried to be creative with my egg recipes. Of course keto omelets, deviled eggs and egg salad were a must but I also made some sweet crepes and parmesan noodles.
I ate my green goddess deviled eggs for breakfast and snacks over the 3 days. Then I made some cream cheese crepes which I add a bit of grass fed butter, cinnamon and sweetener on top to make them sweet. I ate these for lunch on day 1 and for other meals over the next 3 days.
And lastly for dinner I made a buffalo omelet. This post has 5 keto omelet recipes that I changed up a bit to suit this fast. I found the omelets easy to change up with different cheeses and spices.
Below is a picture of what I ate for the first day. Here is a my sample menu for 1 day on the egg diet. I tried to stay with the 3-5 hours for the meals.
Breakfast – deviled eggs using mayo, avocado and spices
Lunch – cream cheese egg crepes using eggs, cream cheese, butter and cinnamon
Dinner – buffalo omelet with eggs, butter, hot sauce and blue cheese and cheddar cheese
Snack – deviled eggs and 1 ounce of cheese like string cheese
Below you can see the noodles from eggs I made with brown butter and parmesan cheese on top. This was my last meal of eggs and while I was sick of eggs it was pretty good!
Note brown butter is made by heating butter on the stove until it liquifies and has a brown flakes due to the milk solids toasting. It gives the butter a delicious nutty flavor.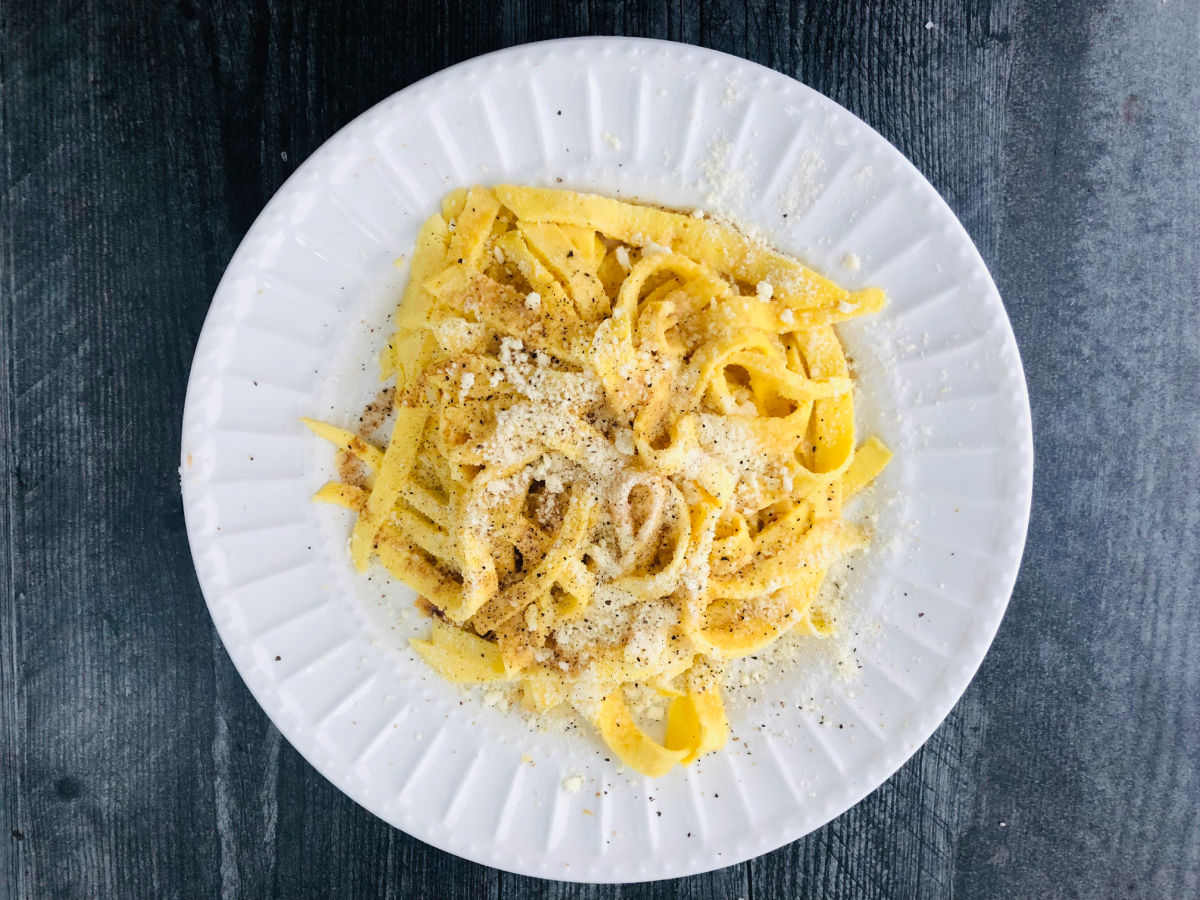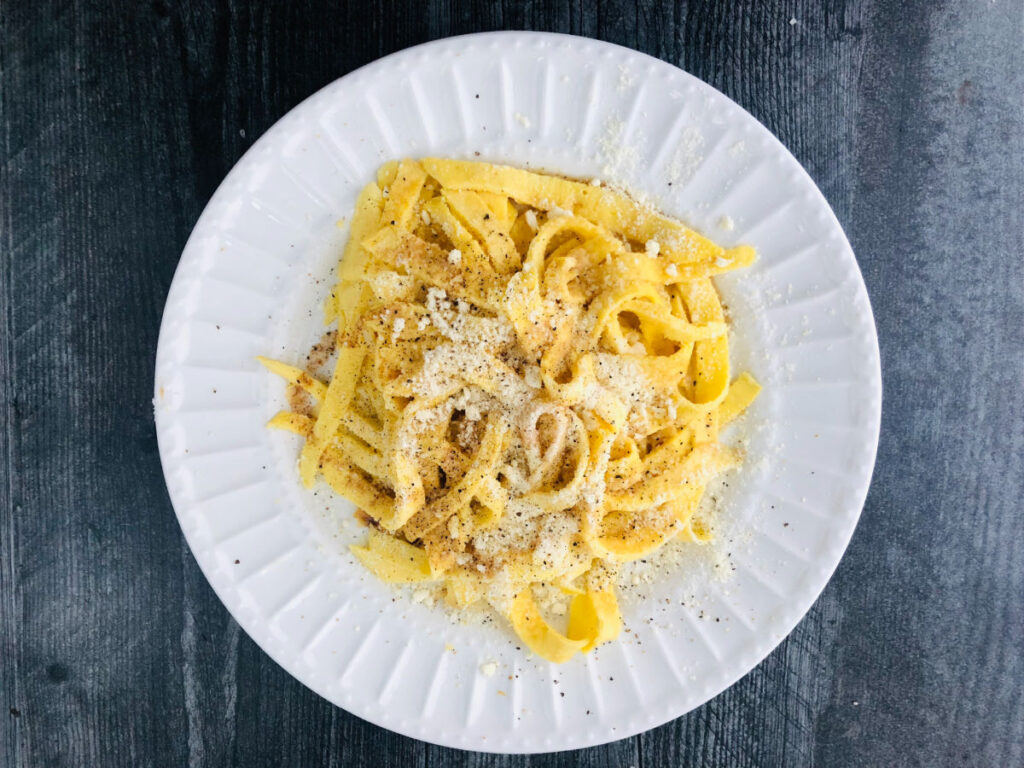 So that was my egg fast experience. I was happy I lost 5 pounds and it wasn't too bad. I don't think I could do it for more than 3 days and would only do it once or twice a year if I wanted to get back into ketosis.
And while this is not a diet but rather a quick way to get into ketosis, you should always consult a medical professional first, especially if you have a health condition.
I hope this post about my egg fast results was helpful to you!
To learn more.
Here are more resources for you to read if you are interested in trying this.