If you miss classic hummus on a keto diet, you have to try this super easy low carb zucchini hummus. It's the perfect solution if you can't tolerate chickpeas or if you have an abundance of zucchini from the garden. Best of all it's a healthy dip that takes just 5 minutes to make and has only 0.7g net carbs in ¼ cup!
You might also like this beautiful lemony beet hummus recipe!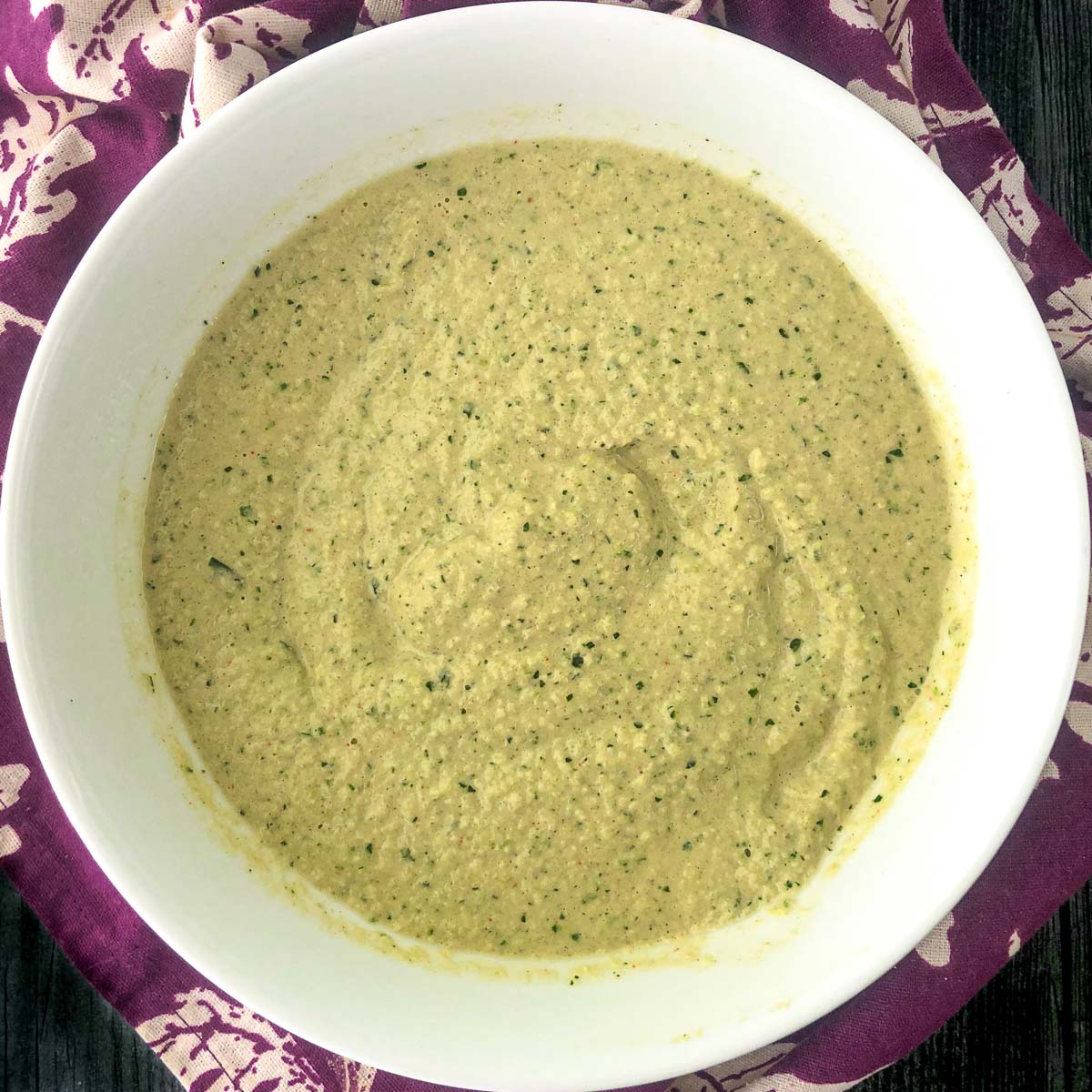 It's that time of the year where my husband presents me with zucchini every single day. There is only so much I can do with it. As a matter of fact I have over 38 healthy zucchini recipes on this blog.
So today I decided to make this low carb zucchini hummus. I was craving it and decided to give a try. In about 5 minutes I had this yummy and healthy dip to have for lunch and it has all the flavors of regular hummus.
This hummus recipe doesn't use chickpeas but rather zucchini along with the other usual ingredients of tahini, garlic, lemon, olive oil and spices.
Sometimes beans and legumes bother my stomach so this is now going to be my go to homemade hummus recipe – especially in summer! It's a great alternative to chickpea hummus.
Recipe ingredients I used.
You need to make this healthy version of the classic middle eastern dip is fresh zucchini, tahini paste, fresh garlic cloves, olive oil, lemon juice, salt, cumin and cayenne pepper (optional).
Below you can see the tahini I used. I like it because it has no carbs. Tahini is just a paste made from hulled sesame seeds so it should be very low carb. Just make sure to check the nutritional information. It's a must for making hummus.
You can easily make your own tahini by just processing sesame seeds in a food processor until it becomes a paste. It's like making a nut butter. Here is a good post to check out if you want to make your own tahini.
And about the cayenne pepper – I wanted to add a bit of heat but you don't have to use that if you don't want. This recipe is by no means hot though. You could also use a little black pepper instead.
Lastly I used bottled lemon juice because it doesn't have any carbs but you can use fresh lemon juice. It doesn't really change up the carb count too much. You can also use some lemon zest for even more lemon flavor.
How to make low carb zucchini hummus.
Add the garlic to a food processor bowl and pulse until finely chopped or minced.
Next add the raw zucchini. Cut it up into chunks to help it process and pulse until it's finely chopped as well.
Lastly add the rest of the ingredients and blend until nice and smooth. Give it a taste and adjust if you want. Note that this delicious zucchini dip is a bit thin because zucchini doesn't have thickening power that chickpeas do and the texture is thinner. You can remedy this by add more zucchini or tahini if you want. I felt it was fine but it's an option for you.
Store in an airtight container in the refrigerator. It should keep for a 4-5 days. Serve with your favorite veggies or low carb tortilla chips. See below for more ways to use it. (Please scroll down to view the recipe card.)
What to do with this keto hummus.
The low carb way to eat this hummus is to use fresh low carb veggies like peppers, celery, carrots and cucumbers to dip into it. However it would also work great as a spread.
I made these low calorie hummus flatbread snack where you spread it on a low calorie flatbread and then top with thin sliced veggies. Check it out if that appeals to you.
You can also use it as a topping on burgers, grilled chicken, etc. If you don't care about carbs you can use it as a dip with crackers, pita bread or naan bread as well tortilla chips or in wraps.
My favorite low carb zucchini recipes.
I really liked this low carb zucchini hummus and if you are on a low carb diet I think you will too. Even if you aren't it's a great dip with raw veggies or you can use pieces of pita bread or naan bread.
It would also be a great snack for a party. And if you get a chance, check out my sister's authentic hummus recipe. It's fantastic! And she has a wonderful home and garden blog so go see it. She also has an authentic baba ganoush recipe.
The nutritional information for ¼ cup is 76 calories / 6.5g fat / 1.8g carbs / 1.1g fiber / 2.4g protein = 0.7g net carbs
Low Carb Zucchini Hummus Recipe
This low carb zucchini hummus recipe is perfect for a low carb snack or even as an appetizer for a party. It doesn't use chick peas but instead zucchini so it's great for using all that zucchini from your garden!
Ingredients
2 cups zucchini
¼ cup tahini (sesame paste)
1 garlic clove
¼ cup lemon juice
½ teaspoon salt
1 teaspoon cumin
1 tablespoon olive oil
¼ teaspoon cayenne pepper (optional)
Instructions
Add the garlic to a food processor bowl and pulse until finely chopped.
Next add the zucchini and pulse until it is also finely chopped.
Then add everything else to the food processor and process until well blended and smooth.
Taste and see if you want to adjust anything. It will be a bit thin and if you want it a bit thicker you can add more zucchini or even a bit more tahini. I felt it was fine as is.
Serve as a dip with fresh cut vegetables or use a spread. You can use fresh herbs like parsley to garnish if you are taking this to a party as a low carb appetizer.
Notes
The nutritional information for ¼ cup is 76 calories / 6.5g fat / 1.8g carbs / 1.1g fiber / 2.4g protein = 0.7g net carbs
Nutrition Information:
Yield:

8 servings
Serving Size:

¼ cup
Amount Per Serving:
Calories:

76