This Lemongrass Ginger Coconut Matcha is an aromatic drink that is not only delicious but great for your health. With such ingredients as lemongrass, ginger, coconut and matcha you are sure to enjoy!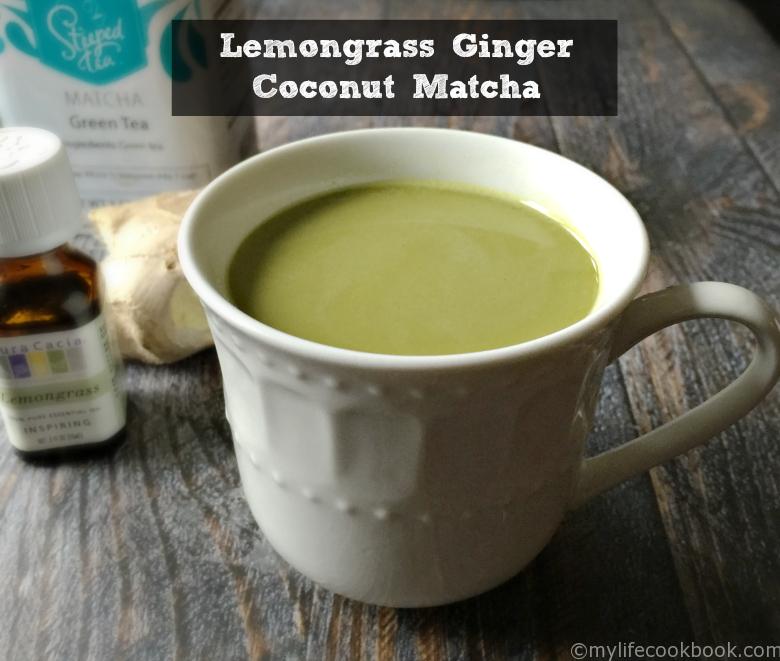 This is just a quick post for all your matcha lovers out there. For those of you that are not familiar with matcha, check my post here. I've been craving lemongrass lately and thought I would try making a drink with just a drop of pure lemongrass essential oil* since I didn't have any on hand and it's not that easy to find where I live. So I thought a combination of the lemongrass and some fresh ginger along with my coconut oil would be a delicious combination for my morning matcha….and it was!
Here's the lemongrass ginger coconut matcha recipe in a nutshell
8-10 oz boiling water
1 drop of PURE lemongrass essential oil
2 teaspoons of coconut oil
1 teaspoon freshly grated ginger
1/2 -1 teaspoon of matcha tea
sweetener to taste (I used some stevia)
Put everything in a high speed blend and whiz on high for a minute. Pour and drink in the aromatics in this drink and reap the health benefits! Note: If you don't have any PURE lemongrass essential oil you could always steep a piece of lemongrass in the water and use that instead. Make sure to take the lemongrass out of the water after you've steeped it.
Hope you enjoy! I get my matcha from Steeped Tea which if you are interested you can buy from my friend Debbie here. She also has a Facebook matcha challenge (which I am doing) so check out her page here.
Some of my other matcha recipes:
*Disclaimer: I am not a doctor and these ideas are not to be taken as medical advice– they are simply what works for me and my family. If you are using essential oils for medicinal purposes, make sure you are using a high-quality oil.