This keto shrimp scampi with zucchini noodles recipe is so easy and delicious. You can make this healthy dinner in less than 15 minutes and with only a few simple ingredients. And unlike many scampi recipes, this one does not use white wine! Each serving has only 278 calories and 1.4g net carbs so it's great for a low carb or low calorie diet.
You might also like these other keto shrimp recipes!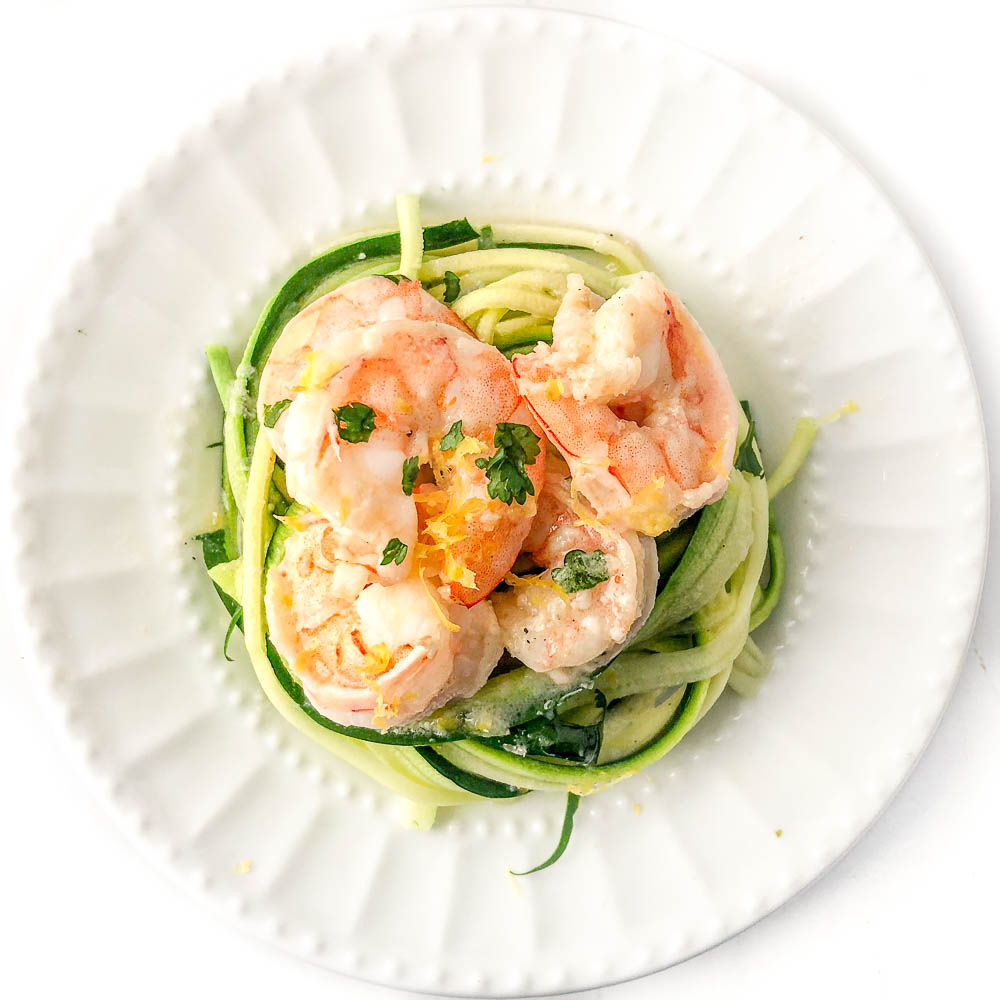 There is nothing like shrimp scampi for any easy summer dinner. Juicy tender shrimp in a delicious garlic butter sauce. By itself it's a naturally keto dish but when you use a low carb pasta, the whole meal is keto.
So the other day I grabbed a zucchini from the garden, a handful of ingredients and whipped up this keto shrimp scampi dinner with zoodles. It takes less than 15 minutes and just 5 simple ingredients that I bought at Aldi.
My family ate it with pasta but I used spiralized zucchini noodles (zoodles) which to me was just as good. So for an easy summer meal, you will love this shrimp dish with a lemon and garlic butter sauce.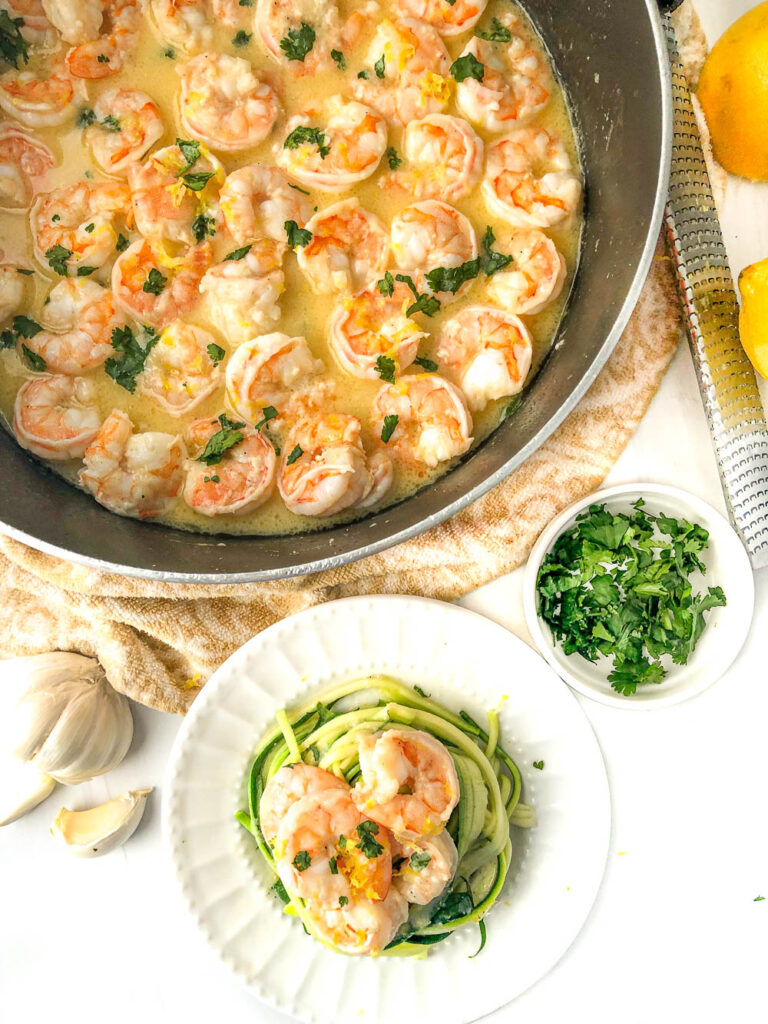 Recipe ingredients I used.
You only need 5 ingredients to make this keto shrimp recipe: shrimp, fresh lemon juice & zest, fresh garlic, unsalted butter and parmesan cheese.
I used jumbo raw frozen shrimp with the shells on that I buy at Aldi's. You could use fresh shrimp too but the frozen is convenient to have on hand in the freezer.
Some traditional shrimp scampi recipes use white wine in their sauce but I didn't feel it needed it as well as the added carbs.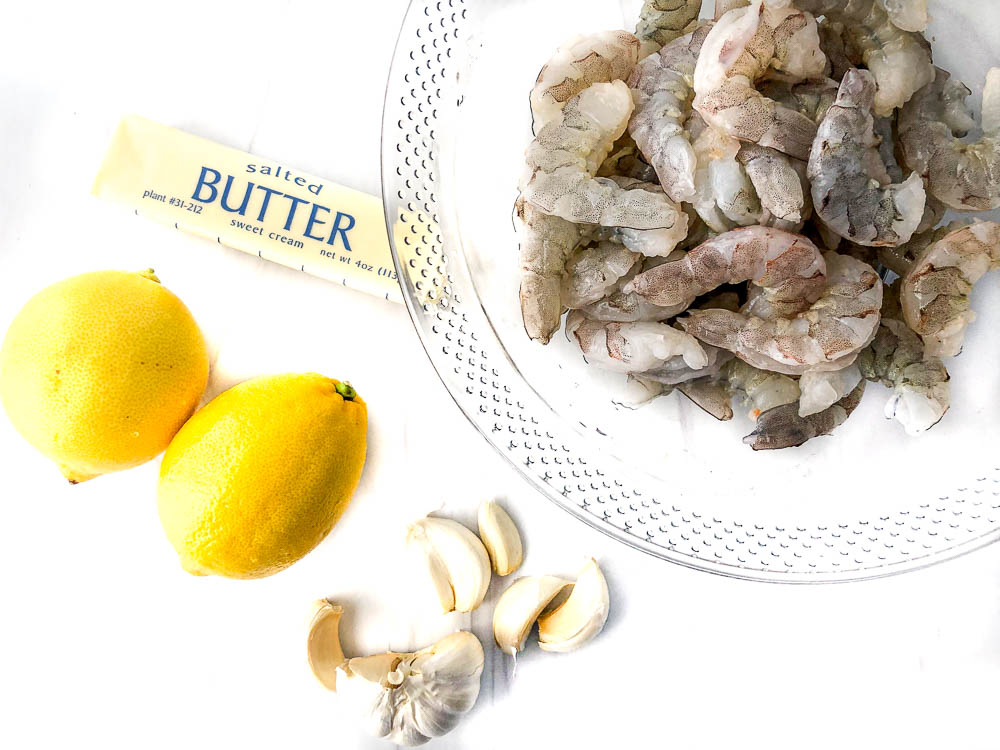 How to make keto shrimp scampi.
Get out a large skillet and heat over medium heat. Add the butter and fresh garlic and saute for a minute or so.
Then add in the lemon juice and lemon zest into the butter mixture and mix well.
Next add the raw shrimp and saute until the shrimp turns pink. This might take a just 2-3 minutes depending on the size of the shrimp. The key is to take it off the stove when the shrimp is uniformly shrimp. Overcooked shrimp can be rubbery and tough.
When the shrimp is done, add the parmesan cheese and mix through then take off the heat. You can sprinkle a little fresh parsley on top for color but it's not necessary. Sometimes we sprinkle in some hot pepper flakes for heat.
Pour over zucchini noodles, pasta or rice. (Please scroll down to view and print the recipe card.)
So you can see how this is a fast low carb dinner recipe. I like to serve it with a big green salad or just steamed asparagus or broccoli.
How to make zucchini noodles.
To make zucchini into zoodles just take a medium zucchini and use a potato peeler to make a wide noodle or a julienne vegetable peeler to make a spaghetti sized noodle.
I have this Paderno spiralizer that I love so I use that often. Once you have the noodles just add them to a microwave vegetable steamer or bowl and cook for a a couple minutes until you get the texture you want. I like mine al dente so I just cook them for about 3-4 minutes.
What kind of low carb noodles to eat with this?
There are a lot of low carb noodle options to try these days. There Wonder Noodles or Shirataki Noodles which are made from the konjac root. And then there are Palmini noodles which are made from hearts of palm.
Other ideas are of course zucchini noodles (zoodles), spaghetti squash noodles, turnip noodles, asparagus noodles, keto egg noodles, or store bought low carb noodles.
Of course if you are not worried about carbs go for the real thing and eat it with angel hair pasta or linguine. You can also eat the scampi without pasta.
Other keto shrimp recipes to try.
I have a lot of keto shrimp recipes on this site because we are all shrimp lovers and it's easy to cook. Some of my favorite recipes are this coconut basil shrimp with spaghetti squash dish and this avocado shrimp salad with bacon. Yum!
We make this cajun shrimp recipe on a monthly basis. It's an old family recipe that my father in law loves and is super easy. My son's favorite is this air fryer fried shrimp.
Next time you need a delicious and quick keto friendly recipe, give this low carb shrimp scampi dish a try. It's one of my favorite recipes for summer!
The nutritional information for 1 serving is 278 calories:
14.8g fat / 1.5g carbs / 0.1g fiber / 37.2g protein = 1.4g net carbs
Keto Shrimp Scampi with Zucchini Noodles
This keto shrimp scampi with zucchini noodles is full of lemony garlic butter and only takes 15 minutes to make. And unlike a classic shrimp scampi recipe, this one doe not use white wine.
Ingredients
24 oz raw jumbo shrimp with peel
3 cloves garlic
4 tablespoons unsalted butter
1 lemon, juice and the zest of ½ of it
2 tablespoons of parmesan cheese
salt & black pepper to taste 
Instructions
Heat up a large saute pan over medium heat.
Add the butter and garlic and saute for 1 minute.
Pour in the lemon juice and zest and mix. Then add in the raw shrimp. Season with salt and black pepper if you wish.
Cook the shrimp until they turn uniformly pink. Do not over cook or they will get tough and rubbery.
Once cooked, add the parmesan cheese and mix together.
Take off the stove and serve. You sprinkle a little parsley for color or hot pepper flakes for heat if you want.
Try over zucchini noodles, cauliflower rice or other low carb noodles.
Notes
Note that 1 lemon produces about 3-4 tablespoons fresh juice. So I used zested half of the lemon and then juiced the whole thing for this recipe.
I used jumbo raw frozen shrimp from Aldi. To make this recipe you have thaw them a little first. I just set them in a colander and run room temperature water over them to get the peels loose. Then I peel them and set them aside until I'm ready to cook them.
I would not recommend using cooked shrimp but in a pinch it would work. I often keep a bag of frozen shrimp in the freezer for quick dinners like this.
Nutrition Information:
Yield:

1
Amount Per Serving:
Calories:

278