These keto pumpkin bars are topped with a sugar free and creamy frosting to make the perfect low carb dessert or snack. Full of pumpkin flavors the moist cake tastes great on it's own but the light and creamy icing makes it even better. For those on a low carb or gluten free diet, this is the sweet keto treat you should make this fall. Only 3.1g net carbs per bar!
You might also keto maple fruit dip recipe!
Sometimes I crave baked goods when on a low carb diet but I don't want to buy boxed cakes and mixes. So today I wanted to make a dessert for my family and made these easy keto pumpkin bars with cream cheese frosting!
It's essential a gluten free pumpkin cake topped with sugar free cream cheese frosting. And because I just finished making some pumpkin spice pecans for another post, I chopped a few up and sprinkled them on top. The salt and sweet crunch was delicious!
My son ate it without the nuts but my hubby and I really liked them. This was a very simple keto dessert for the fall and you can feel good about eating it because it's sugar free and gluten free.
Recipe ingredients I used.
Below you can see the simple ingredients I used for this recipe – eggs, butter, canned pumpkin puree, almond flour, baking powder, Swerve brown sugar sweetener, cinnamon, vanilla extract and pumpkin pie spice.
The homemade cream cheese frosting ingredients are cream cheese, heavy cream, Swerve powdered sweetener, vanilla and Lakanto keto maple syrup. If you don't have any maple syrup you can substitute maple extract and add some more sweetener. Or just use double the sweetener. I just like the maple flavor with the pumpkin cake.
I really like Swerve brown sugar and confectioners sweetener for keto baking but you can use the low carb sweetener of your choice. However I would suggest using a powdered not granulated sweetener for the frosting.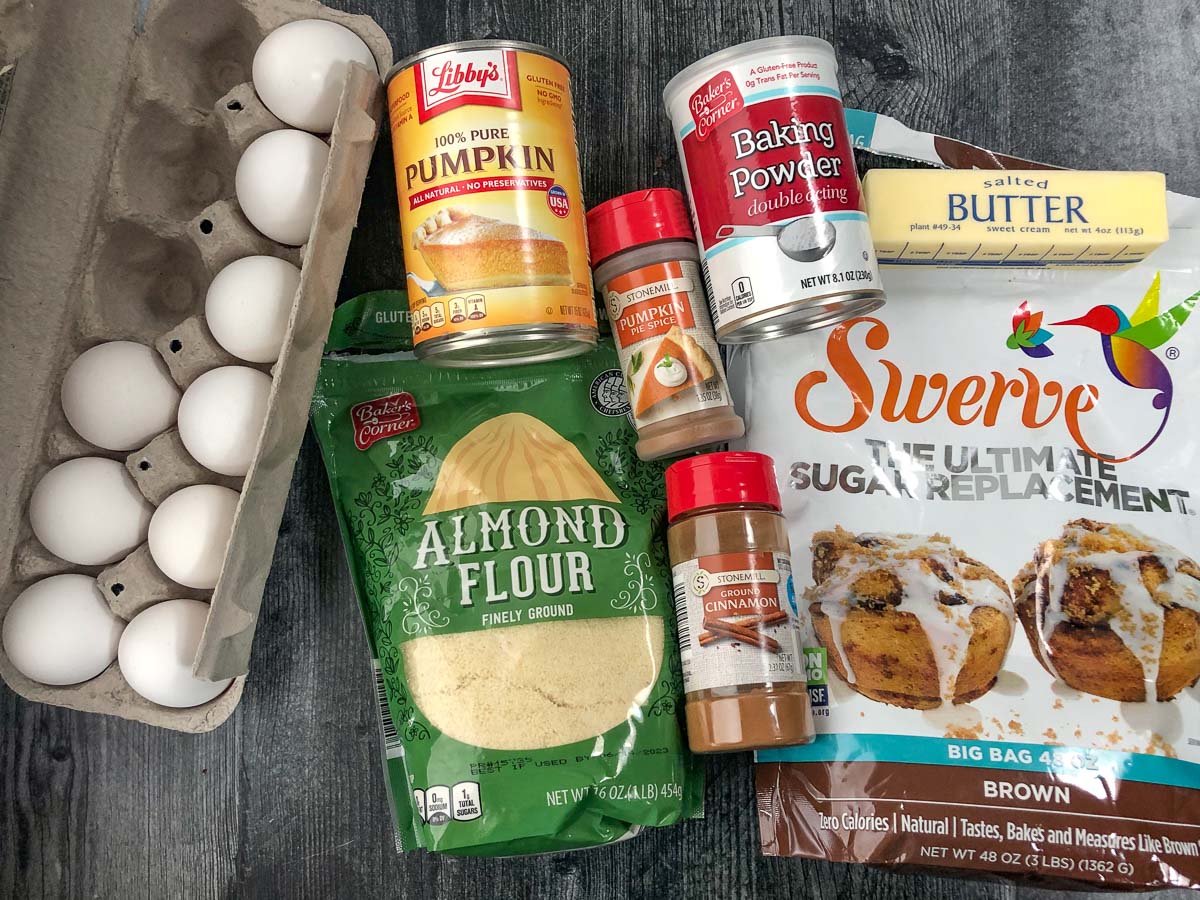 How to make keto pumpkin bars.
Step 1: (Optional) If you want to make the nut topping, follow this pumpkin spice pecan recipe. It take just about 10 minutes to make but you have to let them cool completely.
Step 2: First you want to preheat the oven to 350°F. Spray an 8″x8″ square baking dish with non-stick spray and set aside.
Step 3: In a medium bowl add the dry ingredients (almond flour, baking powder, Swerve brown sweetener and 2 spices). Next add the wet ingredients (except melted butter) to a separate bowl and beat.
Then add the dry ingredients, stir together and finally add the melted butter. Note you can use an electric hand mixer but you can also do this by hand.
Step 4: Pour or spoon the batter into the prepared baking dish. Set in the oven and bake for about 25 – 30 minutes until the cake is baked in the middle. If you put a toothpick in the middle it should come out clean.
Step 5: While the bars are baking, add the softened cream cheese and Swerve sweetener to a large mixing bowl. You will need to use an electric mixer or standing mixer for this part. Cream together until you have a a smooth consistency. Then add rest of the ingredients and whip until nice and creamy. Place in the refrigerator until ready to ice the pumpkin bars.
Step 6: Once the cake is finished and completely cooled, you can ice it with the sugar free cream cheese frosting. Refrigerate until ready to eat. You can add the nut topping if using. Just chop them up and sprinkle on top.
Store leftovers in an airtight container or cover the baking dish with plastic wrap and place in the refrigerator. Please scroll down to view the printable recipe card.
Recipe tips and notes.
This recipe makes 9 square pieces as seen above left or or 18 bars as seen above right if using an 8″x8″ baking dish.
You don't want to over bake the bars. If it doesn't jiggle on the top and it looks baked it should be done. Mine took 30 minutes total.
The cake has to be completely cooled before frosting.
Note that I didn't use a lot of frosting. If you want you could double the recipe and make a thick layer of frosting.
If you want to substitute coconut flour for the almond flour check out this source for the ratio. I have never done this so I can't vouch for the texture.
The candied pecans are optional but they add a nice salt and sweet crunchy texture to the bars.
Other keto pumpkin recipes you can try.
Pumpkin has become one of my favorite foods on a low carb diet because it's very nutritious and adds flavor without many carbs. Also it can be used in both savory and sweet recipes. Here are few of my favorite low carb pumpkin desserts and savory recipes.
So if you are looking for an easy keto dessert this pumpkin season, try these low carb and healthy pumpkin bars. It would also be a great snack or holiday dessert. Enjoy!
The nutritional info for 1 piece (9 total) is 210 calories / 17.9g fat / 5.9g carbs / 2.8g fiber / 6.6g protein = 3.1g net carbs (Note: does not include the nut topping in calculation.)
Easy Keto Pumpkin Bars Recipe
These low carb pumpkin bars are an amazing fall dessert or sugar free snack. You can eat the cake on it's own, with the cream cheese frosting or even add the pumpkin spiced nuts on top.
Ingredients
4 tablespoons butter, melted
4 eggs
¾ cup almond flour
2 teaspoons baking powder
1 teaspoon cinnamon
1 teaspoon pumpkin pie spice
½ cup of pumpkin puree (not pumpkin pie filling)
½ cup Swerve brown sugar sweetener
1 teaspoon vanilla extract
Cream Cheese Frosting
4 ounces cream cheese, softened
3 tablespoons Lakanto sugar free maple syrup
2 tablespoons Swerve confectioners sweetener
¼ cup heavy whipping cream
1 teaspoon vanilla extract
Instructions
Preheat oven to 350°F. Prepare an 8 x 8 inch glass baking dish by spraying with nonstick cooking spray. If using spiced nuts for the topping prepare them now and let cool while you make the bars.
Add eggs to a large mixing bowl and beat. Then add pumpkin, almond flour, baking poweder and spices and mix well. Lastyly add the vanilla extract and melted butter and mix to combine. You can do this by hand or use an electric mixer.
Pour batter into the prepared baking dish and set in the preheated oven. Bake for about 25-30 minutes until the top is firm. You want a toothpick to come out clean if you poke it in the center. Let cool completely before icing. (Note baking times may vary.)
In the meantime beat the softened cream cheese and Swerve sweetener together until mixed through. You will need to use an electric mixer or standing mixer for this part. Then add the rest of the icing ingreadients and whip until smooth and creamy. You can make this just minutes before the cake has cooled completely. Spread evenly over the cake. If you want a lot of icing you can double this batch.
Place in the refrigerator for 30 minutes before cutting. The frosting will harden and make it easier to cut. You can cut into 9 square pieces or 18 bars. If using the spiced nuts on top, when they have cooled completely chop up and sprinkle over the top.
Store leftover in the refrigerator in an air tight container or cover baking dish with plastic wrap.
Notes
The nutrition info for 1 (out of 9) pieces is 210 calories / 17.9g fat / 5.9g carbs / 2.8g fiber / 6.6g protein = 3.1g net carbs (doesn't not include nuts for the topping)
Nutrition Information:
Yield:

9
Serving Size:

1 slice
Amount Per Serving:
Calories:

210