These keto zucchini ravioli rolls are much like a cheese stuffed ravioli but without the pasta. It's a delicious gluten free, vegetarian meatless meal! Best of all it's low calorie (18 calories) and low carb (0.5g net carbs) in one zucchini ravioli !
You might also like this zucchini lasagna cups made in the microwave.
Since we have so much zucchini from the garden I decided to make these keto zucchini ravioli rolls which is from a very old post that needed updating.
I forgot how delicious they were! I used a standard ricotta ravioli filling and just rolled them up with very thin slices of zucchini. I wasn't sure if I should call them raviolis or roll ups but either way I think you get the gist of it.
This recipe only take a few minutes to prepare and will definitely fulfill your craving for Italian food. They are light, tasty, low calorie, low carb and gluten free! Great things when you are on a low carb diet.
Recipe ingredients I used.
These zucchini roll ups use only a few simple ingredients which are fresh zucchini, whole milk ricotta cheese, parmesan cheese, egg yolk, fresh herbs (basil and parsley) and low carb spaghetti sauce.
I used Aldi's Specialty Selects Marinara sauce because it's pretty low carb. Rao's makes a flavorful marinara sauce that is also lower in carbs. If you don't care about carbs you can use your favorite jar pasta sauce.
It's important to have thin long zucchini slices.
To make this zucchini raviolis you need very thin, long uniform slices. This where a mandoline is very handy. I own a really nice Tupperware mandoline that I got at a party. But below I have a hand held one that I bought at Aldi and it works great!
I used a large zucchini and got so many slices out of it that I had lots leftover and made a Mexican lasagna with them. But if you look at how thin the strips of zucchini are, that's what you are aiming at. This makes the pliable enough to roll but not too thin to break.
If you don't have a mandoline you can also use a vegetable peeler to make wide strips!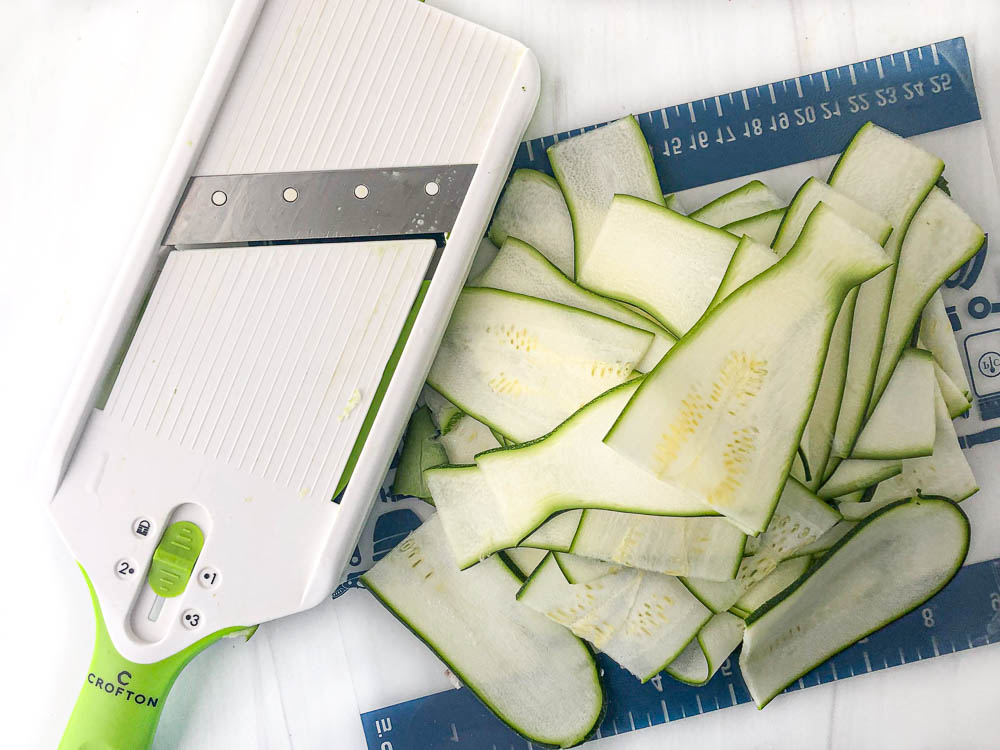 How to make keto zucchini ravioli rolls.
Step 1: Make your very thin slices of zucchini using a mandoline . You want to make a long strip so that you can easily roll them up.
Step 2: Next make your herbed ricotta cheese mixture. In a large mixing bowl, add whole milk ricotta, a combination of chopped basil and parsley, 1 egg yolk and 2 tablespoons of grated parmesan cheese. This is your ravioli filling.
Step 3: Take a spoonful of the creamy ricotta cheese mixture and lay it on the end of the zucchini strip and roll it up. Spray a baking dish with non stick cooking spray. Now carefully place in the zucchini ravioli in the baking dish seam side down.
Step 4: Spoon some low carb marinara sauce over ravioli. I like Aldi Specialty Selects Marinara and Rao's marina, both of which are pretty low in carbs. Then sprinkle the remaining grated cheese on top.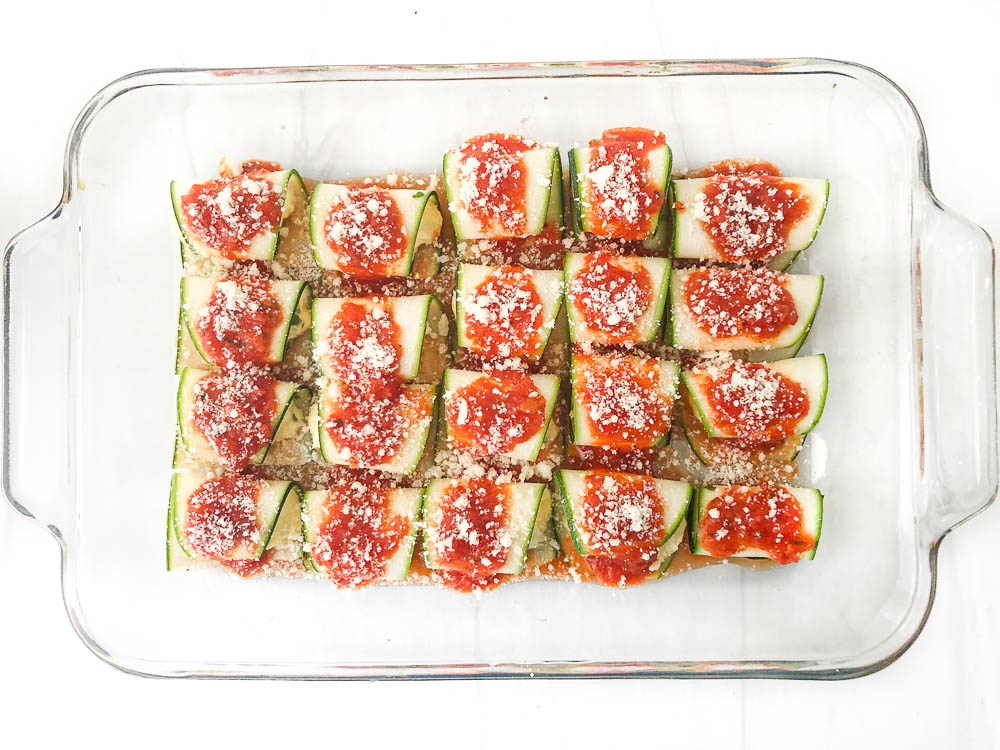 Step 5: Bake in a 350° preheated oven for 25-30 minutes until the zucchini is tender. Let cool and then serve. The ravioli rolls are a little delicate but delicious! Store leftovers in an airtight container.
(Please scroll down to view and print the recipe card.)
Recipe tips and notes.
I sprinkled parmesan cheese on top to keep this dish a little lighter but if you want you can use mozzarella cheese on top.
You could also use a little chopped fresh baby spinach in the filling for color instead of the herbs.
This to me was a wonderful way to use zucchini from the garden for a low carb dinner in the summer. It's light but delicious and such a healthy way to get your Italian pasta fix while on a diet.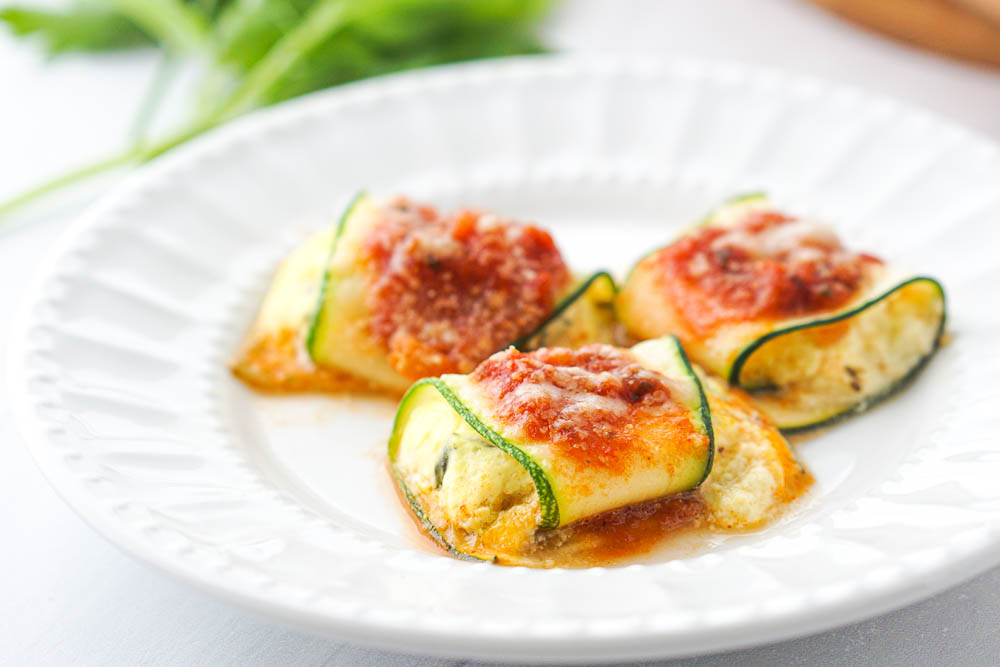 I hope you get a chance to try this yummy recipe. Zucchini is one of my favorite low carb vegetables and a when you make them into noodles, they are great alternative to pasta.
The nutritional information for 1 ravioli roll is 18 calories
1.2g fat / 0.7g carbs / 0.2g fiber / 1.1g protein = 0.5g net carbs
Keto Zucchini Ravioli Rolls (gluten free, vegetarian)
A delicious vegetarian or meatless meal that you can use with zucchini and herbs from your garden. Each herbed zucchini roll is much like a cheese stuffed ravioli. Fresh and delicious!
Ingredients
1 zucchini (30 thinly sliced pieces)
⅔ cup whole milk ricotta
2 tablespoons fresh basil and/parsley
1 egg yolk
¼ cup grated Parmesan cheese, divided
¾ cup low carb marinara
Instructions
Preheat your oven to 350 degrees.
Spray your baking dish with cooking spray.
Slice your zucchini using a mandolin lengthwise to make long "noodles". If they are too long cut each noodle in half.
Mix your ricotta, herbs, egg yolk and 2 tablespoons of grated parmesan cheese.
Lay your zucchini noodles flat and add a heaping tablespoon of ricotta mixture in the middle. Roll zucchini up to make a small ravioli type piece.
Place rolls seam side down.
Top rolls with pasta sauce and add your remaining grated cheese on top.
Bake for for 25-30 minutes until the zucchini is tender.
Notes
NOTES:
I used parmesan cheese on top to keep this dish a little lighter but if you want you can use mozzarella cheese on top. 
You can use some chopped fresh spinach in the filling for color. I used the herbs for flavor and color though.
Nutrition Information:
Yield:

30
Serving Size:

1 ravioli
Amount Per Serving:
Calories:

18
Unsaturated Fat:

0g
---