If you are a fan of overnight oatmeal you will love this new breakfast idea for creamy cookie dough overnight oats. Using only 5 ingredients you can wake up to a delicious breakfast that's healthy and sugar free! Plus it's high in protein because it uses whipped cottage cheese yet still has that classic cookie dough flavor. Each serving has only 198 calories and 16.9 grams of protein.
You mike also like these healthy cookie dough recipes!
I've been on both a baked oatmeal and whipped cottage cheese spree so today I decided to make a combo recipe for you. It's a healthy cookie dough overnight oats recipe and it is delicious!
I have lots of chocolate chip cookie dough recipes so I have found a good combination of flavors that give that same taste. Then instead of using milk with the oats some people use Greek yogurt but I used whipped cottage cheese!
It produces creamy, thick oats that are full of protein! No need for adding a scoop of protein powder because the cottage cheese does it for you.
So this is a healthy way to eat cookie dough for breakfast. You can eat it right away after making it or refrigerate them overnight and have even thicker oatmeal with a chewy texture. Either way you'll love the cookie dough flavor. And this recipe uses only 5 wholesome ingredients.
Above you can see that I made them into little bites so they are like healthy edible cookie dough balls!
Store them in the refrigerator and pop one for a snack when ever your sweet tooth comes calling.
Recipe ingredients I used.
You only need 5 simple ingredients for this breakfast recipe – cottage cheese, oats, vanilla extract, brown sugar sweetener and dark chocolate chips. You can a pinch salt too if you want but it's optional. Below you can see the brands I used.
Cottage Cheese
As I mentioned above I used whipped cottage cheese instead of milk. I really like the Good Culture brand of cottage cheese because when blended it get really smooth and creamy. It's also the lowest carb cottage cheese I can find and it's quite good for you. (learn more).
You can find it at Target and most bigger grocery stores. You of course can use any kind of cottage cheese if you want. This is just my favorite.
Swerve Brown Sugar Sweetener
Brown sugar is essential for that cookie dough flavor so you can use any brand of sweetener you want but my favorite keto friendly sweetener is Swerve. And if you don't care about carbs or added sugar you can use regular brown sugar or coconut sugar.
Oatmeal
The type of oats I like to use are old fashioned rolled oats as opposed to cut oats. When you place them in the food processor the break up bit. Also when they soak overnight in the cottage cheese you want them to still have their shape and have a chewier texture. So use whole oats if you can. Steel cut oats would not work.
Vanilla Extract
This is also an easy way to get that cookie dough flavor.
Dark Chocolate Chips
I love these dark chocolate chips from Aldi and often snack on them. You can use any brand you want and you can even use milk chocolate chips if you prefer. Dark chocolate is a little healthier though because of the high cacao content. Also I like full size but you can also use mini chocolate chips.
How to make chocolate chip cookie dough overnight oatmeal.
Step 1: Get out the food processor and add the cottage cheese. Blend until it's smooth and creamy. This is the whipped cottage cheese.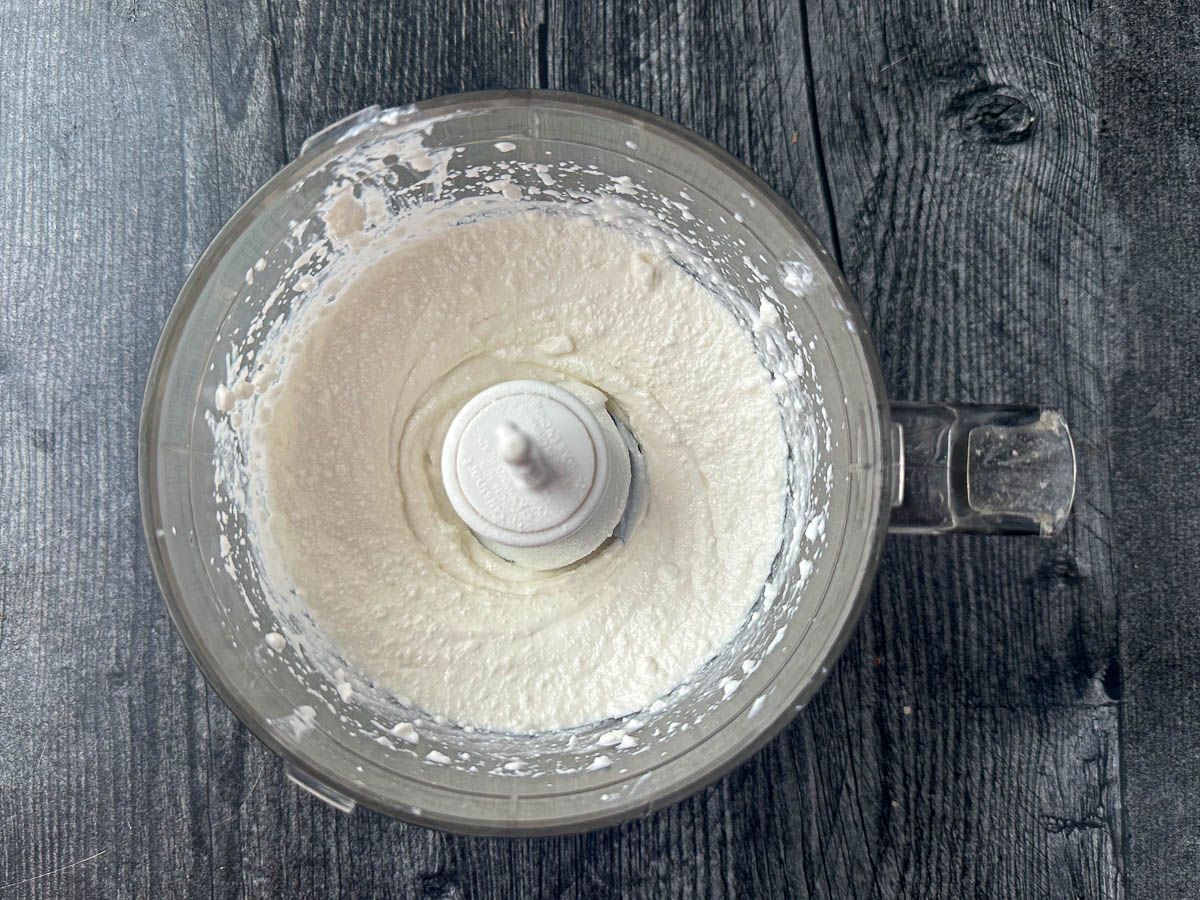 Step 2: Add the vanilla extract and brown sugar sweetener and blend until well combined.
Step 3: Lastly add the oatmeal to the wet ingredients and pulse until it's just combined. You don't want the oatmeal to be pulverized, just mixed in with the cottage cheese mixture.
Step 4: Spoon oatmeal mixture into the a medium bowl and fold in the chocolate chips. Note if at any point you want to heat up these oats, you should not put the chocolate chips in until after heating them. They will just melt and get messy.
At this point you could eat the oats if you want. You can see below they are very thick and delicious.
However if you want true overnight oats, place in an airtight container or cover the bowl with plastic wrap and place in the refrigerator overnight.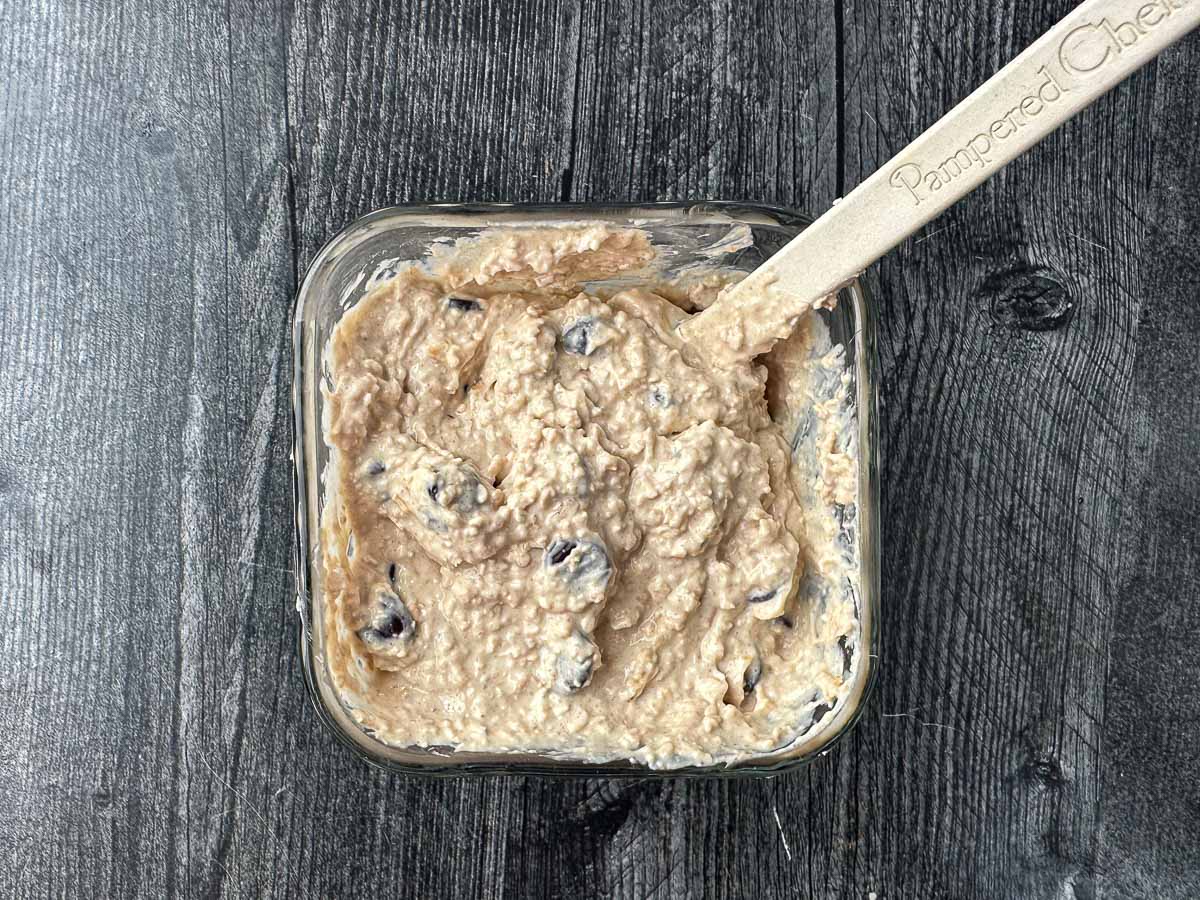 Step 5: Spoon some of the cookie dough overnight oats into a bowl and enjoy! If you want you can spoon half into 2 mason jars. I would use a smaller size though.
Below you can see how thick they become. You can always add a bit of your milk of choice or even water if you want it less thick.. Some non-dairy milk milk unsweetened almond milk, oat milk, cashew milk or coconut milk.
I eat these as cold oatmeal and I have not tried them hot. I do thing the chocolate chips will melt if you heat it and make is less of the cookie dough and more of a chocolate overnight oats.
If you plan on heating these up in the microwave, you might want to add a little almond milk and add the chocolate chips at the end.
Please scroll down to view the printable recipe card.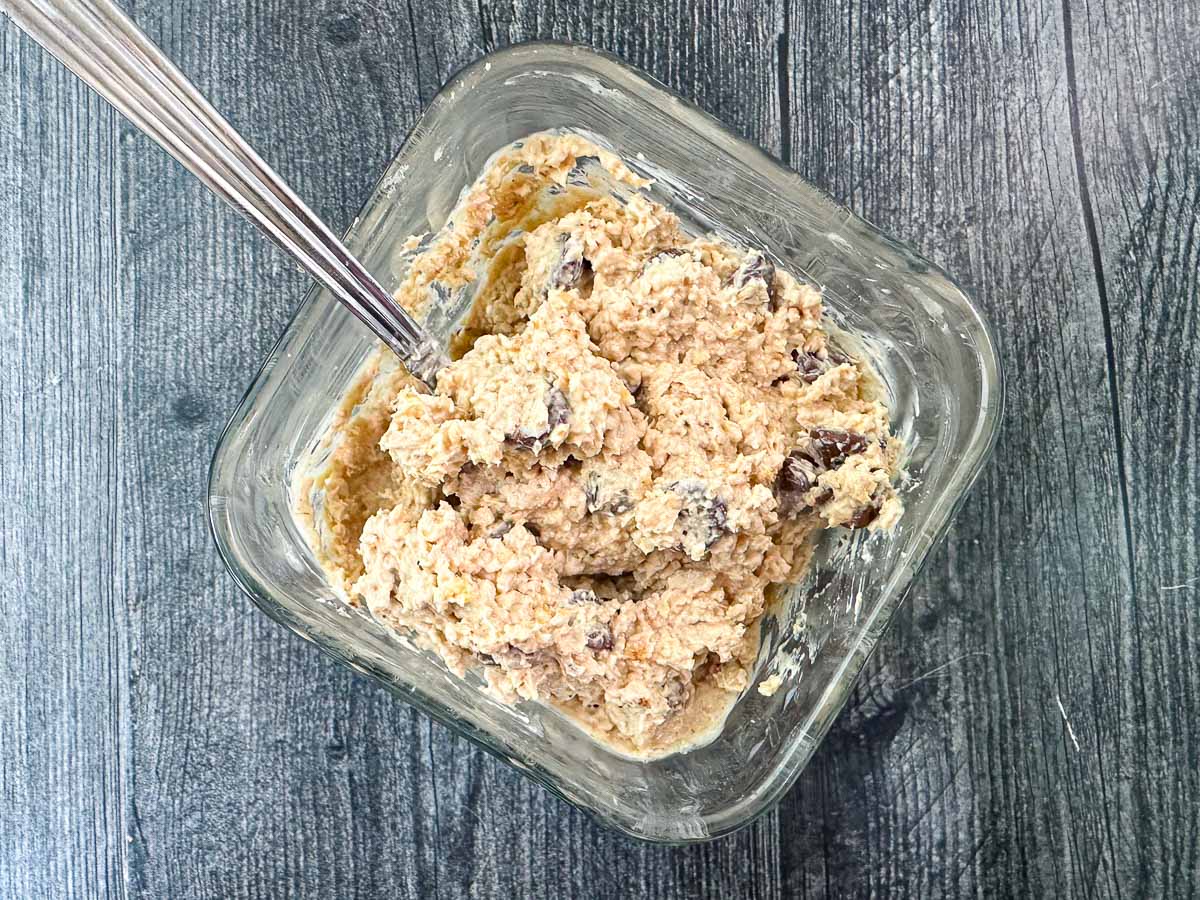 Way to vary this recipe.
Other things you can add to this recipe for cookie dough oatmeal are nut butters like peanut butter, almond butter, cashew butter, etc. I would add these when blending the cottage cheese, before adding the oats. Cookie butter and Nutella might also be good!
You can also add cocoa powder for more chocolatey flavor. Or try different flavor extracts like caramel, mint etc.
Lastly like just like a chocolate chip cookie you can add nuts. I think walnuts would go best but I also like pecans in my cookies. Add these right before eating so they don't get soggy.
Coconut flakes or shredded coconut also works in these. Toast it for more flavor. Also cacao nibs, dairy free chocolate chips and carob chips are healthy substitutes for the chocolate chips.
More delicious and healthy breakfast recipe.
I love making healthy breakfast recipes like this so I have a quite of few recipes to share with you. Most of them are low carb but the following are more healthy than low carb.And many are good for a make ahead breakfast option.
So next time you have chocolate chip cookie dough cravings you can make this oatmeal. It's full of protein and is sugar free so you can feel like you are eating dessert for breakfast! Your family will love it. Enjoy.
The nutritional information for 1 serving is 198 calories / 5.3g fat / 19.4g carbs / 2.6g fiber / 16.9g protein
Healthy Cookie Dough Overnight Oats Recipe
Additional Time:
12 hours
Total Time:
12 hours
5 minutes
These delicious cookie dough overnight oats are perfect for those that love chocolate chips and oatmeal for breakfast. Plus its sugar free and high in protein! It's sure to be a family favorite.
Ingredients
1 cup cottage cheese (I like Good Culture)
½ cup oats
¼ cup brown sugar sweetener (I like Swerve)
¼ cup dark chocolate chips
½ teaspoon vanilla extract
pinch of salt (optional)
Instructions
Add cottage cheese to a food processor or blender. Blend on high until the cottage cheese is nice and smooth.
Next add the brown sugar sweetener and vanilla extract. Blend until well combined.
Lastly add the oatmeal and pulse until mixed well with the cottage cheese mixture. Spoon into a mixing bowl and fold in the chocolate chips.
Cover with plastic wrap or put into an airtight container and place in the refrigerator overnight. When you wake up they will be done.
Notes
The nutritional information for 1 serving is 198 calories / 5.3g fat / 19.4g carbs / 2.6g fiber / 16.9g protein
Nutrition Information:
Yield:

2
Serving Size:

1
Amount Per Serving:
Calories:

198