If you like pickles, you have to check out this list of 9 keto refrigerator pickled vegetables. With fresh summer veggies from your garden these quick pickles are healthy and tasty keto snacks you can feel good about.
You might also like these other keto recipe collections!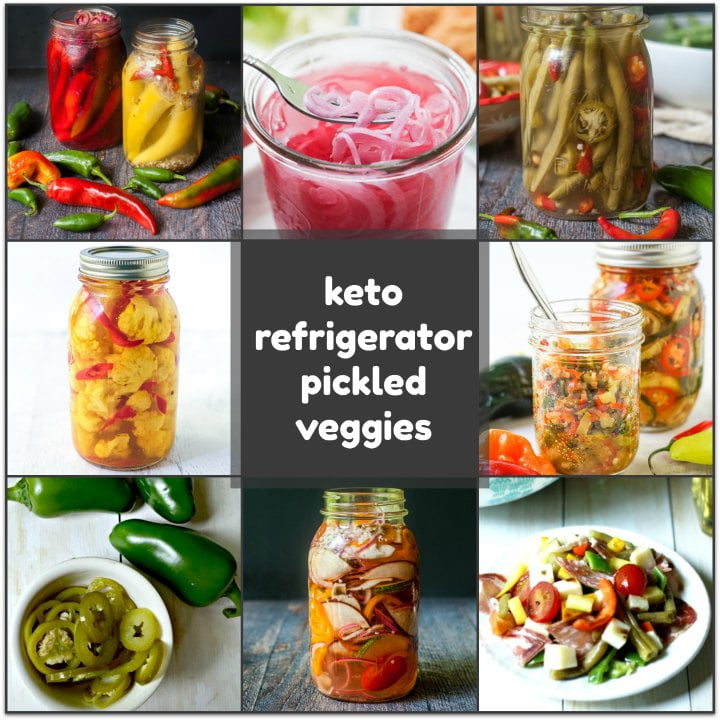 It's the end of summer and I don't know about you but we are still getting a lot of vegetables from our garden. My husband has been pickling everything and quite honestly they are delicious!
I thought I'd share with you 9 of our keto refrigerator pickled vegetables recipes because they not only make a great keto snack but can also be cute and tasty gifts for friends and family.
Because they are refrigerator pickles, they are extremely easy to make and my hubby's pickling brine is delish!
What Are Refrigerator Pickles?
Refrigerator pickles are also referred to as a quick pickle in which you are pickling vegetables but not canning them. That is the vegetables are often pickled in vinegar, water and salt and then stored in the refrigerator. Where as canning is one step further when you submerge them in a hot bath to seal them so they can be shelf stable.
So the quick pickle process is basically making a brine on the stove and then pouring it into a jar full of vegetables. Then you put on a lid on and store it in the refrigerator.
How Long Can You Store Refrigerator Pickles?
I've read that refrigerator pickles can last from 2 weeks to 3 months. I personally have kept them up to a month but to be safe make smaller batches with smaller, pint size jars so you eat them quickly. It's so easy to do that you can quickly make them whenever you want.
If you want them to last longer I suggest you can them but note that they will end up being a little less crunchy when you do.
Above you can see one of my hubby's pickling creations of pickled zucchini that I love because it's very low carb and a tasty snack. Cutting them into spears almost makes them taste like real pickles (cucumbers).
How To Make A Low Carb Pickling Brine
Most of the ingredients in a brine are already low carb such as the vinegar, herbs and spices. However there are sometimes a bit of sweetness to counterbalance the tangy vinegar and that is usually white sugar.
To make my hubby's brine keto, all you have to do is use a sweetener instead of white sugar. I like to use Swerve sweetener, usually the granular kind. Below are the ratios for a basic low carb refrigerator brine.
1 cup water
1 cup vinegar
1 tablespoon salt
3 tablespoons Swerve sweetener
1 ½ teaspoons (herbs and spices like garlic, basil, hot pepper flakes, oregano, etc.)
Keto Refrigerator Pickled Vegetables
Now let me share with you those 9 keto quick pickles. These are mainly vegetables that we grow in our garden and you'll notice a lot of them involve peppers. We like a bit of spice that we get from jalapenos, cayennes and serene peppers. Enjoy!
9 Low Carb Pickled Vegetables
Here are 9 low carb pickled vegetables recipes for you to try. They make great keto snacks as well as gifts of your garden you can give to others. Try one out and see how you like it.
Well I hope you have fun playing around with these low carb pickle recipes. We have pickled lots of peppers, green beans, zucchini, cucumber, peppers, carrots, cauliflower, onions, radishes and more. I personally want to try okra next.
If you like this post, please pin the graphic below and have fun!