My son is obsessed with all things Minecraft…and especially Minecraft Pigs. Since Valentine's Day is rolling around and I usually help out at his school party, I thought I'd get a head start on some craft ideas.
Last year I made some animals out of heart shapes for Max's Valentine Day party. You can see those here.  And for his Christmas party we made these Penguin cards as the craft. So this year for Valentine's Day, I decide to stick with the card theme and came up with a 3D Valentine's Day card. And since he loves those Minecraft Pigs…it's a Minecraft  3D Valentine's Day card.
You can make many different animals 3D. For the cards pictured above, I went to PicMonkey.com and printed out some of their cute graphics. These are not finished and a little too young for 10 year olds, but I wanted to show you what you could do with the same basic idea. Below are some hearts and lips that you could decorate anyway you want. Since those embarrassed Max , I went no further with that idea. 😉
How to make a 3D Valentines
To make the 3D pig, print a Minecraft Pig off the web (or any animal that you like). Then cut a thin piece of paper 8 1/2 inches long by 1/2 inch and then cut that in two pieces. Make sure to cut the head off your pig (probably the only time I'll write those words on this blog. ;))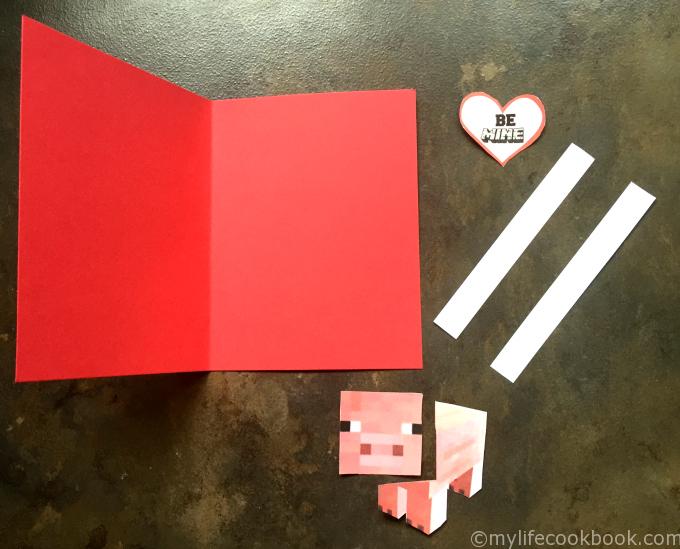 To make the springy part for the head: 
Take your two pieces of paper and glue one piece at a right angle to the other piece.
Then fold the bottom piece over the top piece and keep doing this until you get a springy, folded accordion-like piece.
Then glue the ends together.
Once you have the little accordion piece, you just glue it to the head and then to the card.
And that is all there is to it! You can do this with just about any animal or object. Here are some great punny Valentines on BuzzFeed that may feed your creativity. So let your imagination run wild and please comment or send me a pic of your finished projects. I'd love to see them!